September 2018
OK, so July...this month was "less busy" with just one trip, but it was for two weeks back east to visit with family. Prior to that, I went to two scrapbooking days and got a lot of cards made, had a couple of dinner dates with friends, and had a fun little adventure with a couple of scrappy friends!
I belong to two Facebook communities for scrappers, and each one does retreats at different locations throughout the year. This year they happened to have them back-to-back in July; one was in Loveland, in the Denver area, the weekend I was going home to visit family, and the other group had their retreat in Seattle the following weekend. I could not attend either, but a friend from Australia did!
Claire flew in from Australia to spend a few weeks in the US attending both retreats and seeing some sights. She flew in a few days early for the Loveland retreat, so I picked her up and took her straight to a card class! She was a trooper despite traveling for 30+ hours. The next day we drove south to Colorado Springs where I took her to Simple Pleasures, the awesome scrap store down there, and to Garden of the Gods which is a gorgeous natural park.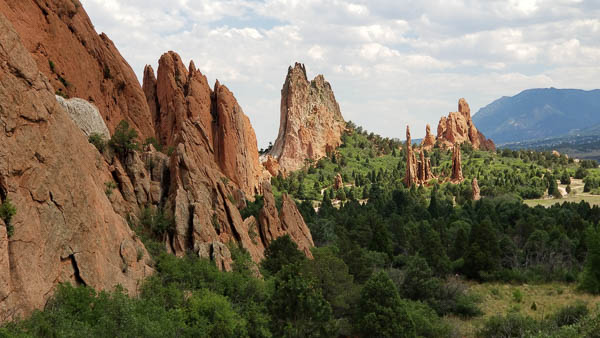 Then we met up with our friend Cathy and the three of us checked into the cutest bicycle motel in Manitou Springs for the night, the Buffalo Lodge. That's Claire caught off guard.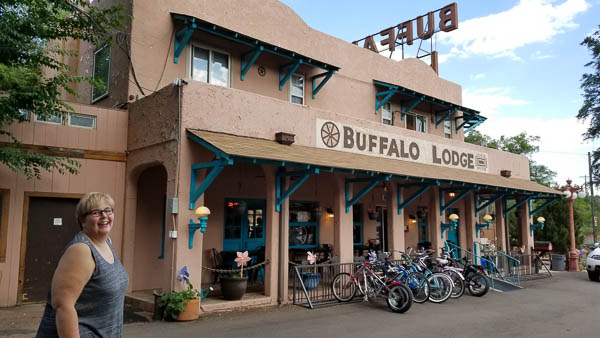 We had a great Mexican dinner at a nearby restaurant. Cathy recommended it and I had never been there before. MUST go back!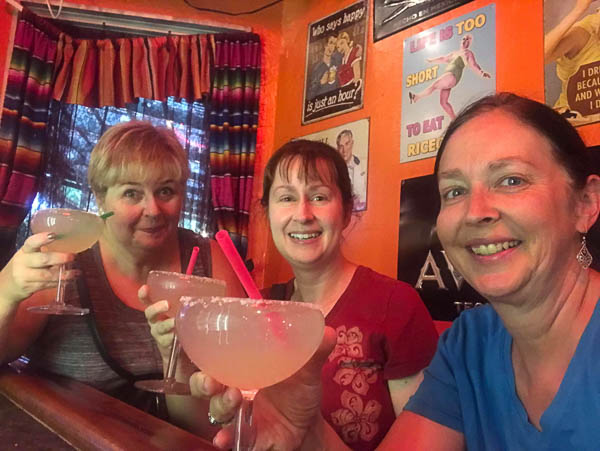 Then we went to Cave of the Winds, a local park where they have a bunch of daredevil attractions and tours of natural caves. All we did was check it out and watch some of the laser light show that they projected on the hillside across the way. It was pretty 1990s so it was funny.
The next day, we drove around the Springs some more, tried to show Claire Red Rocks but they had just closed it because of a concert that night, had an awesome bison burger lunch at a nearby cafe in downtown Morrison, then drove back up to my neck of the woods. Claire packed up her stuff while Cathy picked up Kathy who flew in from Seattle. The four of us then had a wonderful evening of cider and pizza at The Old Mine in Erie which I love. Then, they drove up to Loveland for their scrapbooking adventures.
As for my trip, it was another three-in-one combo deal: go to the Creating Keepsakes scrapbook convention with mom in Pennsylvania, celebrate Domenico's third birthday, and go to CEDAR POINT, the best place on earth.
I arrived nice and early on a Saturday so mom and dad took me to Sonnenberg Gardens, a beautiful old mansion that a wealthy local man built for his family. The gardens are expansive and varied; there's a Japanese garden, a maze, a small rose garden, a greenhouse with tons of cool succulents, a huge Versailles-like courtyard, a weird stone two-story bridge, another cute bridge over a lilly pond, and more. We spent hours walking around the gardens and the house which was beautifully furnished in early 1900s furniture.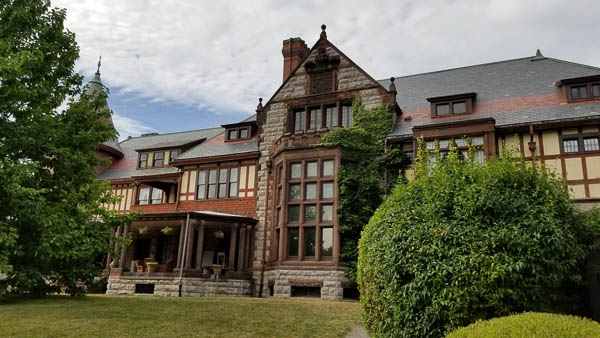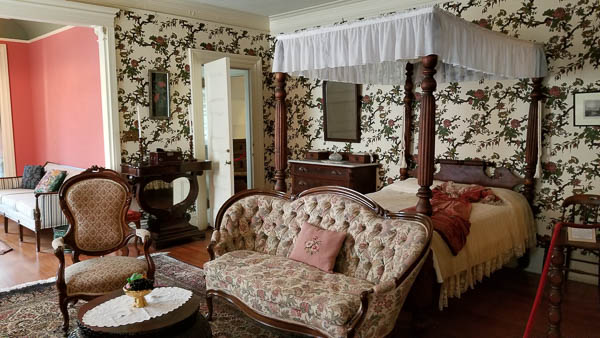 They had an exhibit on women's suffrage. This slays me.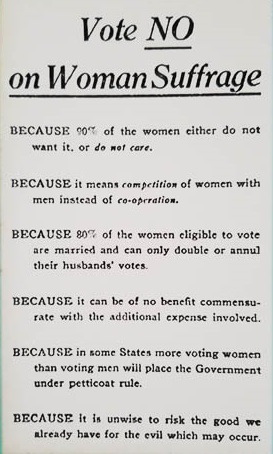 The courtyard.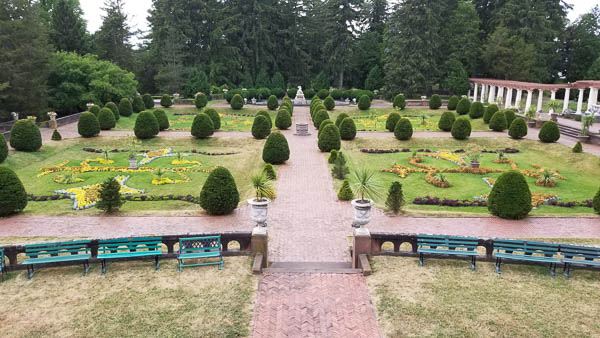 The derelict swimming pool.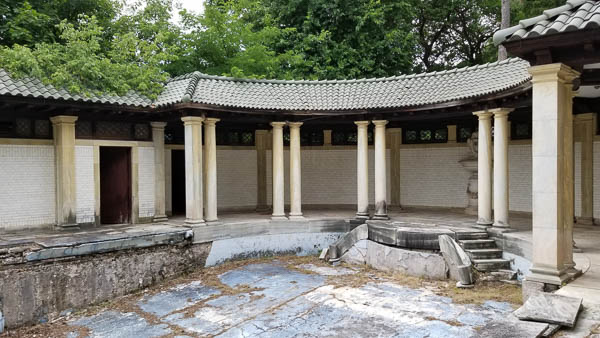 The little bridge over the pond near the Japanese garden.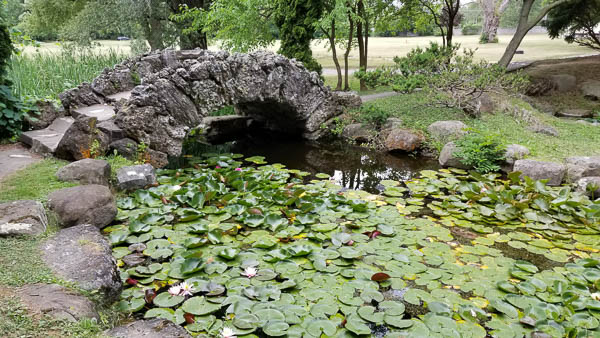 Then, we met up with the clan--Erica, Gino, Domenico and Leonardo--for amazing Mexican food in downtown Canandaigua.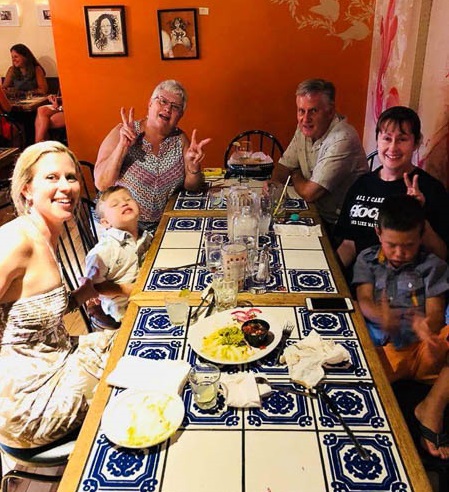 I worked from my parents' house that week until mom and I drove down to Lancaster, PA, for the convention. On our way we stopped at like 6 scrapbook stores, one of which was new to us. I got a few things here and there, but I love supporting local stores and every one had completely different things.
We attended the convention which was great as always. We each took five classes on a variety of different projects and techniques. I spent way too much, of course. We stayed this time in a hotel that was just a few blocks away, so walking every day instead of haggling with traffic and parking was great.
The day we drove home was Domenico's birthday party. The theme this year was Minions, and his cousin Nicholas dressed up as a Minion to surprise him.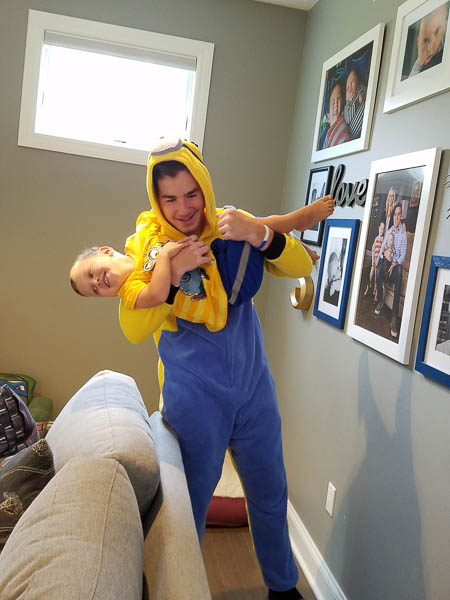 Here are the grandparents and my sister and brother-in-law with the birthday boy.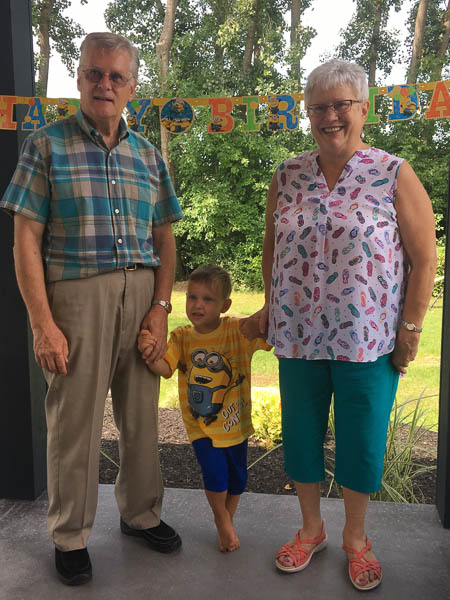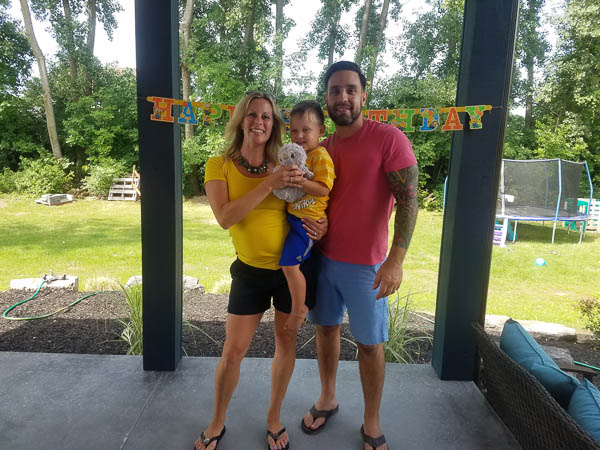 The kids had plenty of water balloons to keep them amused in the front yard.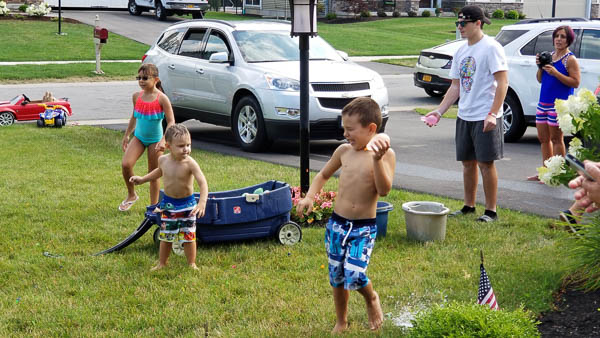 Birthday cake!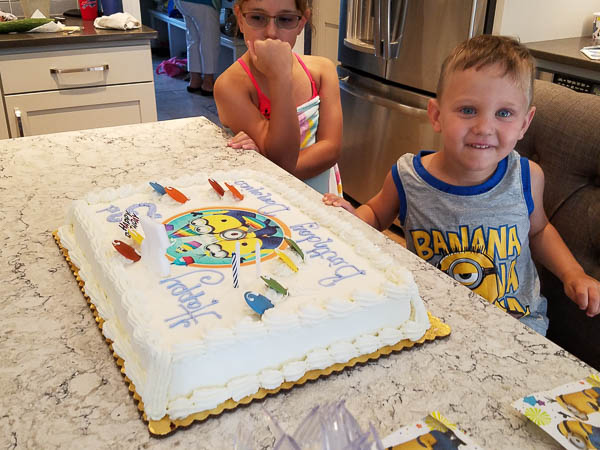 And here is Domenico playing with one of his new toys. It's a set of wooden fruit that has velcro between the pieces so he can 'cut' them apart.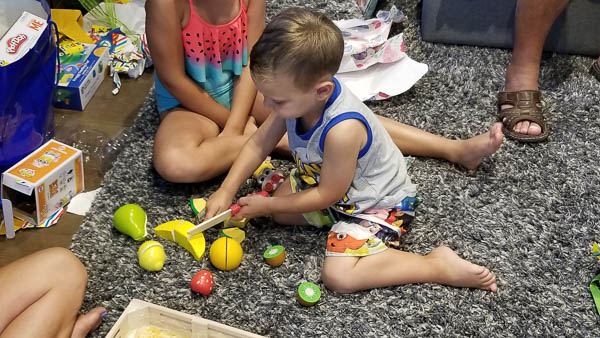 We also had a fun day of swimming and playing at my Aunt Cathy's house in Buffalo. It was a perfect day for a party!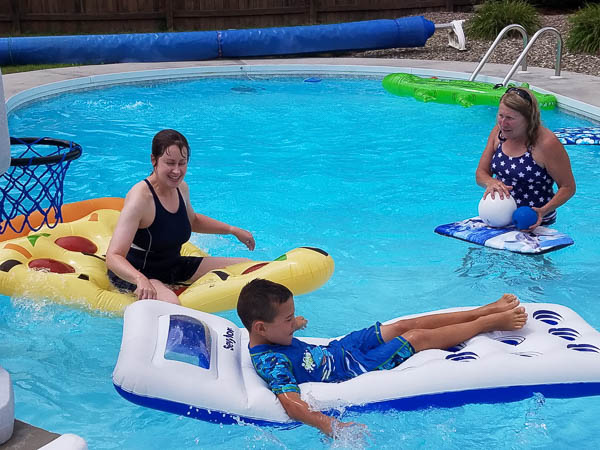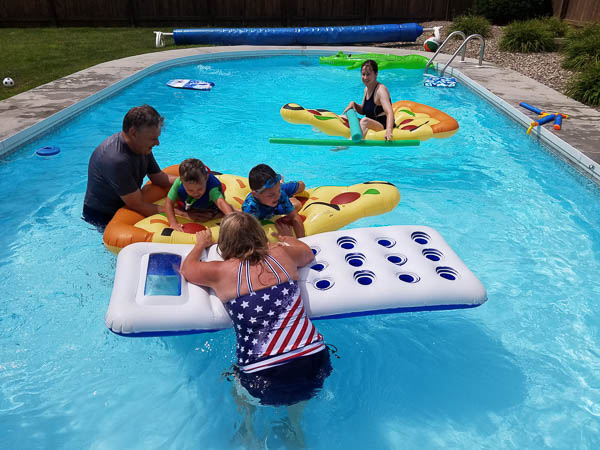 Dad built a huge race track with the boys. They were trying to get the cars to go into the pool.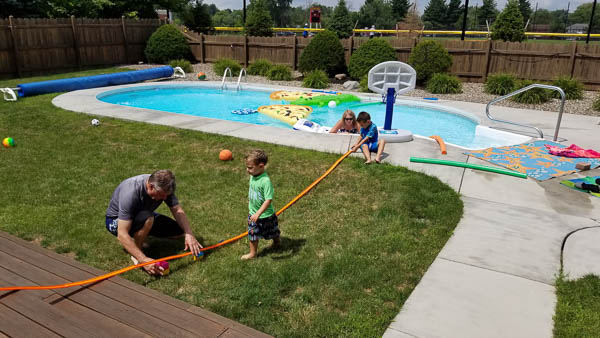 Love the butt crack.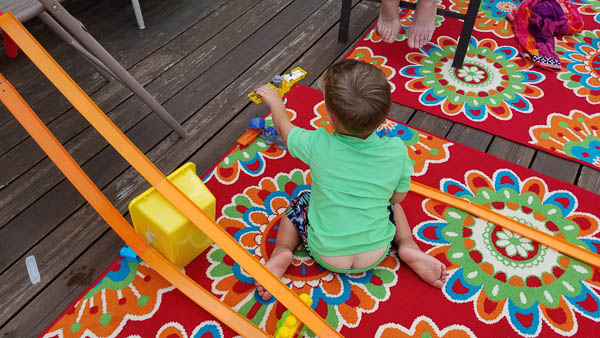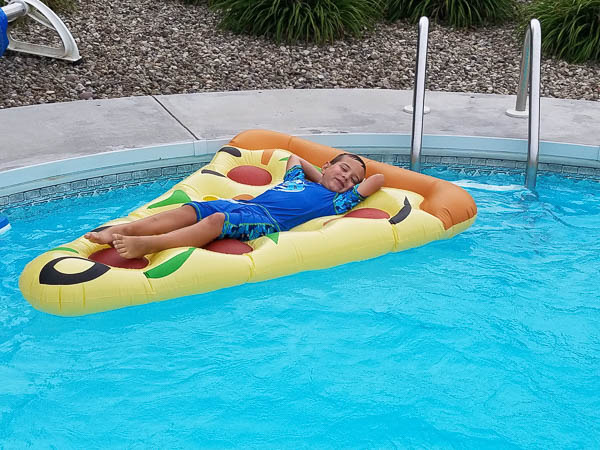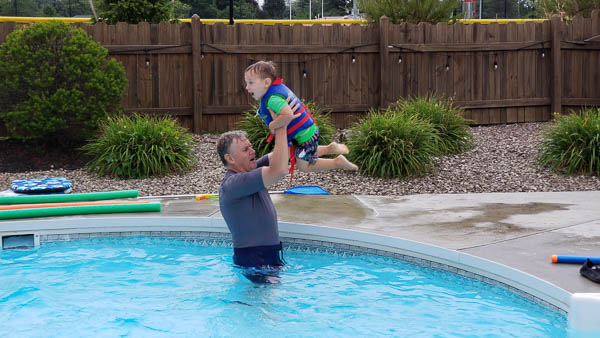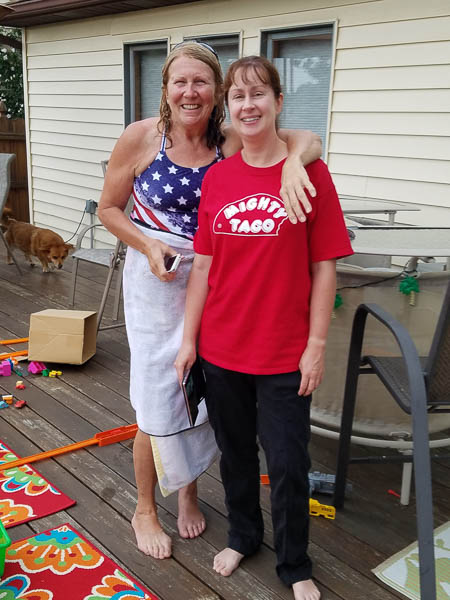 Lastly, here's a photo of Leonardo playing ZELDA on the NINTENDO 64 while at my parents' house. I love that he's playing a game that I grew up playing! My dad even still has the maps!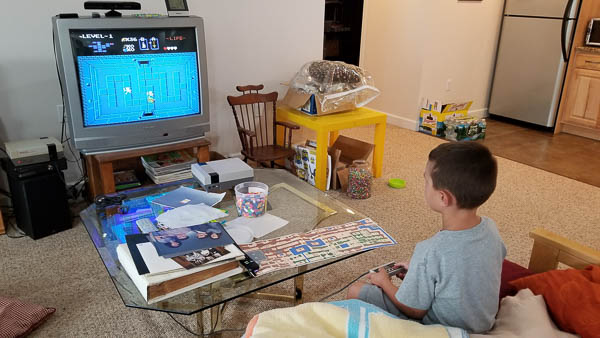 Coming Soon: The Greatest Place on Earth