2018
December
November
October
September
August
July
June
May
April
March
February
January
2017
December
November
October
September
August
July
June
May
April
March
February
January
2016
December
November
October
September
August
July
June
May
April
March
February
January
2015

December
November
October
September
August
July
June
May
April
March
February
January
2014

EUROPE PHOTOS
December
November
October
September
August
July
June
May
April
March
February
January
2013

December
November
October
September
August
July
June
May
April
March
February
January
2012
PORTUGAL PHOTOS
December
November
October
September
August
July
June
May
April
March
February
January
April 2009
I'm going to be honest with you...March sucked. It sucked because:
My business unit at work is beyond busy with projects, so we are all stressed out and overworked.
At the same time, the company announced that they will get rid of another 325 jobs...but after this announcement, we have not heard anything...so it can happen at any time, for any reason, to anyone...nice, eh?
I signed J.C. up to attend a goalie clinic at the YMCA and he hurt his knee pretty badly!
We were supposed to go to Las Vegas the last weekend in March to have a nice relaxing getaway and instead, we had to cancel because of this:

The highlights of the month were:
I attended a 12-hour crop at the beginning of the month and got to get all of my Easter cards done as well as a few gift boxes and a few other generic cards.
I got to see HOWIE DAY for the first time in years! He played in a smaller venue in Boulder, where you would think that it would be a mostly college crowd, but instead, it was a great mixed crowd who knew a lot of Howie's earlier stuff which to me is the best. He played alone, acoustically, just like he did ages ago when I first was introduced to him, with his pedals and his layering techniques. It totally ROCKED. He even played "Bunnies" which is a song that he never officially released except for on a live EP. I had heard it a couple of times live but since Howie got so huge and popular and started playing these huge venues with a band a few years ago, I never thought I'd see him go back to his roots again. Thank God for fleeting fame!!
So, in the hopes that April will turn out better, I'm closing with an "awww..." photo of Phaedra making herself comfortable in the Love Sac. Myko owns this huge foam bean bag thing called a Love Sac, but because she is selling her house and staging it for sale, we are temporarily housing it. And apparently, it's a hit. I love that this little tiny kitten is in the middle of this three-person sac! And that no one can share it with her while she's in it.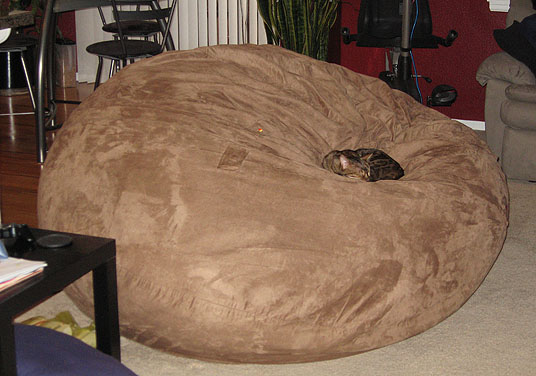 2011
SPAIN PHOTOS
December
November
October
September
August
July
June
May - none
April
March
February
January
2010
ALASKA PHOTOS
December
November
October
September
August
July
June
May
April
March
February
January
2009
December
November
October
September
August
July
June
May
April
March
February
January
2008
WEDDING PHOTOS
December
November
October
September
August
July
June
May
April
March
February
January
JILL'S CREATIONS:
Album - 2017
Album - 2016
Album - 2015
Album - 2014
Album - 2013
Album - 2012
Album - 2011
Album - Penn State
Album - Cedar Point
Album - Wedding
Cards
LOAD513
LOAD214
Mini Albums - Coffee and Daily Junque