2018
December
November
October
September
August
July
June
May
April
March
February
January
2017
December
November
October
September
August
July
June
May
April
March
February
January
2016
December
November
October
September
August
July
June
May
April
March
February
January
2015

December
November
October
September
August
July
June
May
April
March
February
January
2014

EUROPE PHOTOS
December
November
October
September
August
July
June
May
April
March
February
January
2013

December
November
October
September
August
July
June
May
April
March
February
January
2012
PORTUGAL PHOTOS
December
November
October
September
August
July
June
May
April
March
February
January
June 2010
Our big vacation was in May this month, so that's what this update is all about! First, we flew into Vancouver, Canada, and had a wonderful couple of days in that beautiful city! We visited the Capilano Suspension Bridge, a suspension bridge dating back to over 100 years ago (it's been reinforced with concrete since then) and is in a beautiful forest.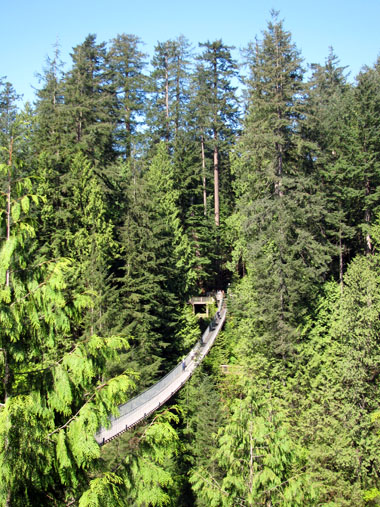 We also visited Chinatown and Stanley Park, and walked around a lot of the downtown area. We met up with some friends while we were there, who went to a Canucks playoff game that night. The tickets were too rich for our blood, but of course it was on TV. :) Here is a scenic view of downtown Vancouver, whose buildings are all very similar-looking to these light, modern skyscrapers. The hockey arena is the domed thing.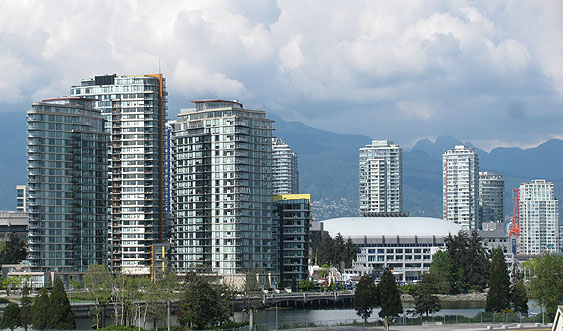 Next, we boarded the lovely NCL Norwegian Star cruise ship for a 7-day cruise to ALASKA!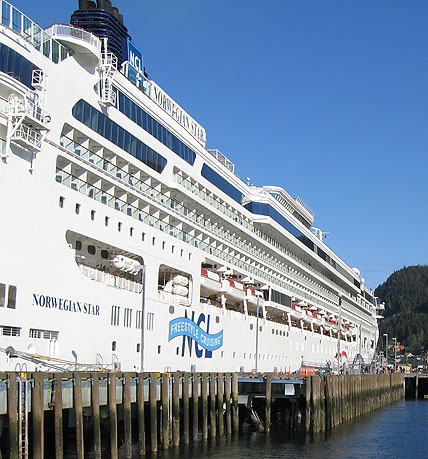 The cruise was actually the idea of our friends, Leah and Shannon, who had booked this over a year prior! They told us about it and we had always wanted to do the exact same trip, so we joined them! It was SO FUN to cruise with friends, it's a must!!
The ship was incredible! Our cabin was on the lowest floor and was modest, but totally sufficient. There were several restaurants, a buffet, a bier garten, a coffee café, a theatre, gift shop, casino (where one night we won $90!), a teen room, a kids room, a nightclub, a huge outdoor deck on top with waterslides, pools, hottubs, a basketball court, and a grill restaurant, and best of all...a SPA!
My friends and I bought week-long passes to the spa so we had unlimited use of the lap pool, sauna, steam room, hottub, hydrotherapy pool, and honestly the best part, a row of lounge chairs looking through a wall of glass out the back of the ship. Almost each day after we got back from our day excursions at port, we'd run down there and grab lounge chairs so that we could watch the ship leave the port. SO sweet!
We were on the ship for the first day and a half, just getting familiar with it all and getting massages. :)
Our first port of call was Ketchikan, a very cute small town. Here, JC and I did a boat excursion to Misty Fjords, a beautiful waterway through tall mountains, where we got to see eagles, seals, waterfalls, and a glacier back behind the mountains.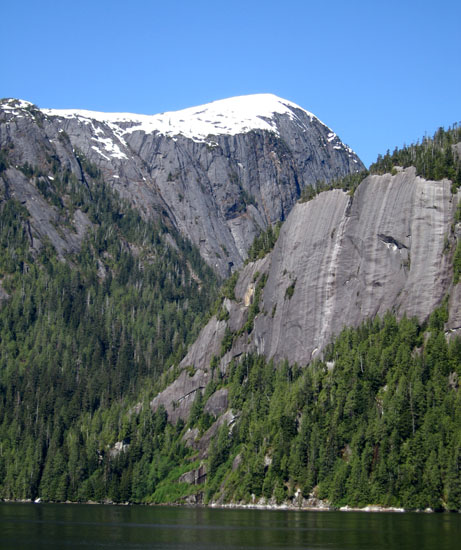 The second port of call was Juneau, where we took a bus ride to Mendenhall Glacier, which you could basically walk up to! I even picked up a chunk of glacier ice that was near the beach. Millions of years old ice, woo hoo! It was calm, pristine, and gorgeous. The ice is so dense from all those years of pushing down that it is aqua blue. The piece on the left in the photo above broke off from the glacier and is just sitting there. It is huge, a boat went right up to it while we were there and it was totally dwarfed.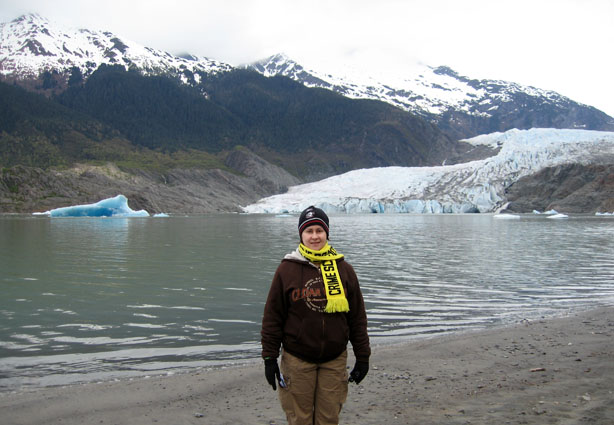 We left Juneau pretty early in the day, so that we could cruise into an inner passage to see a glacier! The captain announced that we were approaching the glacier at around 5pm, so we all bundled up, headed to the outside top deck at the front of the ship, and stood there watching us slowly creep towards Dawes Glacier. It was so quiet and peaceful, no sounds other than the wind blowing by...and the guys selling alcoholic coffee and hot chocolate! The scenery was just breathtaking, and we got as close to the glacier as we could.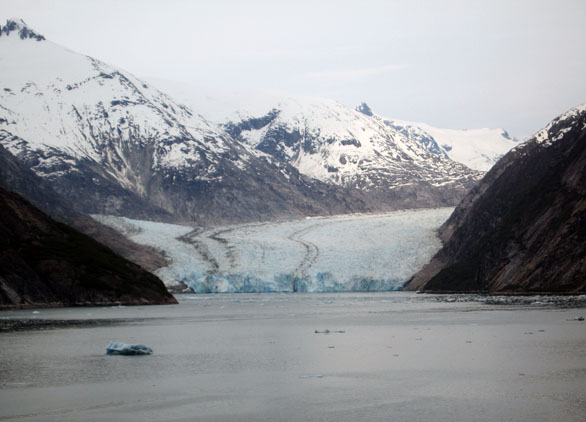 The third port of call was Skagway, the largest of the towns so far. Here, we were supposed to take a helicopter tour and go dogsledding, but due to low clouds that covered the tops of the mountains, we couldn't do it.
Instead, we took a different helicopter tour!! We flew down a gorgeous waterway to Meade Glacier, and parked right on top of it! And WALKED AROUND! Here we stood, in the middle of nowhere, on this gorgeous and crazy-old glacier, surrounded by mountains and hearing the ice crunch under your feet. The ice in this photo is dirty on top from the wind blowing debris from the mountains, but the pools of blue are patches of melted ice where the surface got melted by debris sitting on top of it, and the density of the ice beneath is so great that it's a beautiful crystal blue.
AMAZING!!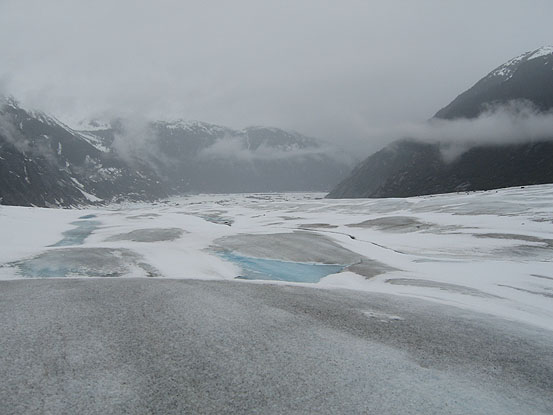 Our last port of call was Prince Rupert, in Canada. Here, JC took an incredible kayak tour around the town, complete with fresh crab! I took another boat tour, this time to go whale-watching. We saw an adorable group of sea lions sunning themselves on a rock, but didn't see any whales, and were on our way back to shore, when the captain got a call from another boat nearby that spotted some whales. So we turned back and got to witness a family of four killer whales (orcas) frollicking around!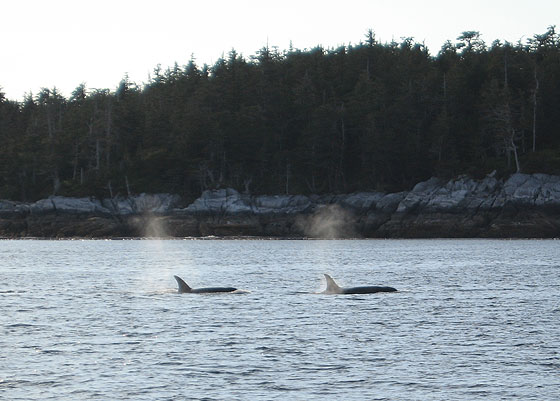 Then we had another full day out at sea, and returned to Seattle, Washington! We docked in Seattle at 8am, and spent that whole day and half of the following day touring this really cool city.
We went up the Space Needle, visited the Experience Music Project/Science Fiction Museum, and went to the Public Market, the most eclectic market I've ever seen! Home to the famous Pike Place Fish Market (where they throw the fish and yell), this place had everything from fresh pepper displays to produce, flowers to jewelry, weird stuff to, well, weirder stuff!
This photo is of the instrument sculpture in the Experience Music Project!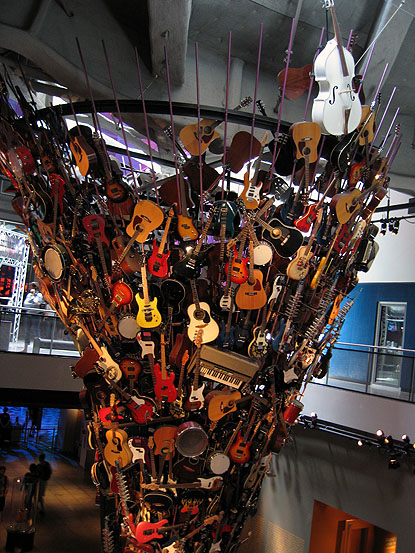 Here is me, JC, Shannon, and Leah's mom Joyce at the Public Market by the water.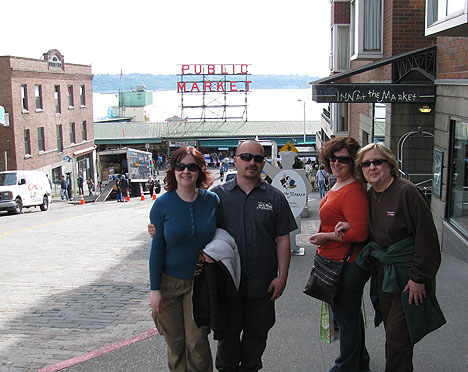 We already signed up to take another NCL cruise...we have 4 years to book it...hmmm...

2011
SPAIN PHOTOS
December
November
October
September
August
July
June
May - none
April
March
February
January
2010
ALASKA PHOTOS
December
November
October
September
August
July
June
May
April
March
February
January
2009
December
November
October
September
August
July
June
May
April
March
February
January
2008
WEDDING PHOTOS
December
November
October
September
August
July
June
May
April
March
February
January
JILL'S CREATIONS:
Album - 2017
Album - 2016
Album - 2015
Album - 2014
Album - 2013
Album - 2012
Album - 2011
Album - Penn State
Album - Cedar Point
Album - Wedding
Cards
LOAD513
LOAD214
Mini Albums - Coffee and Daily Junque