2018
December
November
October
September
August
July
June
May
April
March
February
January
2017
December
November
October
September
August
July
June
May
April
March
February
January
2016
December
November
October
September
August
July
June
May
April
March
February
January
2015

December
November
October
September
August
July
June
May
April
March
February
January
2014

EUROPE PHOTOS
December
November
October
September
August
July
June
May
April
March
February
January
2013

December
November
October
September
August
July
June
May
April
March
February
January
2012
PORTUGAL PHOTOS
December
November
October
September
August
July
June
May
April
March
February
January
November 2008
The deed is done, we are MARRIED! It doesn't feel any different, actually, sortof anticlimactic. :)
However, we had an AWESOME two weeks in Prague! All photos will be uploaded to Shutterfly for easier viewing and ordering of prints. Simply click here to go to our site.
Below is a rundown of the things that we did with a few photos.
Oct. 26th -- We were supposed to arrive in Prague at 3:30pm, and were almost there when the captain of our flight told us that Prague had really bad fog, and thus, we could not land there.  Instead, we were landing in Dresden, Germany.  I had been awake way too long and was really looking forward to crashing in our hotel room, so this was not delightful to hear.  We landed in Dresden, and then piled into taxis that drove us THREE HOURS to Prague.  The cab driver was a maniac who didn't speak English.  While he was weaving in and out of traffic in the dark and fog, he was playing with his GPS and his cell phone which had the ringtone "We built this city!".  I mustered up enough energy to laugh.  We had fun chatting with our cabmates, two guys from the UK and a girl from the Czech Republic who works for an airline, all three coming for work.  They actually needed to drive to Brno after getting to Prague, which is another three or four hours away!!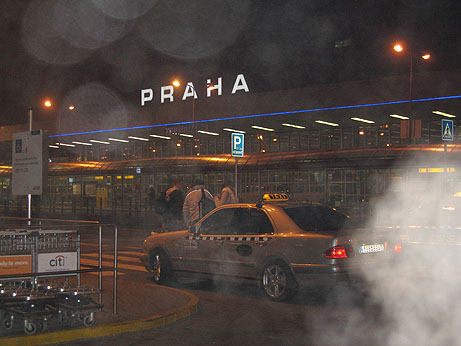 Oct. 27th -- Our first day in Prague was spent getting familiar with the city.  We first visited the church where the wedding was going to be, as it was only two blocks away from the hotel!  Then we roamed down Wenceslas Square and into Old Town.  We realized that day that Prague is actually more compact that we thought, so getting around is easy.  At 3 we met with Katka, our wedding coordiantor, to go to the town hall to fill out some papers.  That was weird because we had no idea what was going on.  We sat down, signed where we were told to sign, and that was it.  Then at 4, my hairdresser came for a trial hair style.  She speaks practically no English, but managed to do a great style.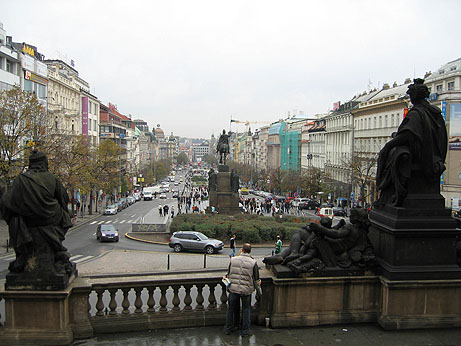 Oct. 28th -- We headed towards the river in the morning to see the Dancing House, a modern building stuck inbetween all of these beautiful Victorian ones.  Then we walked along the Vltava river that winds through the city, taking pictures of beautiful architecture and sights such as the National Theatre.  We headed into Josefov, the Jewish quarter, to view some synagogues and the really cool cemetery--it has graves going back to the 1400's and they are all piled on top of one another in a hap-hazard clumping.  In the afternoon, we met up with Mike and Sarah and crossed Charles Bridge.  We visited Waldstein Gardens, this really cool garden with a stalagtite wall.  We ate at some amazing places and sampled Czech beer which is SO GOOD!  We also did a ghost tour which was fun and interesting, and ended at the Executioner's Pub, which was actually founded and run by an executioner in the middle ages!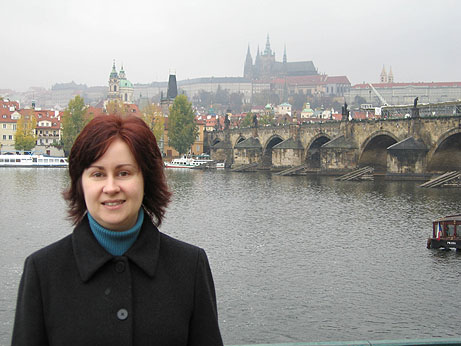 Oct. 29th -- Mike and Sarah went their own way until dinnertime on Wednesday because we had more meetings with Katka.  In the morning, we went down to the Foreign Police, who handle immigration issues.  That place was scary, but Katka knew someone who could get us in quickly so we got in, sat down, signed more papers that we didn't understand, and left!  Then we walked down into Old Town and bought Czech crystal wedding favors for our guests.  In the afternoon, we did more paperwork at the town hall, and then went to see the priest at St. Ludmila, and the U Prince hotel where the reception dinner was.  Everything was good to go!  That night we hung out more with Mike and Sarah.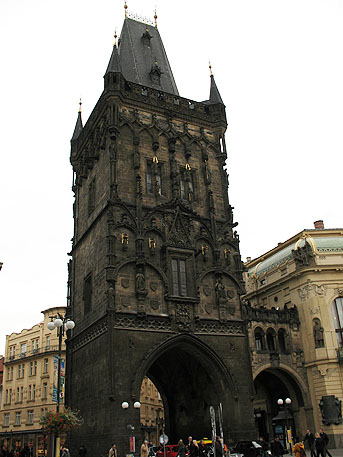 Oct. 30th -- Today was spent corraling everyone that was coming in for the big day.  Jill's parents and grandmother, along with friends Brad and Amy, showed up in the morning, followed at around noon by Jill's sister and her husband, and another couple with whom they were traveling around Italy.  We then left to get massages at a Thai place called Sabai.  I had never had a Thai massage before, so this was interesting!!  Then we all met for dinner in Old Town Square.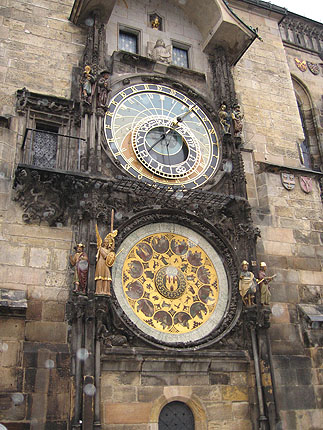 Oct. 31st -- THE BIG DAY!  Everything went smoothly as planned.  The hairdresser did an AMAZING job on all of our hair (she did the bridesmaids hair as well, which were Erica, Jill's sister, and Sarah).  The flowers were perfect and gorgeous - white calla lilies for the bride, and orange lilies for the bridesmaids, with a pumpkin orange ribbon holding the bouquets together.  We had a Skoda Superb pick us up at the hotel, and since the church was only two blocks away, we drove around the church a few times to kill some time!  The driver even said "time to change your mind!!" 
 The ceremony was great, but the priest had an accent so you really had to concentrate on what he said.  JC flubbed one line of his vow, saying "adore" instead of "honor".  I guess I can accept that.  :)  The organist was amazing, the sound was so clear echoing in that empty church.  And it was FREEZING!  At the end of the ceremony, the priest congratulated us and also said that he loved JC's coat!!
 Pictures were taken on the steps of the church, and then we all drove down to the river for an hour-long boat ride on the Vltava.  We had sparkling wine and appetizers, and while it was freezing on the top deck that was open, it was nice and comfortable in the bottom heated deck.  Everyone had a great time and got some amazing photos of Prague.
 Then another bus ride into Old Town Square, where we went to U Prince's rooftop terrace.  There the views were simply breathtaking of the square, the castle in the distance, and the setting sun.  We had hot mulled wine and heaters, and stayed up there for a good hour and a half before descending all the way into the cellar for dinner.
 During dinner, a fantastic string quartet played classical music, it was extremely classy and romantic.  The cellar is literally a medieval cellar, it was arch-shaped and stone, nice and goth.  :)  We had three stomach-stuffing courses and the wine flowed.  Everyone had a great time and took tons of photos.  Brad, the best man, gave an incredible speech, and Erica, one of the bridesmaids, also toasted to our future.
Thanks to Katka, it was picture perfect!!  We were even told by several guests that this was the best wedding they had ever been to.  WOW!!!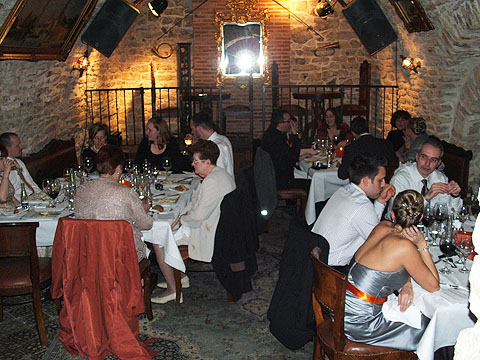 Nov. 1st -- Nothing says honeymoon and your first day of married life than a church filled with 40,000 skeletons of Plague victims arranged into regional emblems, chandeliers, and decorations.  We along with 8 wedding guests took a guided tour to the little medieval mining town of Kutna Hora, an hour outside of Prague.  It was around 60 degrees Fahrenheit that day, really warm, and the first day it was sunny for us!  We first visited the Ossuary for about half an hour, then we went into town and walked around observing some of the architecture that has withstood the ages.  A beautiful walk along the old castle fortifications allowed for some great photos of St. Barbara's Cathedral in the distance, and of the fall foliage.  The cathedral was absolutely gorgeous, filled with preserved frescoes and great stonework.  We had lunch at a typical Czech pub with three courses and yummy beer.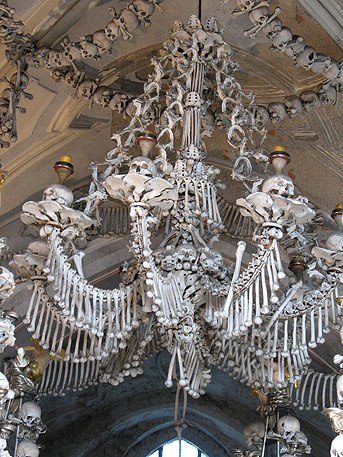 Nov. 2nd -- Prague Castle was our destination!  It was cold and foggy, perfect for taking photos of an old castle and the cathedral inside.  We first visited the halls where they used to have jousting tournaments inside the great hall!  After a little lunch, we got in to see the incredible St. Vitus Cathedral, a typical gothic cathedral with tall ceilings and cold stone.  We also toured St. George's Basilica across the small stone square, just as gorgeous but a bit more Baroque.  It holds the remains of St. Ludmila in a chapel to one side.  And, we visited the museum which was inside of the castle itself.  It was really interesting to read about the monarchs through the ages, and they had some great relics on display including some really old clothing.
That evening, those of us that were left from the group went to a HOCKEY GAME!  We saw one of Prague's teams, HC Slavia Praha, take on the team from Plzen (where the beer Pilsner Urquell is made).  Hockey fans are just as rabid as soccer fans--they had scarves, horns, and drums and never sat down the whole game!  It was a great game, too--went into overtime and a shootout, and Slavia Praha WON!!  It was fun to see a different culture's take on hockey, the stuff that they do during the game and the fan antics are different.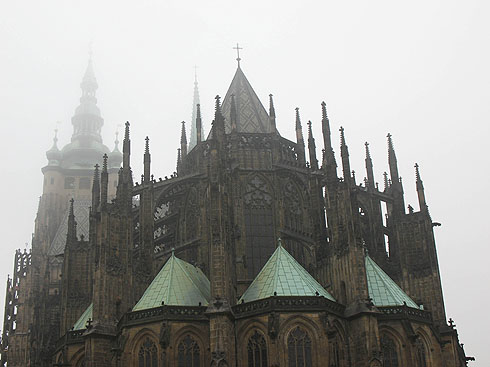 Nov. 3rd -- While half of us went to Kutna Hora who couldn't get there on the 1st, the other half of us visited Vysehrad castle, the first castle in Prague from the middle ages south of town.  Nowadays it's mostly ruins, but we did visit a crypt with some information about the area, and the church of Saints Peter and Paul, which was also a gothic church.  There is also a really interesting cemetery there where Antonin Dvorak is buried.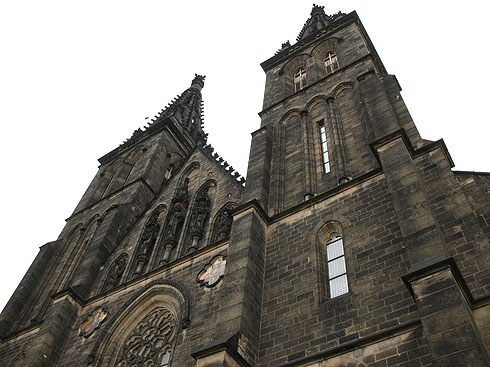 Nov. 4th -- On Tuesday we headed back up to the area around Prague Castle and first visited St. Nicholas church, very Baroque with tons of paintins on the ceilings.  Then we walked around to some other churches nearby including the Infant Jesus of Prague where the wax statue is on display.  Then, we walked along Charles Bridge, and went up one of the towers to learn more about the bridge's construction and symbolism, and to get more great arial views of Prague.  Lastly, we headed back to Old Town Square, where we saw St. Nicholas Church in the square, and had a nice dinner.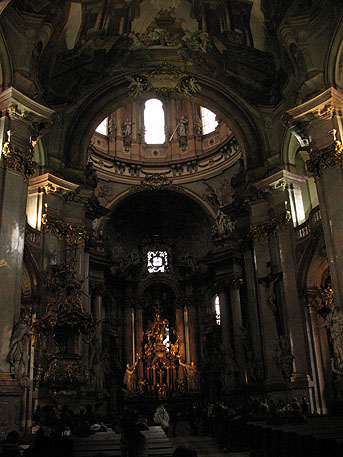 Nov. 5th -- We took another guided tour, this time to Cesky Sternberg, a castle an hour away from Prague that has been in the Sternberg family since the Renaissance.  It had beautiful scenery and lovely furnishings, mostly dating back to Renaissance and Victorian times.  It even had a beautiful family tree painted across two walls of one room, with small paintings of each family member going back generations.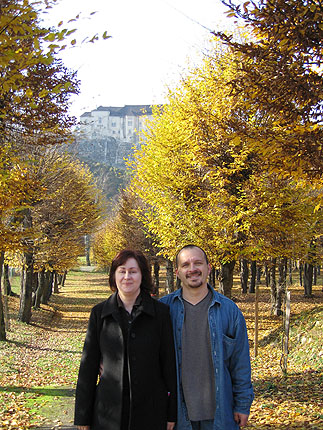 Nov. 6th -- Today we took it easy, sleeping in and roaming slowly around Old Town, weaving in and out of smaller alleyways and side streets to find hidden treasures.  We visited a few smaller churches, bought some amber and garnet jewelry and some souvenirs, and ending up having a great meal in Old Town.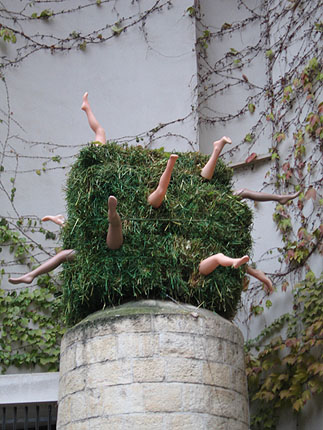 Nov. 7th -- Our last day in Prague.  :(  Half of us went to the town of Nizbor to a crystal factory, while JC and Jill went to Karlstejn castle, an hour outside of Prague high on a hill.  It was a crisp, cold day again, perfect for a castle.  We had a guided tour of two of the three main buildings of the castle, which dates back centuries, and is where the kings stayed for retreats from the city, and where the kingdom's crown jewels were stored for hundreds of years.  It was a residence, not a military castle, so we saw the king's bedchambers, knights' rooms, dining rooms, and a room that housed huge portraits of the Czech monarchy lineage.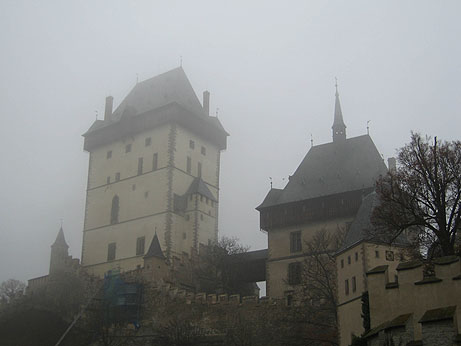 2011
SPAIN PHOTOS
December
November
October
September
August
July
June
May - none
April
March
February
January
2010
ALASKA PHOTOS
December
November
October
September
August
July
June
May
April
March
February
January
2009
December
November
October
September
August
July
June
May
April
March
February
January
2008
WEDDING PHOTOS
December
November
October
September
August
July
June
May
April
March
February
January
JILL'S CREATIONS:
Album - 2017
Album - 2016
Album - 2015
Album - 2014
Album - 2013
Album - 2012
Album - 2011
Album - Penn State
Album - Cedar Point
Album - Wedding
Cards
LOAD513
LOAD214
Mini Albums - Coffee and Daily Junque