2018
December
November
October
September
August
July
June
May
April
March
February
January
2017
December
November
October
September
August
July
June
May
April
March
February
January
2016
December
November
October
September
August
July
June
May
April
March
February
January
2015

December
November
October
September
August
July
June
May
April
March
February
January
2014

EUROPE PHOTOS
December
November
October
September
August
July
June
May
April
March
February
January
2013

December
November
October
September
August
July
June
May
April
March
February
January
2012
PORTUGAL PHOTOS
December
November
October
September
August
July
June
May
April
March
February
January
April 2016
Well, here we are starting the second quarter of the year, and March was only slightly less busy than February was. Trust me, I'm working on that. :)
Work is going great. I have a variety of projects now and am having fun working with my super-cool boss and getting documentation and materials organized. Our annual Sales meeting is my one trip a year that I get to go on and it's going to be in Monterey, CA, in mid-April. I'm really looking forward to meeting my boss and colleagues!
My two shifts at the Sanctuary this month were not as exciting as in past months. During Animal Care, we popped buckets (got the frozen meat wads out of the metal buckets for the large carnivores), opened packages of baked goods for the bears, chopped cheese into cubes for the wolves, and helped clean wolf enclosures. There are two pens of hybrid wolves (wolf-dog) that don't mind people coming into their pens, so we had to go in to give them fresh water, scrub the water trough, put more stones down around the fencing, and scoop poop.
The Education shift, however, was less than enjoyable. It was a high temp of 30 outside, with freezing wind blowing down the walkway all day. I froze my fingers off when I took my glove off for one minute. I had on two layers and was still freezing, so I had to walk a lot to stay warm, which then aggrivated my foot. From the moment I got there to the moment I left, I was frozen to the bone and did not enjoy one minute of the day. To make it worse, there were a dozen volunteers on the walkway and only 20 guests the whole day. We all kept passing each other and chatting with each other. Believe me, that day I contemplated this volunteering gig as I thought of a million other, more warm, things I could have done on my Saturday...
So I'm not sure how much longer I'll be volunteering. I'm reassessing how overbooked I've made my schedule, and how there are things I want to do that are not getting done as a result. I also had to reduce my hours at the Scrapbook Shack, and that's a bit of a bummer. But between my foot still hurting and my desire to finally get that healed, plus wanting to fill my time with other activities, something might need to be sacrificed, and the commitment of two full weekend days a month at the Sanctuary is going to be even more difficult to do as I start to take trips again in the summertime.
Anyway, other than working at the Shack and at the Sanctuary, I did get some more scrapbooking done and almost completed my cruise to New England and Canada last fall. You can see those layouts in my 2015 album. My goal was to get the entire trip scrapped in March but sadly, I have only 2-3 more layouts to do.
We also went to our annual Mammoth lacrosse game with our friends John and Sarah. It was a GREAT game--we won after a fierce back-and-forth battle all night, with lots of fights, and even a SOCK TRICK, which is when someone scores 6 goals! Believe me, you haven't seen lacrosse until you go to a Mammoth game. Our fans are insane!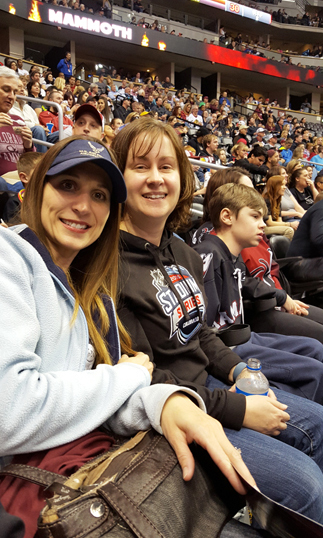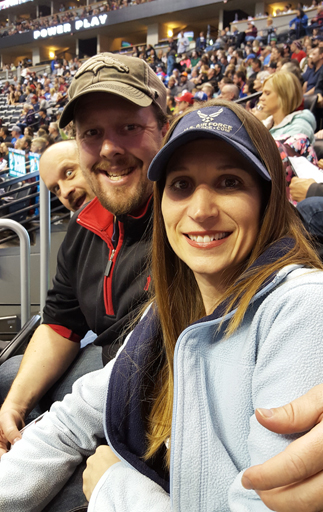 Here are the socks on the field. On the right you can see our mascot, Wooly, helping to pick them up!

The big event in March was the blinding blizzard that we had on the 23rd! March weather for us is always completely erratic--we fluctuate from 70-degree days to 30-degree days overnight. We got some level of snow every week, the most before this being 5 inches or so, and as soon as it would melt, we'd get another storm. This one was a doozy!
Literally overnight and all day Wednesday the 23rd, we got over TWO FEET dumped on us. It was pretty to watch the snow blowing sideways outside. Once it subsided, around dinnertime, JC and I got a chance to try out our new snowshoes, and we went snowshoeing around our front and back yards and down the street! It was a BLAST, and a pretty decent workout!
Here I am in the backyard, on like 2.5 feet of snow.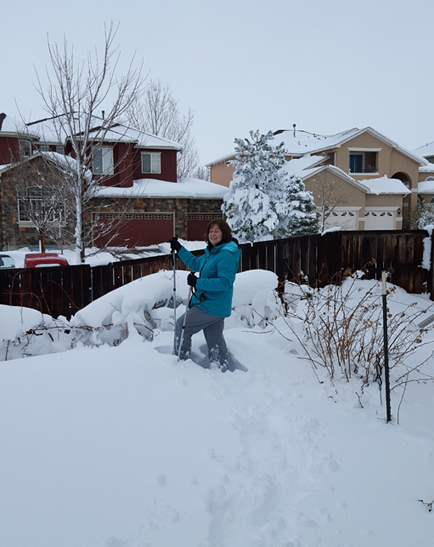 This is out front, where there is the road to the left and then I'm on this landscaped section. I know there are some rocks and such in this area but the snow was so high that we couldn't tell if we were walking on them!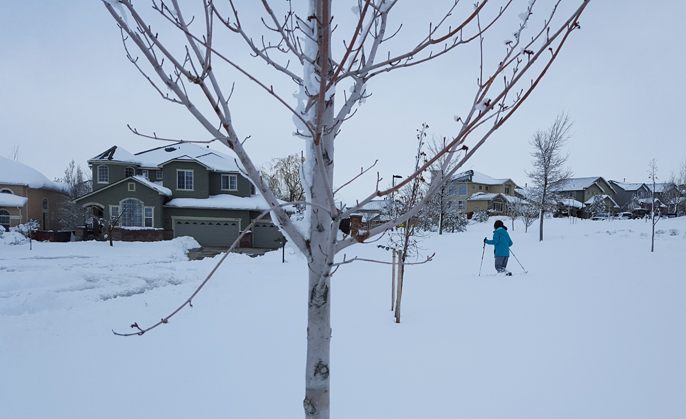 Finally! A plow! Oh wait, that's a front-loader!!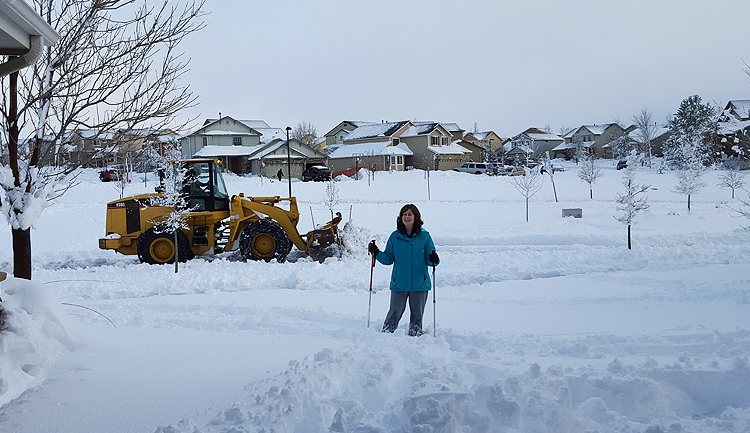 It's hard to see the perspective in this photo but the footprint to the right of my left foot is around two feet deep.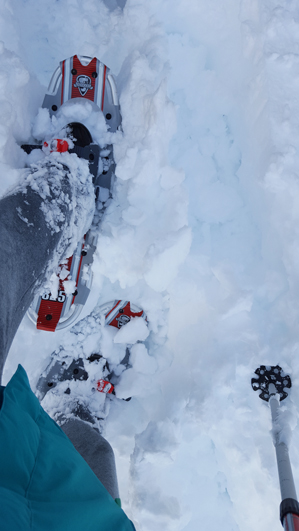 Lastly, did you know that in early March I celebrated TEN YEARS IN COLORADO?? Yep. Spent my entire thirties in this fantastic state. Let's take a trip down memory lane and highlight some of the events of the past decade, shall we?
I am spending every day with the love of my life
My stress levels went down around 100%
I swapped Grzankowski for Polanycia (2 less letters and just as unpronouncable, woot!)
I've gotten rid of 90% of the stuff I moved here with
I adopted two fur babies who I adore
I had a brief career as a hockey player
I went from a redhead to a brunette
I painted and decorated an entire house
I've had only 4 jobs (2 full-time and 2 part-time)
I found a new hobby that has become an addiction (bet you can't guess what it is)
I conquered my fear of flying that sprang up in 2000
I closed two businesses (my organizing company and selling Mary Kay)
I went to:

20 new US states
4 new Canadian provinces
8 new European countries

I've been in a 100-year flood, almost-tornado and numerous blizzards (prior to being here I've been in a hurricane and an earthquake, so I'm running out of natural disasters)
I've accumulated four nieces and four nephews who range from 27 to less than 1 year old
I may be older, but I am also wiser and more confident and ready for the next decade!
COME ON SPRING!!

2011
SPAIN PHOTOS
December
November
October
September
August
July
June
May - none
April
March
February
January
2010
ALASKA PHOTOS
December
November
October
September
August
July
June
May
April
March
February
January
2009
December
November
October
September
August
July
June
May
April
March
February
January
2008
WEDDING PHOTOS
December
November
October
September
August
July
June
May
April
March
February
January
JILL'S CREATIONS:
Album - 2017
Album - 2016
Album - 2015
Album - 2014
Album - 2013
Album - 2012
Album - 2011
Album - Penn State
Album - Cedar Point
Album - Wedding
Cards
LOAD513
LOAD214
Mini Albums - Coffee and Daily Junque