January 2012
Happy New Year everyone!
So this is going to be a LOONG update because hey, we actually did something super exciting in December! We went to SPAIN!
We had been planning this trip since January 2011, seriously, and it had a bunch of ups and downs--our original itinerary was a cruise to the Mediterranean (Greece, Italy, Turkey, Egypt), and got cancelled in May after we bought our flights. We rescheduled to take a cruise to the Canary Islands instead, and through the graces of God and an awesome travel agent, we managed to cancel our previous flights to Rome and rebook to Barcelona! Then we had issues scheduling our cruise excursions, as the website was often down, the people we called didn't know what they were doing, and then the excusion we were looking forward to the most was cancelled. I was worried that the trip would be just as eventful as our planning efforts!
Well, we did have a few fun and interesting things happen, but all in all it was a ROCKIN AWESOME TIME. Be prepared: it was a whirlwind!
DAY 1: Barcelona
After a long day of travel, we found out that our luggage decided to stay behind. Half of the flight's luggage did not make it, so we spent a good hour or so in line filing a claim for it. Then we got our rental car and drove to the hotel. Yes, we were crazy enough to drive in Spain, which isn't bad until you get into the actual city centers, where there are no street signs, the other signs don't make any sense, and the roads are one-way, very narrow, and littered with pedestrians, bikers and scooters that just whiz past you. We checked into the hotel and roamed around. We walked all the way down La Rambla, a huge and busy street full of shops, cafes and vendor booths. At the bottom of it was a big plaza, and then further down was a pier with a nice shopping mall, where we all bought underwear to change into! We walked around a lot and had dinner in the oldest restaurant in Spain.
Here is a gorgeous shop on La Rambla: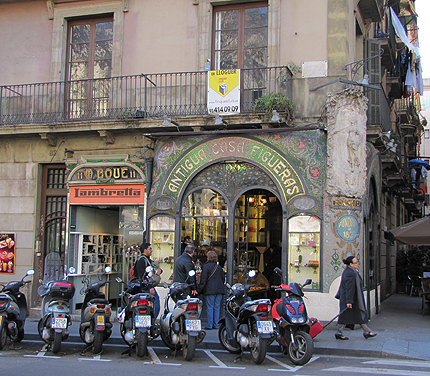 And here is the gothic castle still standing: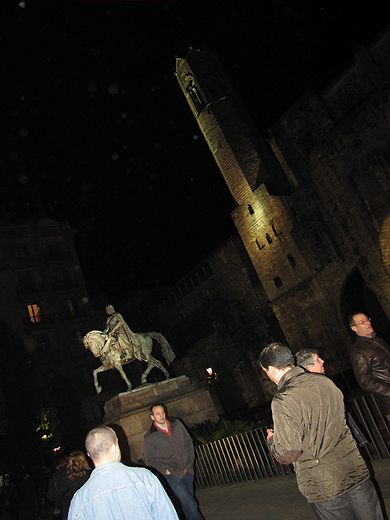 DAY 2: Elciego
Today we went back to the airport to get our luggage, and then we headed out on a 4-hour drive through Basque country to a small town called Elciego in the Rioja wine region. The drive was very nice and scenic and when we got to the town, we all gasped in amazement at the post-modern hotel coming closer to us...this hotel, the Marqués de Riscal, was where we were staying: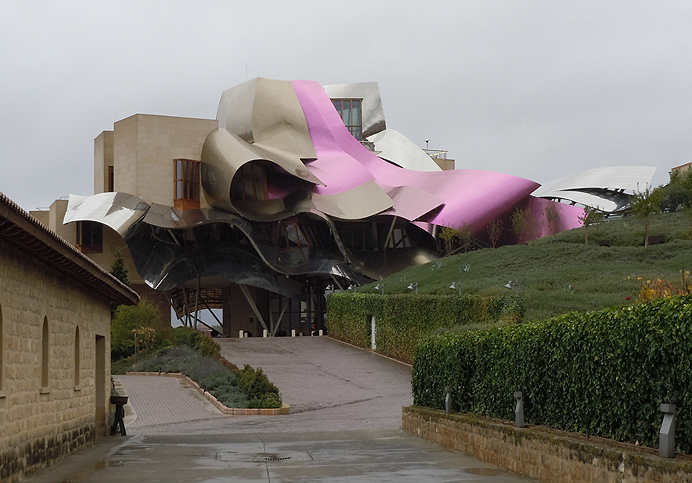 Here is the view from our room--of the vineyard behind us: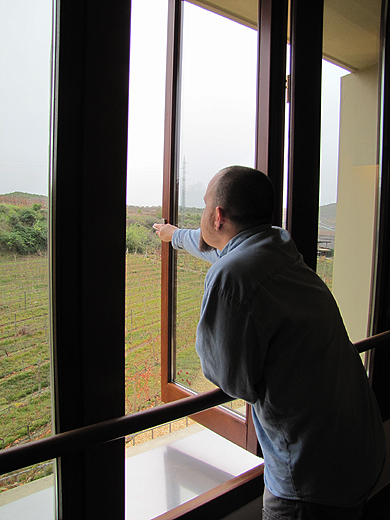 After checking in, we joined a tour of the Marqués' winery facilities. The winery has been in business si9nce 1858, and only recently was the hotel built. It's a small hotel (43 rooms) but just extremely unique and luxurious. We got 50% off food at the hotel's restaurants, so we dined in one of them, enjoying exquisite food and wine.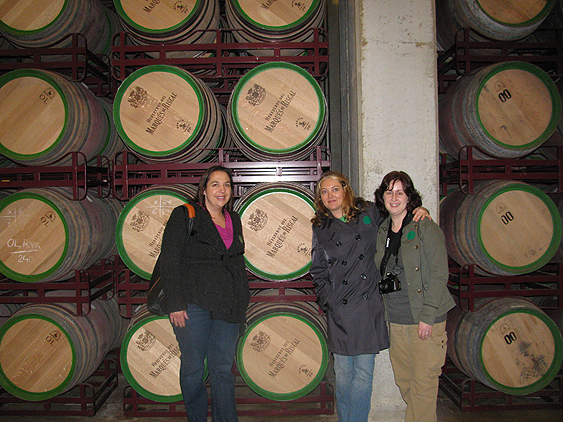 DAY 3: Elciego
On our second day there, I experienced a fresh grape massage, where they crushed fresh grapes into your skin with a light massage. It felt great, like my pores were opening! Then us gals relaxed in the spa area for a while, followed by a great tapas lunch in the only open restaurant in town during siesta, and a long walk around the town. The town is just absolutely gorgeous, with winding small streets, an old church as the focal point, and beautiful views of the area. Here is a plaza with trees that have been grafted together in these weird circles: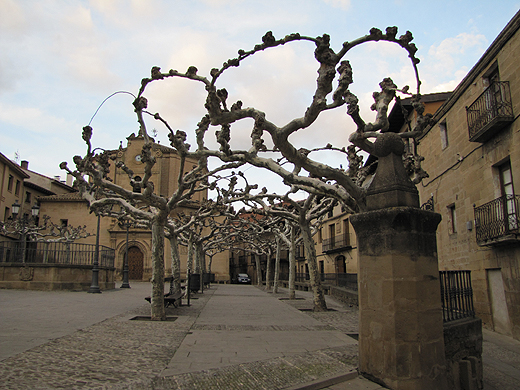 And here is the main church, nestled among two-story houses: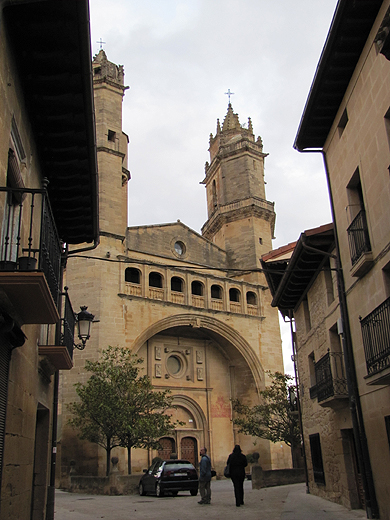 We ate at the other restaurant that night, having a 6-course menu. The courses just got more and more out of control in terms of unique presentations, strange ingredients, and flavors I've never experienced before. In addition there was a cheese cart and an herb cart. Yes, an herb cart: the waiter rolled out a cart full of herb plants, and hand-snipped herbs for a tea infusion. It was SO good!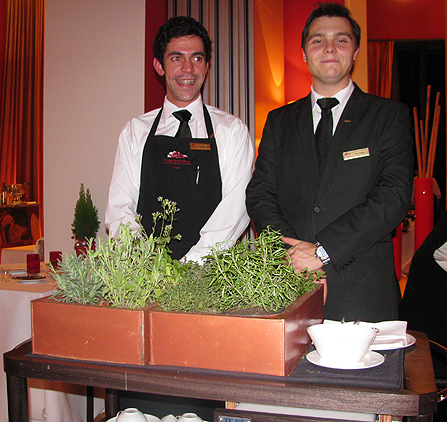 Let me just reiterate HOW AWESOME THIS INSANE HOTEL IS!!!
DAY 4: Barcelona
Alas, we had to leave Elciego and drive back to Barcelona. This time, we stayed at a W hotel, right on the beachfront, shaped like a boat sail and quite luxurious as well. We then took the metro to the Church of La Sagrada Familia, but chose to wait until the next day to visit it since they had already sold out their allotment of tickets to go up the towers. Instead, we walked around that area, stumbling upon an old market, tons of beautiful buildings, and a shopping center where there were big fountains and ice skating in a plaza. We also figured out that we were close to a miniature shop, as JC's hobby is to paint lead miniatures. We walked and walked, hungry in the dark, until we found where the store should have been. But there was no storefront, just an apartment building. I rang the doorball for the address that I had, asked for the store in Spanish, and a woman said to come on in! We walked up the five flights of stairs to an apartment, where an adorable English guy was running his shop out of his house! We were there for at least an hour as he and JC talked about minis, and he showed JC some of the stuff he had. JC bought several minis and we all just had an amazing experience!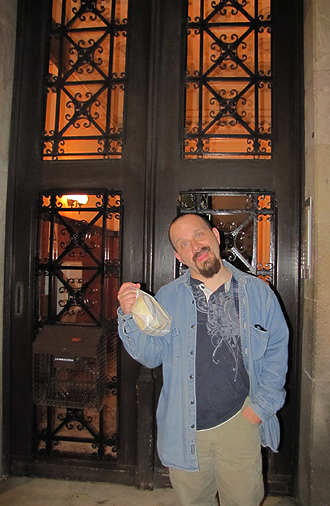 DAY 5: Barcelona/Cruise
Today, we went straight to the Church of La Sagrada Familia, which is the most famous Spanish icon as it was designed by Antoni Gaudí and is really freaky and modern looking. The facade honestly looks like it got melted in the microwave! It's also still in construction--it has been for over a century now!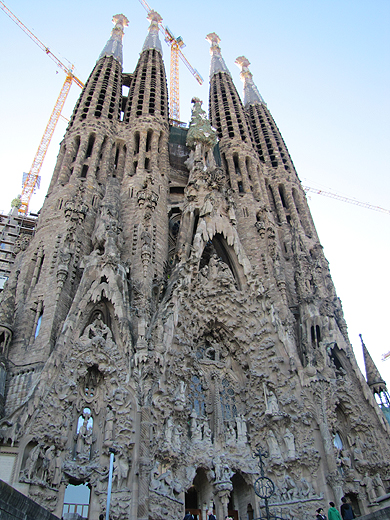 Here is the other side: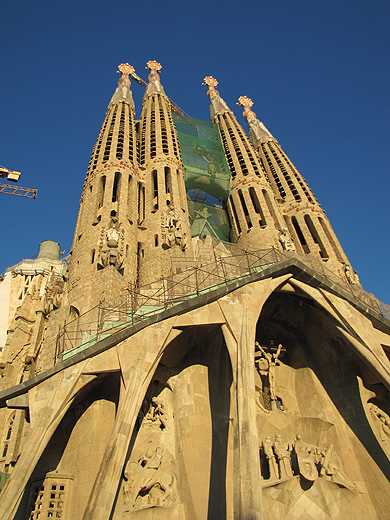 We lucked out through--the interior was just finished last year, so up until then the inside was not accesible to the public! It is just breathtaking. It feels holy and respectful, but it is the most unique church I have ever seen. Every single thing about it is unconventional.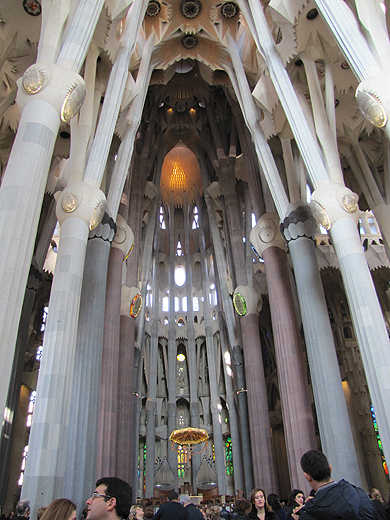 Here is a closeup of the crucifix above the altar, just amazing: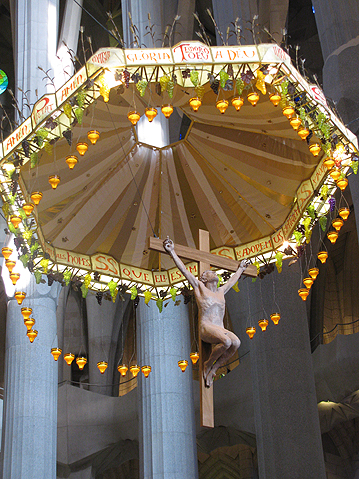 Going up the tower was amazing as well, such incredible views of the city as well as the other towers and spires of the church, still under construction!
Then we headed to the port to get on our cruiseship, the Norwegian Jade, for our Canary Islands cruise!
DAY 6: At Sea
Of course us girls immediately found the spa after getting onto the boat, and bought the week-long spa pass. So a good portion of our first sea day was spent relaxing in the thermal jetted tub, hottub, or the heated mosaic-tiled reclined lounge chairs overlooking the front of the ship! We also explored the whole ship, and had fun in the dining rooms taking weird pictures with the Christmas trees that decorated all of the tables...this was a theme for the entire cruise...that's our friend Leah that JC is spearing...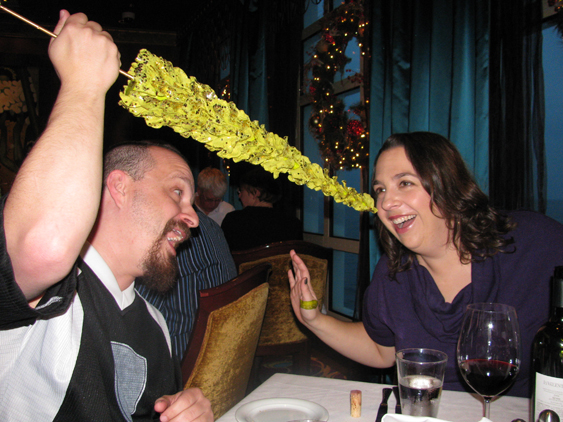 DAY 7: At Sea
Another day at sea! On the first day, I got a massage, and on the second day, I got ionithermie, which is a procedure using small electric currents to flatten down the fat cells in your stomach. I actually had this done on my very first cruise back in 1992, so I had it done again and I lost a total of 2.5 inches from my waist to my hips. Not bad! Plus there was more spa lounging and general mischief...of course with items on our dinner table!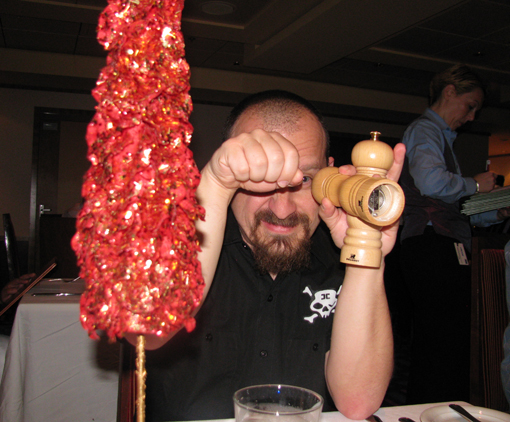 DAY 8: Lanzarote
Our first island was Lanzarote, where we did a "Fire Mountains and Camel Ride" excursion! We had an adorable English lady as our tour guide, who took us through the National Park, which is a desolate huge area overrun by lava rock formations! Hills, craters, tunnels, all created from huge volanic eruptions that took place for over an entire year from 1737 to 1738! The scenery was just absolutely gorgeous though--the rock formations and colors are just spectacular.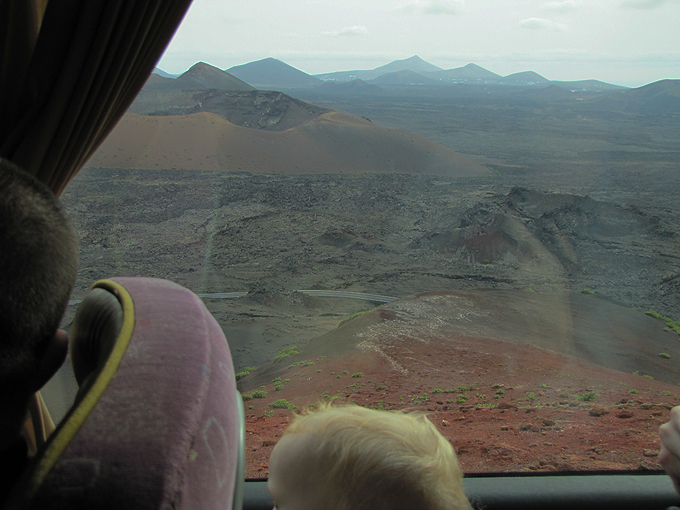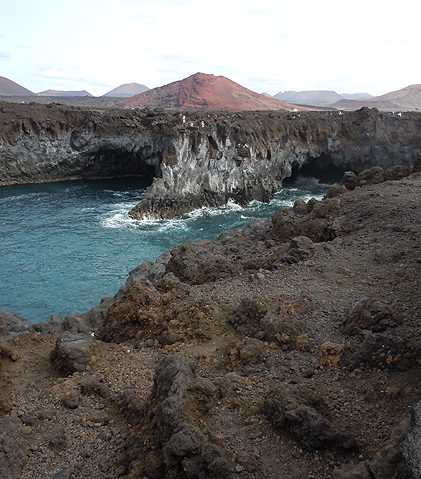 Then, still inside the park, we stopped for a camel ride! We rode side-by-side across the camel's hump in a caravan, up a small hill and back down again. It was quite an experience! Our camel after a while started nibbling on the camel in front of us, and the camel behind us kept wanting to eat our clothes!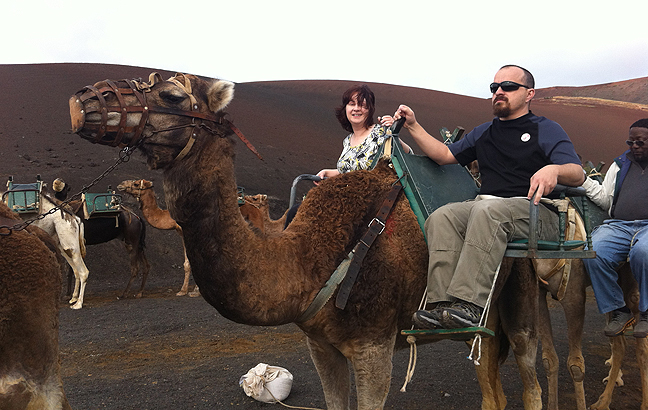 Finally, after a quick drive through the main town of Arrecife, we stopped at a winery for a bit of a sampling of yummy sweet wine! Then, although the excursion was over, we still had a few hours before we had to get back onto the ship, so we walked around Arrecife and had a nice lunch at a local cafe. We also explored a fort that was just offshore.
DAY 9: Tenerife
Canary Island #2 was Tenerife, larger than Lanzarote with several quaint, adorable towns. On this excursion we visited two towns, La Laguna and Orotava, both absolutely beautiful on the hilly (volcano-created of course) and lush landscape of the island. Our tour guide had us driving and walking around the beautiful towns, stopping into several of them to admire the architecture and the gorgeous patios in the middle of the houses.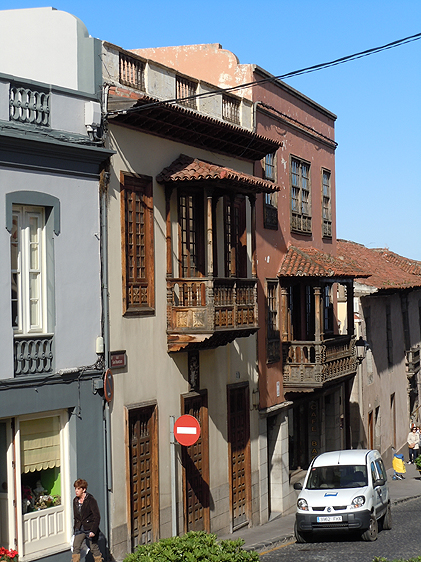 Here's a landscape view from a lookout point: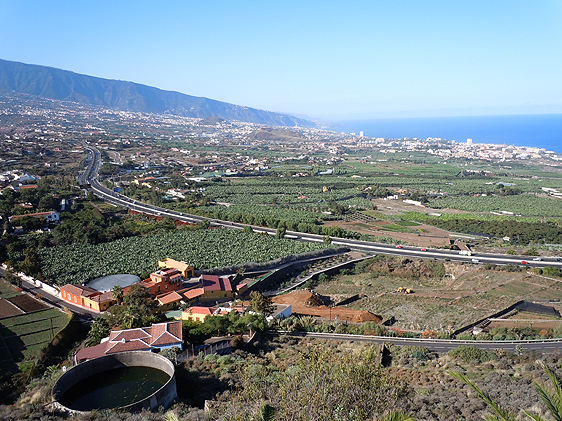 Then we went to Pueblo Chico which is an amusement park consisting of miniature replicas of the islands! It was cute and odd at the same time.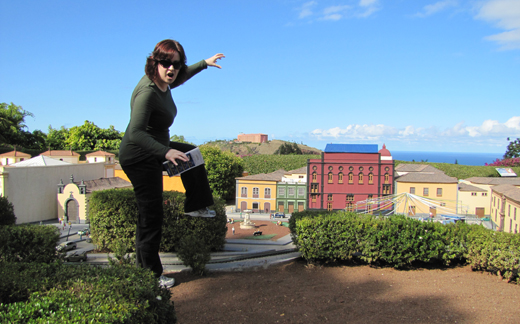 Lastly, we roamed around Santa Cruz de Tenerife, the port and capital city, having a nice lunch and exploring the quaint streets and gorgeous buildings with intricate iron balconies.
DAY 10: Madeira
Our third island, Madeira, is actually not a Canary Island, but rather, one is a series of islands closer up to the Iberian Peninsula (the Canary Islands are actually closer to Morocco than to Spain!), and is part of Portugal! This island was much larger, and our excursion took us ALL over the place! First we had a cable car ride up the mountain, showing specatular views of the town of Funchal, the island's capital. Next we walked to a church and an area where they do ages-old toboggan rides. There is one downhill road that has been used for centuries by the locals to toboggan down with goods, and now it's a tourist attraction of course. Two people ride in a large wicker basket/sled type thing with two guys steering on the back! It was seriously trippy but it was a very smooth ride, between the street and the basket's rails being totally worn down!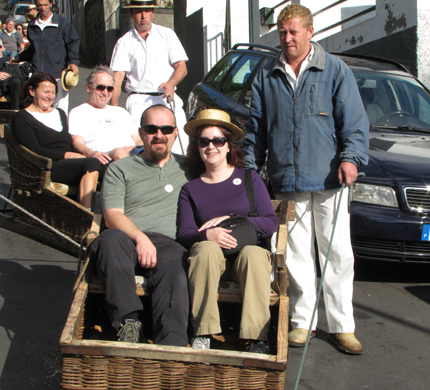 Then we took a bus up some scary hillside roads to view the Valley of the Nuns--a beautiful valley community nestled inbetween large peaks, where the clouds were eye-level with us! The view was one of the most beautiful scenes I've ever experienced. Yes those are houses down there!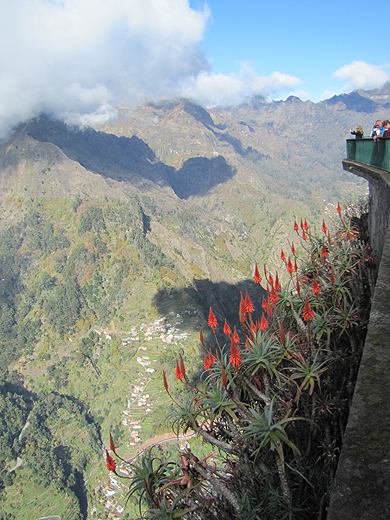 Lastly we headed back down to Funchal where we visited a local winery, famous for port-like wines. They were yummy and a high alcohol content, woo!
Once the excursion ended we spent a few hours roaming around town once more, eating lunch at a really nice and quaint restaurant. We also stumbled upon a shopping mall where I bought a cute set of 6 espresso cups and saucers with cats on them!
DAY 11: At sea
Our last sea day consisted of--you guessed it--another massage, relaxing in the spa, hanging out...and trees.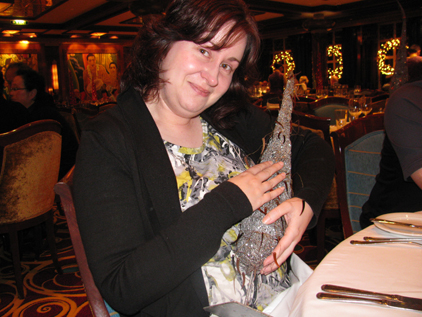 DAY 12: Ronda, Granada
We disembarked at Malaga, in the south of Spain, rented another car, and headed off one hour to the west to a small town called Ronda. Famous for being the beginnings of bullfighting, we visited the first ever bullfighting ring in the world, which also had a great museum of bullfighting costumes and posters.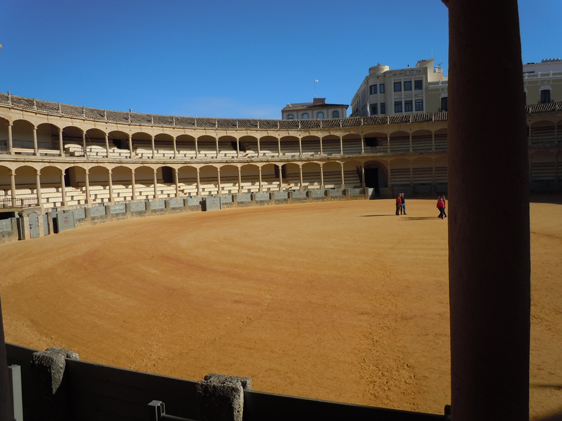 We spent several hours walking around town, and had lunch at a gorgeous cafe overlooking this amazing canyon and old bridge. I could live in this place!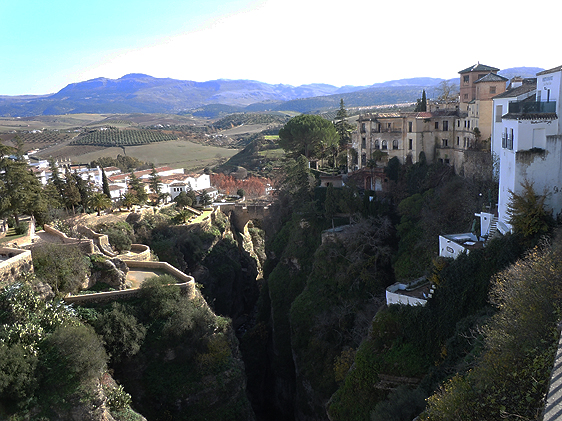 Sadly we didn't have more time to spend in Ronda, as we had to get back into the car in the afternoon and drive 2 hours east to Granada. There, the driving and parking was at its worst, as our hotel was in the middle of the old section of town, and it was narrow and winding to get to, with no parking. As JC drove to the parking lot where we could park, he scraped the car! Luckily when we dropped off the car in Barcelona at the end of the trip, they did not notice the scratch!!! Whew!!!
Anyway, we got to Granda after dark, so all we managed to do was check into the hotel, park the car, and walk a little bit to find something to eat. We found a gorgeous local restaurant where we had a 3-course meal with fresh seafood paella and jugs of wine!
DAY 13: Granada, Valencia
First we headed up to the Alhambra, the beautiful and huge Moorish castle that spans centuries of architecture and regime changes. We spent hours roaming around the beautiful palace and castle, filled with carvings of Arabic text. Plus there is a huge garden, another palace from Roman times, and a church.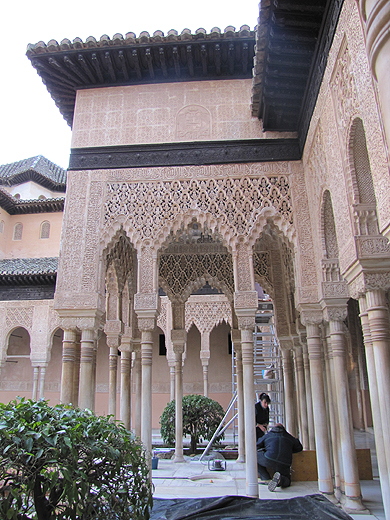 Then we spent a little bit of time walking around Granada before getting into the car and driving 5 hours north to Valencia, where we stayed the night in another amazing hotel. We had just enough time again to walk around the city a little bit and find some dinner.
DAY 14: Valencia, Peñíscola, Barcelona
This day was a whirlwind. Our first adventure was spending a few hours walking the streets of Valencia, taking in the beautiful cathedral, the awesome mixture of old and new buildings, the cool shops, and the chocolate shop we had breakfast in (fried churros dipped in a tea cup of melted chocolate, yummy yet fillling and very sugar-infused!).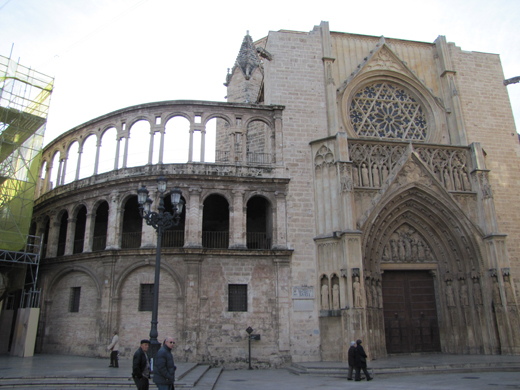 When we were done with Valencia, we drove 1.5 hours further north to a small beach town called Peñíscola. There we met up with a colleague of mine from Lionbridge, Angela, who lives there! We had a great lunch of more fresh paella and wine, and then she guided us around the castle area of town, which has adorable small houses and shops nestled inside its walls.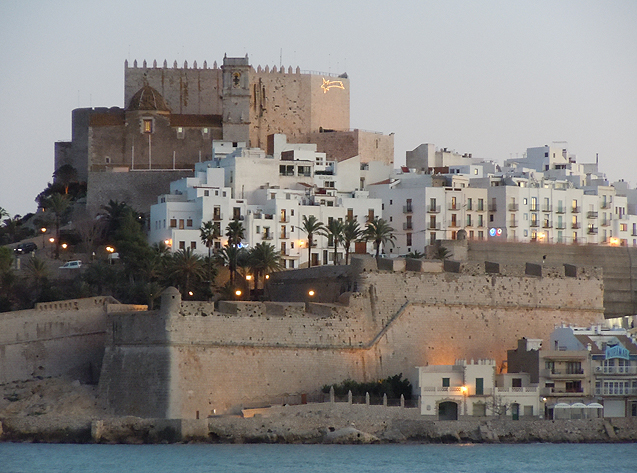 Since the castle is pretty much the only attraction in Peñíscola, and it's December so not exactly tourist season, we then left to drive the last hour up north back to Barcelona. We went back to our beloved W hotel, and ate at an amazing hamburger spot that was PACKED at 10pm.
DAY 15: Barcelona
On our last day of the trip, we decided to see a lot of Barcelona without a lot of the hassle by doing one of those tourist buses that allows you to get on and off when you want. We did both routes, and our first and main spot we wanted to get off at is Parc Guell. Another Gaudí creation, the park is an open park free to the public, filled with strange rock columns and seats, and a really cool mosaic-tiled winding bench. It's also a popular image of Barcelona and was really fun to explore.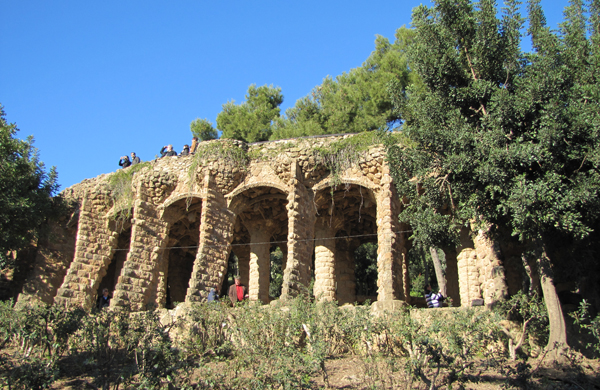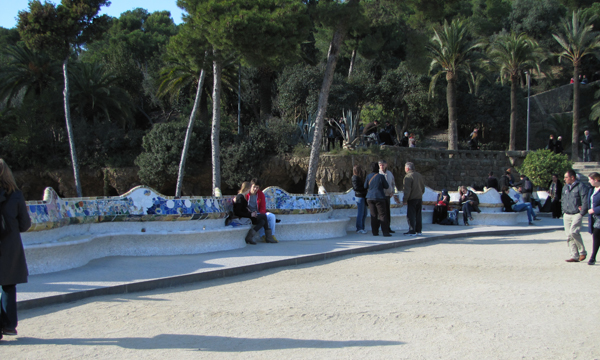 Then the rest of the day was spent on the bus, seeing the old bullfighting ring, the FC Barcelona soccer stadium, the Olympic stadium from 1992, and more famous Gaudí buildings. We ended the day shopping like crazy and eating at a restaurant called Cheese Me, where almost all of the dishes on the menu had cheese in some form or another.
And so ended our fantastic journey through Spain. I miss the café con leche, the fresh paella, the awesome wine, and the hospitality of the Spanish people. We had nothing but amazing experiences in the towns and with the local people. I could definitely return to Spain, Madeira and the Canary Islands! Although we ran around like crazy seeing a lot of different places, there is still so much more to explore...!
For complete sets of photos, I will put them up on a separate website...once I finish sorting through over 6,000 of them!! For the next update...