2018
December
November
October
September
August
July
June
May
April
March
February
January
2017
December
November
October
September
August
July
June
May
April
March
February
January
2016
December
November
October
September
August
July
June
May
April
March
February
January
2015

December
November
October
September
August
July
June
May
April
March
February
January
2014

EUROPE PHOTOS
December
November
October
September
August
July
June
May
April
March
February
January
2013

December
November
October
September
August
July
June
May
April
March
February
January
2012
PORTUGAL PHOTOS
December
November
October
September
August
July
June
May
April
March
February
January
February 2015
January was a chance to get caught up on some scrapbooking and start making some small changes to get myself back into a shape other than round. I'm really caught up on scrapbooking and even made considerable progress on my album about our European trip this past Oct/November! But I don't have photos taken yet, just a big ol' pile of layouts to capture, so I'll get to that soon as well as post my almost-done 2014 album.
I started off the year and month by working at The Scrapbook Shack putting out a ton of inventory. Almost everyone was there and it was fun. The next day was a Friday and I had off from work so a friend and I met up to scrap at The Shack and then I worked there in the evening. The following Monday was our January Avalanche game and we saw them lose to Columbus in a shoot out at the very end.
After that, there wasn't much else going on besides working, working at the Shack, and scrapbooking. Rather than having a lot of smaller goals throughout the year, I chose this year to really focus on my weight and feeling healthier. Since my foot is still not healed, I decided that I need to take control of my diet in the meantime. I began tracking my food on my phone and making smarter choices when we went out. I haven't lost any weight yet but I'm eating less and choosing better foods, so that has to be worth something, right? JC and I also bought Fitbits so it's cool to also be tracking sleep, calories, steps, stairs, etc. It just might get him motivated to get into shape too! I was also recommended a book that gives you stretches to alleviate pain and stay balanced and aligned. I'm trying it now to see if it makes this plantar fascitis go away faster. Fingers crossed because I'm sick to death of sitting here immobile all of the time!
Anyway, I promised Christmas photos. I don't have any from my side of the family, but here are a few of the typical Polanycia antics. Here we are with 2 family members bearing the Plague. The two in the back are Nick and Noel, the two on the left are Mikey and his girlfriend Alanna and the two on the right are, well, just freaks.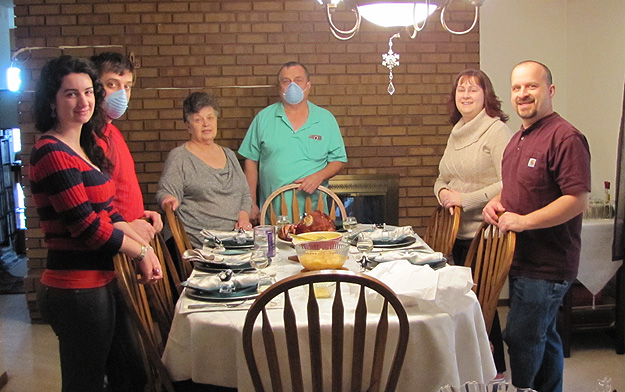 Then, we had to take another 6 or so photos with funny hats because the timers on the cameras weren't working.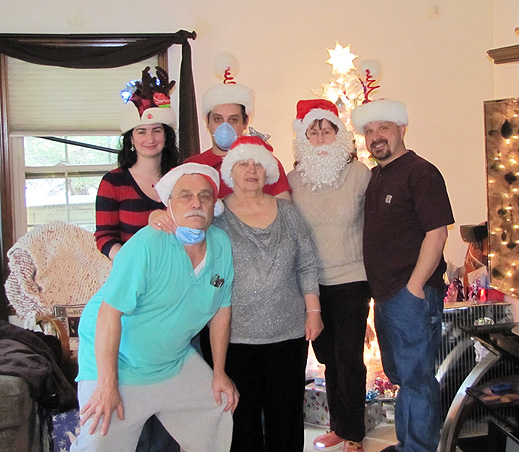 Finally, after lunch, we dug into the presents. I think the most exciting thing that JC and I got was a BISSELL Pet SpotBot carpet cleaner!! It works GREAT!!
But, here I am with an APRON!!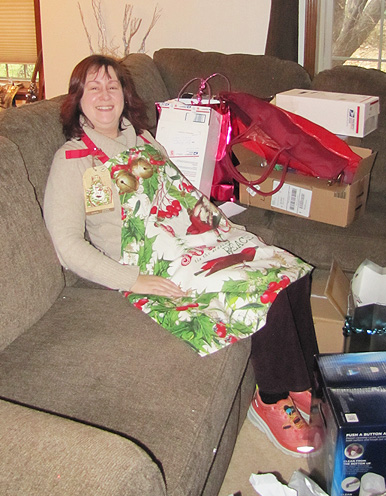 Then Nick ended up getting a welding apron and an initialed branding iron (yes, that was my bad) so naturally a serial killer photo was in order...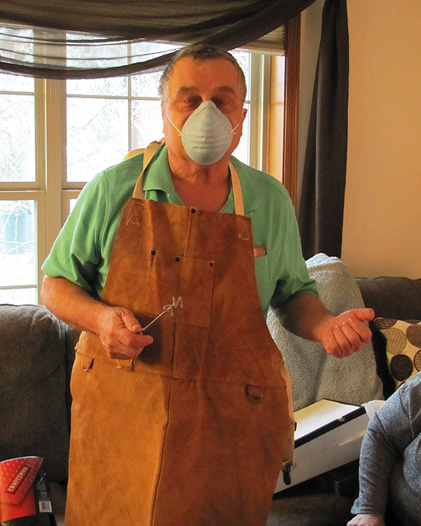 After presents we toasted to a new year with some unidentifiable liqueur that JC and I bought at the Melk Abbey and Monastery in Melk, Austria. Come on, it's from a monastery, it can't be all that bad, right? There were two flavors--the one in the picture had a minty taste and the other, darker one had a licorice taste. I liked them both!!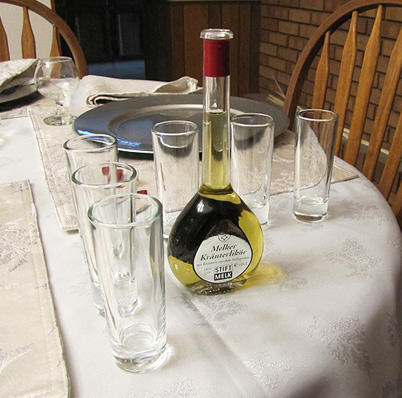 Year in Review
In keeping with tradition (sortof), here is my review of how 2014 went down for JC and I.


1. Highlights of the year

EUROPE, OF COURSE!
Going home to spend time with family and watch Leonardo grow into the cutest dang kid around
Getting my time more organized
Seeing my dad retire and how happy he is now
JC transitioning to his 3rd job in 2 years
Buying our first car together
Experiencing a bee swarm
2. Lowlights of the year

Randomly developing plantar fascitis for no reason halfway through the year and having that negatively impact our trip to Europe
Still sitting at this same job...that's not rewarding at all from a contributing-to-society standpoint
3. What do you have at the end of 2014 that you didn't have before?

More control over my time, and more time. I've learned to get up earlier and make more use of my time. I've learned to say No to things that I really don't want to do, and trim down expenses.

4. Did you make any resolutions at the start of 2014 that you managed to keep?

WOW was this an amazing year for setting goals and accomplishing them! I think it was because of my active participation in One Little Word, which I'm definitely doing again in 2015! In March or so I created 9 goals, and I ended up accomplishing almost ALL OF THEM by JUNE!! I think it was a great exercise to write down and play with the tasks, my goals, my thoughts, and my progress throughout the year. I'm now a huge believer of writing goals down and checking in on them throughout the year.

5. Strangest thing of the year

JC changing jobs again in April. Hoping this one sticks but not so sure...

6. Funniest thing of the year

Our trip to Europe was just fun, fun, fun. Our trip to Iowa and Missouri with friends was also a great time. Just a lot of happy memories.

7. Saddest thing of the year

That incessant feeling I have that I should be doing something much more fulfilling than translating printer manuals...but then having no idea what that something really is and just giving up. I'm open to suggestions everyone!

8. Any goals for the new year?

HEALTH, HEALTH, HEALTH

Healing this $@%*& foot
Continuing to count calories and plan our meals every week
Begin trying to COOK--GASP--YES I SAID IT!
Starting an exercise routine and getting it so implanted that I don't talk myself out of it every morning
Who knows, maybe I can even take up something like running or go back to hockey...

Continue the trend from late last year to try to meet up with friends more often
9. Summarize 2014 in a word or sentence

EVOLVED. I really did make so many life changes for the better this past year, thanks to some great life coaching and changing my mindset. I'm stopping the fearful flying, I'm stopping the negative self talk, and I'm stopping procrastinating and wasting time.

10. One Little Word for 2015

ROOT.

To ingrain and instill into myself physically, mentally and emotionally better habits such that they become routine. To change behaviors and patterns to never look back on how things were before them.
To try to come up with an overarching work goal again.

2011
SPAIN PHOTOS
December
November
October
September
August
July
June
May - none
April
March
February
January
2010
ALASKA PHOTOS
December
November
October
September
August
July
June
May
April
March
February
January
2009
December
November
October
September
August
July
June
May
April
March
February
January
2008
WEDDING PHOTOS
December
November
October
September
August
July
June
May
April
March
February
January
JILL'S CREATIONS:
Album - 2017
Album - 2016
Album - 2015
Album - 2014
Album - 2013
Album - 2012
Album - 2011
Album - Penn State
Album - Cedar Point
Album - Wedding
Cards
LOAD513
LOAD214
Mini Albums - Coffee and Daily Junque