May-June 2012
So this time around I need to combine the updates for May and June because, well, I'm authoring the May update on May 19th, so I'm pretty behind, and because I don't have much to write about, and won't have much for a June update in the next 12 days!
Things have been pretty quiet and fun here now that the PMP exam studying is over. We have been making major progress in getting our house in order!
We've done two major purges of stuff: first we got rid of a ton of clothes in our closet because we were running out of hangers! This time around, I was in the mood to purge so I finally got rid of a lot of fancy clothes that just won't fit me anymore by the time I need them again (IF I ever need them again, hah hah!). We freed up a ton of space for more concert t-shirts. :)
Next, we finally tackled the kitchen, which we've needed to do for a while now. Again, we were in the mood to purge, so we got rid of a lot of excess stuff that we just weren't using, like fancy dishes and glasses, stuff like that. We now have nothing on our island, and it feels GREAT!
However, we did acquire one item that now resides on the counter...our espresso machine!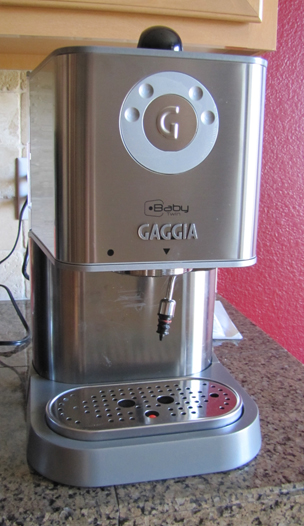 Gaggia is an Italian company and are one of the best espresso machine makers in the world. JC did thorough research, of course, before choosing this one, and it ROCKS. It can make two espressos at the same time, plus the little utter-looking thing is the milk frothier. He is now a professional-grade barista, making espressos, cappuccinos, and lattes with ease. YUM.
The only down side is that having one at 8pm or later keeps me up at night!
But it's just like the coffee we had in Spain...memories...
Another huge purchase we made was that I finally sucked it up and got myself a new cell phone. I haven't gotten a new phone in YEARS, and for the last year I had been using this Nokia E7 beast that I got for free from work. But it got to the point where it was just plain annoying, so I bought a Samsung Galaxy Note. It's the one that has a 5-inch screen and a stylus, so it's a hybrid tablet/phone. I LOVE IT. I nearly died at the price tag ($300 for me is WAY too much for a phone), but it just might be worth it to be able to function again!
In other news, we also dropped major money on some new flowers and a really cool terra cotta birdbath: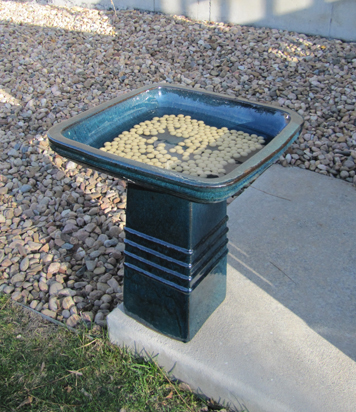 We have a lot of birds in the neighborhood, and we are the ones that feed them, so we read that birds need a birdbath during the winter to keep clean. We went to a local nursery and got this free-standing birdbath, as well as some new feeders.
As you know, last summer was my first attempt at planting and caring for flowers. I only bought two types of flowers, and had them in two planters, but they were successful and I had a good time going outside to care for them. I left the planters outside over the winter, probably not smart, but I just plain forgot about them, so when I went back out there to check on them this spring, they were dead as a doornail.
I felt awful about it, thinking that I killed them over the winter...until I read their tags saying that they were ANNUALS. Uh ok duh!
So this year, since it was over 80 degrees as early as April, we bought flowers earlier than last year!
Of course, I have to change things up and choose different types of flowers, so this year I have a Coleus Hybrid, which I'm calling a Dragon Tongue: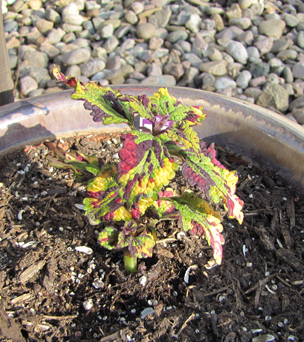 A grouping of Penny Peach Violas, so stinkin cute!
And three Jedi Reds, who don't look like much to start off, but their tag shows a really cool picture of them: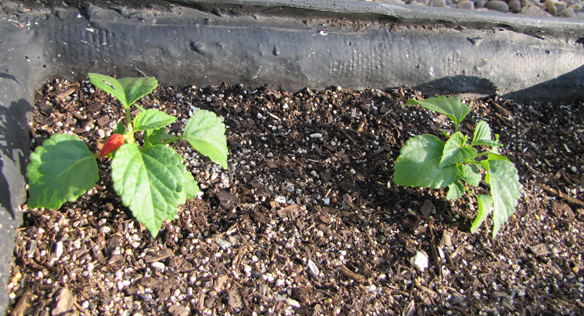 Well, here's what they all looked like mid-May, although now I'm sad to say I think I over watered the Dragon Tongue, as he has since biffed it. :(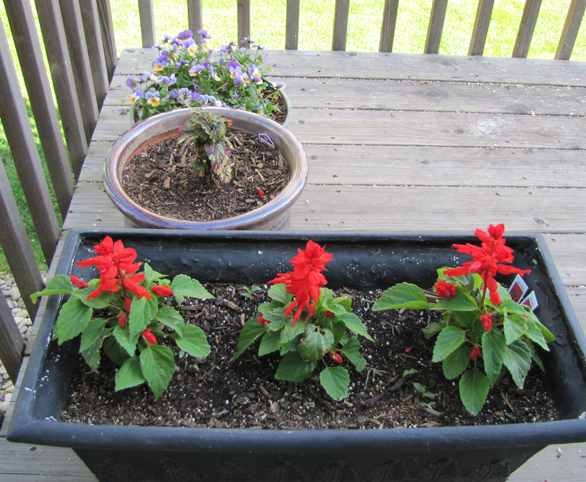 We also replanted a Cypress tree that JC's parents gave us for Christmas this past year, since we didn't decorate the house and put up a tree. He's doing OK outside: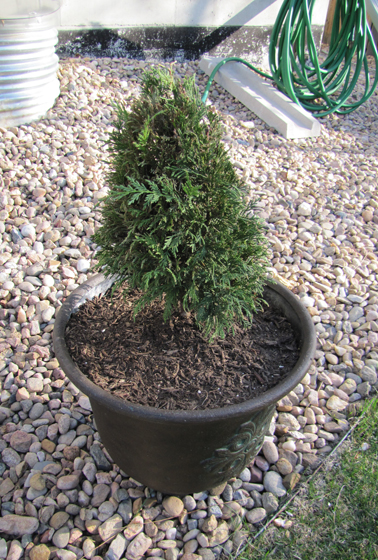 In other news, we haven't gone to a concert in AGES, but on May 20th we are going to see RAMMSTEIN, a hard-rock/goth German band who we've been waiting to see for YEARS! They never come to the US so we have to seize the moment! I cannot WAIT, I hear their shows are out of control...
We just finished another session of our adult hockey clinic, and the next one starts up in early June. I finished the DWHL spring league in mid-April, losing in the final game, but surprised and impressed that we even got to the final game! The DWHL summer league started two weeks ago and it's been a lot of fun. I decided to stay in the novice division--in the summer they split the league into novice, intermediate and advanced leagues, instead of having one mixed league. I probably could have moved up to the intermediate league, but I just didn't feel like it. :)
That's it from here, enjoy the start of summer and more importantly, the Stanley Cup Playoffs!!
I STILL need a vacation!