February 2012
Well, nothing like closing out the first month of the new year with a stomach bug! January was otherwise uneventful, spent back at work, missing Spain, starting hockey back up, staying warm and sorting thousands of photos.
I am happy to report that I DO have all of the Spain photos ready for hours and hours of viewing! In record time I might add!
At this link there are subfolders for each location, so jump around and have fun! Sorry about some of the photos being on their sides, I didn't really take the time to align them all. :P
So last month I gave you a taste of the beauty that is Spain. This month I would like to take you on our gastronomic journey. First, we start with a well-known Spanish dish--paella, which is Spanish rice usually with fresh seafood...complete with heads you have to rip off. Years ago that made me lose my appetite, but meh, once you got the meat out it was good!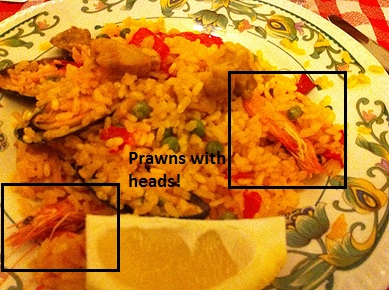 Next, Spain is known for its HAM, and what better, food-safe way to display your ham than to leave the actual pig leg sitting out on the counter for everyone to admire? Not much left on this one...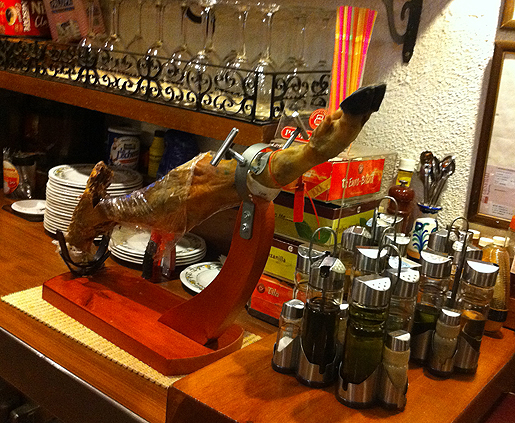 Ah, and don't forget the ham-flavored potato chips! I so wish we could get flavors like this in the States!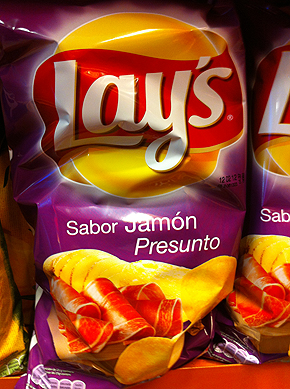 Would you prefer fresh potatoes instead? Well, I can't guarantee that they're fresh, seeing as they are packaged in a cardboard box with some "mojo" or traditional sauces of the Canary Islands.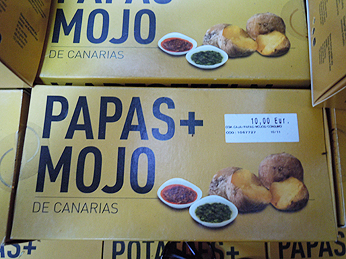 Now that we've had something salty, how about something sweet? Gummy teeth at a Barcelona candy shop called Happy Pills. Appetizing, no?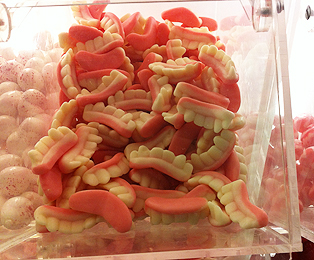 Or perhaps a hand-shaped pastry from an adorable pastry shop in the quaint town of Ronda?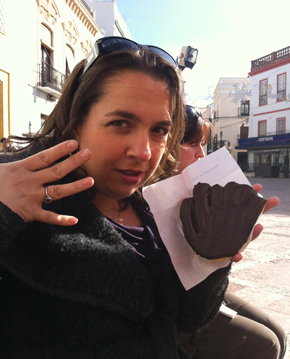 No--I've got it, how about exotic fruit? In the shape of a 2x4? Can you guess what it is? It's purple, sweet and squishy...it's QUINCE!
OK, let's get casual and have seafood salad at a café on the island of Lanzarote. It was actually really fresh and tasted great.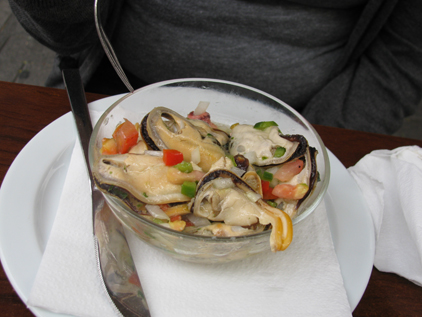 Then let's get fancy: for our first course, a soft cheese mixture nestled inbetween two toasted sesame crackers drizzled with honey, sitting atop a heated stone.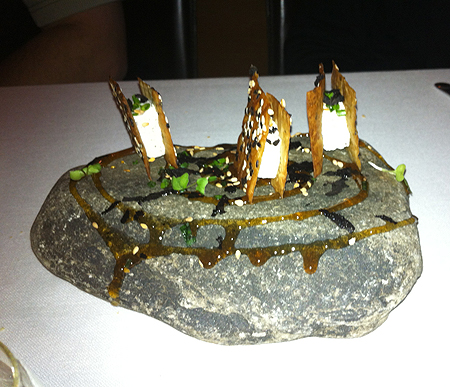 Wait--we skipped breakfast! The most important meal of the day! And what says "healthy, protein-filled breakfast" than fried dough churros dipped in melted semi-sweet chocolate? It even got to be too much for JC.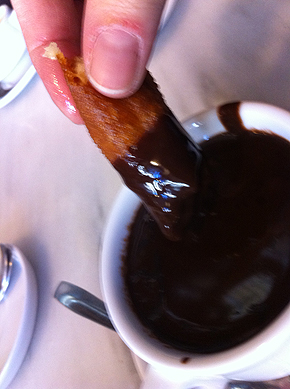 Would you like something to wash it down? Well we have milk...in a very tiny box...at room temperature...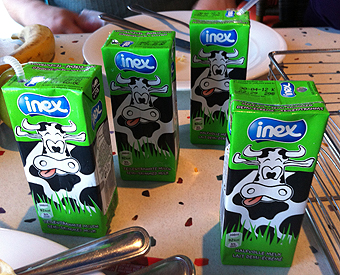 ...we have chocolate milk, which is apparently gearing up to sub into a soccer game any minute now...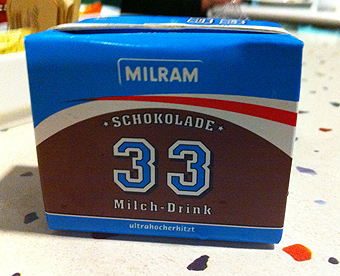 ...or we have coffee. European coffee is far superior to US coffee (sorry Tim Horton's!), and I just could not get enough of it while in Spain. Think I'm kidding?
Becky and I without coffee: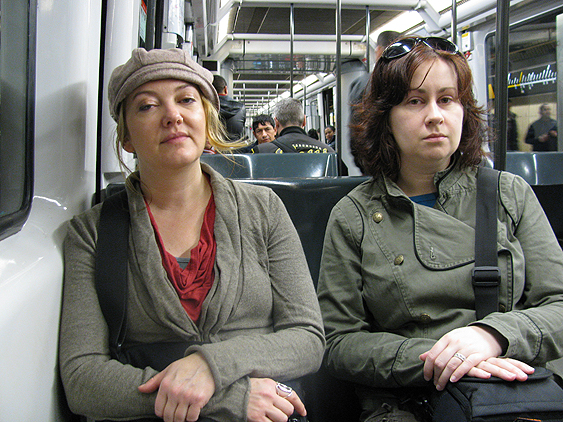 Becky and I with coffee: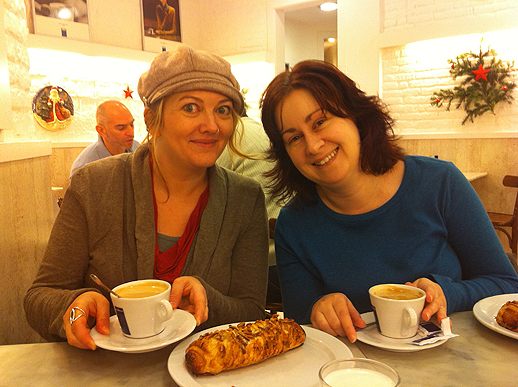 'Nuff said.
Or maybe you're like the guy who sat behind us as we had breakfast in the lovely Barcelona café pictured above who was having a beer with his pastry? We got you covered as well: 16% alcohol by volume wine from Brandy's winery on the Portuguese island of Madeira. See how teeny the glass is?? That's a GOOD thing!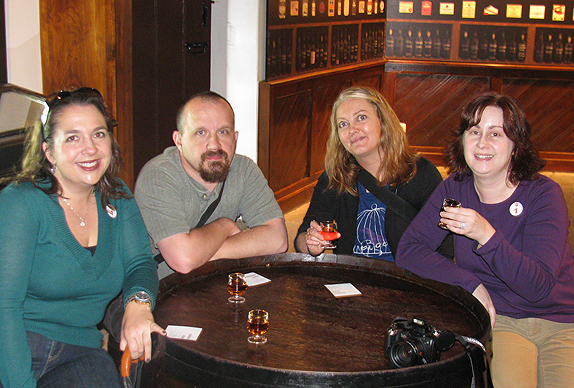 Lastly, no meal is complete without some seasoning...lemon, garlic, onion, Virgin Mary, donkey...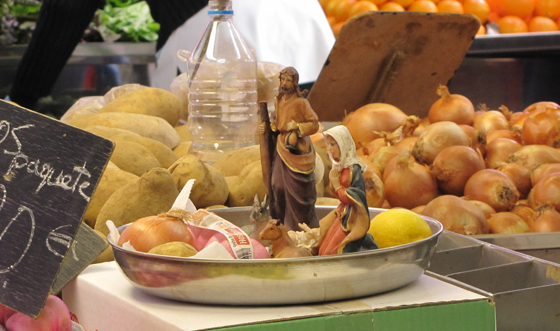 CHEERS!