2018
December
November
October
September
August
July
June
May
April
March
February
January
2017
December
November
October
September
August
July
June
May
April
March
February
January
2016
December
November
October
September
August
July
June
May
April
March
February
January
2015

December
November
October
September
August
July
June
May
April
March
February
January
2014

EUROPE PHOTOS
December
November
October
September
August
July
June
May
April
March
February
January
2013

December
November
October
September
August
July
June
May
April
March
February
January
2012
PORTUGAL PHOTOS
December
November
October
September
August
July
June
May
April
March
February
January
March 2010
Another calm, relaxing month was February...well, except for work which is insane. But otherwise, we got to relax a lot and we watched a LOT of Olympic coverage. Anyone who has known Jill for a while knows that she is an Olympic FANATIC. She was a volunteer at the 1996 Olympic Summer Games in Atlanta, Georgia, and has now added to her bucket list to make sure she attends at least one Olympic Winter Games in her lifetime. SO mad she didn't go to Vancouver--it's like next door!!!
In all honesty, Sochi, Russia in four years doesn't sound so bad...anyone with us??
Anyway, so since we didn't go anywhere or do anything particularly exciting, the only photos we have to show are some fun shots of Jill with the BelaHockey Granato Championship Cup, which was awarded to her hockey team, the Nordiques, at the end of the DWHL's Fall 2009 season. The cup was donated to the DWHL by Cami Granato (the most famous female hockey player for USA Hockey), and BelaHockey (a company formed to help girls get into hockey), and we were the first recipients of the cup. Each player got to have the cup for a while, and a teammate also went to the trouble of making our very own Wheaties box! Enjoy.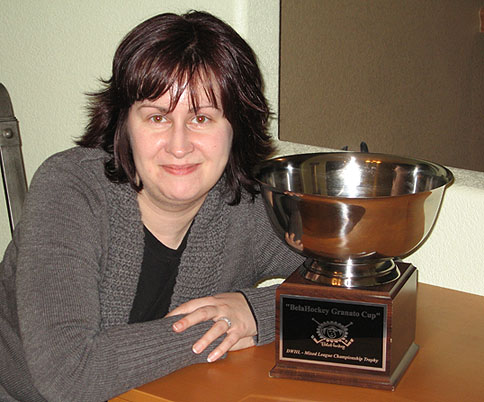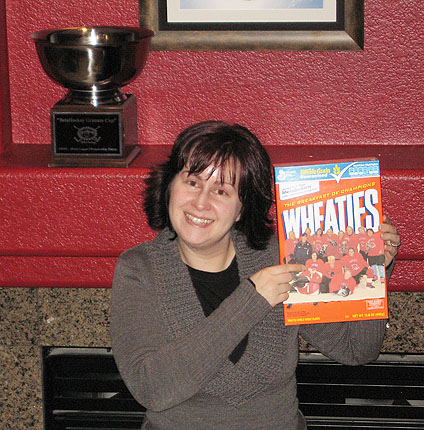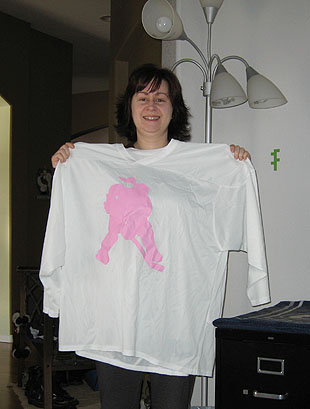 We each also got a jersey that says "DWHL 2009 Fall Champions" on the back. How sweet is that?

2011
SPAIN PHOTOS
December
November
October
September
August
July
June
May - none
April
March
February
January
2010
ALASKA PHOTOS
December
November
October
September
August
July
June
May
April
March
February
January
2009
December
November
October
September
August
July
June
May
April
March
February
January
2008
WEDDING PHOTOS
December
November
October
September
August
July
June
May
April
March
February
January
JILL'S CREATIONS:
Album - 2017
Album - 2016
Album - 2015
Album - 2014
Album - 2013
Album - 2012
Album - 2011
Album - Penn State
Album - Cedar Point
Album - Wedding
Cards
LOAD513
LOAD214
Mini Albums - Coffee and Daily Junque