December 2012
Well, as promised, I was going to continue with Part 2 of my trip to Portugal and Spain. But first, an awesome announcement.
I fell in a hockey game on Nov. 27th, and immediately had pain in my left hip. I proceeded to go to Vegas for 5 days and walk up and down the strip numerous times (that'll be the subject of January's web site) and stupidly gave in to "hockey peer pressure" and skated in my team's championship game (we lost miserably) when I returned. The pain has not increased or decreased, so a week later I finally saw the doctor about it.
As of today, Dec. 7th, the constant, dull pain in my left hip is being diagnosed as a pelvic fracture. Not bad enough to need anything other than a lot of lying down and sitting to not put weight on it. An official diagnosis by an orthopedist is happening on Dec. 11th, so we'll see what they say.
Anyway, on to Seville, Spain! Remember that there is a whole Seville album if you click on the PORTUGAL PHOTOS link on the left!
I basically went CRAZY taking photos of the amazing architecture, a beautiful mixture of Arabic/Moorish and European influences. Here are a couple of my favorite buildings: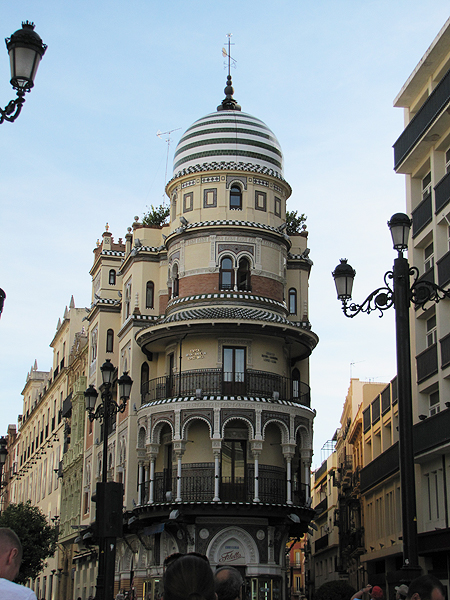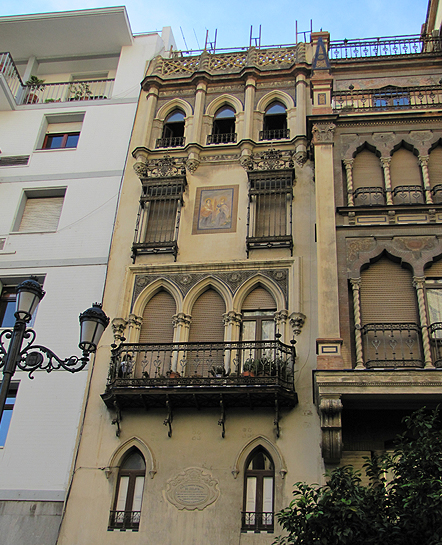 Here is the Seville Cathedral, absolutely enormous and majestic. Sadly we did not go into the main area because it cost a ton to do! But I took a whole lot of great shots of the fantastic outside.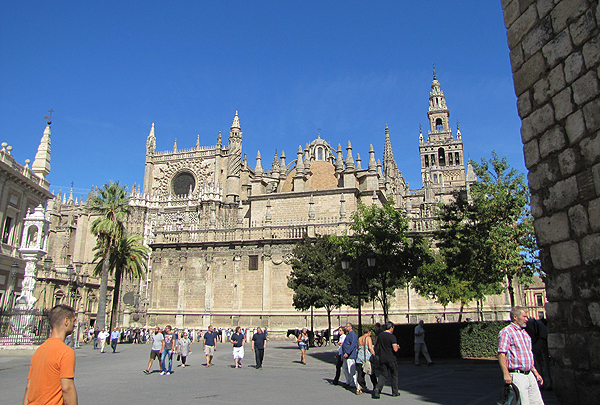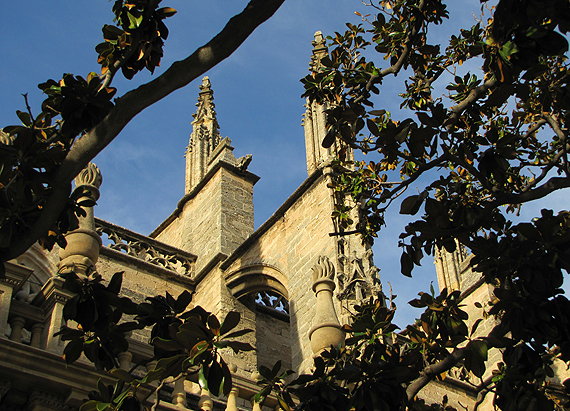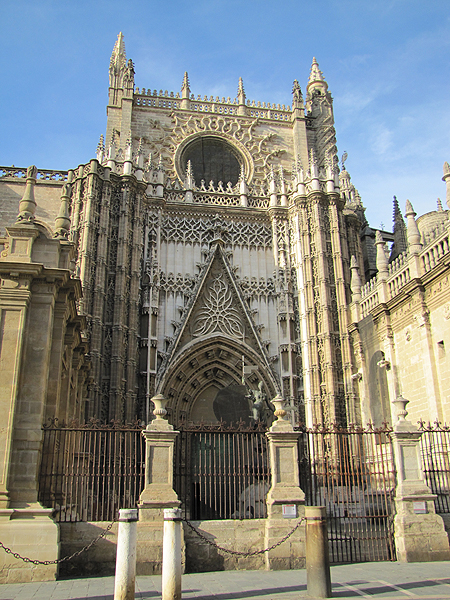 Seriously cool column topper, no?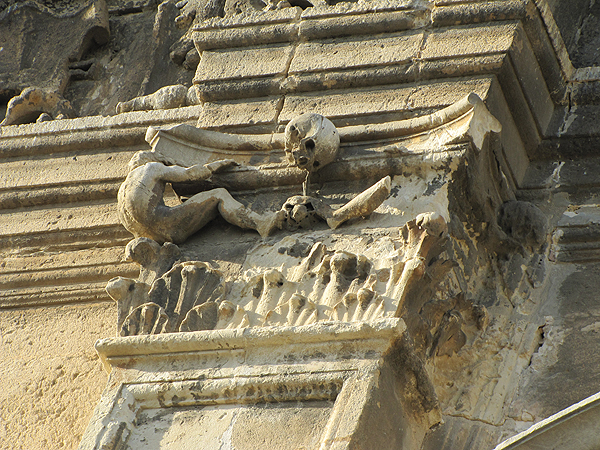 At NIGHT it's just spectacular! Gothic plus Moorish architecture combined!
Then we went to the BULLFIGHTING RING!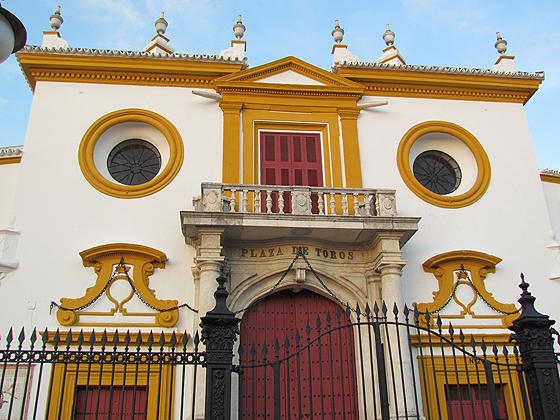 Do not panic--the red streaks are NOT blood. The lady said they were from the paint on the wheels of the carriages.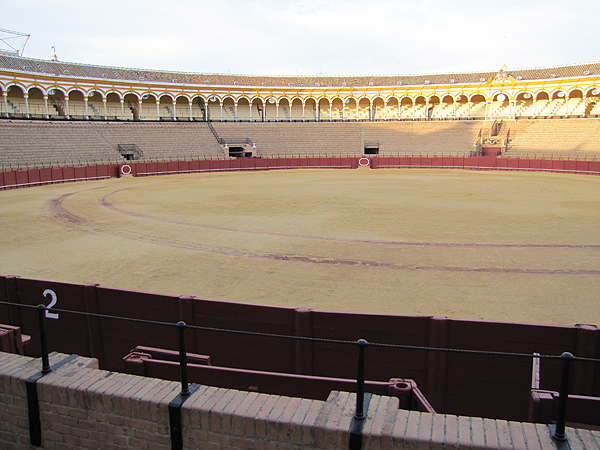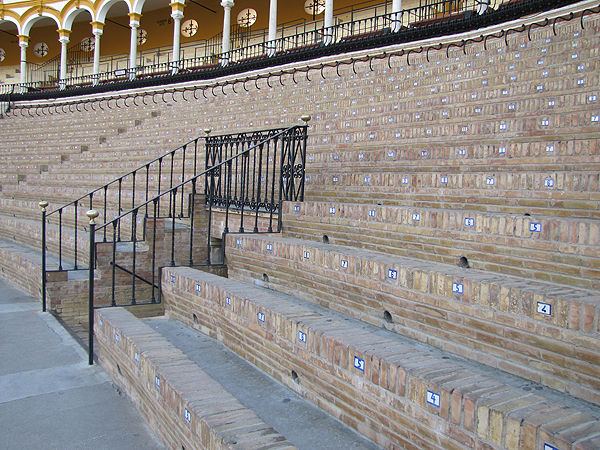 Our evening stop was to see a FLAMENCO SHOW! We found a free one in this quaint, hidden place.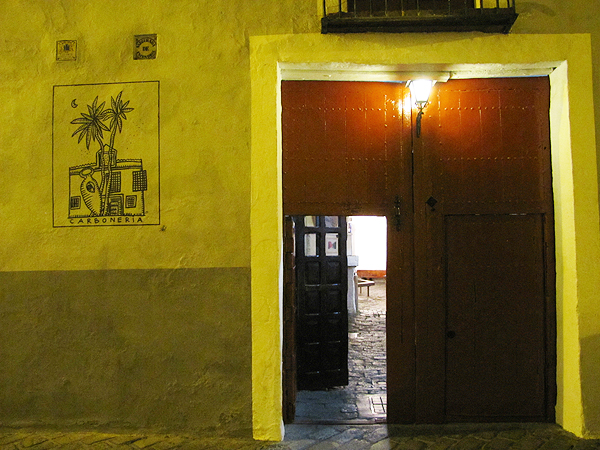 It was filled to the brim with people when the show started!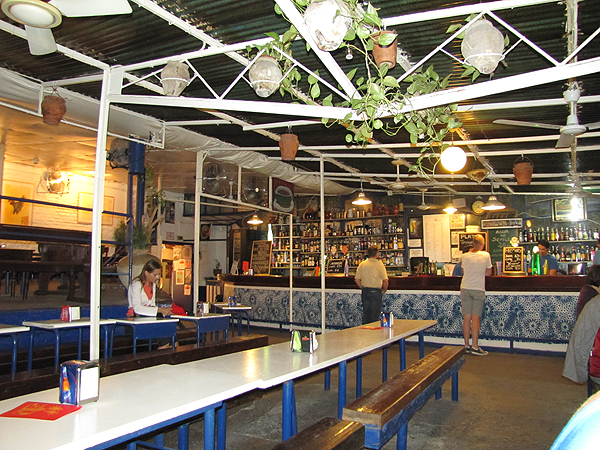 Pitchers of FRESH MOJITOS! The best mojitos I've ever had!!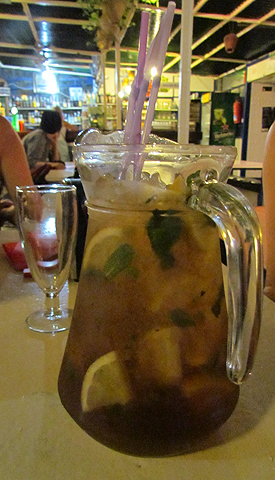 The Flamenco show itself was ...interesting. I didn't really know anything about Flamenco so I wasn't sure what to expect. There were three artists--the Flamenco dancer, the singer and the guitar player. They started off with a long song and clapping, no dancing. A couple of songs later, the dancer started up, and man she was fast! She danced with fury, just not for very long at a time. They'd do a show for like 20 minutes and then take a 30-minute break and just keep repeating.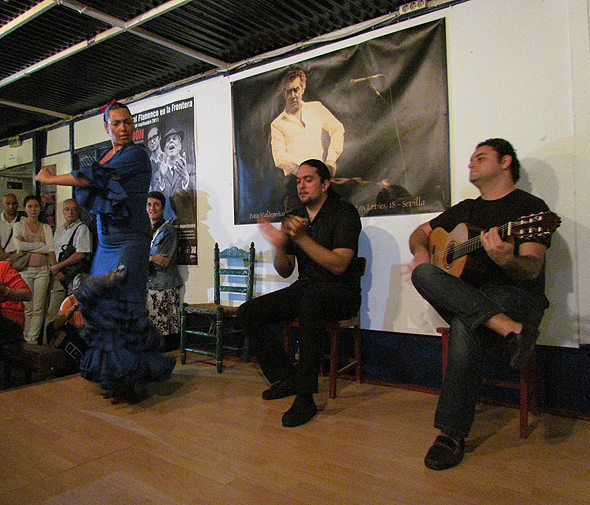 Here's the singer in mid-constipated-song.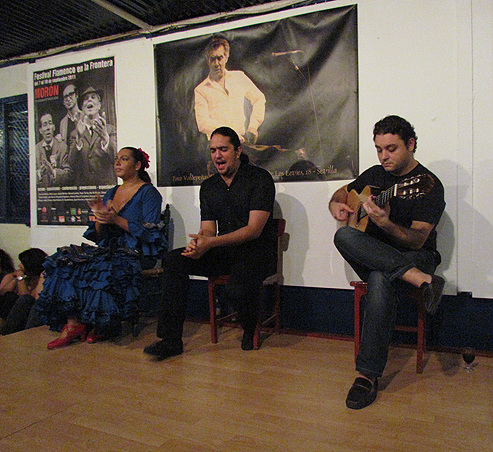 And you get the point...the next day, we went to the ALCAZAR, which is a castle/palace/gardens spanning centuries of history and various periods of architecture. It's a miniature version of the Alhambra in Granada, that took us all day to go through when we went to Spain in 2011.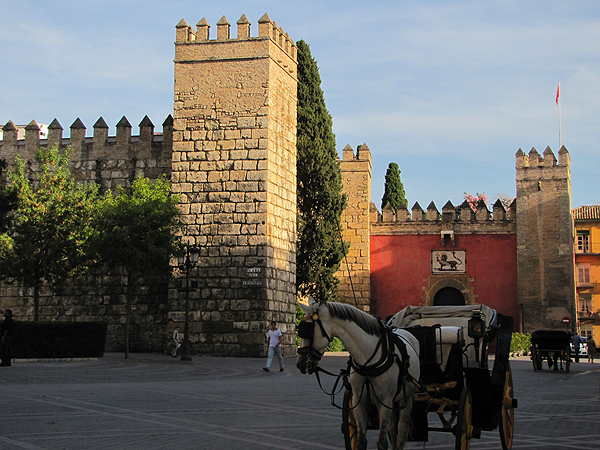 Here is the oldest part that you walk through when you first enter.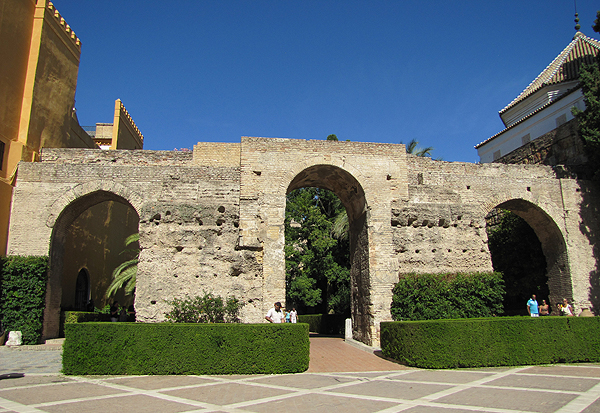 This magnificent Arabic building is 180 degrees from the above archway.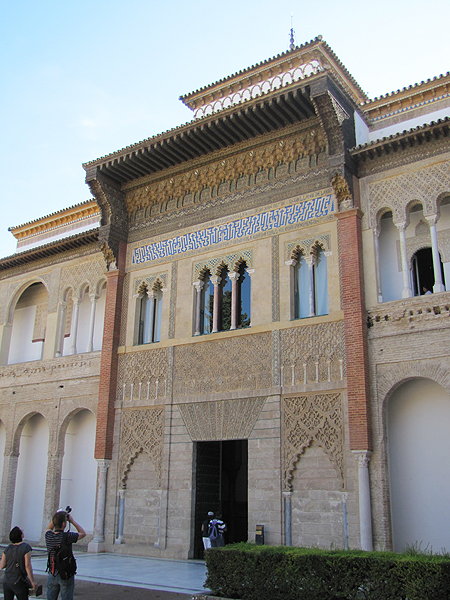 One of the lavish huge interior rooms, probably used as a gathering place for officials and meetings.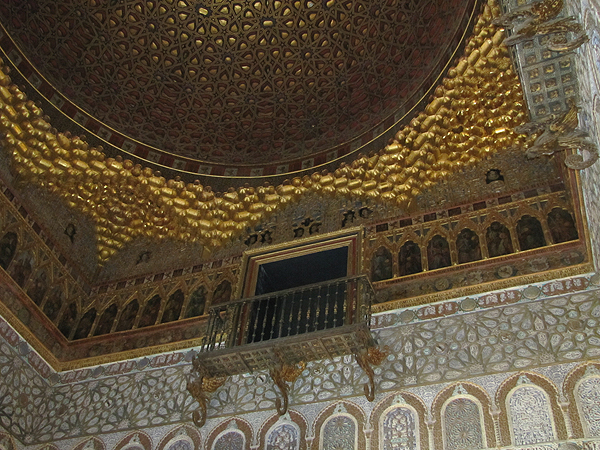 Some of the incredible tile work that's stood the test of time.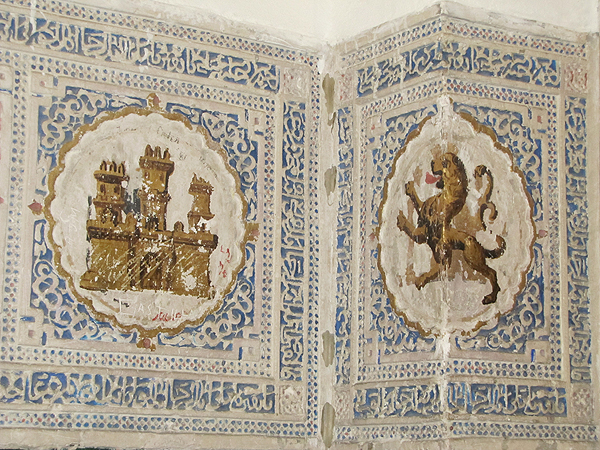 Way in back are the gardens, which are also enormous and really varied in architectural styles. You have this mediterranean facade on the left and a weird stalactite shrine on the right!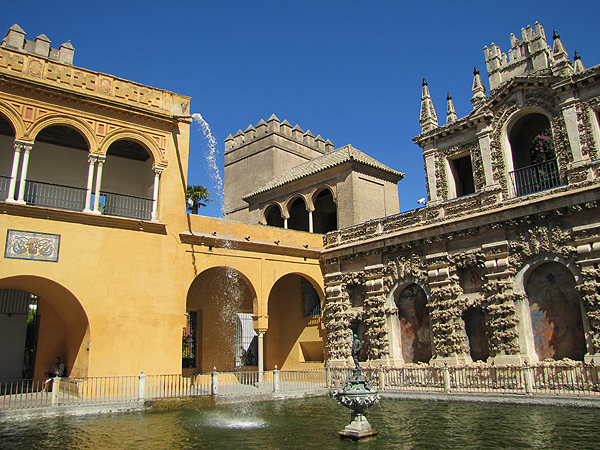 This was a happy accident--I found the medieval baths below the palace! It was really dark and cool down there, so this photo is with a flash. There are corridors on either side of this long pool going to the back where there are cubby holes cut into the stone. Sortof like lockers!
The gardens were also filled with these amazing tiled benches and walkways. I'm not sure how old these are, but it's just amazing that they have withstood the elements for all this time!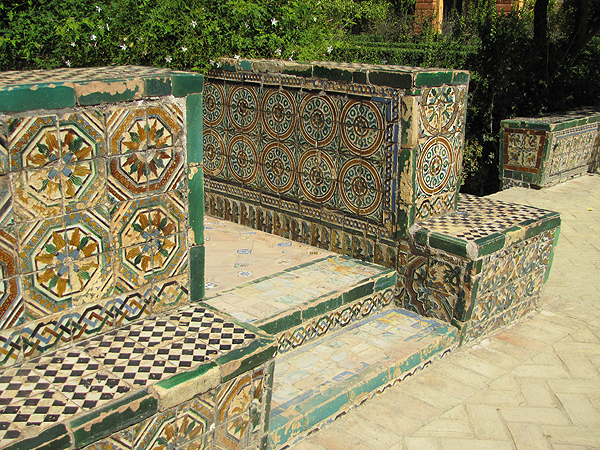 Thanks for visiting Seville with me!