2018
December
November
October
September
August
July
June
May
April
March
February
January
2017
December
November
October
September
August
July
June
May
April
March
February
January
2016
December
November
October
September
August
July
June
May
April
March
February
January
2015

December
November
October
September
August
July
June
May
April
March
February
January
2014

EUROPE PHOTOS
December
November
October
September
August
July
June
May
April
March
February
January
2013

December
November
October
September
August
July
June
May
April
March
February
January
2012
PORTUGAL PHOTOS
December
November
October
September
August
July
June
May
April
March
February
January
April 2010
March was full of unpredictable weather and lots of fun! JC celebrated his birthday by...going to work. OK not too exciting, but we went out to dinner that evening with his parents and nephew which was nice. That following weekend, we went to see Apoptygma Berzerk at a small club downtown. They are a Norwegian EBM (Electronic Body Music, the new music genre we are now obsessed with) band that I've never seen before so I was really excited to finally get the chance. They were INCREDIBLE!, even though they started really late and probably shortened their set a bit, because they drove through the mountains that day to get to Denver and it was snowing. Shocker!
At the end of March, right when we had another blizzard, I went to DC to visit my parents and have a long-overdue Beaver Sisters Reunion! The first time my girlfriends from college and I were able to all get together in four years, yikes! Two of us drove down from Pennsylvania, and the other two of us drove from Virginia, and we reunited at Lisa's house in Maryland, where we drank, talked a lot, and had a wonderful time catching up. The first night we had a wonderful dinner at home, and the second night it was a wild and crazy ladies night out--we had dinner at a Japanese steak house, and then shopped at the new Kohl's for two hours! Still, I was just super excited to be finally able to see everyone again!
Here we all are! We had to kneel because there was a glare from the TV. Left to right is: Angelina, Dana, Lisa, Steph and I.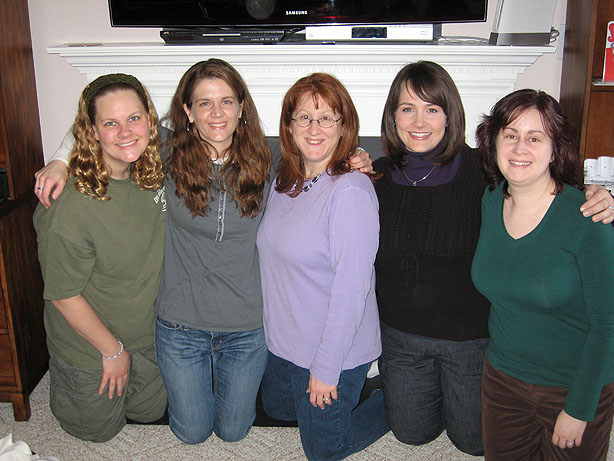 Steph made us these awesome "Sisters" bracelets...in PENN STATE colors of course!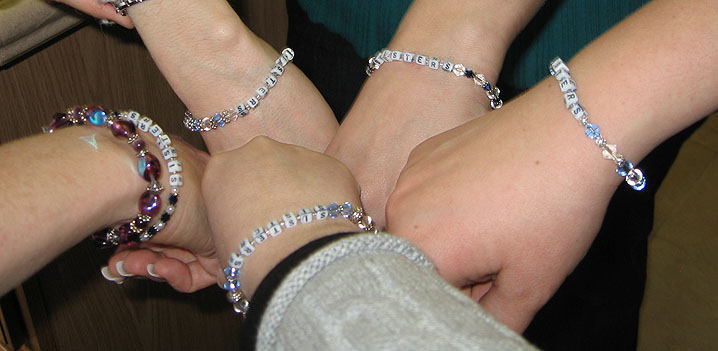 We also got to hang out with Lisa's adorable little guys, David and Jacob. As you can see, David is much more interested in video games than his little brother!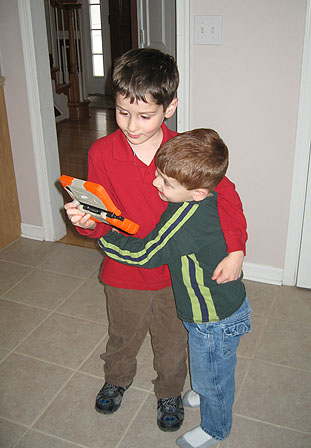 Back in Virginia with my parents, Mom and I hit up a couple of awesome scrapbooking stores, where I did some damage of course. :) Then we spent a nice afternoon making cards in the makeshift scrapbooking room, AKA the dining room!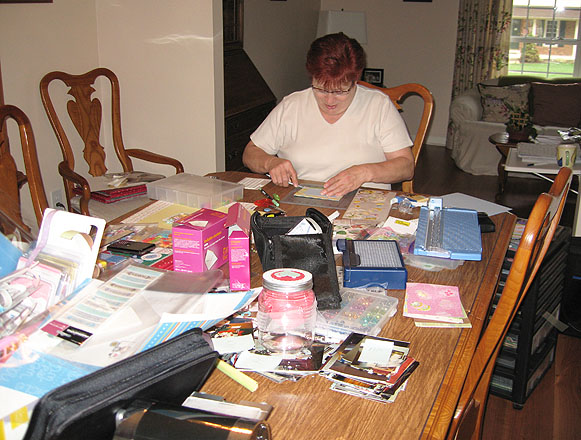 At night we all hung out and relaxed and I even got to see my Aunt Patty, Uncle Rich, and cousin Andy who I haven't seen since our wedding!
All in all it was a wonderful vacation, and it was my first set of solo flights in years! Even with the snowstorm the night before I was flying out, I think I did pretty well on the flights.
Onwards and upwards!

2011
SPAIN PHOTOS
December
November
October
September
August
July
June
May - none
April
March
February
January
2010
ALASKA PHOTOS
December
November
October
September
August
July
June
May
April
March
February
January
2009
December
November
October
September
August
July
June
May
April
March
February
January
2008
WEDDING PHOTOS
December
November
October
September
August
July
June
May
April
March
February
January
JILL'S CREATIONS:
Album - 2017
Album - 2016
Album - 2015
Album - 2014
Album - 2013
Album - 2012
Album - 2011
Album - Penn State
Album - Cedar Point
Album - Wedding
Cards
LOAD513
LOAD214
Mini Albums - Coffee and Daily Junque