April 2008
I'm very late in doing this page for April because this month has been very BUSY! March was quite boring, because we got slammed at work with a ton of projects, so every night I just came home and watched TV, exhausted from working so hard during the day.
April so far has been really fun because we had two sets of guests come out and visit us! First, my good friend Leah from North Carolina came for a long weekend, and we did a lot of stuff. She toured Celestial Seasonings tea company while we were still at work that Friday, and then we met up for dinner where she got serenated by a mariachi band.
On Saturday, we first drove up to, above all places, WYOMING! It was Leah's request. :P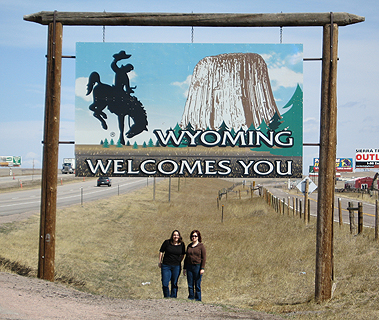 We drove to the capital city, Cheyenne, and had lunch there.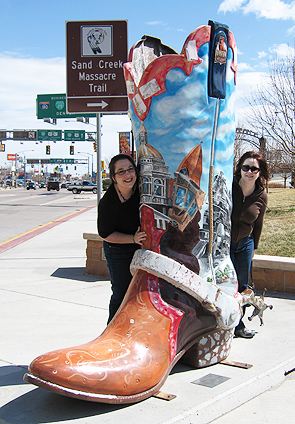 Then we drove into Boulder and toured the CU campus and Pearl Street Mall. On Sunday, we went to see the Colorado Avalance hockey game, which they won in a shootout!! Then we went to see JC play in two hockey games at the YMCA, both of which unfortunately he lost. :(
On Monday JC had to work, so Leah and I drove into Denver to walk around, and later that day we went to a Colorado Rockies baseball game and FROZE!! That morning it was snowing hard when we got into Denver, but by noon it cleared up but was still cold.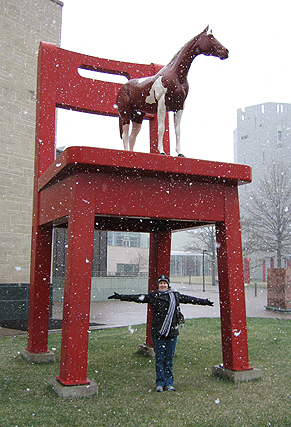 The day after Leah went back home, my parents came for a visit! The Friday-Sunday that they were here, we took a AAA trip to the Colorado wine country that was AWESOME! The trip takes you out from Denver via train through the Rockies to Grand Junction on the west side of the state. We had a wine seminar and some tastings while on the train and then had the evening to ourselves.
On Saturday, we were shuttled to four different wineries in the region where we had a lot of wine and food! Each winery was very quaint with a lot of personality and different wines for which they were famous. And at every one, the owner of the winery was the one who gave the tours and the tastings!
Here is a photo from the pretties winery, Two River Winery: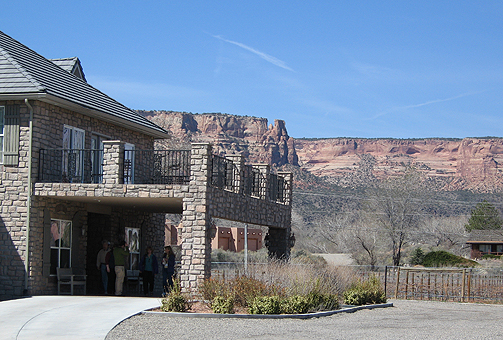 On Saturday night, we were again free to roam, so we went into Grand Junction itself, which is just a few blocks long, and got to go into some of the shops and have a great meal. Here we are in front of a huge buffalo statue made of car bumpers!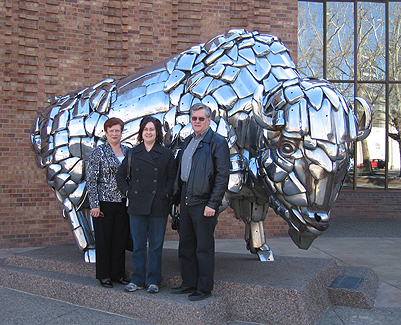 On Sunday we visited three more wineries, then had a very comfortable bus ride back to Denver.
During the rest of their visit, we all took Monday off so we went back into Boulder and had a nice day walking around because despite it snowing a week earlier, it was around 80 degrees that day! On Tuesday JC and I had to work so they drove around town themselves, and when they flew back home on Wednesday, it again was SNOWING!!