June 2011
It's June already and it's finally getting to be t-shirt weather in Colorado. We've had an usually large amount of rain this spring which is good, but caused the warm temperatures to stall a bit.
Brace yourself--this month's update is long with twists and turns. You'll notice that I didn't do a May update, and well, that will be explained here.
Annabel
At the beginning of April, we learned that our friend Annabel from California, who had just visited us in mid-March, unexpectedly passed away in her sleep. It was quite devastating because we had just seen her, she didn't appear to be ill in any way, and she was in her mid-fifties. We were looking forward to traveling with her a lot in the future because she had such a care-free attitude about everything and was willing to try anything.
Hand Injury
At that same time, I went to the doctor because I had been developing some pain in my right hand, in the thumb. It had been gradually increasing in intensity all throughout March but was just hoping it would go away. Not only did it not go away, but it got worse, to the point where it hurt to even cup the mouse in my hand. Then of course I spent three days scrapbooking which I am sure only aggrivated it worse.
The doctor said I had tendonitis in my thumb and needed physical therapy, and the only thing I can attribute it to is having my home office desk too high to be ergonomic. As you know, I began working from home permanently at the beginning of February, and I had a drafting table set up nice and high so that I could stand at it. I know all about ergonomic principles and really thought I had it set up correctly, but upon further inspection it looked like it might have been too high, and therefore my hand was tilted a bit when I was using the mouse, instead of resting flat on the desk.
So, for the last 2 months I have been taking it easy with my right hand. I've switched the mouse over to my left hand for both work and personal computers, I've stopped scrapbooking basically altogether (which was TORTURE), and I had to constantly do thumb exercises and put ice on it. It was extremely frustrating. Finally in mid-May it began to feel better, and as I write this now, it practically never hurts. Not a fun thing to go through when you injure your dominant hand!
Sarah's Visit
At the end of April we had an unprecedented event--my dear, long-time friend Sarah from Manchester finally came to visit the States for the very first time! She first went to a few spots in Tennessee with a friend, and then came out to Denver to spend a week with us! We took her literally all over the place, to Boulder, Denver, the Wild Animal Sanctuary, Red Rocks, and even as far into the mountains as we could go before the weather hinted that it would not cooperate. Here is a picture of her and JC at Kenosha Pass, where we stopped our mountain trek.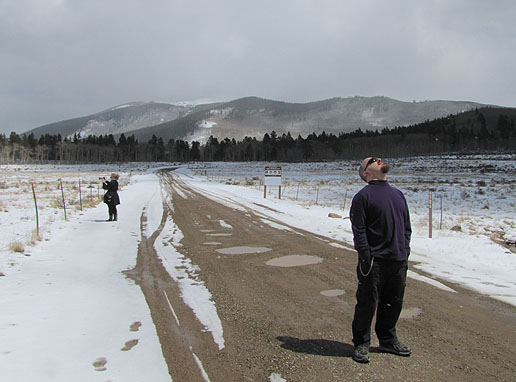 On the way back down, we stopped at a yummy BBQ spot as well as visited Georgetown which is an old, quaint mountain town. Here is a panorama of its main street. I've actually been meaning to go there ever since I moved here, so it was new to me too! Most shops were closed, either because it was late in the day, or not yet the summer tourist season, but it was gorgeous to walk through the neighborhoods and see the old homes.

Then, we took Sarah to Las Vegas, something every foreigner must see! I think the one word that would describe her reaction is "overwhelmed"! Everywhere we went she was just blown away by the excess, the scale and the craziness. We had a blast and we walked ALL over the strip, so much so that I had 5 blisters by the end! We just had to show her all of the casinos and how each one has their own theme with unique features, like the lions at MGM, the volcano at Mirage, the pirate ship at TI, the Stripper Bar at Planet Hollywood...
...and the big quest was to find the famous "Welcome to Las Vegas" sign, which we had never seen before. Turns out the reason why we haven't is because it's a bloody 3 miles south of the end of the strip! So we took a taxi and had him wait there for us as we frantically took pictures!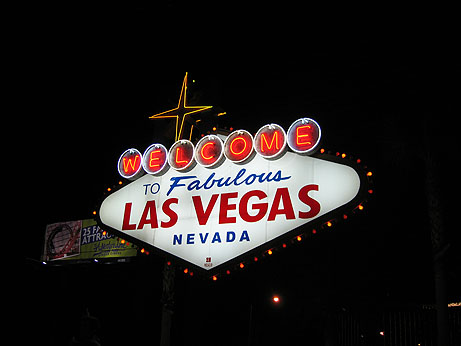 This is an awesome Russian restaurant called Red Square in Mandalay Bay that we stumbled upon for an excellent dinner! LOVE the décor!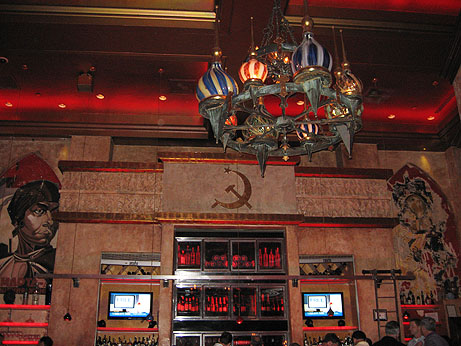 And here is a candid shot of me playing one of my favorite slot machines, "Invaders from Planet Moolah". It's so cute, the stuff in the reels are things like cows, farmers, tractors, mailboxes, and then the aliens at the top zap the cows (they are the wild item), they disappear, the rest of the items shift down into their places, and new stuff comes in. If that happens several times in a row, you get bonus rounds. :)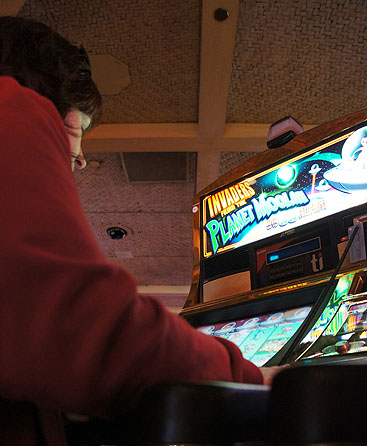 Lastly, here are the three of us in the Flamingo animal preserve.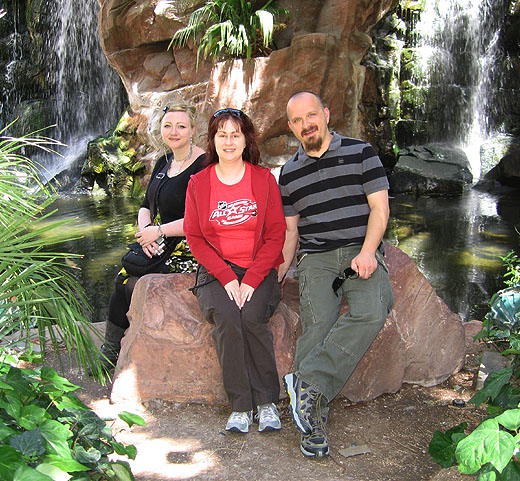 It was SO awesome to have her visit us!! Hopefully next time we can get Mike out here too (her husband)!
Grandma
Sarah left on a Friday, and the following Monday my mom called me halfway through the day to tell me that my grandmother started shaking while she was in the basement doing laundry. She panicked and tried to get up the stairs, fell down and split her head open. She managed to crawl up the stairs to the first floor to call my uncle, and he eventually came home and called an ambulance.
What ended up happening is that she had a stroke of some degree, and when she fell and hit her head, she started brain hemmoraging. She was fully coherent and funtioning when they got her to the hospital, so they didn't suspect anything other than a surface cut, but then when they did tests on her mobility she couldn't lift her left leg. They immediately rushed to do more tests, as well as a CAT scan of the brain, and they found that the fall induced two huge hemmorages, one on the surface and one very deep inside. If they tried to operate, the damage was so bad that she'd either be a vegetable for the rest of her life, or she'd die on the table. There was nothing they could do.
In hindsight, my aunt and uncle (who saw my grandmother every day and spent a lot of time with her) knew that something was not right because for the last couple of months, she was slurring her speech every now and then, or zoning out. They were actually in the middle of taking her to doctors and running tests. The Friday prior, when Sarah went back home, she even had a shaking episode in her kitchen but didn't think much of it. So, we suspect that she was possibly having either mini strokes or pressure building up in her brain that was causing these previous things to happen, but the doctors said that mini strokes are impossible to detect on CAT scans.
Knowing that it was her wish to not be in a nursing home, or a vegetable, everyone signed the papers to just let her go in peace. I flew out the following day, and was in Buffalo through the funeral. It was a very stressful two weeks because we'd go spend a lot of time with her in the hospital every day and you just feel horrible watching her get weaker and weaker and there's nothing you can do about it. You almost want her to pass quickly so that she is not suffering. She wasn't in pain, she was just slowly shutting down. Even after they stopped giving her liquids, because her body wasn't accepting them anymore, she remained with us for 5 days--that's 2 days longer than average. She had a strong body, and was in great health, so this was just unbelievably shocking for all of us.
She passed away on Wednesday, May 11th, and we had the services for her over that following weekend. JC flew out to attend them and then we both flew back home on Sunday. I was really ready to get home, after being away for two weeks. I had run out of clothes at least once, JC had to mail my mediciation to me because I ran out, and my dad and I were hobo-ing to various locations in town every day to get WiFi so that we could work a bit. As a result, I only had to take 4 hours of vacation time that whole two weeks, so that was one less stress point on me. But it was really draining.
She was the grandparent that I was closest to, and it's still not fully sunken in yet. She was a very loving and fun person, full of life and always happy. I guess my grandfather missed her too much up in Heaven.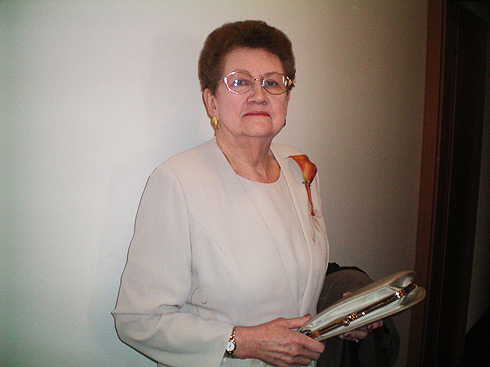 European Cruise
Back in January, after I had a hellish December at work with way too much work to do, we decided to skip Christmas in 2011 and go on a cruise somewhere in Europe. We booked a 10-day Mediterranean cruise with our friend Leah and her wacky friend Becky. As you recall, we cruised to Alaska with Leah and another friend Shannon last May. This cruise was round-trip from Rome and stopped at two cities in Greece, one in Turkey, and docked at Alexandria, Egypt for two full days. We were SO stoked to be able to see the pyramids.
While I was in Buffalo, we got an email from Norwegian Cruise Line saying that due to political unrest in that area, they have reduced the number of sailings to that area and have therefore cancelled our cruise. Yeay, more stress! We had a week and a half to decide what to do because they were offering us the options of transfering to another sailing to the same place, transfering to another cruise of theirs anywhere else, or getting a refund for the deposit we put down.
While Leah and Becky wanted to keep pursuing going to the Mediterranean, we took it as a sign that we should probably not try to go there at this time, but what should we do instead? We had already purchased round-trip, non-refundable airline tickets to Rome, and we weren't seeing any other cruise that sounded good.
Until days later when they rescheduled our original ship, leaving on the same date, on a 7-day cruise to Spain and the Canary Islands. Leah and us have never been to Spain or the Islands, and cruising to islands is pretty much the only way to see them. So we said HECK YEAH and booked that one instead. And by booking another Norwegian cruise, we got $100 onboard credit per cabin! That's the price of the unlimited spa access baby!!!
So, we then had to deal with the fact that we are flying into Rome, and had to book another smaller flight from Rome to Barcelona, cutting deeply into both our arrival and departure dates because the flight times were not really great, and had long layovers. We were not super excited about that, because we'd rather have more time to see Barcelona or other Spanish towns, but what could we do?
Days later...our travel agent tells us that the airline we were taking out to Rome changed their schedule, and while they don't advertise this, when they do that you have every right to cancel the trip and demand a full refund. Not credit towards another flight on that airline, a full refund of your money! So I was frantically on the phone with Leah and our agent to make sure that we all can make this happen, and several hours later...we managed to cancel those flights for a full refund, purchase round-trip tickets straight to Barcelona which ended up being cheaper, AND VOID our tickets between Rome and Barcelona because we had just bought them 24 hours earlier!
Travel agents ROCK! We are going to España to drink some vino baby!!! Now if only my Spanish was bueno, oye ve!!!
Hockey
Last but not least, my board position with the DWHL (Denver Women's Hockey League) has finally come to an end after two years when we had the Annual Meeting on May 22nd. That is when new board members are voted in, and then there are a few weeks of transition until the duties are officially transferred. I am relieved to no longer be on the board because I feel like while it was a good volunteer opportunity, it ended up taking away from my love of the game, and I actually have not been on the ice since last August! I now feel like I am ready to get back out there, so JC and I are starting back up again in June with a two-month adult instructional session. In a few more weeks, when I am more confident that my hand is fine, I will probably ease back into the game by going to DWHL games and subbing in. I actually was planning on registering as a rostered player for the summer league, but between my hand injury, missing three weeks of physical therapy between Vegas and Buffalo, and dealing with too much stress, I backed out.
Summertime...Flowers??
I don't know if it's the change in seasons, or watching too much HGTV, but I have lately become interested in planting things, especially having some pretty flowers around. JC has been the outdoorsman around here, and he's been planting and upkeeping a series of grape, blueberry and raspberry bushes, but it's never interested me until now. So on Memorial Day we went to a nursery where I got two different types of flowers to plant in a portable planter.
May I introduce you to MY FIRST GARDEN!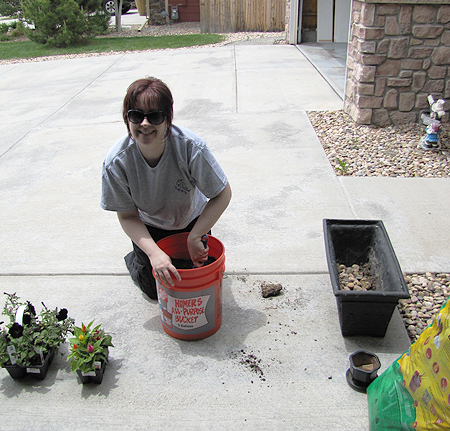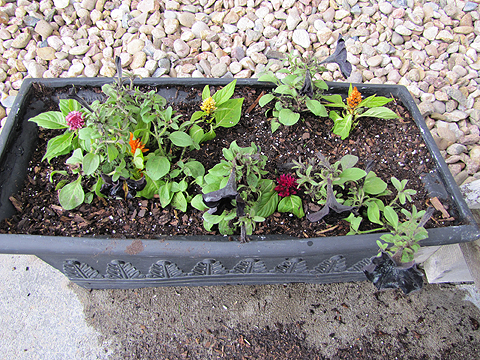 The multi-colored weird-looking flowers are Celosia and the black flowers (would you expect anything else?) are Petunias.
We'll see how long they last!