2018
December
November
October
September
August
July
June
May
April
March
February
January
2017
December
November
October
September
August
July
June
May
April
March
February
January
2016
December
November
October
September
August
July
June
May
April
March
February
January
2015

December
November
October
September
August
July
June
May
April
March
February
January
2014

EUROPE PHOTOS
December
November
October
September
August
July
June
May
April
March
February
January
2013

December
November
October
September
August
July
June
May
April
March
February
January
2012
PORTUGAL PHOTOS
December
November
October
September
August
July
June
May
April
March
February
January
April 2011
So March was full of fun events, but unfortunately I don't have pictures of them!
First, literally on March 1st, we went to see Dropkick Murphys who are a punk/Irish rock band. While the show itself was amazing and really fun, the crowd was an additional second show as there was a higher-than-average amount of drunks, crazies, people being sick, and people being escorted out of the venue. Good times!
Then for JC's birthday, our friend Annabel from California came for a visit with her colleague, Jennifer. We had a blast taking them around the Denver area. We picked them up on Friday and showed them around Denver. We visited the Molly Brown House Museum which was just really cool. It's a Victorian house owned by Molly Brown and her husband (she was a Titanic survivor who moved here with her husband in the 1920's and he became wealthy from the silver mining. She was a politician and socialite.) and it was just beautiful. Then we attended the Avalanche-Ducks game where of course the Ducks won. Since we were rooting for the Ducks on that particular night (Annabel works for them), we didn't mind!!
On Saturday we took them to Boulder, had Moe's bagels, and shopped at Celestial Seasonings. Then we drove up to see Buffalo Bill's Grave which is on one of the foothills, and, well, it looks like a grave basically: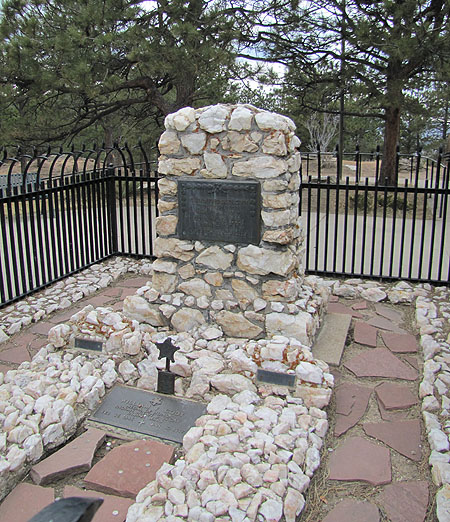 The following week we had two amazing shows: the first was She Wants Revenge which is an amazing band from California. This is like our fifth time seeing them and they never disappoint. Then later that week we went to see Dan Sperry, an up-and-coming magician who has a dark, goth presence and spin on magic. He just plain ROCKED. He was funny, he had awesome music, his sets for his magic acts were super creepy and macabre, and he was just great. He did a great mixture of some classic magic tricks (like sawing his assistant in half) and his own cool stuff.
Lastly, even though this was in April, I'm going to include it since I do have some pictures of it. I attended a scrapbooking retreat up in Evergreen, CO, the first weekend of April with some friends that I hadn't seen in a very long time. I had been to this same hotel with these same friends two years ago so I knew this was going to be tons of fun. And it was! We scrapped for a good 2.5 days solid with a gorgeous weekend and beautiful mountain view. I got a ton of stuff done and got to catch up with these wonderful gals as well as meet some new ones. Here are pictures of us working away diligently.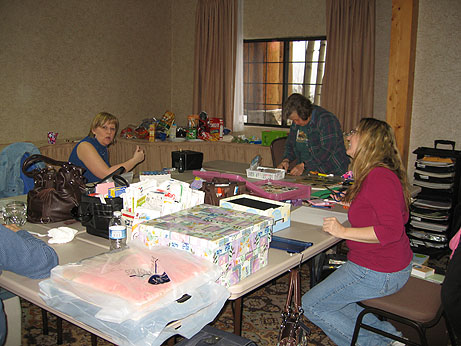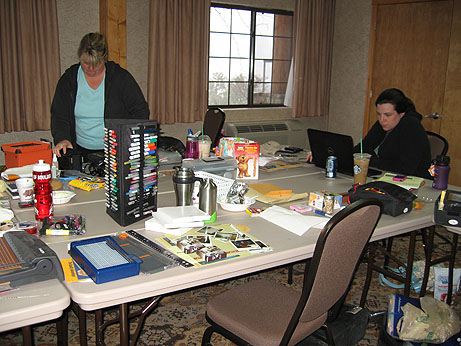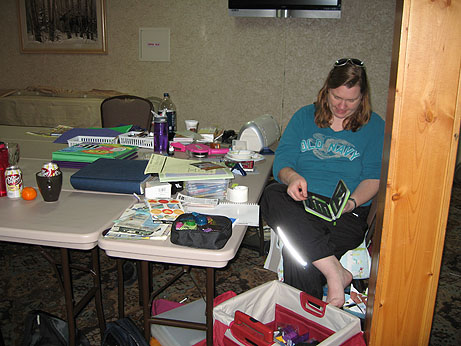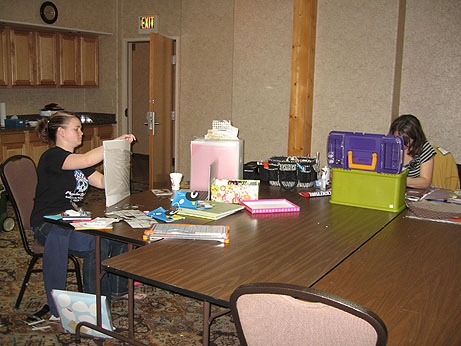 And here is what our view was on Sunday afternoon after Friday was 65 degrees and Saturday was 75 degrees: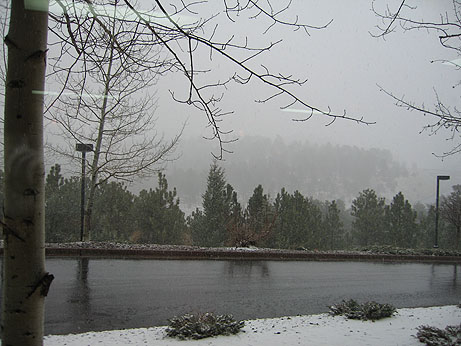 Welcome to Colorado in the spring!
I thought that I had dodged my "usual" March predicament--for the last two years in a row we booked trips for the last week in March and each year we've had cancellations/reschedulings due to the weird weather that shows up. The last week in March was SO mild and SO spring-like that I thought I lucked out this year...gotta love Mother Nature!
Maybe I'll learn next year!?

2011
SPAIN PHOTOS
December
November
October
September
August
July
June
May - none
April
March
February
January
2010
ALASKA PHOTOS
December
November
October
September
August
July
June
May
April
March
February
January
2009
December
November
October
September
August
July
June
May
April
March
February
January
2008
WEDDING PHOTOS
December
November
October
September
August
July
June
May
April
March
February
January
JILL'S CREATIONS:
Album - 2017
Album - 2016
Album - 2015
Album - 2014
Album - 2013
Album - 2012
Album - 2011
Album - Penn State
Album - Cedar Point
Album - Wedding
Cards
LOAD513
LOAD214
Mini Albums - Coffee and Daily Junque