June 2018
Alrightie, it's time to get caught up with the events of April and May!
April
was a "quiet" month around here. That basically equates to not leaving the state of Colorado. Otherwise, we're still running around having fun!
Of course, there were a couple of dinners with friends, but there was also:
Easter brunch at a restaurant. Forget cooking on holidays! And our traditional non-traditional movie was the latest Star Wars.
Jeff Dunham from the 13th row--hilarious as always, and he debuted a new character that was pretty funny
A good amount of scrapbooking: my monthly date with my friend, a one-day scrapbooking event, and a weekend retreat. I made a ton of cards at the one-day event, and during the weekend retreat I made a whole Penn State-themed album with the whopping 20 photos I have of my college days, AND I laid out all of the papers and photos to do an album about our Europe trip last fall. PROGRESS! Here are the cards I made:

The monthly meeting of the Colorado Correspondence Coalition, a Meetup group for people who love to write letters and send mail. This month we celebrated the CCC's 1-year anniversary at an amazing paper store called Two Hands Paperie in Boulder. I got a lot of cards written out and addressed, and I bought some note cards, postcards, and a gorgeous German fountain pen with a few colors of ink! I'm ready to write, people!
One final Avalanche game--my very first playoff game. They played like crap and lost. Go figure.
A trip to Colorado Springs to meet up with my friend Cathy, eat breakfast at our favorite place, and shop at the local scrapbook store and JC's game store. It was a fun getaway!
Dinner at a quaint little Mexican restaurant with my Spanish teacher and other students
Chris D'Elia the comedian at the Paramount. Never saw him before but it was a really good show.
Our annual Mammoth lacrosse game with friends John and Sarah. They won but it was a hard-fought battle!

My neighborhood garage sale, where for two days friends and I vainly attempted to sell scrapbooking and other craft supplies. We didn't make much money, but the weather was wonderful and it was really fun to hang out chatting with friends!
So, you know, not much. :)
May
on the other hand was ridiculously busy. First, there was my annual reunion with my college girlfriends, the Beaver Sisters! This year, we went to CHICAGO! Sadly, two of the group couldn't make it, so it was just Steph, Dana and I for five days. We saw a lot, walked a lot, ate a lot, drank a lot, and talked a lot! The only thing we did not do was sleep a lot. I needed a vacation after my vacation to catch up on sleep!
On day one, we devoured our first deep dish pizza and walked down to Millennium Park. We checked out the really pretty park and outdoor theatre, as well as the famous bean sculpture.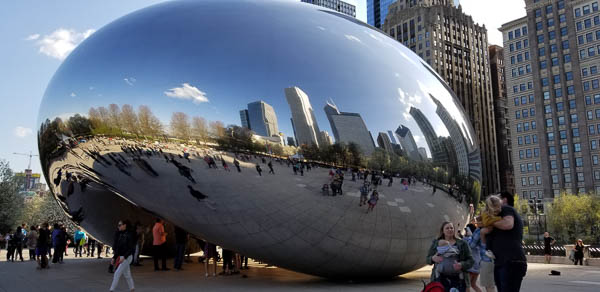 Us in front of the Bean.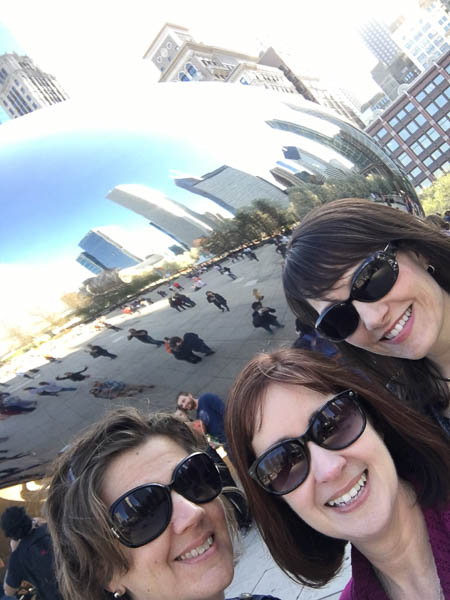 At night, two of us got tickets to see Hamilton and it was MILD-BLOWING. Every bit as good as they say it is! If you get the chance, go! But, not only did we see the show, Steph's cousin Anmaree is the Props Manager and she got us BACKSTAGE! We got a full tour of the stage area, and got pics standing on stage!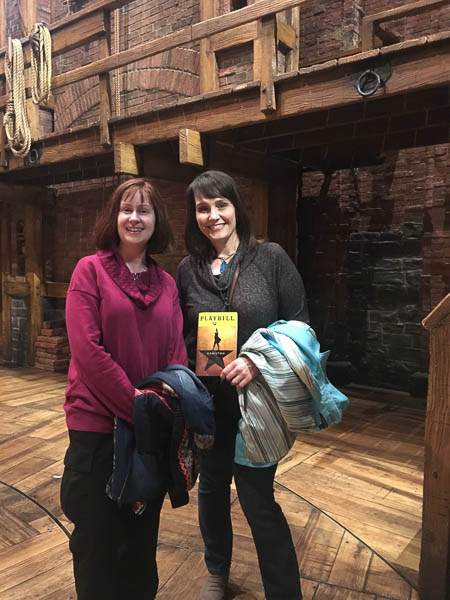 We then hung out with Anmaree and her wife Mel for hours on end and it was a ton of fun.
Day two: we walked and walked and walked! We checked out Oak Street Beach not far from our hotel, where a ton of people were out enjoying the gorgeous 80-degree weather on a lovely Saturday. There were great views of town from there, too.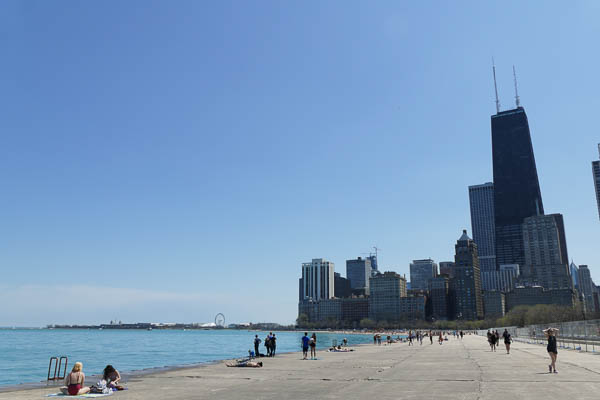 We then walked through Old Town, a quaint little area full of revitalized restaurants, back into town, and then explored Michigan Avenue where all of the shops are. We also checked out Navy Pier and found a great restaurant to dine at while watching a Stanley Cup Playoff game.
That night we went up Hancock Building to the 360 degree observation deck. The elevator ride up to the deck was just as cool as the deck itself! It's fully enclosed with floor-to-ceiling glass and the view of downtown Chicago at night was beautiful. Our ticket included a drink so we stayed up there for a bit enjoying the scenery--except for Steph who got anxious and pounded her drink, hah!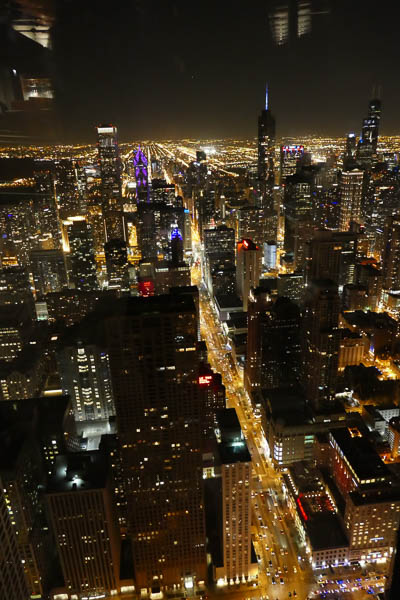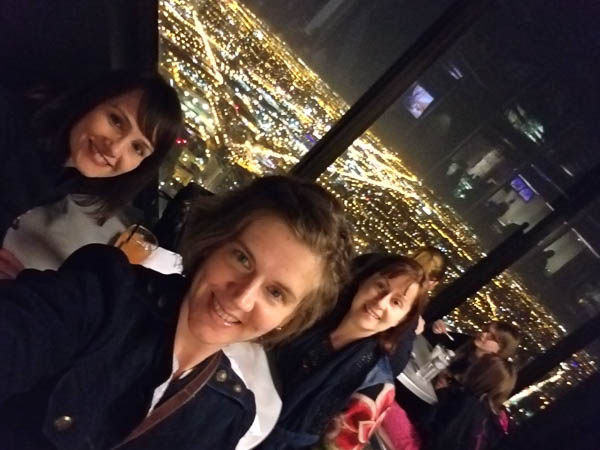 On our third day, Sunday, we took an Uber down to the University of Chicago campus in the south--that apparently is one mile away from one of the most dangerous neighborhoods in all of Chicago. Our Uber driver was telling us about all of the murders and violence in the area, then said "Have a great time in Chicago!" when he dropped us off.
Our first item on the agenda was to visit the Frank Lloyd Wright Robie House right on campus. It is a rather small house, and half of it was off limits due to renovations, but it was still beautiful to see. I just love the modern, straight lines and the unique angles he incorporated.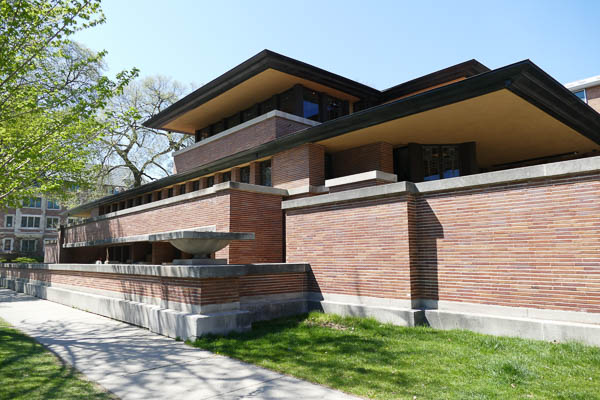 Love the symmetry!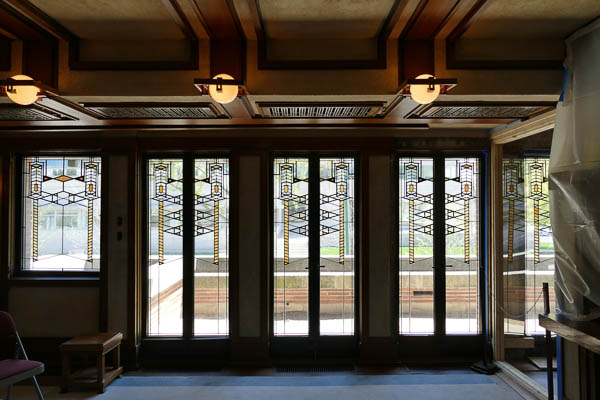 And who can forget the Iron Maiden shower.
Beautiful angled windows and vent in the dining room.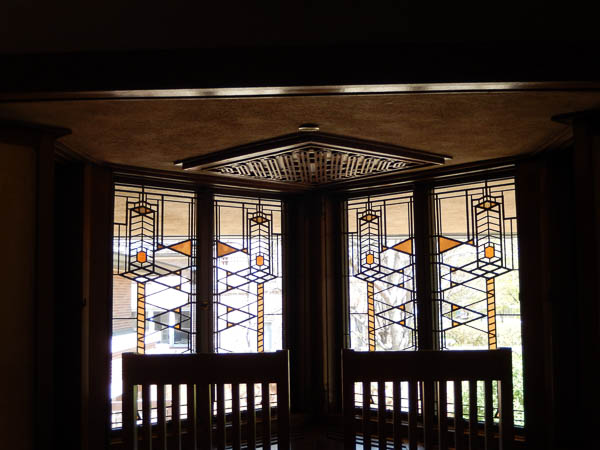 After that hour-long tour, we crossed the street onto the main area of campus and had a wonderful afternoon roaming and exploring. It has a very medieval feel; I'd be in heaven if I went to school there! Here's the church: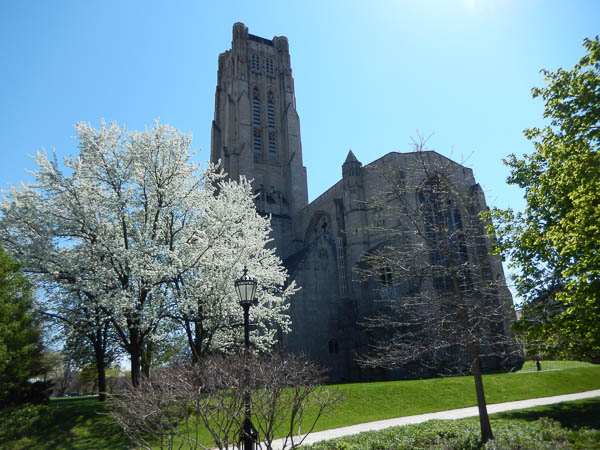 And an artsy closeup.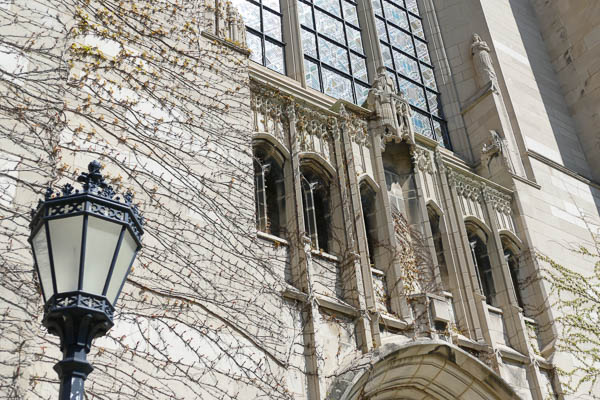 Another super creepy awesome building. The vines were intertwined with every part of the building.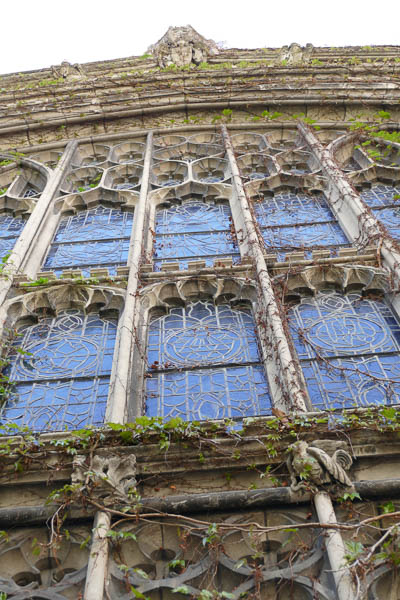 We tried to be artistic in our portraits, too.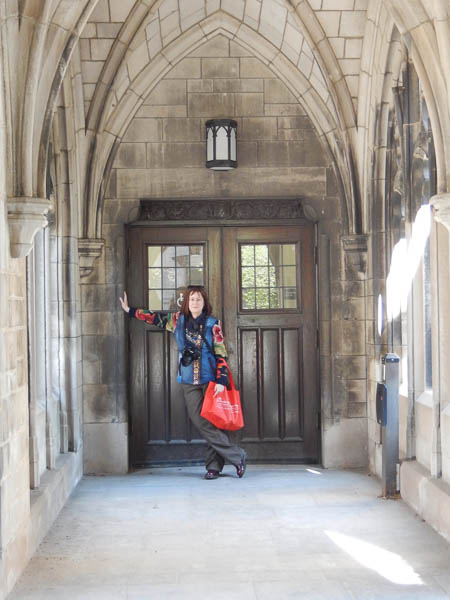 The thing that impressed me the most about all of Chicago was the abundance of beautiful, and unique, flowers everywhere. It was the first weekend of May, yet there were fully grown flowers stuffed into every flower bed possible. The campus had some really different flowers that I've never seen before. Anyone know what this is?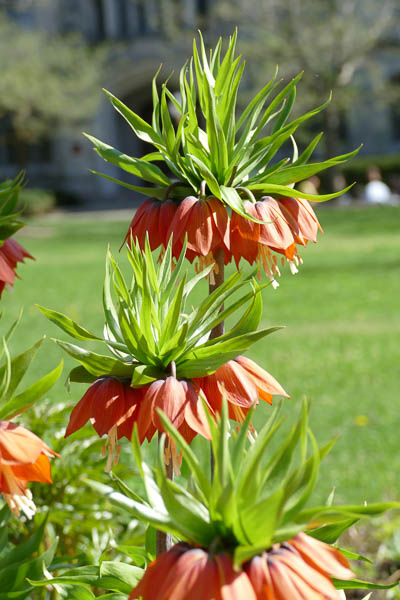 Once we felt like we roamed enough of campus, we went to the couple of blocks of shops on the perimeter (careful not to go any further!!) and found a fun book store and Medici's, an old bar that had amazing pizza too!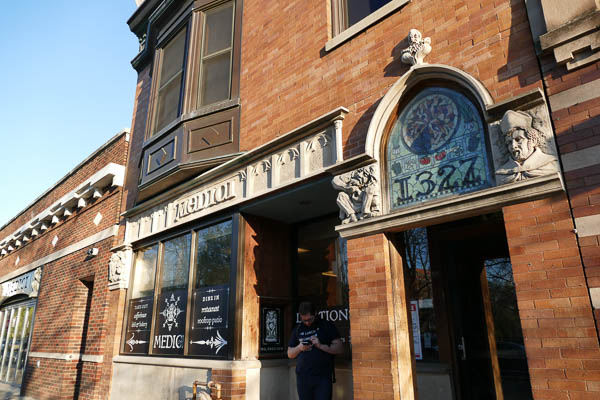 Monday was SPA DAY! It's an annual tradition that we find a spa to go to and get massages. Well we really took it up a notch this year and went to a high-end Asian spa called Chuan Spa located in the Langham Hotel. It was REALLY nice. All three of us had different treatments at the same time. We were told to arrive early to follow a relaxation routine prior to the treatments. We alternated between a dry sauna, hot steam room, and moderate-temperature scented room that had rosemary and thyme lightly burning.
The room I was in for my massage was enormous, with two massage tables, a deep soaker tub, a bathroom, and a shower. I had the "Jet Lag Revival" treatment which started with a lovely scrub, followed by a rinse in the shower, and then a soothing massage. My masseuse was Romanian so we chatted about the places I've been in Romania!
We then were able to stay in the spa for as long as we wanted, so after lounging in the relaxation area for a while, we donned bathing suits and roamed around. We rotated between the hot tub, pool, sauna, steam room, aroma therapy room, and heated lounge chairs until 5pm when we were sufficiently relaxed.
That evening, Steph met with a colleague in her industry while Dana and I found some super yummy pasta and wine at Eataly. It's this block-long mega market for all things food: pots and pans, cooking gadgets, several different food markets, and a variety of built-in restaurants. We ended up crashing their shindig later, eating and drinking more, of course, and watching hockey, of course. Another late night but it was a ton of fun.
Tuesday was the last day, boo! Steph left after breakfast to catch her flight at O'Hare, leaving Dana and I to walk around town a bit more. She then left for her flight at Midway, and I took the L-train to Blick Art Materials that was close to the Hamilton theatre. I roamed around this huge art supply store for over an hour and of course bought some pens and markers. Then I got to Midway to find out that Dana's flight was delayed, so I kept her company until her flight finally boarded. I didn't have much longer after her to wait, and had a lovely flight back home.
OK, that was trip one! Next up...Tampa!
Our niece, McKenna, graduated from high school, so we were heading to sunny Tampa, FL!...or as it actually happened, JC got the flu the morning we had to fly out, so I LEFT HIM BEHIND and went alone to represent. It was dreary and rainy the entire weekend. :)
But, it was really great to catch up with sister-in-law Myko and nieces Kenna and Matti again. Plus JC's parents had already been there for several days. We got to see Kenna open up a time capsule that she made in kindergarten. What an awesome idea! It was hilarious to see all the photos of little Kenna, look at her drawings and toys she put in the box, and read the letters from her teacher, mom, and sister about the events of 2005.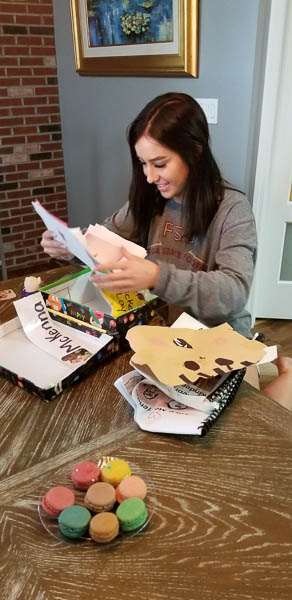 And, she had to give herself some words of wisdom for the future. Very appropriate.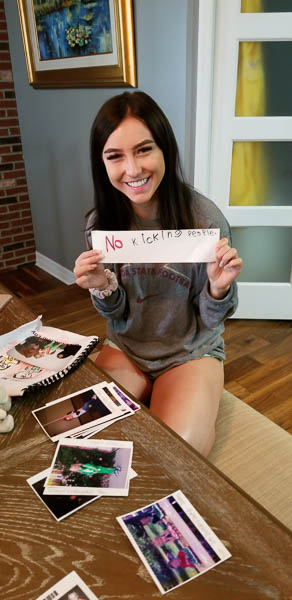 All dressed up, ready to go!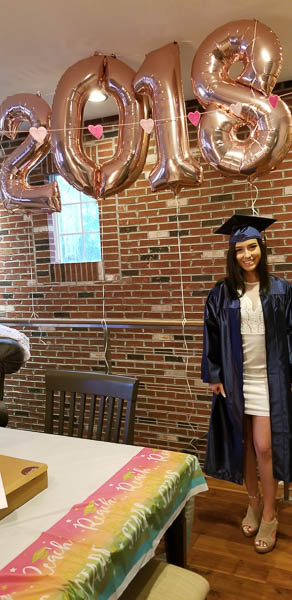 Just got the diploma and walking on back!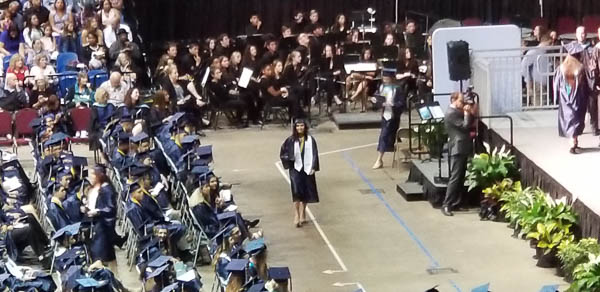 One of the sights I got to see the day after graduation. Sprinkles is an adorable cupcake bakery in a cute area of town with lots of shops and eateries. The cupcake ATM, sadly, did not fit in my backpack.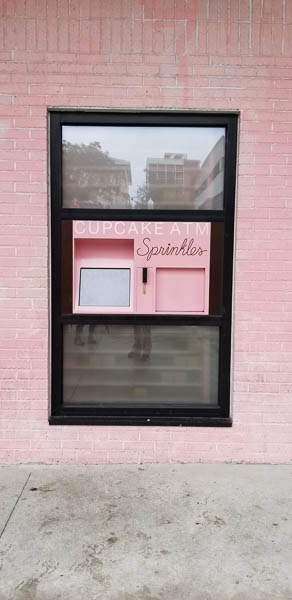 Busy? You haven't seen busy yet...