February 2013
Well, this year has not gotten off to the best of starts. First, I'm still on Injured Reserve with my sprained ligaments in my left hip. They are slowly getting better, but now I'm 2 months down out of 3, and the hip hurts mainly when I'm twisting it, like to get in and out of cars. You never realize what muscles and such you use to do simple daily activities until you injure them!!
JC started a new job on January 7th, at Cisco. He is in Deployment Automation, which I know means nothing to all of you out there who are not tech nerds. Basically, he is involved in building, customizing and deploying cloud-based systems for internal Cisco groups as well as external clients. He works from home most of the time, and is working with some long-lost friends once again, so I think those aspects have been fun, despite the fact that he's not yet fully up to speed on his role and job responsibilities. We shall see.
On January 13th, my last remaining grandparent passed away (my dad's dad), so on the 15th I flew to Rochester, NY, to attend the services. It was an exhausting trip because most of my relatives live in Buffalo, but my parents and sister live in Rochester, which is 1.5 hours away. So I took a 6am flight from Denver, got to Rochester at 3pm, and we spent the evening in Buffalo at the wake. Drove home, got to bed at midnight, and spent all day Wednesday in Buffalo attending the wake. The only good things that came out of this is that I got to see my relatives and family friends again (I last visited in July, so 6 months ago), and we had dinner at Chef's in downtown Buffalo. YUM.
That night, some relatives offered to let my parents and I stay with them because the funeral was at 8:45am the next day, and they didn't want us to have to drive back and forth. That was really nice, actually, because these are relatives that I don't normally see during typical family functions--they are my dad's aunt and her husband, so they are a bit removed from us to come to things like Christmas. So it was really nice spending time with them, as I can't remember the last time I got to do that.
The funeral was on Thursday and it was very nice. They played TAPS at the cemetery and that just always gets me watery. What struck me, though, was that this is the last time I'll be hearing TAPS. Both of my grandparents were in WWII, and strangely enough, both were medics. I didn't know that until two years ago.
After the funeral and the very nice Polish traditional lunch, my parents and I went to the Sabres store at the First Niagara Center (where the Sabres play) so I was able to restock my Sabres clothing. Then after a quick trip to the Buffalo scrapbook store, we headed back to Rochester, tired and weary.
On Friday, we had nothing going on, so after a nice sleep, and mom and I playing in her scrapbook room, Aunt Cathy, Erica and Leonardo came over for dinner! I was so glad I was able to see and spend some time with my adorable, laughable godson and nephew!
So, I took a ton of photos that night and here are some of my faves.
He loves his little activity center that bounces! He's a bouncing maniac!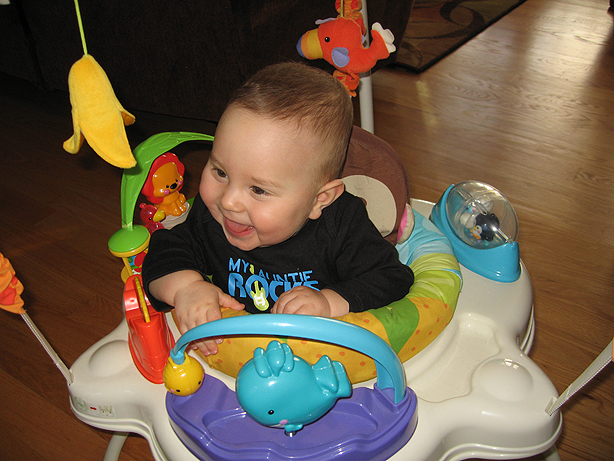 With Grandpa and Grandma: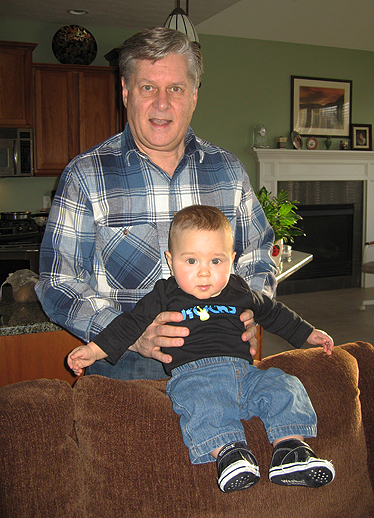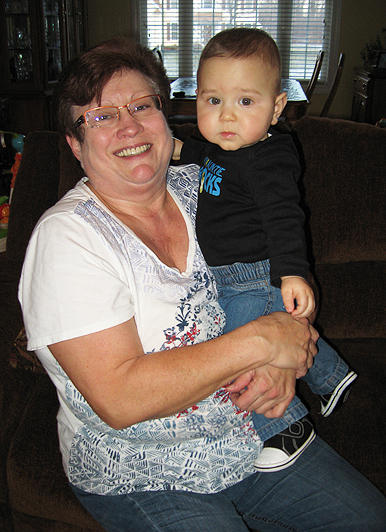 In his winter hat, and driving around in his Jeep with his Great Aunt Cathy: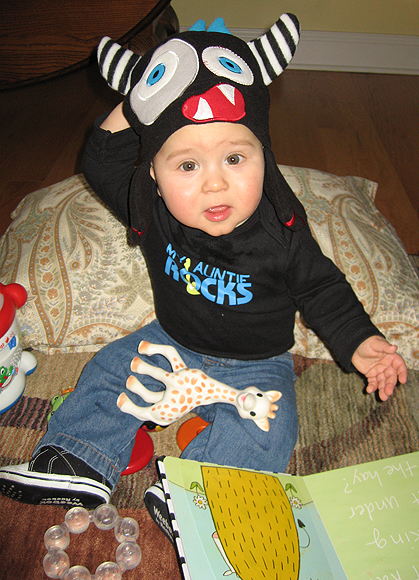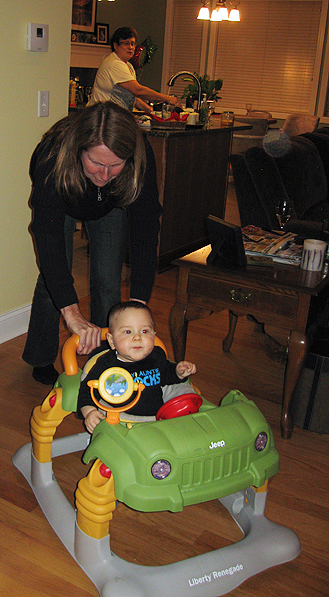 Playing with Mom: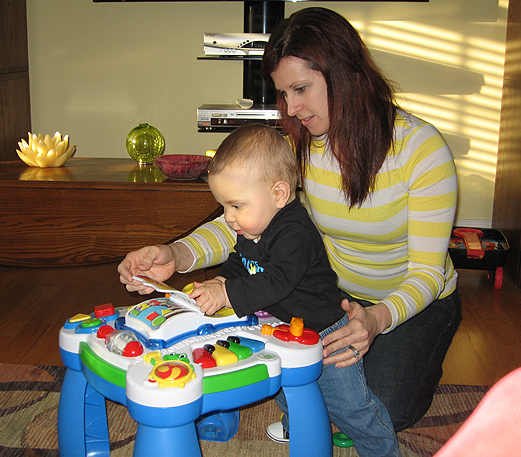 Making raspberries!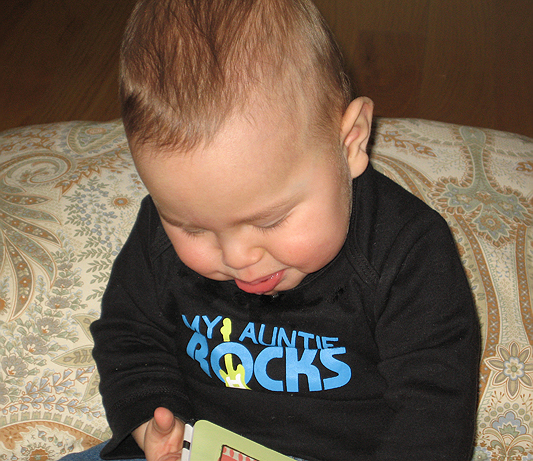 With his FAVORITE auntie!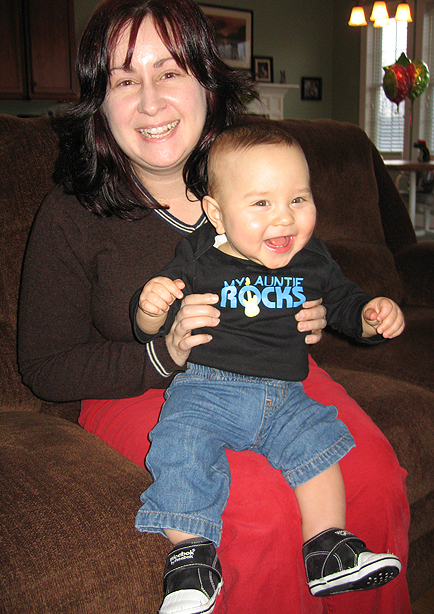 Driving around in his highchair with Grandpa seeing the sights: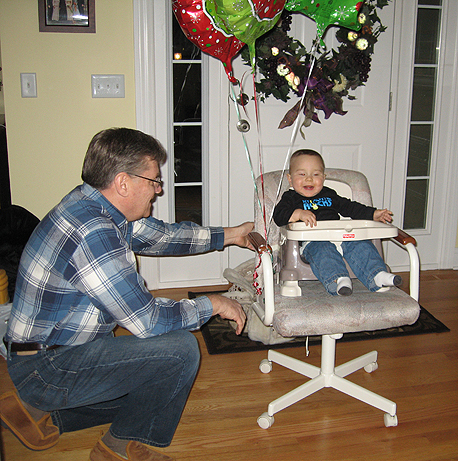 After dinner, we tried the pickle experiment. JC's parents said that they gave pickles to all of their kids and grand kids when they were teething. The baby can't puncture through the skin or bite pieces off, but the taste and texture are things that they've never experienced before. So we gave Leonardo one of my mom's homemade pickles (which are not as tough or tart as the ones in the grocery store) and he loved it!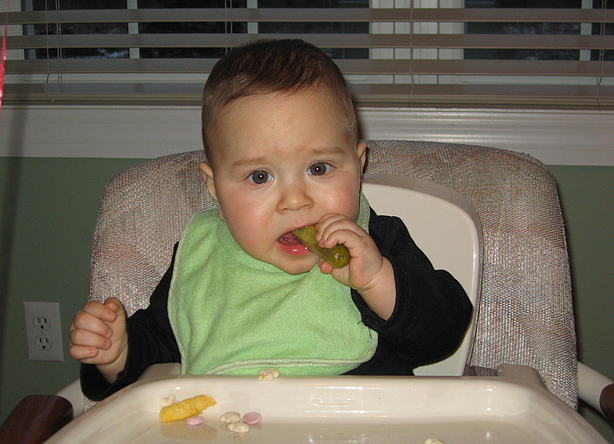 Three generations of pickle lovers!!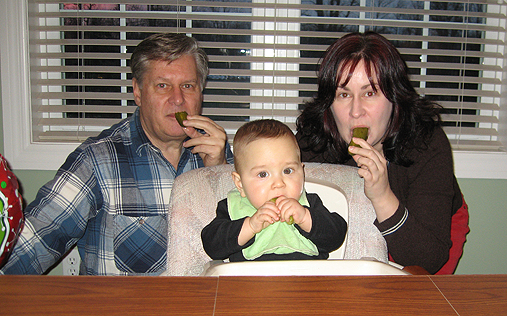 I flew back home early Saturday morning so that I could still attend the National Western Stock Show Rodeo that I had bought tickets for. The National Western Stock Show is THE stock show for farmers and ranchers, and they have all sorts of vendors and events for us regular folk too. It comes to Denver every year so I finally made it a point to get to my first rodeo!
Here's me and my token tractor photo: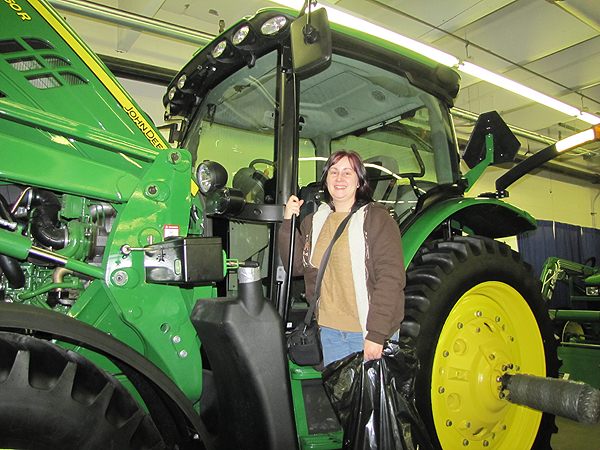 They had a mechanical bull set up for kids to try, it was hilarious. He lasted a good ten seconds.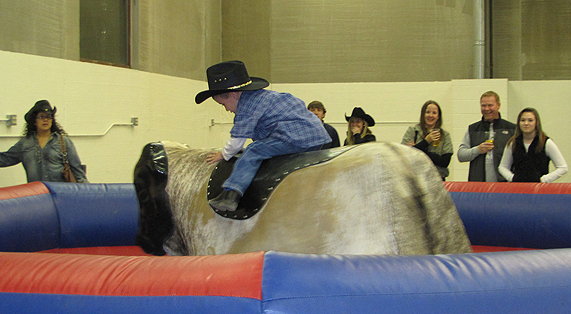 We also visited the stock pens where some sheep were getting their exercise. I swear those are 1980's leotards on them, and their black legs look like leg warmers!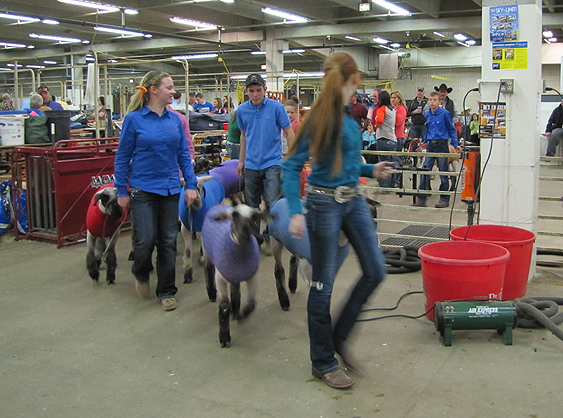 They also had dog competitions in one of the stock display arenas. He's pulling a cart with some weight on it.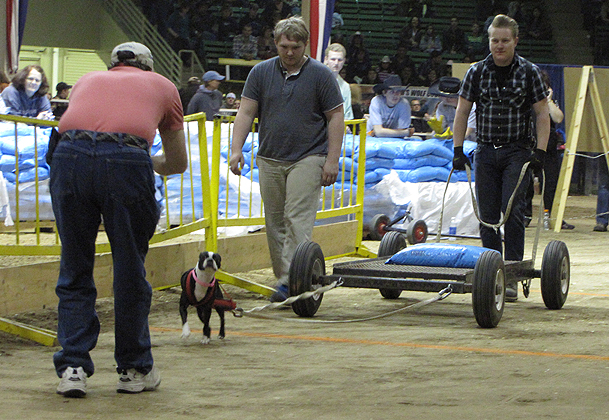 Finally, the RODEO! They did a wide variety of things, including Bronco Busting: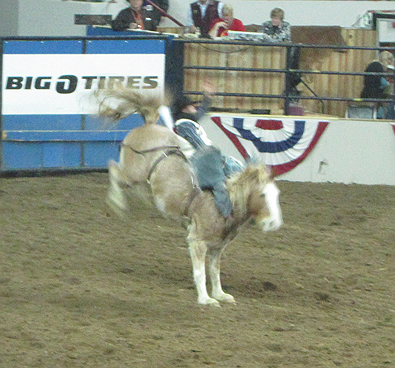 Steer Wrestling: A cowboy is on a horse, and he has to ride up next to the bull, jump off of his horse onto the steer, and try to wrestle it to the ground. Bull: 1, Cowboy: 0.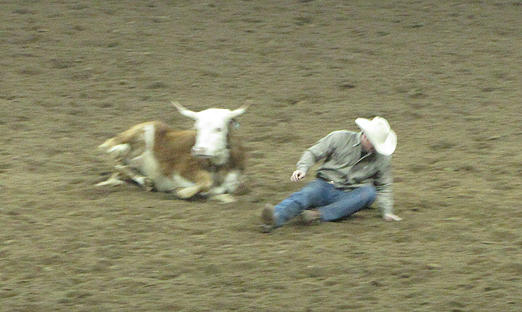 Mutton Bustin': Freaking hysterical. Kids cling to running sheep for dear life and try to hang on as long as possible.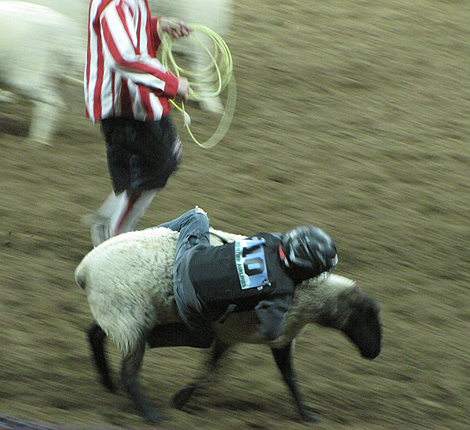 There was of course a rodeo clown: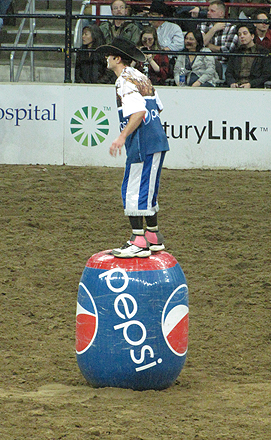 Calf Roping: not my favorite event, but a calf is released out of a pen and a cowboy has to rope its back feet, then get off the horse and tie three of its feet together in record time.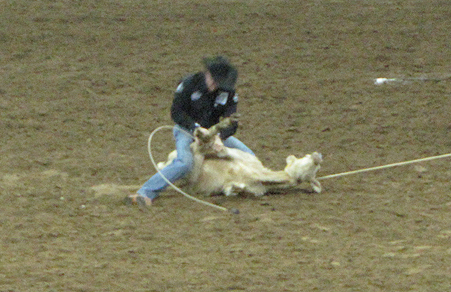 Bull Riding: Always up for seeing beast throw man around: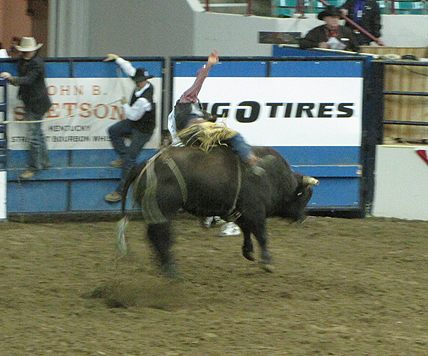 And lastly, Steer Roping: The steer is released from a pen and the pair of Cowboys have to try to rope first its horns, and then its hind legs, so that it goes down. Useful for when you have runaway steer.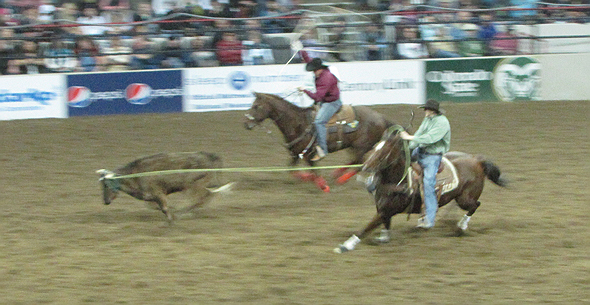 All in all it was quite enjoyable, but I might have checked Rodeo off of my bucket list now!