November 2011
OK so October was quite interesting! It was a pretty normal, calm first half of the month. JC and I were just playing hockey, relaxing at home, with no concerts or anything like that. Then my mom and aunt came to visit for a week and it was the busiest week of my life! Fun, but busy!
My mom arrived on Saturday the 16th and we went to church and dinner with JC's parents and nephew which was nice. On Sunday, mom and I went to a Christmas card class which was really cool, we made four beautiful vintage cards. On Monday I worked and mom played in my scrapbooking room making approximately 300 Christmas gift tags. :P On Thursday afternoon my aunt arrived, and that night the three of us went to see a wonderful jazz singer, Jane Monheit. She has a really great voice and stage presence, and her set consisted of a wide variety of well-known songs. She had a pianist, bassist and drummer with her, the drummer being her husband, so she never stopped giving him crap throughout the set, it was funny.
On Wednesday, since JC had the day off, we all took a wonderful drive down to Colorado Springs in the beautiful 80-degree weather and the awesome fall foliage colors. The ladies spent a good amount of time in an independent scrapbooking store that I just love down there, and JC went to his own independent hobby shop. We met up for lunch and then drove back up north. Then we had just enough time to go to a western store to buy my aunt a cowboy hat before attending another Christmas card class, where I had to help my aunt because she has never done scrapbooking before! She did just fine. :)
On Thursday we went to a very nice lunch and shopping trip with Noel, JC's mom, and then the ladies went to another concert. This time it was Matt Nathanson, who I just love. He's got a great voice, wonderful melodies, and isn't hard to stare at for a couple of hours. ;) Despite my mom not understanding a word he said, everyone enjoyed the show. He totally rocked!
On Friday my aunt was scrapbooked out so she stayed at the house and did some work while mom and I attended a scrapbooking and rubberstamp expo in Denver. It was pretty small but we found some amazing stamps, including a set of 8 awesome skeletons all dressed up as different things--pope, gunslinger, victorian woman, etc. Who would've thunk there'd be stamps like that!?!?
That night we had fun driving around the neighborhoods near us looking at all of the huge homes and the homes that have their own personal airplane hangars that feed out into the runway of the Erie Municipal Airport. We had a wonderful dinner, and then decided to skip hockey!
My aunt flew back Saturday morning and then mom and I went to another scrapbooking expo, this time up north in Loveland. This one had a wider variety of vendors, so we picked up a bunch of cool different products. Yes I spent too much again.
That night, we met up with JC to go into Denver for the 5th Annual Zombie Crawl. For some reason it wasn't as exciting as past years, but there were still some pretty creative zombies.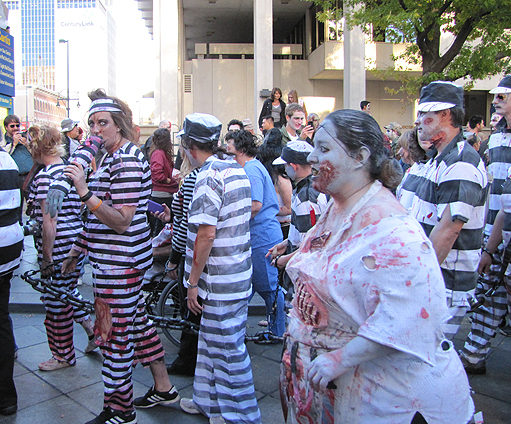 Of course the doggie got most of the attention!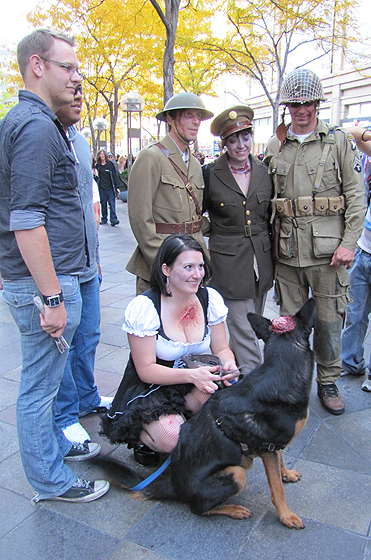 I just LOVED this idea, so creative!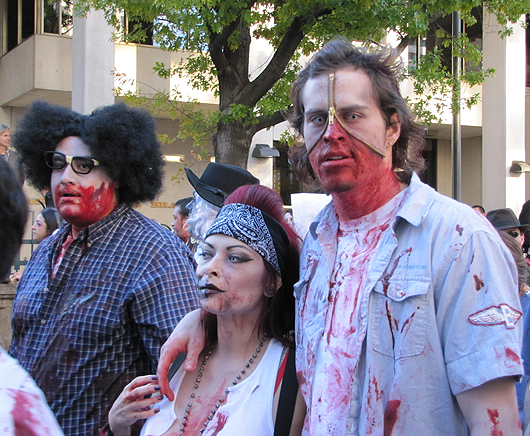 I don't want to know where they got the real horse's skull.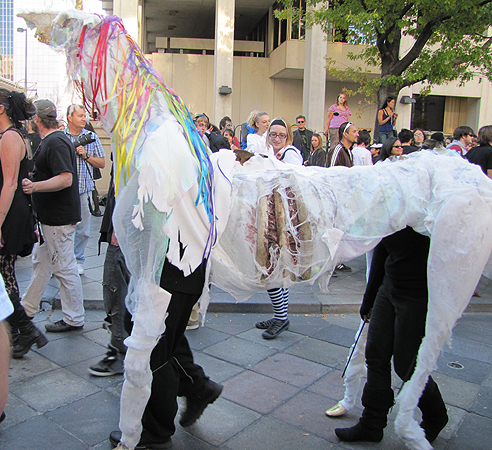 You can't go wrong with zombie bananas.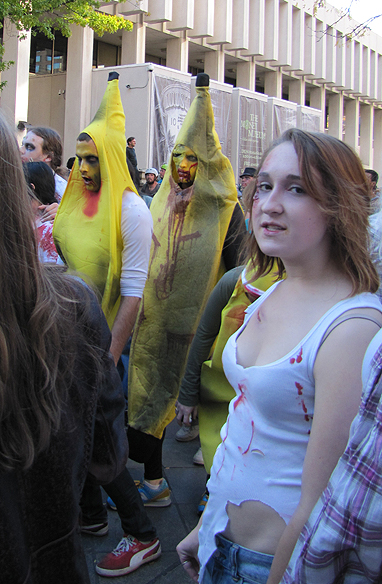 There was a mini hearse convention. We've actually seen this hearse around town, parked at concerts we've gone to!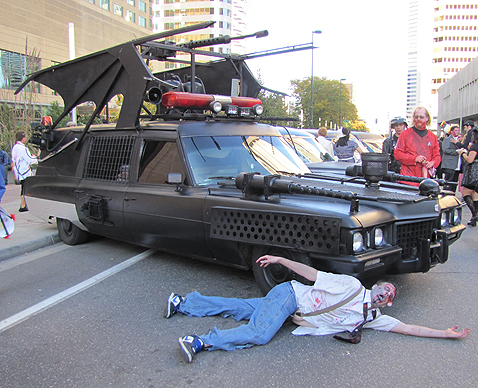 Just gorgeous work!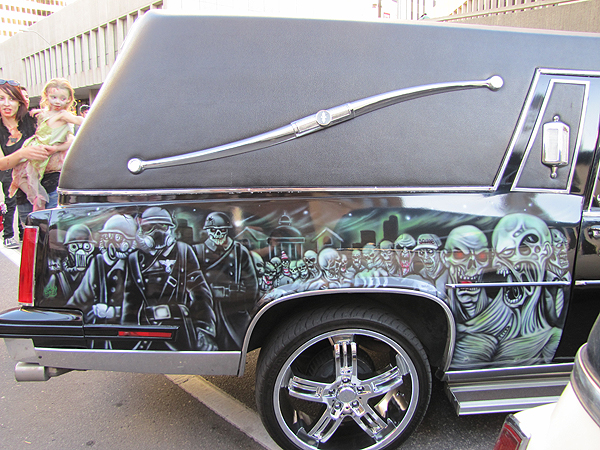 Don't forget the high school marching band, back this year bigger and better!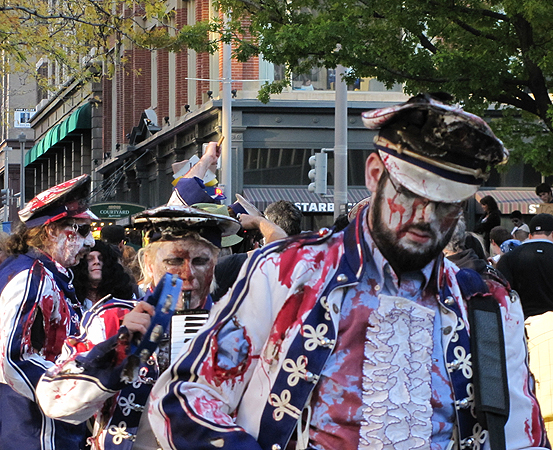 And THAT wrapped up the family visit, whew! Three days later, we got hit by a snowstorm, which caused a lot of issues because it was so warm just days before, and the trees were still turning colors and hadn't shed their leaves yet. So a lot of people had branches break, trees fall, power lines snap, you name it. This is the ash tree in our front yard, not sure if it's going to survive: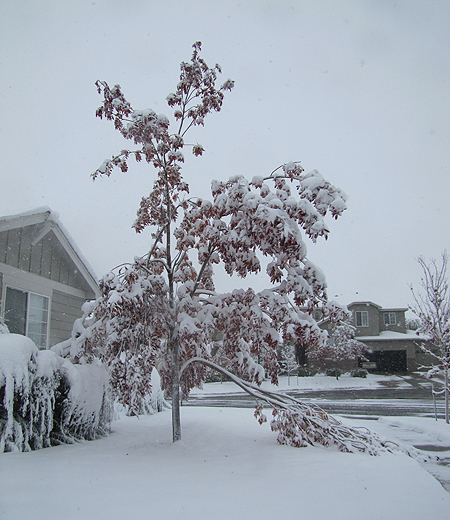 All told I think we got around 8 inches of snow. This was at 7am, and then it snowed through til around 4pm: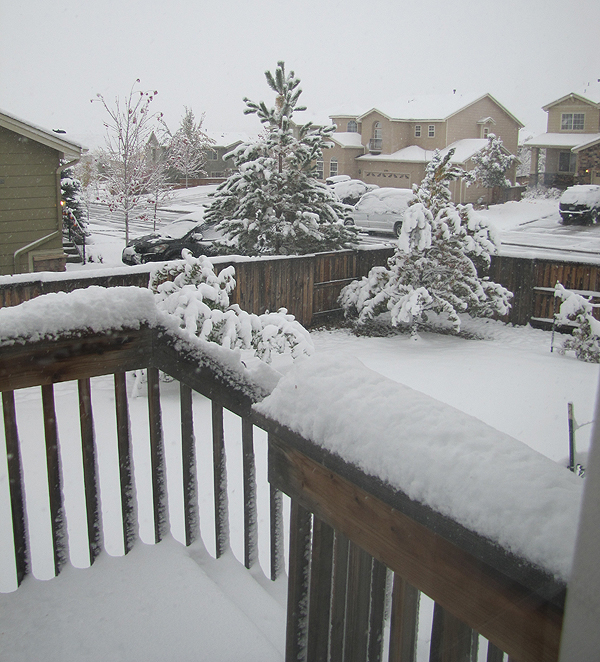 Now that it's all melted, and the debris has been cleaned up, we are getting another 4-8 inches of snow exactly one week later!
Lastly, for Halloween JC and I celebrated our 3rd anniversary having a feast at The Melting Pot with our friends Heather and Derek who are celebrating their 2nd anniversary. It was awesome, of course. And last but not least, our neighbor's 2011 Halloween diorama:
VIKINGS VERSUS SEA MONSTER!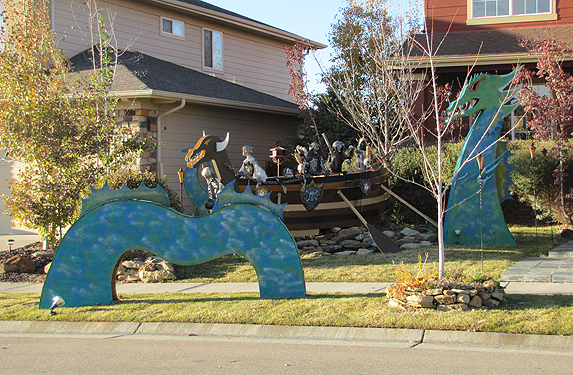 Here it all is at night. The sea monster actually had a strobe light and smoke coming out of its mouth. Its little fins were supposed to be moving too but maybe he couldn't get that to work.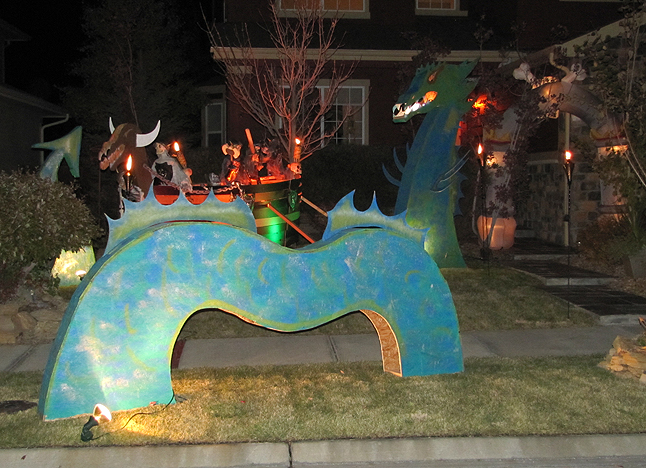 A closeup of the vikings. I especially like the drunk one on the far left!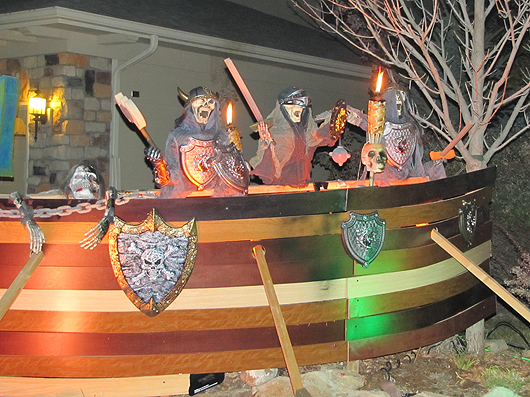 ONE MONTH UNTIL ESPAÑA!!!