September 2008
So my first hockey season ended in mid-August. My team ranked #1 (of three, so don't get too excited) at the end of the season, so we were facing our arch nemesis the Royals during the Championship game this past Tuesday night. Sorry to say, we lost.
BUT, we only lost 5-4 which is pretty good considering that the Royals had some amazing players who should not have been in the novice league. Plus they had players at the Championship game that I've never seen before, so you don't know what to expect.
I think I was responsible for two of those goals going in, but oh well. It was fun!!
Since then, I've been a bit lazy in getting to the gym. What's worse, the YMCA to which we belong had the ice closed for two weeks to redo the ice. So I decided a month or so ago to cram all of my missed exercise into one weekend and I signed up for the Mountain Mile High women's hockey tournament that was Labor Day weekend.
The teams were novice/intermediate, so I had to step up my game just a wee bit in order to compete. Our first game was Friday night at 9pm and we lost that one. Mainly because this was the first time that we were all playing together as a team, so naturally you're a bit unsure.
Our second game was Saturday morning at 9am and we tied 2-2. That team was mostly from Houston, TX, and while not extremely aggressive, were a bit chippy and hot-headed.
Our third game was Saturday at 2pm and we also tied that one 1-1. That left us in third place, competing again against the team from Houston this morning at 10am for third place and last place.
This morning, we lost 1-0 but apparently sources tell me (JC) that we actually did score a goal, but the ref was nowhere near the play. By the time he leisurely skated over to the net to see if the puck was in, the goalie had moved, and it is a typical manouevre of goalies (I'm told, same source) to try to "get up" from the play by rolling over and coincidentally scooting the puck out from the net. We suspect that such an event occurred this morning, thus dashing our hopes of not being last.
But oh well, I never play to win anyway, I play to play and get exercise. It is SO much fun to get out on the ice, and in an all-women's league, everyone is nice, supportive, and uncompetitive. I've learned a lot about how to play the game through just my one season in the league and this tournament, and I can't wait for the fall season to start.
In the fall, there are no novice versus intermediate leagues, they are blended into one, so the whole season will be more of what this tournament threw at me. I have to say that I think that I played rather well, and was aggressively pursuing the other team's offense (by aggresively I mean going after them or the puck, staying right on and with them, and making concerted efforts to get the puck away from them). My line partner, Dawn, is a seasoned hockey player and I think that between her speed and my aggresiveness, we made a great defensive line.
Of course, no tournament is a tournament with an injury. Late in the game this morning (so thank God it was in the last game!), a took a pretty fast slapshot off of my TOES. My little toes. They hurt right now if they are touched so I don't think I broke anything. But MAN between the toes, falling down a few times today, and the general notion of EXHAUSTION after skating through 4 games in less than 48 hours, I am going to be quite sore on my lovely Labor Day holiday tomorrow!
Anyway, here are some pictures from a few of our games. I am in white, #46. They were taken by JC's dad in the stands.
In this pic I'm the third in on the right. I have old Sabres socks which are black with red and white stripes in the middle.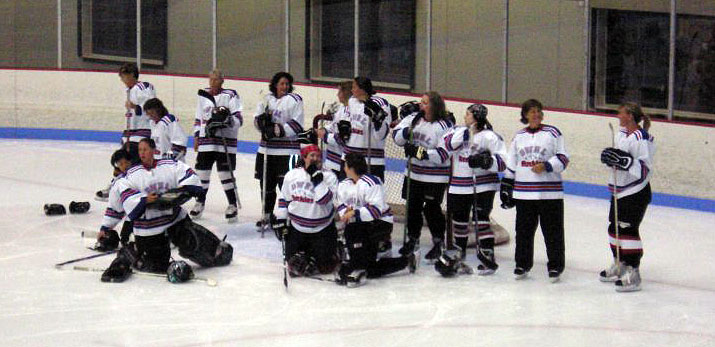 Here I am on the right, defending my turf!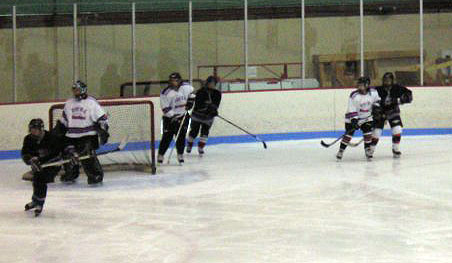 And here I am on the right skating neck-and-neck with a girl on the other team. That happened a lot, and I am just not fast enough most of the time to keep up with them! You can see the puck at the bottom, so what probably happened is that I got it away from her and passed it back to my teammaate.