March 2015
February here at the Polanycia household was pretty quiet, cold and snowy! We would have a day or two of dreary overcast skies and snow, followed by 60 degrees that would melt everything away. Valentine's Day was spent by JC hanging out with his parents and Jill working at the Scrapbook Shack. :) We went to our 7th Avalance hockey game of our 10-game pack, against the Rangers, and by far it was the loudest and most rude crowd I've ever seen (it consisted of 50% Rangers fans, go figure). I also began seeing an accupuncturist for my plantar fascitis and after two treatments the pain in my foot is pretty much gone. YEAY! Although this means that I now have to start working out again, ugh.
At the end of the month I took another trip. This time, my mom and I went on a scrapbooking cruise with Royal Caribbean! It was a 7-day cruise out of Galveston, TX, so we flew in the day before, Saturday the 22nd, right before Denver got hit with a blizzard (and had several more throughout the week). We stayed at a hotel near the airport and just hung out in the room and watched the Penn State hockey team beat Minnesota on ESPN! I never have the TV on when I'm home on a Saturday afternoon so this was just lucky timing!
Click here to view the whole photo gallery!
On Sunday we took a shuttle with many other scrapbookers to the port and easily and quickly boarded our ship, the Navigator of the Seas. We roamed the whole thing, checking it all out, unpacking, having lunch, and, well, getting lost. Some of the unique features on this ship were the Flow Rider which is a huge wave pool you can surf in, a rock wall, a miniature golf course and a very small ice skating rink! Here's the view down the Promenade on Deck 5.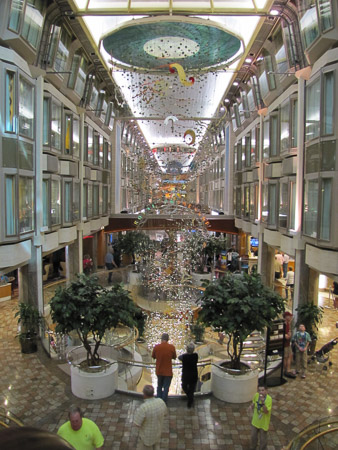 Royal also does assigned seating and assigned times for dinner, so that first evening we sat at a huge table for 10 with fellow scrapbookers, so it was nice to meet other people that we'd be scrapping with during the week! Then at 8pm we were finally allowed into the scrap room. It's the conference room on deck 2, so there's no light or windows, but we were just fine without them. We were too busy scrapping our sea days away! We even had two classes: one was an adorable cruise-themed mini album and the other was two 2-page layouts--one was cruise-themed and the other was generic. We got a few other goodies as well! Here's what our room looked like, filled with 90 happy scrappers!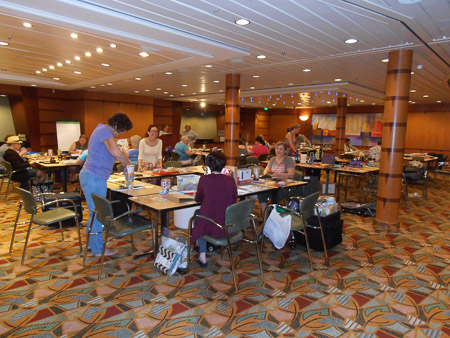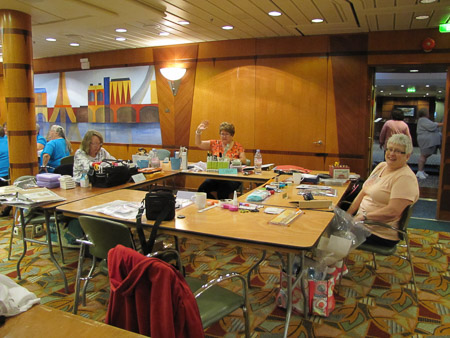 We docked at three stops where we did excursions...
Roatán, Honduras
Roatán is an island off mainland Honduras and is known as the second best coral reef for snorkeling and scuba diving in the world (second to the Great Barrier Reef in Australia). So mom and I went snorkeling! She hadn't done it since her honeymoon and I had never done it before, so we ended up clinging to one of our guides for the first adventure. We went to two different reefs, each for an hour, so for the first hour, both of us were uncertain of ourselves so the guide swam towing us behind her as we clug to a tire raft. Once I got the the hang of how to breathe and swim with those flipper fin thingies on, I started venturing out on my own and it was SO FUN! I'm now hooked on snorkeling!
After that hour, we went back to shore to be able to go to the bathroom and apply more sunscreen (which went horribly wrong as I got severely burnt all up and down the back of me!). At the second reef, both mom and I went out on our own, but there was a stronger current that made us both seasick by the end of the hour. Still, we got to see some beautiful fish, coral of all shapes and sizes, a nurse shark taking a nap with its head tucked into a rock, a sea urchin, and beautiful turquoise waters that went deep below us.
I bought a waterproof bag for my cell phone and ended up getting some decent photos plus 3 videos! It was difficult to take pictures underwater so I kept pressing other stuff than the shutter button and messing the phone up. :P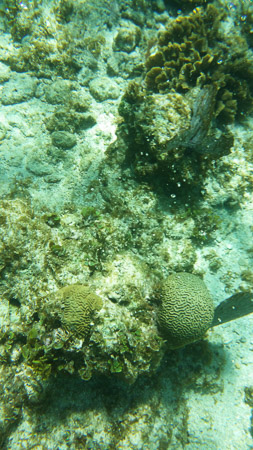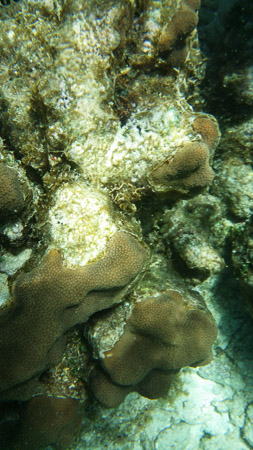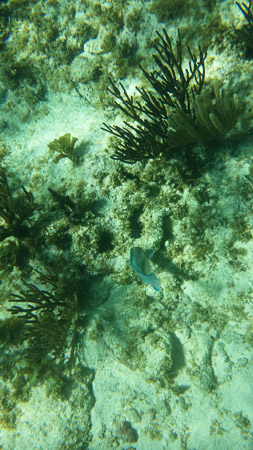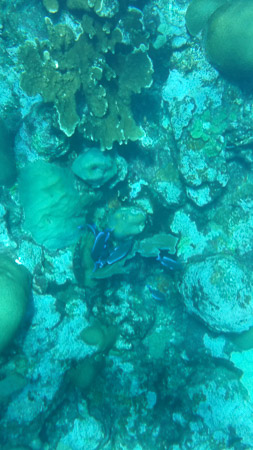 Don't we look lovely?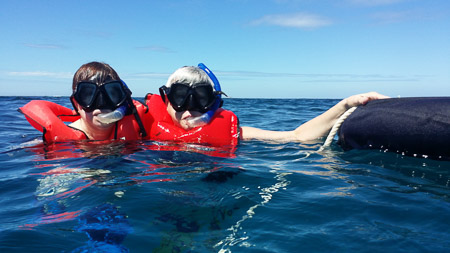 Back on shore, we had a lovely scenic drive back to the port (we were clear on the other side of the island), we bought some souvenirs, had a refreshing iced coffee and headed back onboard.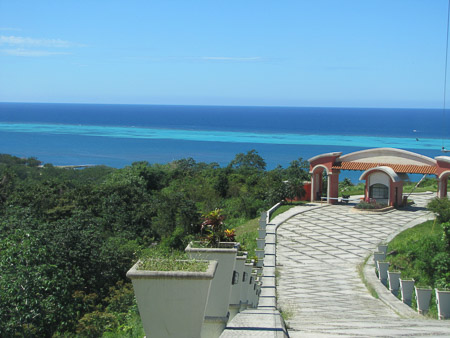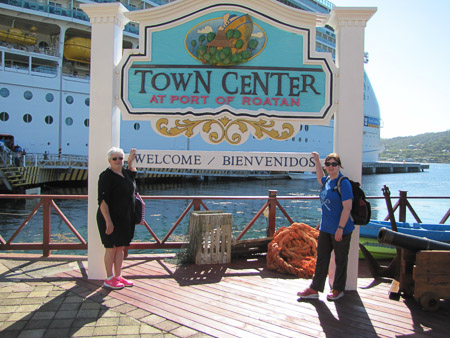 Belize City, Belize
In Belize we chose to do a tour of the city and nearby Mayan ruins of a settlement named Altun Ha. Our guides were AWESOME! They were so funny, very informative, and even taught us a bit of the native creole. I didn't know that Belize is the only country in Central America whose native language is NOT Spanish. They learn English in school and speak it in tourist areas and professional environments, but the actual native language is a creole stemming from "bad English". As a linguist, this fascinated the heck out of me! Here's one of the larger and more elaborate houses we saw: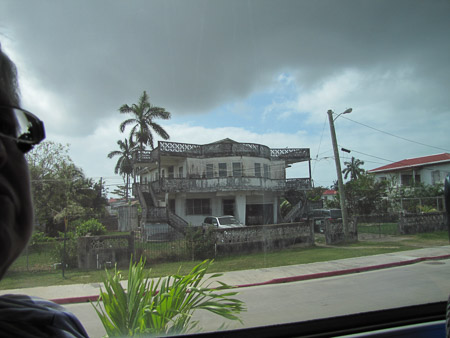 We had a long drive to the ruins site but we were able to see a good portion of Belize City and the countryside. The ruins were totally cool. There were basically two courtyard sections that have been excavated so far (they estimate that they've only dug out 25% of the site) consisting of a main temple at one end and platforms with stairs surrounding them, which were also probably full buildings. The site was mainly used as a ceremonial/government location, with the stone buildings as housing for the government employees and straw huts would have surrounded the site for the villagers.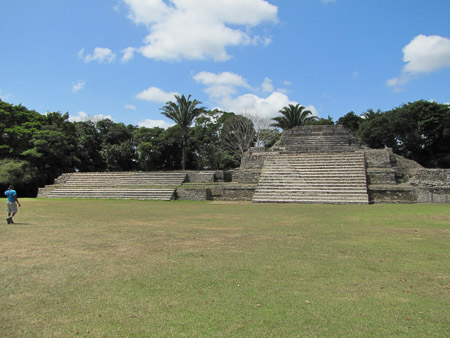 There are also still some carvings in tact--this one is a full face with some carvings on either side of it, and it's off to the side of one of the intact temples so no one is really sure what this was for. The other intact temple contains the others.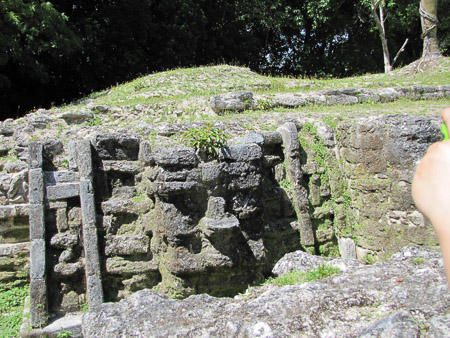 We were even able to climb up the temple with the carvings and the view was breathtaking!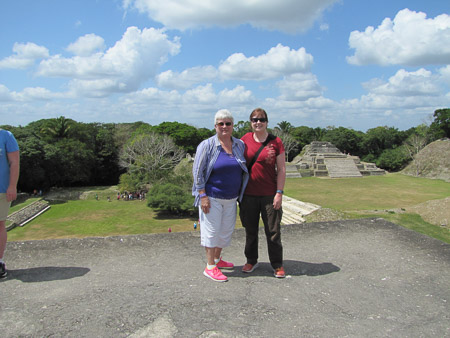 Cozumel, Mexico
In Cozumel, we did something entirely different. We went to a large waterpark called Chankanaab where we swam with dolphins and manatees!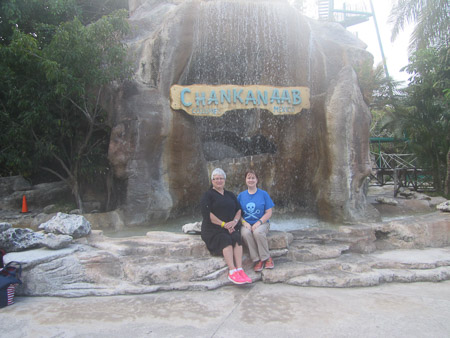 We originally had only purchased the manatee swim, but we ended up befriending a fellow scrapper, Lani from Seattle, who was doing the dolphin swim, so we all decided to do both together!
Both swims were incredible! We first swam with the manatees. We learned some commands to be able to give them a kiss, shake their hands, and hold them like babies!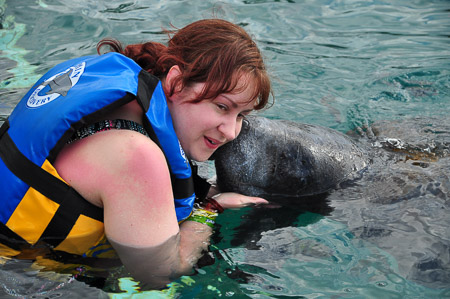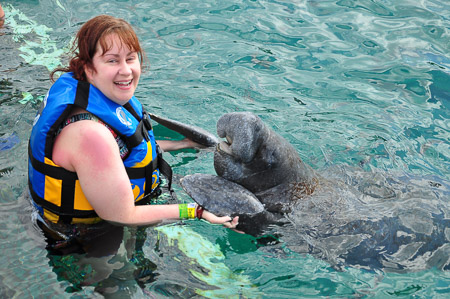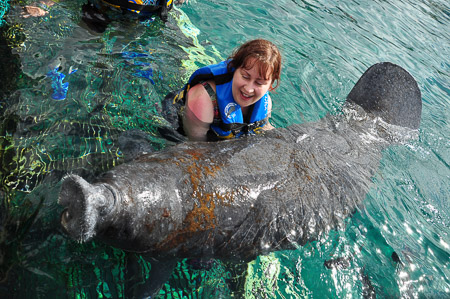 We also each got to feed them lettuce which they just love! There were five male manatees in the area with our group and they were all just such big babies!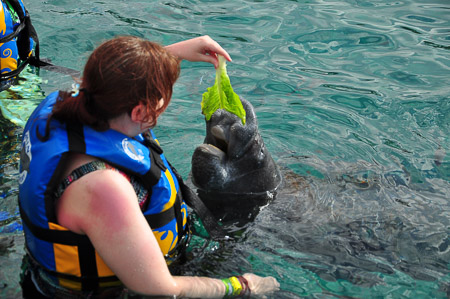 For the dolphin swim, we got to play with Diego the dolphin who worked hard with a large group of us! We each got to give a kiss and shake hands, we held onto his fins as he swam upside down, and we held onto a boogie board and got carried forward by Diego pushing our feet!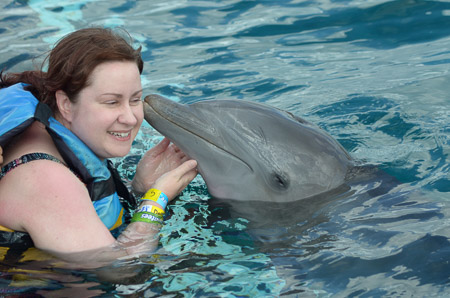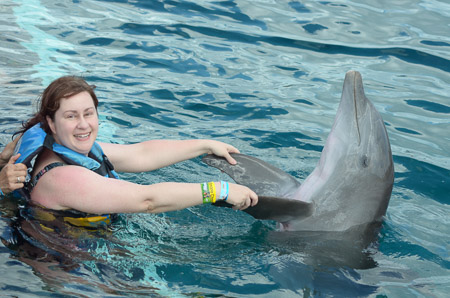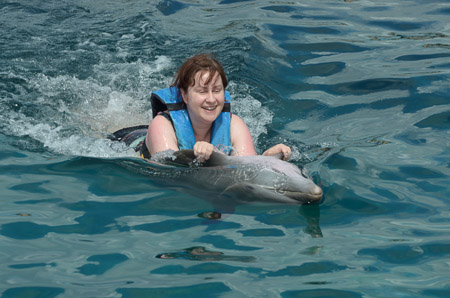 We also had a little bit of time after the swims to check out the rest of the park. There is a huge botanical garden with Mayan statues uncovered in ruins, a zip line, a tequila tasting room and a beach where you can swim, snorkel or scuba dive. We had no time for any of that, but did check out the lagoon: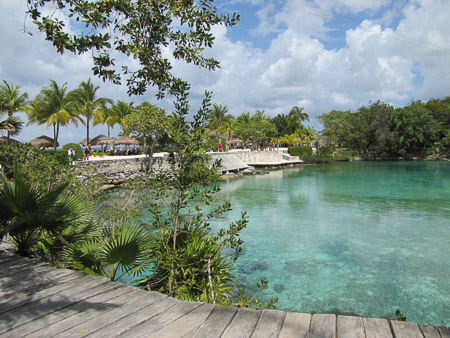 Which had some amazing inhabitants!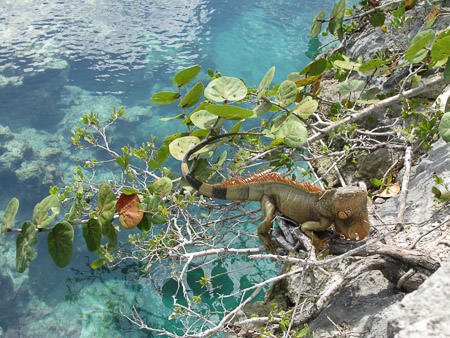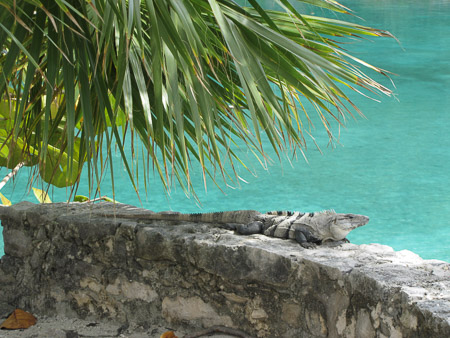 Click here to view the whole photo gallery!
Now I'm super sunburnt, am peeling like crazy, and sick from leaving 85 degrees and returning to 20 and snow!