2018
December
November
October
September
August
July
June
May
April
March
February
January
2017
December
November
October
September
August
July
June
May
April
March
February
January
2016
December
November
October
September
August
July
June
May
April
March
February
January
2015

December
November
October
September
August
July
June
May
April
March
February
January
2014

EUROPE PHOTOS
December
November
October
September
August
July
June
May
April
March
February
January
2013

December
November
October
September
August
July
June
May
April
March
February
January
2012
PORTUGAL PHOTOS
December
November
October
September
August
July
June
May
April
March
February
January
October 2013
OK I'm still not done with August, so hang on!
Two weddings in one week--madness! But the Saturday after we got back from Ohio, we attended JC's friend Davis' wedding in Allenspark, a little bit into the Rockies. Of course, as is typical in August afternoons, just as the ceremony was about to begin it began pouring!! But, an hour later, and we were back on track.

The best part about this wedding is that JC was one of the bridal party so he had to get a TUX! You know I got photos of this!!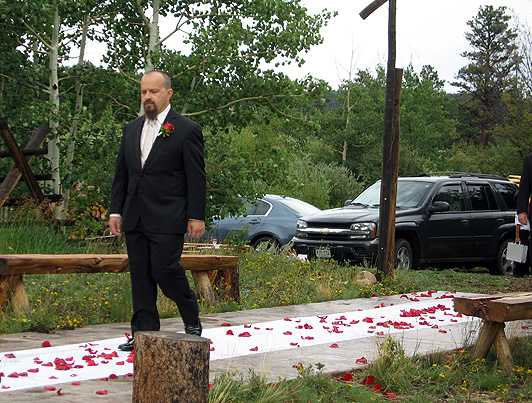 The ceremony was great, though, and the bride looked so beautiful.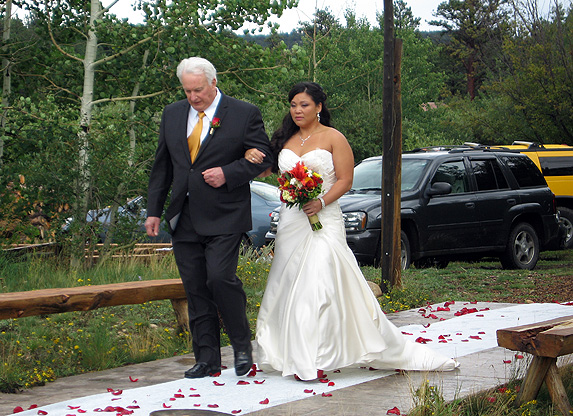 The weather cooperated for the rest of the day, and the Wild Basin Lodge was the site of the ceremony and reception. It was gorgeous and just the right size. We had an amazing meal and lots of fun.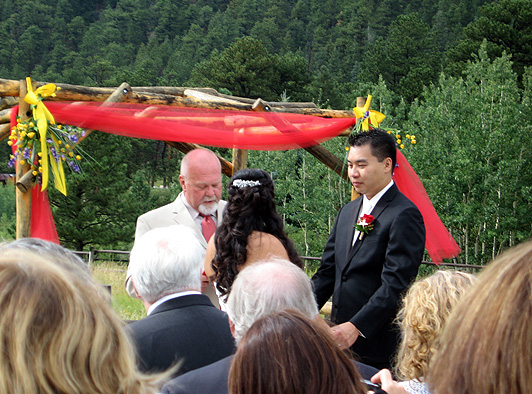 A really great idea at the reception was a photo booth, complete with props. This was instead of a guest book. Guests took photos however they wanted, got copies for themselves, and a copy went into a book where you then signed your pictures. This picked up where the Cedar Point ride photos left off. I'd like to call this The Four Stages of Marriage.

In the first half of September, I finished up my scrapbook album about my trip to Portugal last year (I'm only a year behind still, woo hoo!), as well as making a ton of cards and, well, building an ark after the devastating floods. Luckily, both our town and our house were just fine, other than some extremely minor water seepage into the basement. We didn't notice it until it began crawling up some of our furniture, but only one crappy old IKEA bookcase got damaged enough to be visible. We are extremely fortunate as the devastation is pretty bad around us.

Anyway, JC and I attended another 5k walk on September 7th, this time it was the Doggie Dash, a fundraiser for the Humane Society of Boulder Valley.

We went with our friends Kent and Lisa and had a good time walking. We walked around the Boulder Reservoir in the blazing heat. Kent walks significantly faster than us so he put his earbuds in and PEW--he was gone. We also ran into a coworker of mine and walked with her as well.

Here's the line for registration: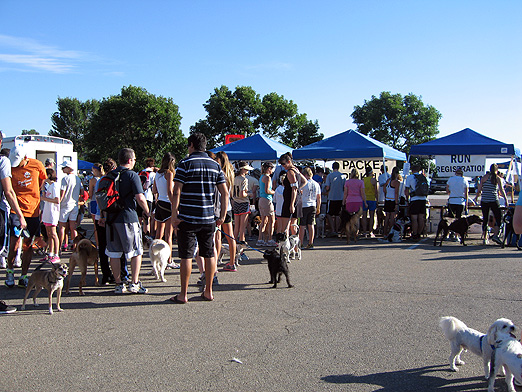 Like my shirt??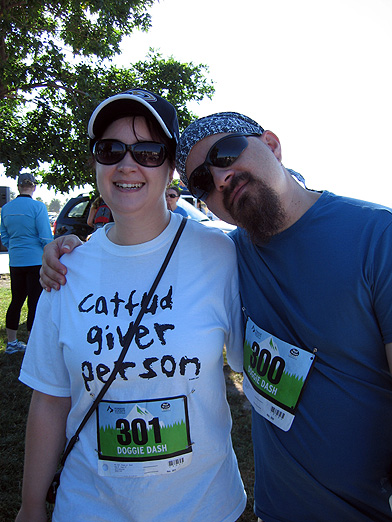 The fearsome foursome (not!):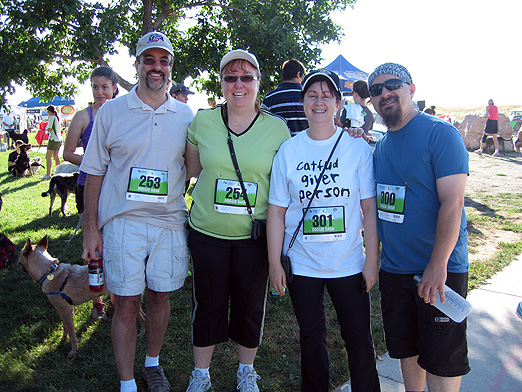 Lovely view of the reservoir: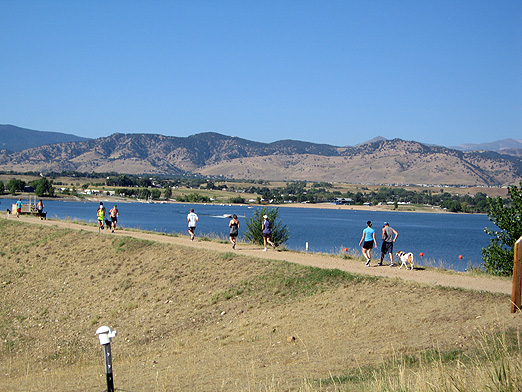 Doggies playing in the water!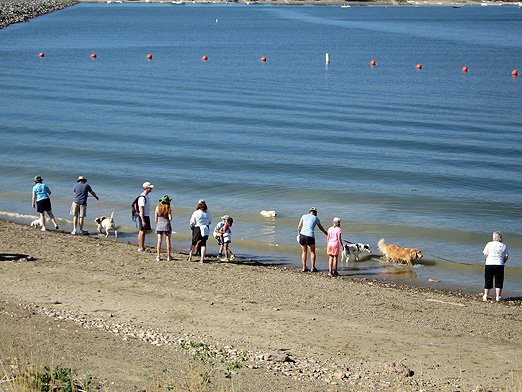 Lastly, later in the month Mom came to visit for a scrapbooking-filled weekend. Over the past few years, we've been going to scrapbooking conventions around this time of year, and mom would stay a few days around it to make Christmas gift tags. Well, now that that's a tradition, we just had to keep it going, despite the fact that we went to this year's scrapbooking convention in Vegas in June. Therefore, mom made a special trip to Colorado to attend a local scrapbooking expo and make some fun stuff.

Of course, no trip with mom is uneventful. In addition to the "best wedding story ever" broken nose incident, several years ago when mom and dad came for Christmas, she had to have her appendix removed. This time, while boarding the last plane to come to us, she fell and broke her pinky in three places. At least we went back to the same hospital that had her record from last time. :) We were in and out of there on Saturday in 1.5 hours, not too bad! This is what it looked like on Thursday night when she landed: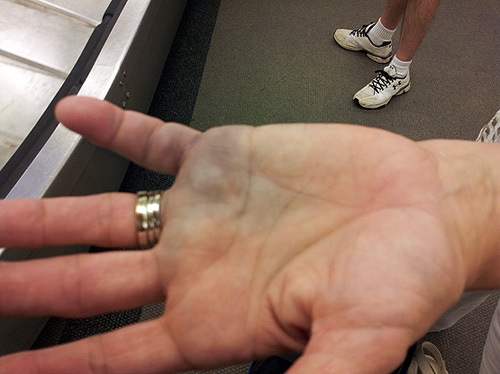 Anyway, I digress. So mom arrived on Thursday at midnight, and on Friday we headed down to Denver to attend the Scrapbook Expo. It kept us busy the whole day, buying too much stuff we don't need. But of course, it was fun. On Saturday, she decided that we should go to the hospital, so that began our day. Conveniently, though, the hospital was half-way to a new scrapbook store in Louisville that I wanted to take her to, so we just HAD to go there afterwards. Then, at night we met up with JC's clan for dinner, then went back home and started scrapping!

On Sunday we listened to football in the background while we worked hard at making over 200 Christmas gift tags! They came out so nice! We just grabbed a variety of stamps, die cuts, and embellishments and crafted away! I think now we have enough tags to skip this tradition for, oh, 3 years at least! But it was a TON of fun.

On Monday, mom and I headed up north to visit the three scrapbook stores that are in the Loveland/Ft. Collins area. The first one had a "Card and Coffee" event, where you pay $5 and get to make a card together, then sit and chat with coffee and a dessert, and of course, you get to shop in the store as well. I picked up some gorgeous die cuts I cannot wait to use!

Public Service Announcement: A die cut is a thin metal shape with a sharp edge on the top of it. You put it onto a die cutting machine, with paper on top of it, and run it through the machine, where it pushes the paper into the metal shape and cuts the paper in that shape. Pretty addicting. :)

At our next stop, we fell in love with quite a few collections, which means that manufacturers make a coordinating line of patterned papers and embellishments like tape, ribbon, die cut shapes, buttons, etc. Too many to choose from! And at the last top, we found the BEST, most hilarious stamps! I can't wait to use my new smarmy stamps on all of y'all's birthday cards. :)

Lastly, on Tuesday we just played and played with all of the new goodies we bought! Since we each buy different things, then take them home with us, this gave us the chance to use each other's new products before they wisked away. A few of the things that we bought were die cuts for making entire cards that have flippy pieces to them, so that when you open the card, a label or piece flips from back to front. So we made a bunch of cards that we can embellish and customize later.

That night, we met up with JC's mom for dinner and then a quick visit to a clothes store nearby that we all like. Then, we got REALLY adventurous, and tried a new technique--using outline stickers and glittering the inside portions of them! I tried a new method for using glitter too--putting cupcake liners inside of a cuptake/muffin baking tray. That worked great to be able to have a wide variety of glitter colors out and available to use, though of course we had tons of glitter on the floor and ourselves. Here's what the whole production looked like: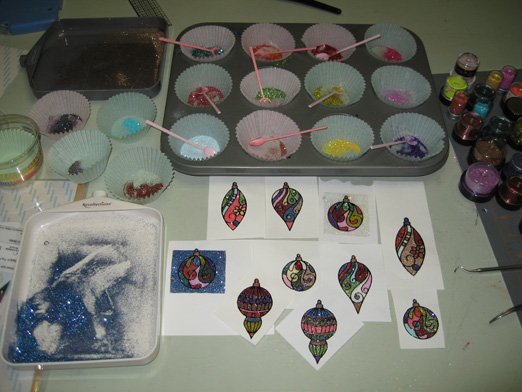 But check out the results! So gorgeous!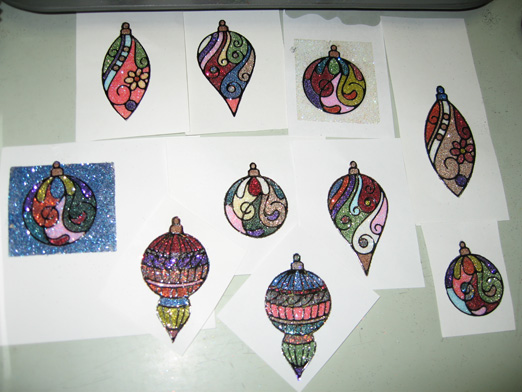 I was literally exhausted at the end of the visit, but I had SUCH a fun time! I swear, if I could craft all day, every day, it would be an awesome life!!


2011
SPAIN PHOTOS
December
November
October
September
August
July
June
May - none
April
March
February
January
2010
ALASKA PHOTOS
December
November
October
September
August
July
June
May
April
March
February
January
2009
December
November
October
September
August
July
June
May
April
March
February
January
2008
WEDDING PHOTOS
December
November
October
September
August
July
June
May
April
March
February
January
JILL'S CREATIONS:
Album - 2017
Album - 2016
Album - 2015
Album - 2014
Album - 2013
Album - 2012
Album - 2011
Album - Penn State
Album - Cedar Point
Album - Wedding
Cards
LOAD513
LOAD214
Mini Albums - Coffee and Daily Junque