November 2017
So, as you know, our Hallowversary is October 31st. This year, to celebrate 9 awesome years, we knocked more places off of my Goals List: namely, Transylvania. But that was at the end of our journey. We took another river cruise, this time with a company called AmaWaterways, that began in Budapest, Hungary, and ended in Bucharest, Romania. We then did an extension afterwards of a two-day private tour of Transylvania.
Let's begin, shall we?
Saturday, October 14 - Budapest, Hungary
By the time we landed in Budapest, it was 5:30pm, so all we had time to do that evening was get to the hotel and find dinner before we crashed. We stayed not too far from the Parliament building (their most famous landmark) in a very nice Radisson, and then we found an amazing, local Hungarian restaurant. Their food is SO good and I just love their paprika!
Sunday, October 15 - Budapest, Hungary
We walked damn near the whole city center today. Our most important stop was across the river to the Buda side (the Buda side is the hilly, medieval side, and the Pest side is the more flat and modern side) to another medieval bath house. You may recall three years ago when we were last in Budapest that a friend and I went to a medieval bath house called Rudas that has natural hot springs. This time, I went to the other side of Buda to one called Kiraly. It was equally awesome. It's an old stone square building, and inside the main pool is octagon-shaped, with a stone dome above with hexagon cutouts. It was magical how the sun shone through just one of the hexagons, sending one beam of light onto the floor. The temperature in the main pool is comfortable, not as hot as a hot tub, and the sulfur smell actually smells good. There are other, smaller pools along the edges of various other temps, including an ice plunge pool. I of course tried all of them at least twice. :) They also had a steam room, a sauna, did massage services, had an outdoor courtyard with a barrel-shaped little pool, and a café. I could've spent all day there, and I think many Hungarians do!
This is it from the outside.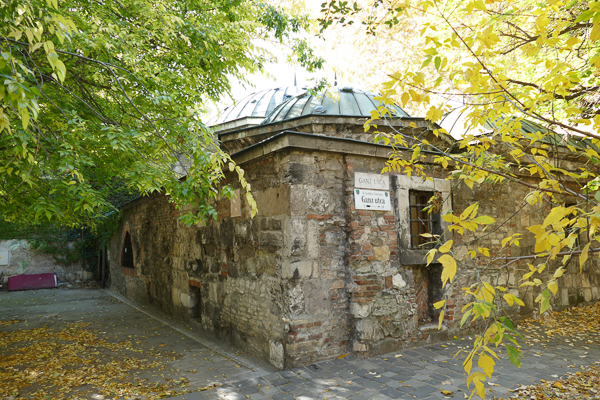 This is a picture of a picture of the pool. I couldn't take my camera in there, naturally (though I'm still bummed about it).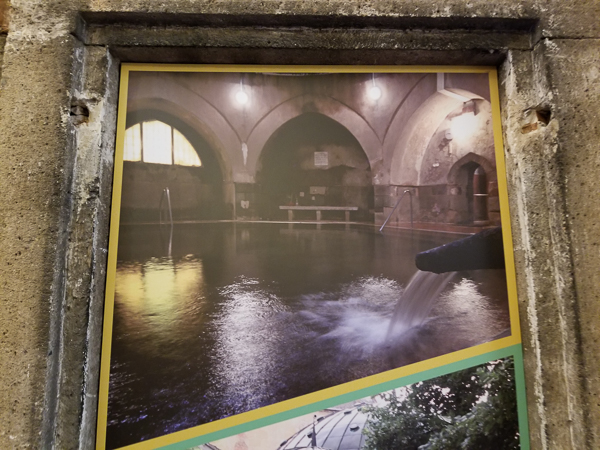 Next, we walked along the water to the castle complex. The last time we were here, we went to a different portion of the medieval village inside the walls. It contains St. Matthias church and Fishermen's Bastion, which is a funky complex of castle walls. It looks like this.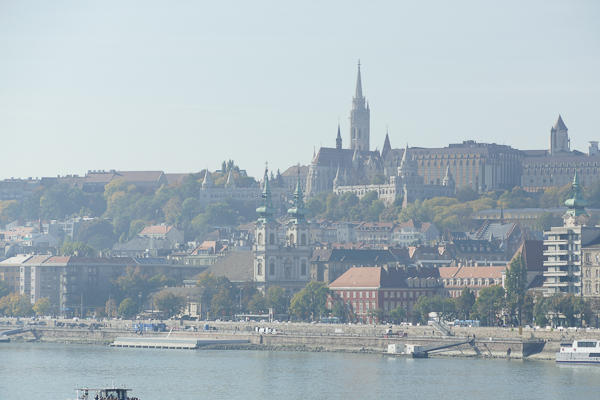 So this time, we needed to explore the actual castle.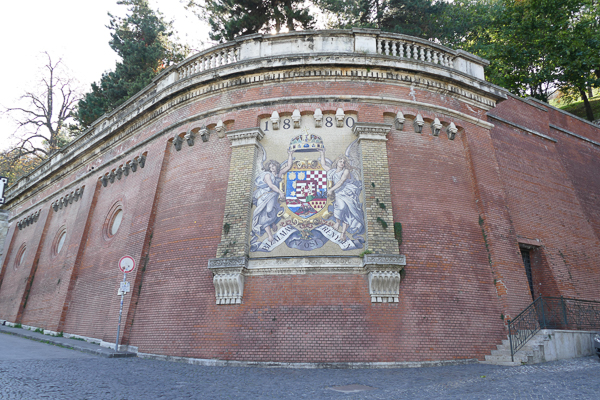 Here's the main building inside the walls. It was once the royal palace but is now museums.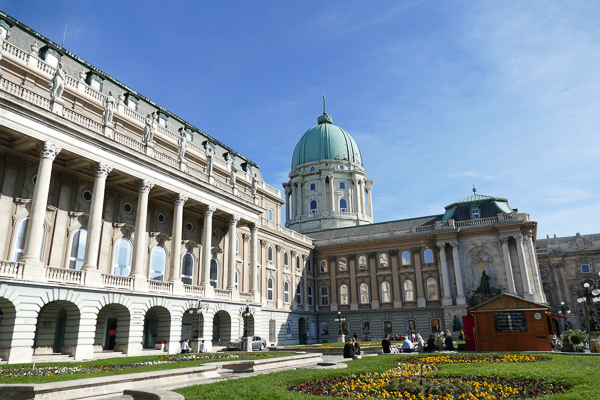 Of course, we had to explore the labyrinth beneath...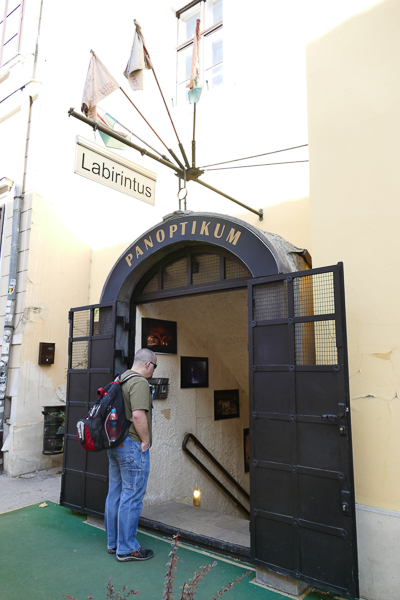 ...which was a very long series of tunnels used throughout the ages to defend the castle and the city, as well as hold and torture prisoners. Vlad Tepes, also known as Vlad the Impaler, the ruler of the Wallachia province in Romania in the 1400's, was imprisoned here for a stint. He's the real person that the character Dracula is based on.
Creepy, no?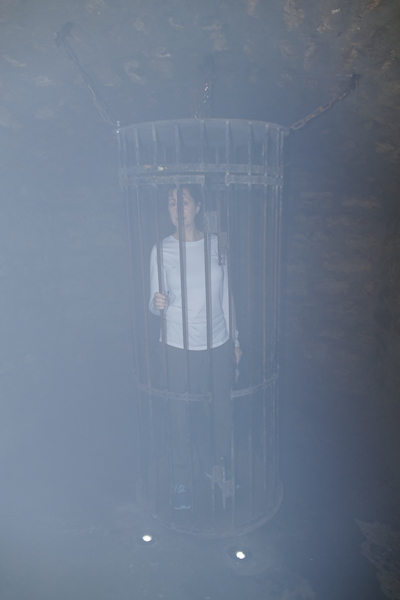 After exploring the caves, and having an awesome Hungarian meal, we ventured around the castle walls. The foliage was still changing colors so it was really stunning against centuries of various stonework.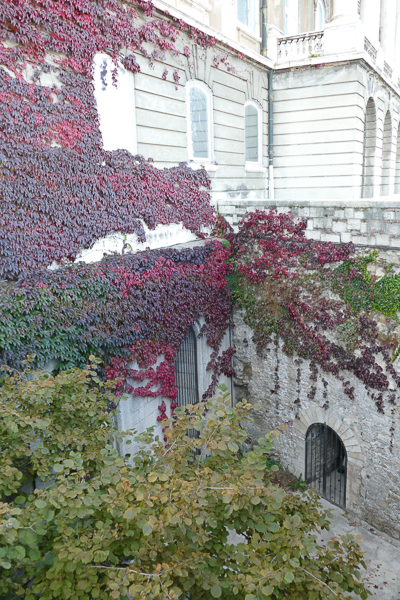 There's the other side of the castle. Pretty castle-looking. Which I LOVE!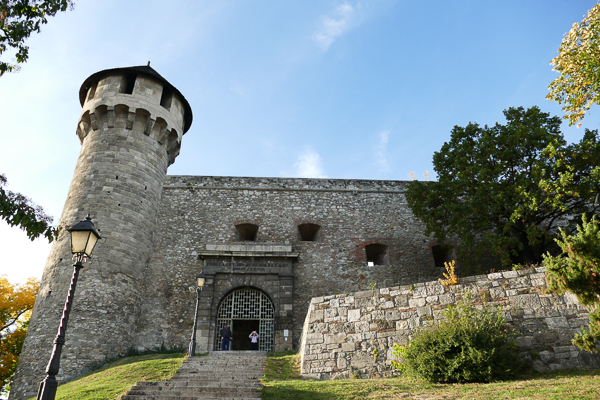 Then, nearby, we escalated the bazillion steps and steep paths to the Citadel, atop a very high hill that overlooked the whole city. The Citadel itself was closed, but the scenery both ascending and at the top was stunning.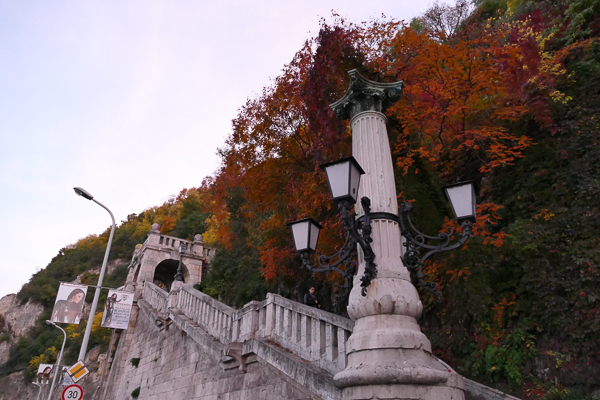 After that, it was getting dusk, so we walked back over one of the many bridges to the Pest side, and I found my Desigual store which is now a tradition when we go to Europe. I got a beautiful fake leather belt with embroidered flowers and birds. LOVE that store!
Monday, October 16 - Budapest, Hungary
More roaming around to things we hadn't seen three years ago. We stumbled upon the Opera House, and some cool old buildings like this one.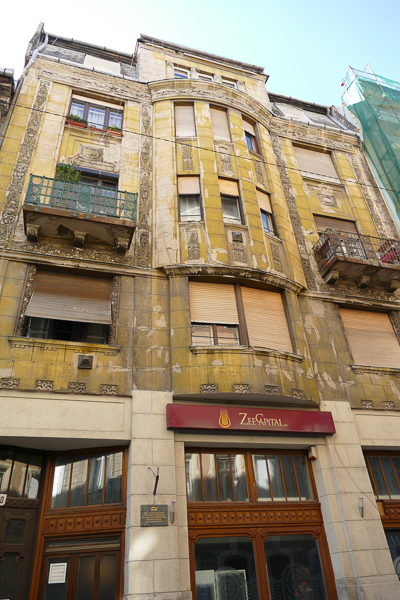 Next we figured we'd try to see if we could tour Parliament, but it was closed because they were in session. Government! Still, we took more pictures of it, and I love this cat/gargoyle water spout.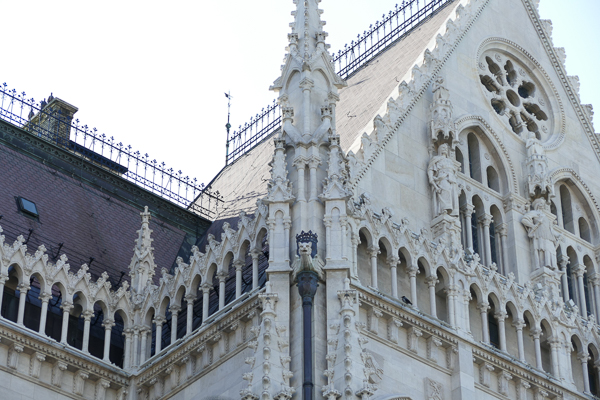 We then went to the area where we stayed three years ago, and there's a small little series of shops there that sell food and souvenirs. I bought more paprika to restock. :) Next, we went to the Budapest Cat Café, where a bunch of rescued cats reside. They had tons of beds, scratching posts, and climbing things for them to go on, and for the majority of the time we were in there, they slept.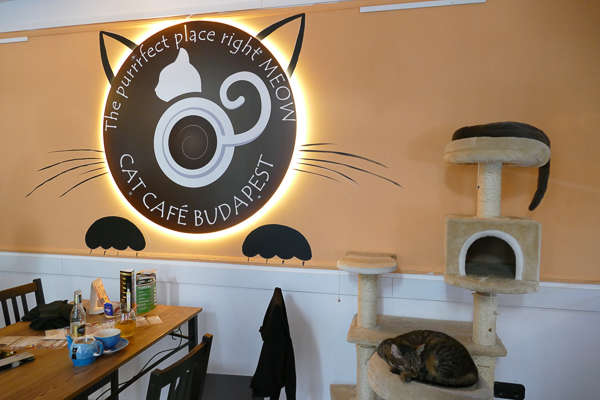 At night, we finally began the "cruise". We actually had a bit of a snafu to our itinerary. That one week that we were there, a bridge was being rebuilt somewhere in Serbia. As a result, our ship could not travel back up the Danube entirely to Budapest. It was stuck in Belgrade, Serbia. So, that meant that instead of getting on the ship tonight, we were put up in a nice hotel, fed a very nice meal, and then we took a short cruise in a local boat around Budapest to see how beautifully lit up the city is. I actually think it's the prettiest illuminated night sky I've ever seen.
Here's the castle complex at night.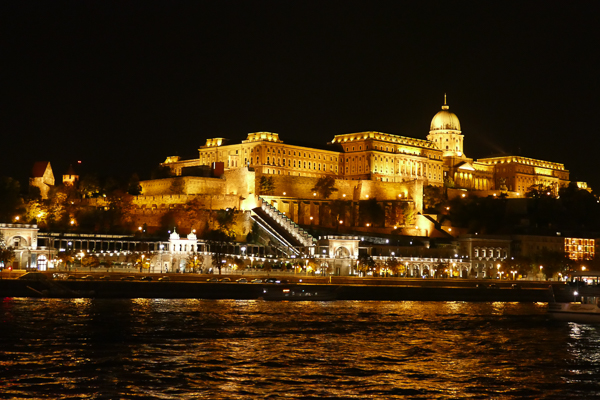 And here's the Parliament at night. It's the city's iconic building that you see in all of the commercials. The little dots above it are birds, there were dozens of them circling around, it was so cool!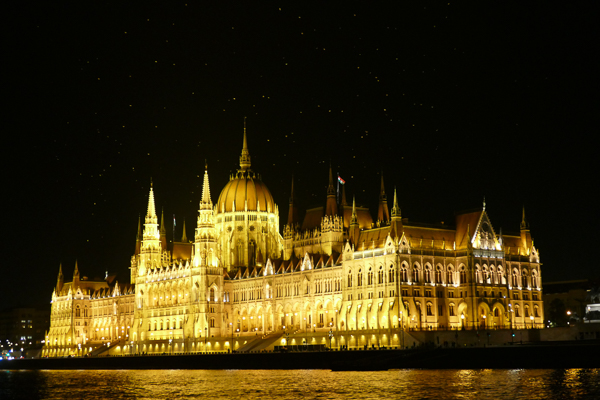 Tuesday, October 17 - Novi Sad, Serbia
So, instead of sailing away to Serbia Monday night, we got onto buses Tuesday morning and drove across the border from Hungary to Serbia. It was actually pretty cool. We had a local guide onboard who gave us a lot of information about both countries. And we stopped at a Hungarian gas station for some weird food (well, everyone else went to the bathroom; we bought weird food). We also all had to get out of the bus and walk with our passports through Hungarian border patrol, but then a mile later when we got to Serbia, they just took all our passports, stamped them, and handed them back to the tour guide. But I got TWO MORE STAMPS, WOOT!
Anyway, we landed in Novi Sad, Serbia, at lunchtime, and were treated to a really good traditional Serbian lunch, complete with a local band rocking out.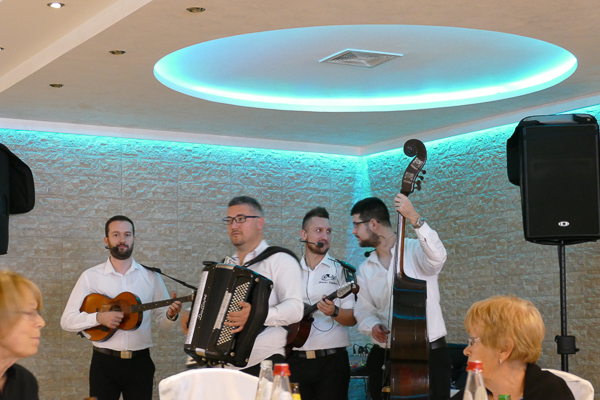 And I had to try the local beer of course. Tasted like beer.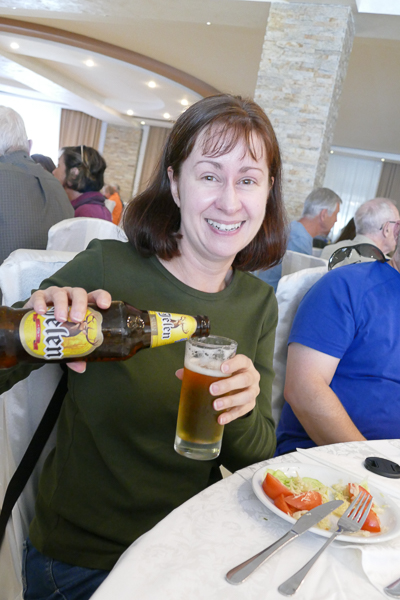 Next, we had an hour-long walking tour of the city center, as well as a bit of a bus tour getting into the center and back to the bus afterwards. It's a small town, but felt very young and lively. This is the center of town.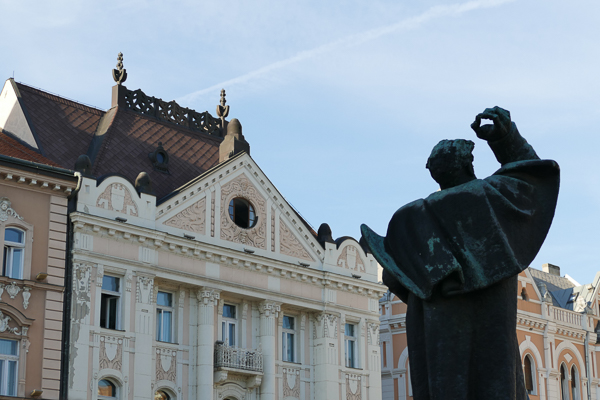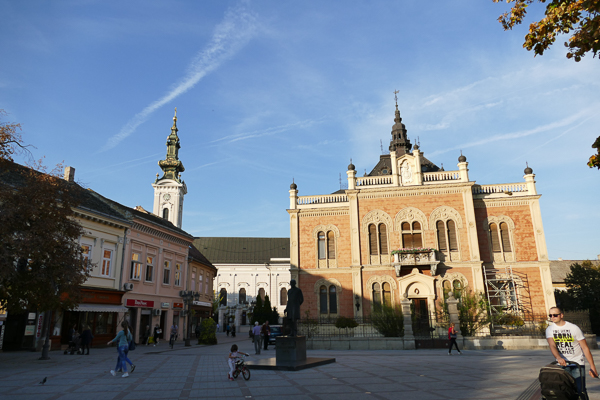 Then our guide had time to take us to a Greek Orthodox Cathedral, which is the main religion in this whole area. I knew nothing about the religion so her information was really great. The priest actually stands behind this facade, in the dark back area, to do the liturgy. It could last hours and hours, so you just pop in and out as you please. There are also no pews, just a few uncomfortable seats along the edges, because I guess you should suffer through liturgy by standing. Still, super pretty church!
Lastly, this is the Petrovardin Fortress that looks over town. We were supposed to tour it at night, but that also got chopped out (including a visit to a few Hungarian towns near the border), because we had to get back onto the bus and drive a few more hours to Belgrade where our ship awaited us.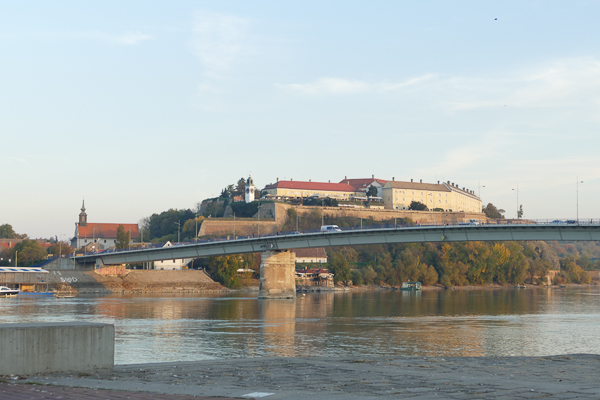 Wednesday, October 18 - Belgrade, Serbia
Can I just say that I still cannot believe that I was in SERBIA!? To be honest, it's a struggling, new democracy with issues, but I really liked it there. The people are nice, hard-working, and trying to rebuild. This is the parliament/city hall building. It's hard to see them, but in the lower right corner there are some banners on barricades. They talk about how NATO and Clinton (US President at the time) bombed innocent civilians. This happened back in the 90s, when there was turmoil in the Kosovo region of Serbia, shortly after (or perhaps before, not sure) the breakup of Yugoslavia. Our tour guide, who is a little older than us, shared a lot of information about Yugoslavia, Serbia after that, rebuilding, and their perspective on it all. It was extremely informative and eye-opening, and I'm so grateful for the opportunity to go there and learn all of this.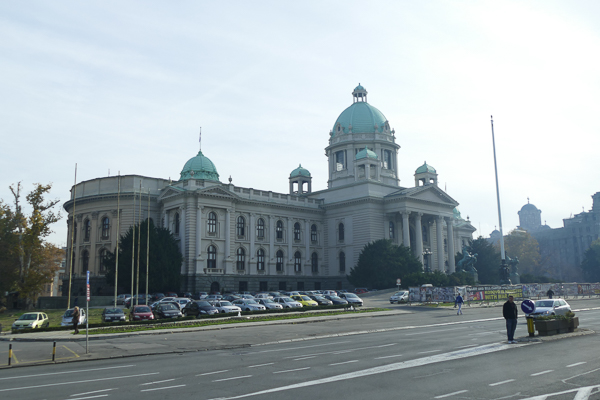 This is their Greek Orthodox Cathedral. It's a total shell inside. They've been building this for decades. Remember the bridge? Well whenever Serbia gets money to work on these projects, which is few and far between, they take advantage of it. Getting the inside done will probably take a few more decades. See the three images above the doorways? Cardboard printouts.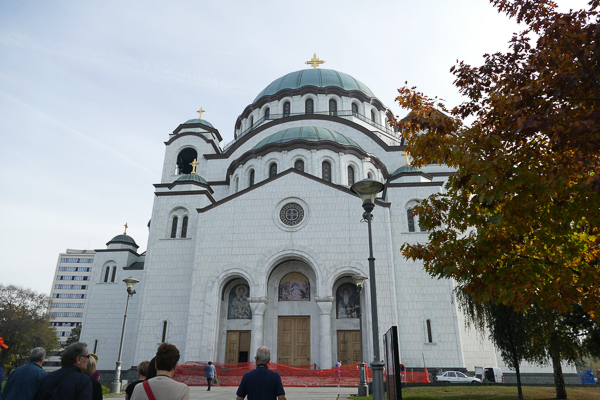 We actually drove all over the city, seeing the train station, the football stadium, still-shelled-out buildings, and random stuff like this.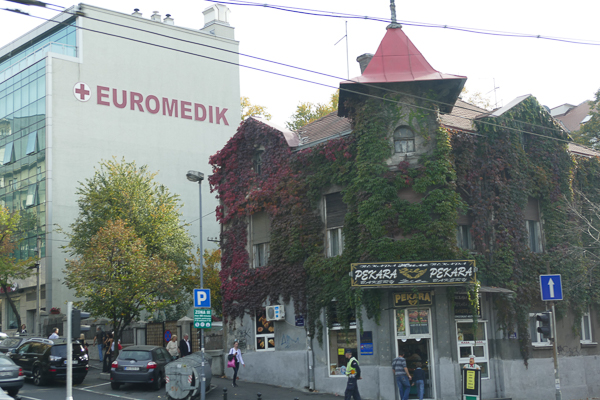 At the end of the tour, we had a whopping 20 minutes to buy souvenirs, but in this beautiful plaza below I managed to find an awesome necklace and a little Serbia mug. I also was able to exchange some US money for Serbian Dinar, which was not available from our local currency exchange place before we left. Yeay!
Oh and the Christmas decorations are up because it was super warm, in the 80s, and they wanted to get them up before the weather changed. And you thought the US was premature with our decorations, hah!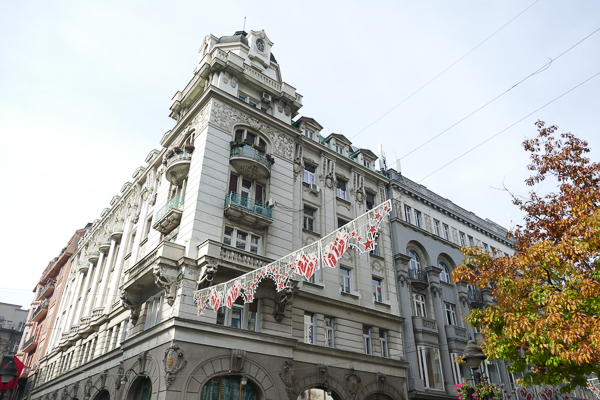 This communist-looking clock was too cool.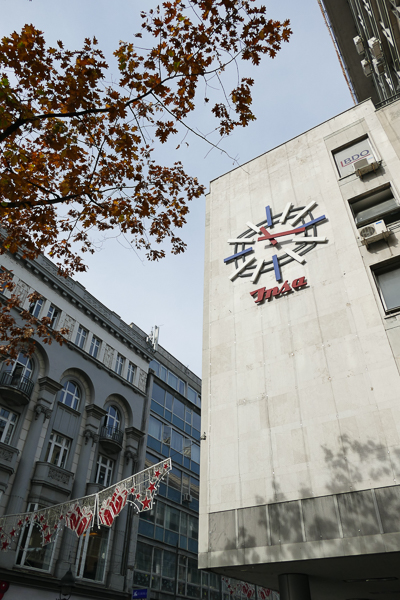 Our last stop before lunch on the boat was the Belgrade Fortress, this massive complex of centuries upon centuries of history piled on top of each other. We only saw a fraction of the whole complex. First, there's this guy outside.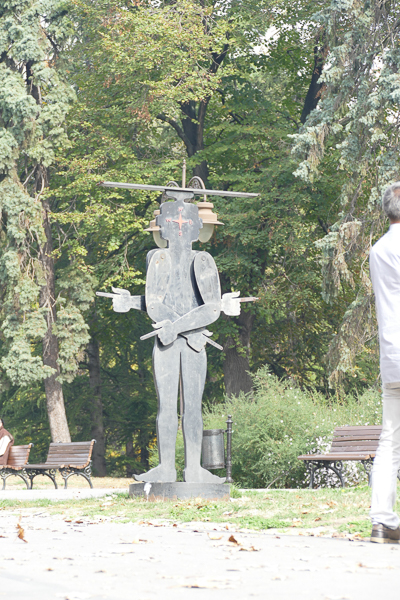 Next, the Inner Stambol Gate.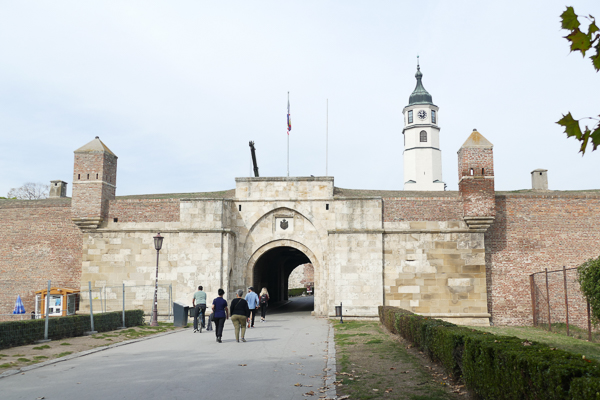 Here they're excavating remains of a Turkish fountain.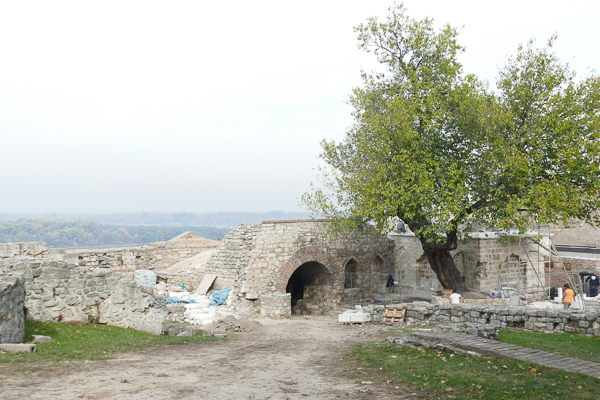 Gorgeous view of the castle walls and Castellan Tower in the distance.
A view of another whole chunk of the complex that we didn't get to from the outside.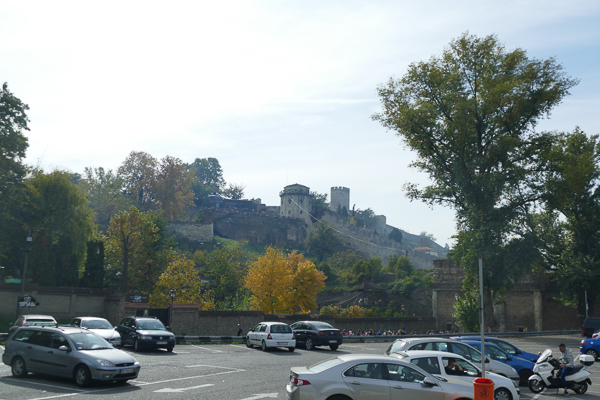 After lunch, we took an additional excursion to the Royal Palace. Serbia does have a royal family, though they do not reign. The prince of Serbia and his wife were unfortunately not around, as they were on holiday somewhere. But the tour guide said that if they are home when tourists come, they meet and greet them! Damn!
This is the hallway connecting the Palace to the Church.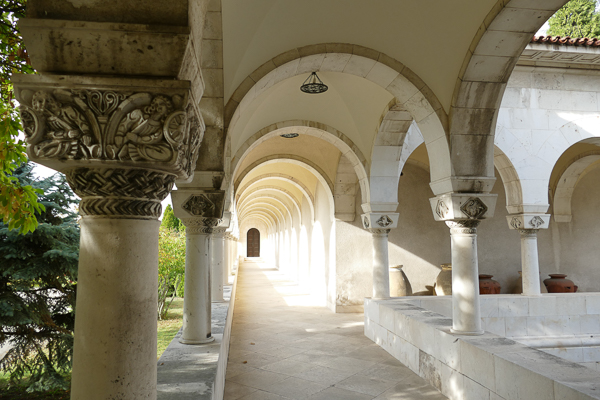 And this is the inside of the Orthodox church. Gorgeous, right!? That gold facade is the doorway for the priest to stand on the other side.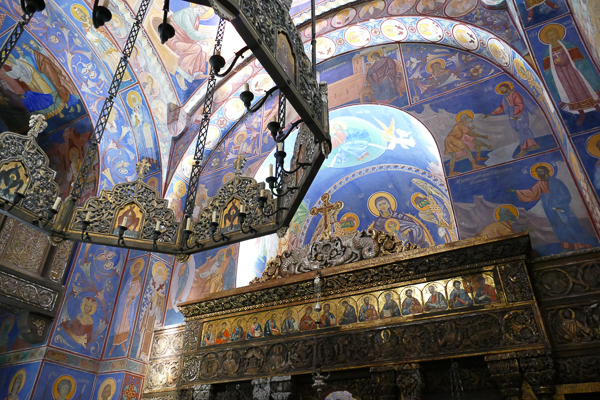 Jumpin (Jack) Jesus! Sorry, couldn't resist.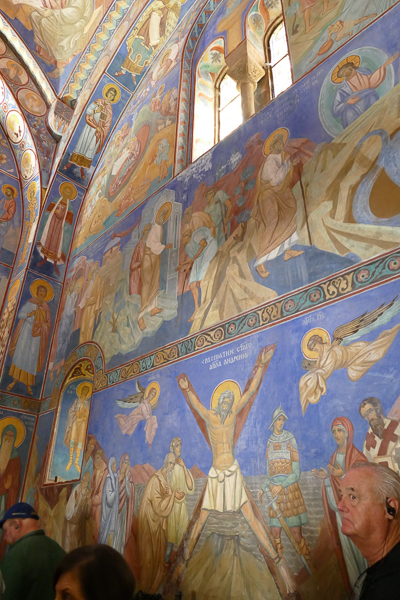 This is the basement of the Palace. Yes, the basement. There is such a huge Moorish influence, since the Ottoman Empire included Serbia for around 500 years. Give or take a day.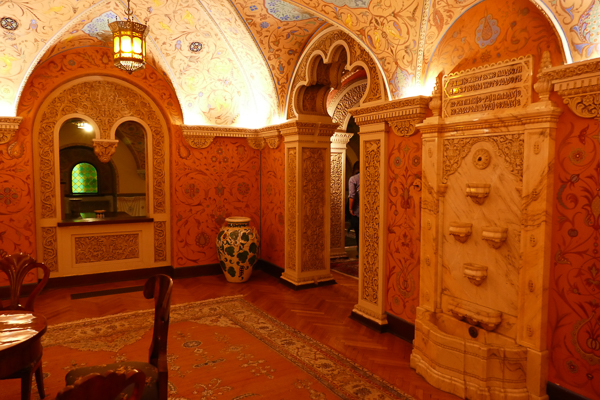 How pretty is this!?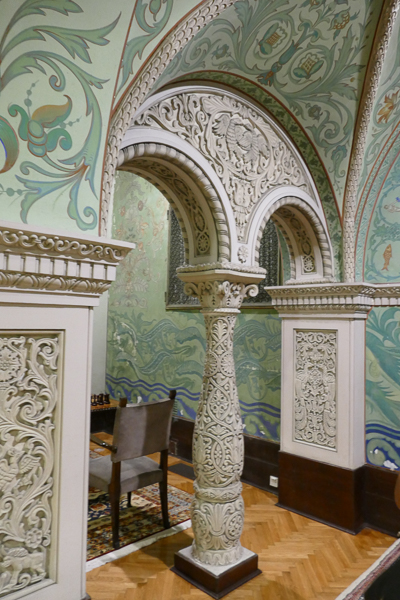 The dining room. Cozy.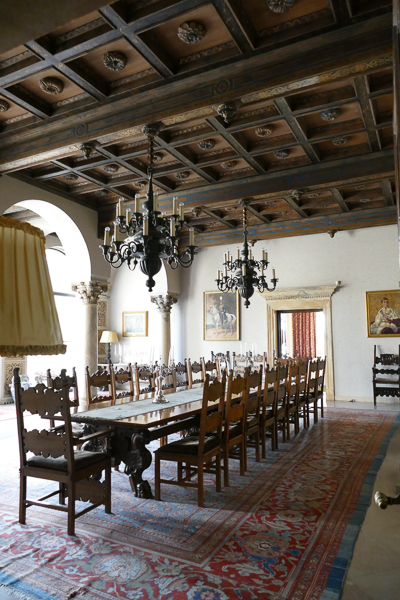 Our afternoon excursion also took us to Tito's Memorial and the Museum of Yugoslavia. Josef Broz Tito was the President of Yugoslavia in the 70s. Despite being a dictator in a communist regime, the people liked him. They STILL like him. Why? He kept peace in Yugoslavia, and they regarded him as benevolent. Everyone had a job, a good education, quality healthcare, and a place to live. Not a bad trade for your freedom.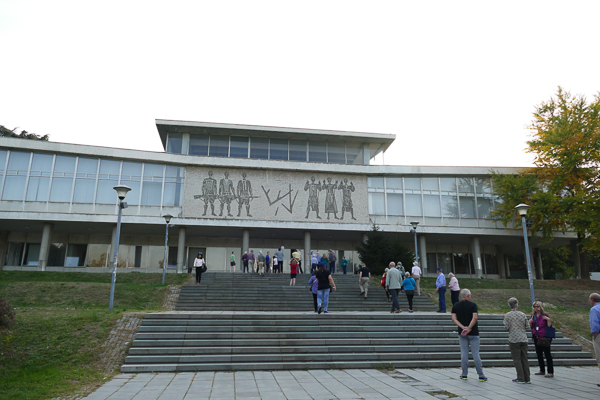 The museum houses a ton of artifacts about Tito, from Tito, and related to Yugoslavia and socialist rule. These are the graves of him and his wife.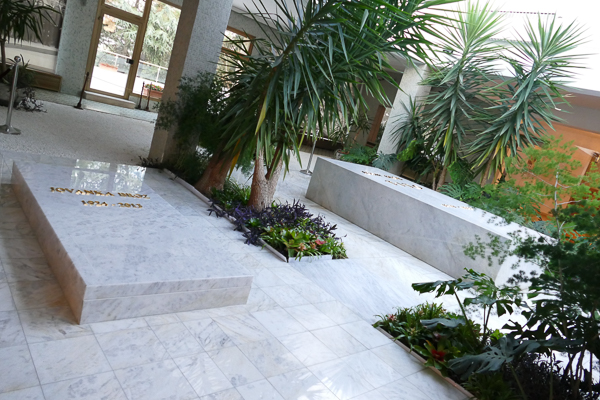 At night, after dinner on the ship, we were treated to a traditional song and dance presentation by Serbian performers. It was fun!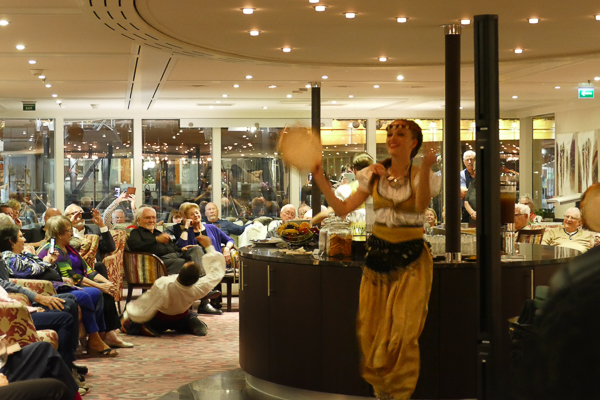 Thursday, October 19 - Cruising through the Iron Gates
And so ended our little stint in Serbia. On Thursday, we had an "at sea" day during which we spent the whole day on the ship cruising down the Danube and through the "Iron Gates" section of the river. This section is called "Iron Gates" either because it is jagged, rocky, and narrows to a very small opening at one point, or because you pass through two locks. They don't really know.
There were a handful of cool things to see, though, which still merited getting up early. The morning was quite cold, with a low fog that looked creepy cool.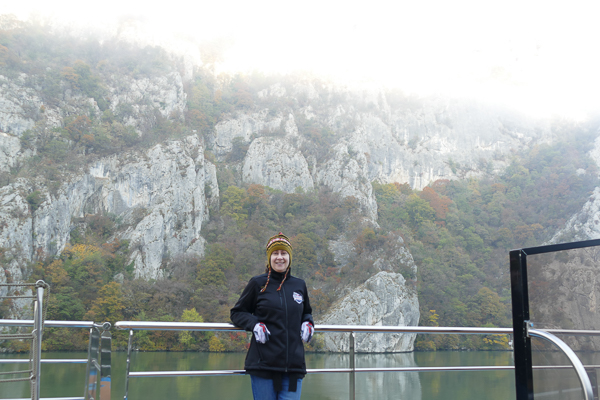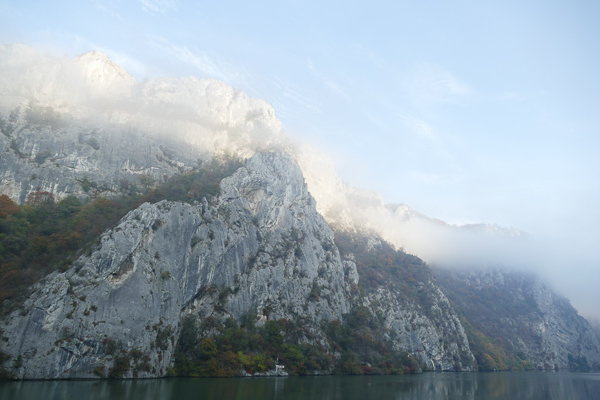 Here is the really narrow section.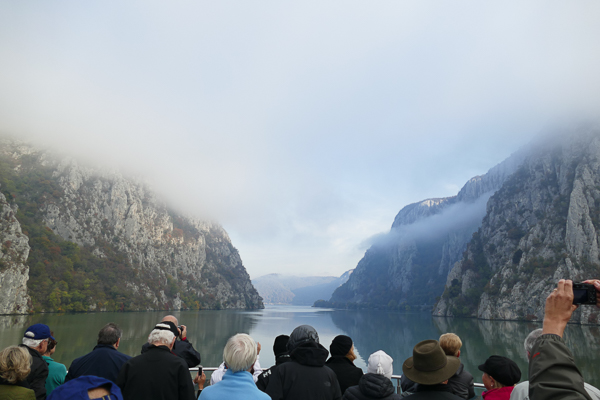 A random monastery against a cliff. Like you do.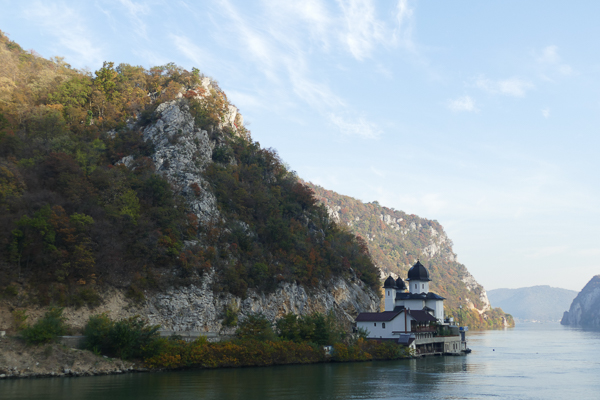 OK this is the first item of intrigue. This guy, the rock sculpture of Decebalus, is a huge carving of King Decebalus who was the last king of Dacia, which was the ancient land that is now Romania, before it was conquered by the Romans. The sculpture itself was done in the 90s.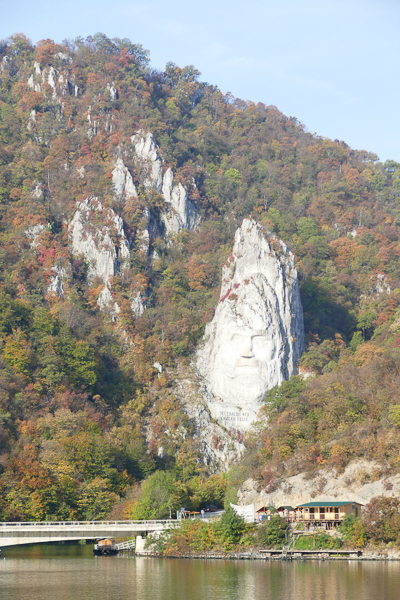 It faces off against the Tabula Traiana, on the Serbian side of the Danube, which is an ancient Roman tablet from 103 AD boasting about building a road along the Danube.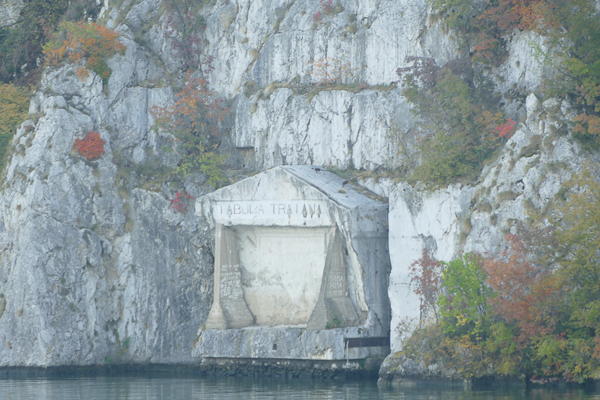 Once past these things, the rocks fell away and the river's edges became green and low. The foliage was very pretty.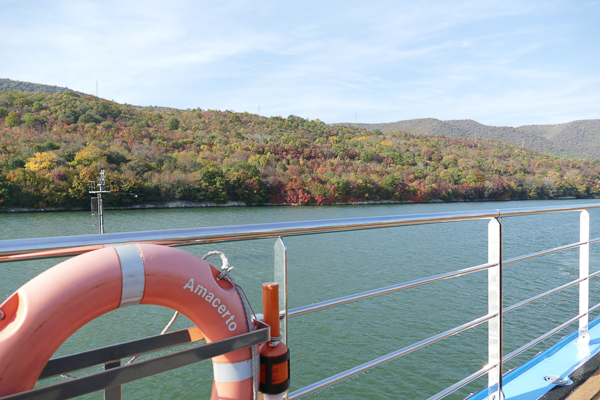 One last big item of interest is the ruins here of a bridge that connected Romania and Serbia in Roman times.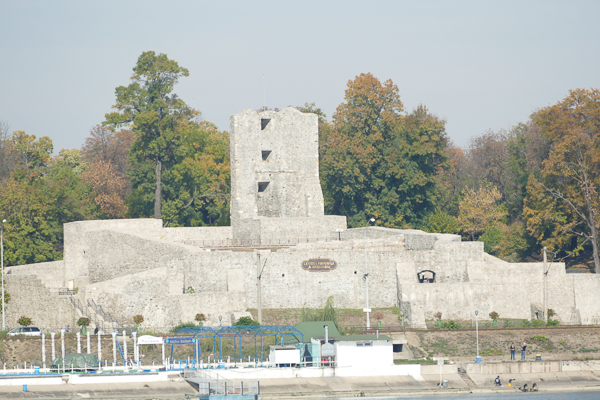 Tons of adorable towns dot the riverbanks, yet the water was as still as can be, and the air was peacefully quiet. I sat on the sun deck practically all day taking it all in. I chatted with some of the other people on the boat, including Florentin, the Cruise Director, who always had a cup of coffee in his hand.
In fairness, the coffee on this entire trip was FREAKING AMAZING.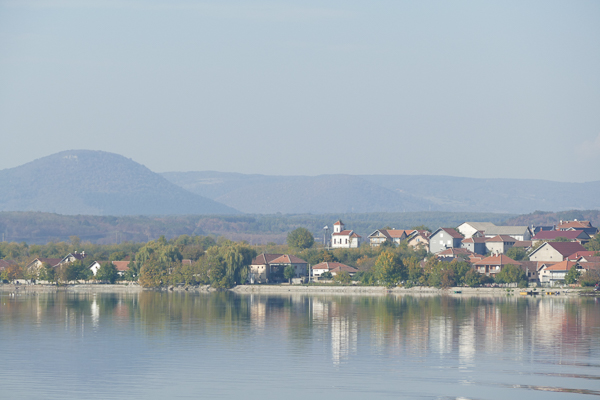 To be continued...sorry!