March 2014
February was a busy month because I scrapped my face off! I participated in another Layout a Day challenge, called LOAD, and it's just exhausting, really! The challenge is to make one layout a day for every day in the month. At least February has only 28 days, whew!
This time, the theme was "Mythbusters" and so each day's prompt to get you thinking was focused around a scrapbooking myth, then the challenge was to debunk it. For example, a myth would be that you can only scrapbook perfect photos, so your challenge is to do a layout with less-than-perfect photos. There is a Flickr community where you post all of your layouts, everyone gives each other love, and there are prizes throughout the month.
The last time I did this challenge, last May, I held up and honestly did one layout a day. This time, however, that was not happening. Between my family's visit at the beginning of the month, hockey and other commitments throughout, and another trip at the end of the month, I ended up doing 28 layouts but not exactly on each day. Still, it was very fun and I got to document many more stories, but I think I'm now done with these LOAD challenges!
You can see my entire month of layouts in my LOAD214 gallery here.
You can also see the layouts I did in May of 2013 in my LOAD513 gallery here.
There are other links to my cards and other albums on the right.
Anyway, the big event in February/March was my Beaver Sisters Annual Reunion! Last year we went to a very nice resort in Phoenix. This year we wanted to make it less expensive, so I found this adorable old farm house for rent in Sperryville, VA, about 2 hours west of DC in the Blue Ridge Mountains. We had the whole house to ourselves, and we bought a package deal that included breakfasts, a gourmet dinner cooked in the house by a local chef, and 2-hour massages for all!
Here are some photos of the house. It was just the right size for us and extremely comfortable!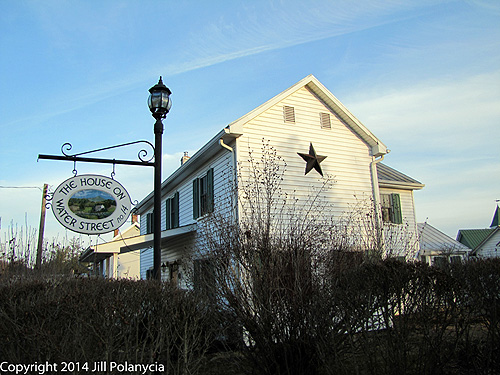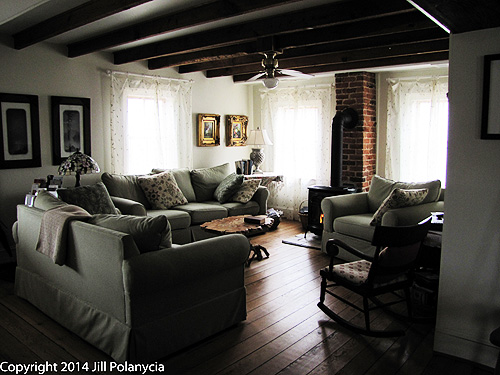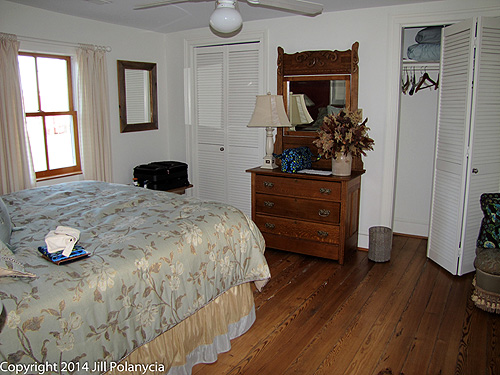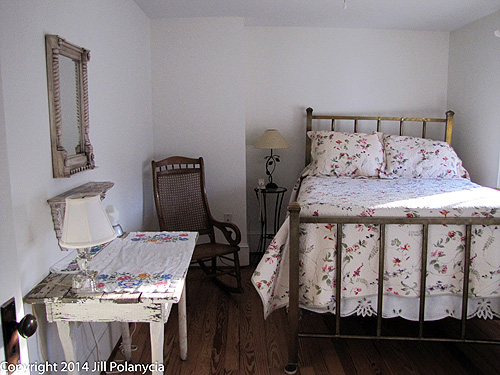 We arrived a bit later than expected on Friday, but had a great evening dining out and then staying in, drinking wine, chatting and playing games until the wee hours of the morning. Here is the main street of Sperryville. There are three buildings: the green pizza place, the yellow general store, and the brown fancy restaurant. We ate at the fancy restaurant on Friday night and it was incredible! The place was so small, though, and we were the first ones there for dinner, that the whole staff heard everything we said which kinda freaked me out.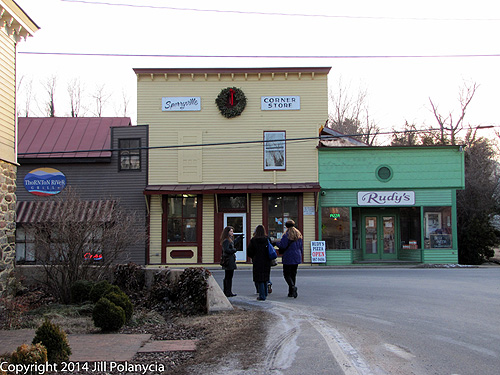 And here we are on the bridge over the small stream right near the house.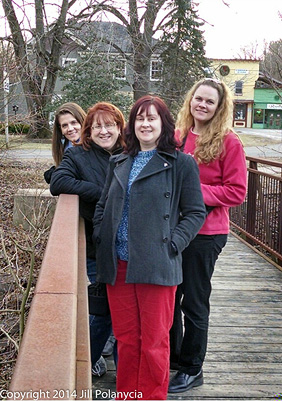 On Saturday, we drove around to visit a nearby town called Washington, VA, and then we visited a couple of wineries. Everyone was so nice and the wine was really great! One place even shipped to Colorado so I bought a case, wee!! That night we hung out in the house crocheting scarves! My friend Lisa recently got into it and so she taught us all how to do it too!
Here are some historic buildings in Washington: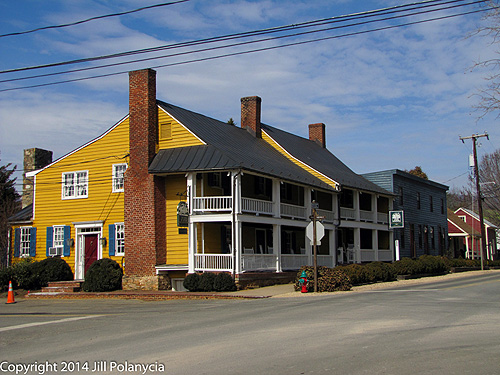 And this awesome frozen fountain:
Me chilling out in a courtyard: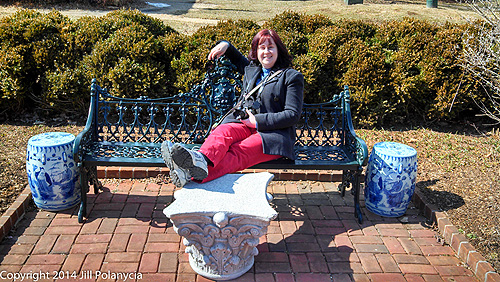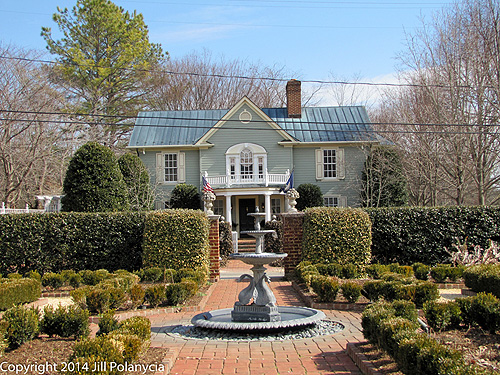 Us at the wineries: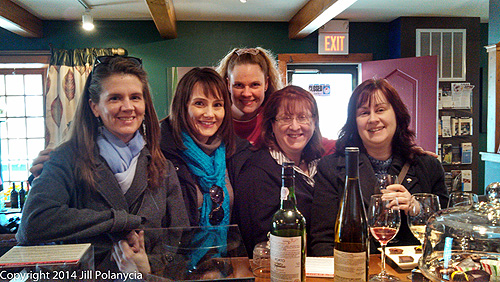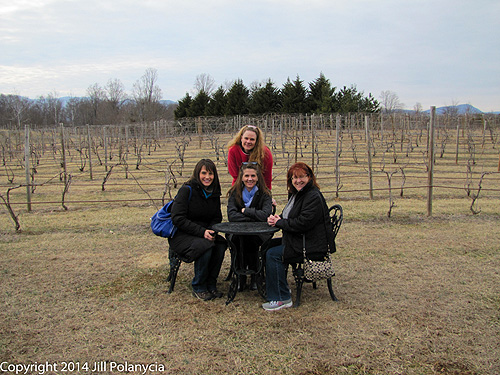 Then we came home to our chef, Bertukan, cooking our amazing meal. We ate at the dinner table on fancy china, and she made the most amazing ceasar salad, chicken marsala, and baba savarini dessert!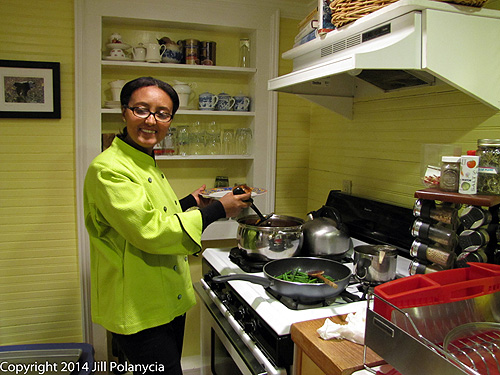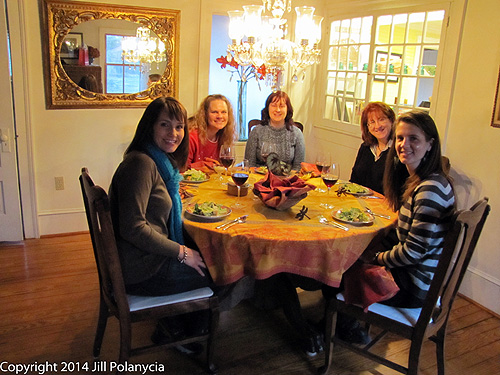 Unfortunately, we left early on Sunday, after our massages, because a bad snow storm was rolling into the DC area on Monday. Everyone drove from their homes in PA, MD and VA except me, so I changed my flight from Monday night to Tuesday morning and I got a cheap hotel near the airport for two nights. It was actually extremely relaxing! I slept 11 hours that first night on Sunday, spent a couple of hours on Monday checking email for work, and then spent the rest of the day sitting around doing a whole lot of nothing. It was great! Turned out my flight on Monday night was not cancelled or postponed, but flying out on Tuesday morning was absolutely gorgeous and smooth. It was such an early flight that I even got home right in time to log on at 9am and start working!
Gotta love traveling in the winter!