2018
December
November
October
September
August
July
June
May
April
March
February
January
2017
December
November
October
September
August
July
June
May
April
March
February
January
2016
December
November
October
September
August
July
June
May
April
March
February
January
2015

December
November
October
September
August
July
June
May
April
March
February
January
2014

EUROPE PHOTOS
December
November
October
September
August
July
June
May
April
March
February
January
2013

December
November
October
September
August
July
June
May
April
March
February
January
2012
PORTUGAL PHOTOS
December
November
October
September
August
July
June
May
April
March
February
January
August 2013
July was a pretty mellow month. We purged and donated a bunch of stuff, enjoyed the nice, warm weather, and went to some Shakespeare during the annual Colorado Shakespeare Festival. We attended "The Complete Works of William Shakespeare (Abridged)" which we had been wanting to see for years. They had been doing this play every year for several years, so we never thought to get to it, and then of course they stopped doing it. So when they revived it this year, I made it our mission to get to it. And I'm so glad we did! It is HILARIOUS. They run through all 37 Shakespeare plays in 97 minutes! If you ever get the chance to see it, I recommend doing so!
Our yard has become quite the wildlife kingdom this year, so we're trying to take pictures of all of the different species that are showing up. We have two bird feeders and a peanut container in the backyard, which now attracts anywhere between 2-4 squirrels, and dozens of birds. Well, in addition to that this summer, we have an adorable baby bunny, who we've named Notch because of the notch taken out of his right ear. You can see it right at the top.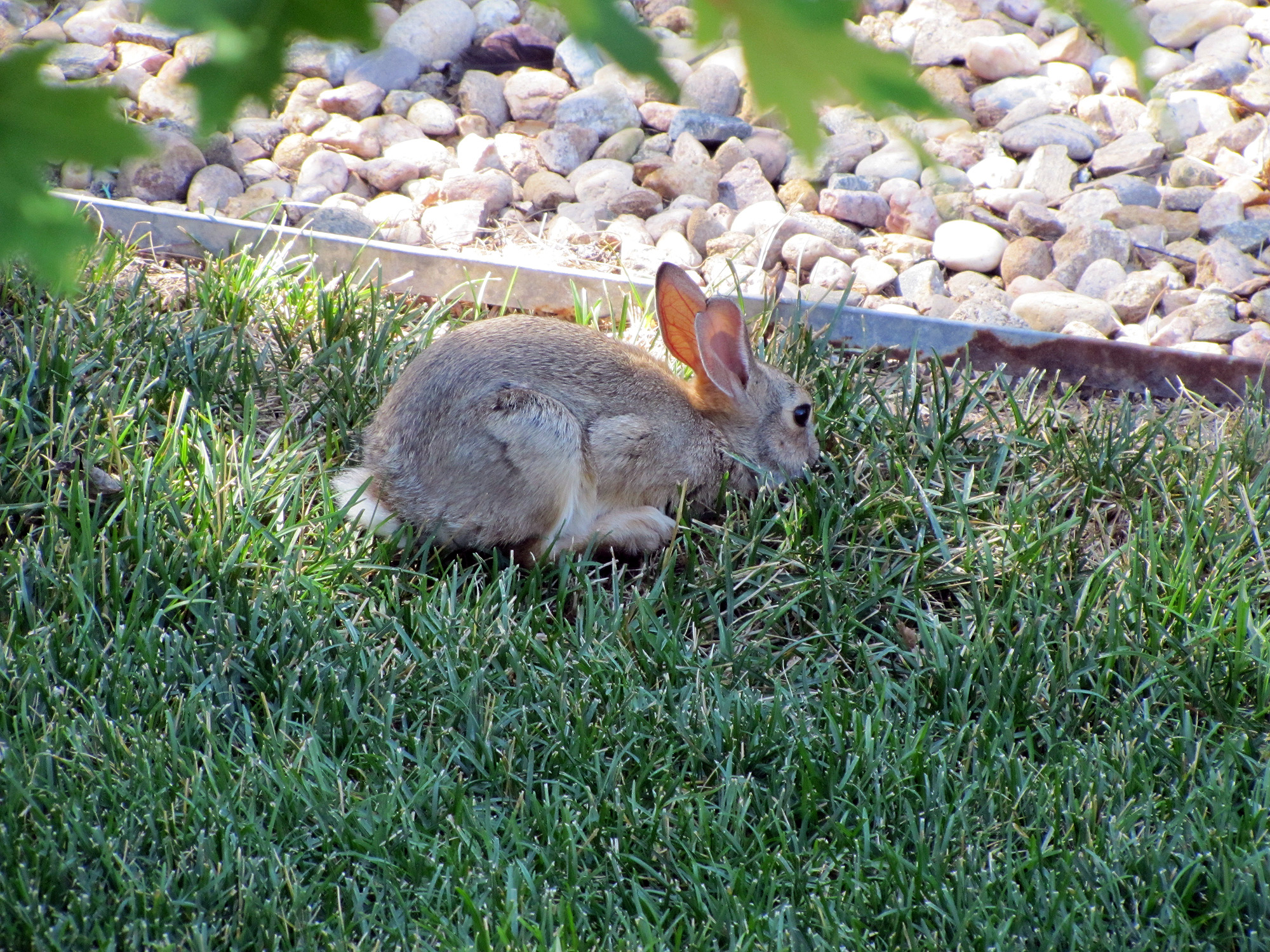 We had a baby bunny last summer who was living under one of the bushes in our front yard, but Notch has figured out that it's much safer in the backyard. He loves to hide under one of our raspberry bushes, eat all of our blueberries, and nibble on grass. He also hangs out underneath one of our flower trellises and is not really that afraid of us. This photo shows him at twice the size he originally was when we first started seeing him!
In addition, a dove decided to build a nest in the spruce tree in our front yard. She hatched two babies!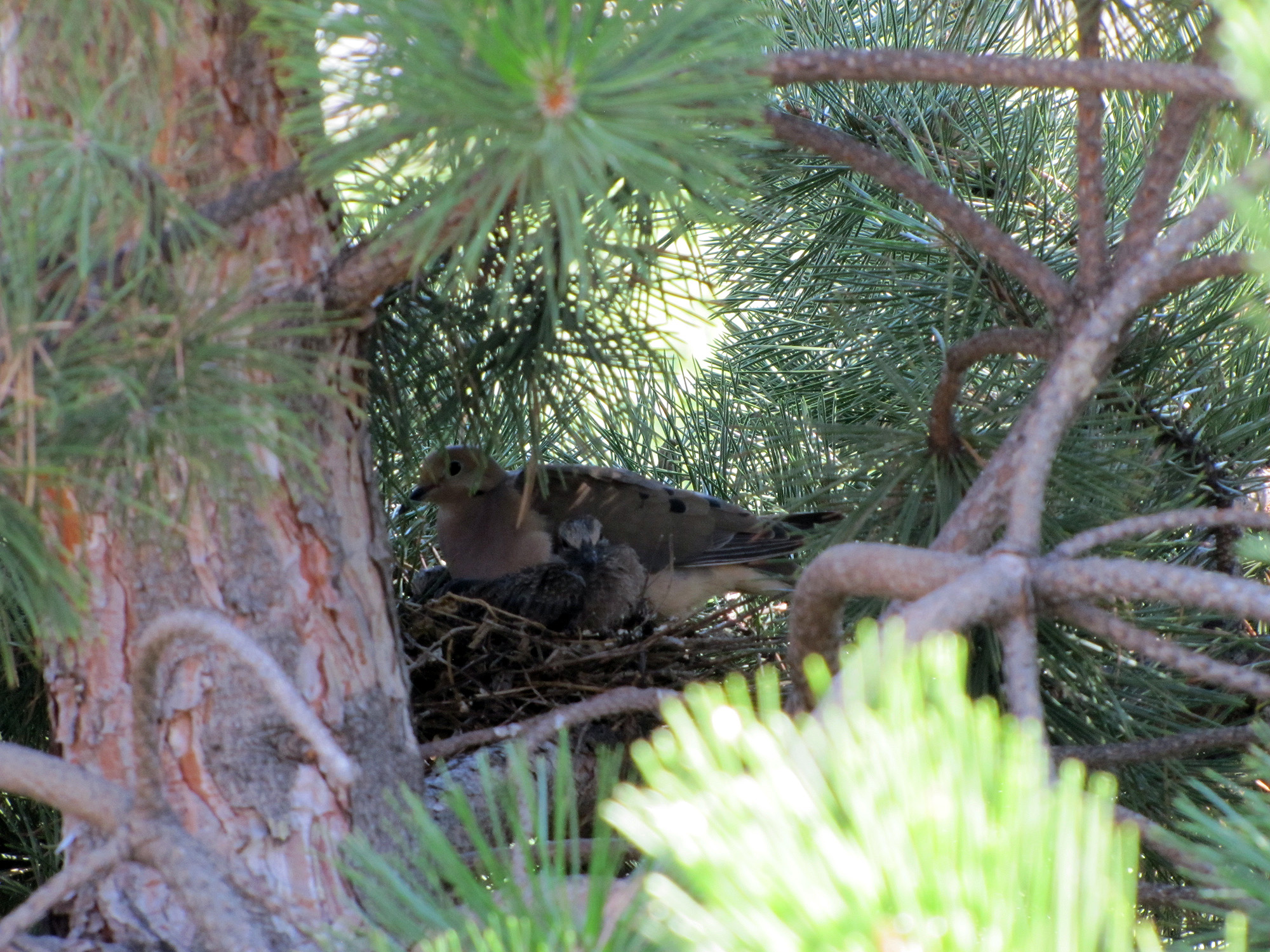 Here is one of the babies sitting on the porch railing in our backyard, just hanging out!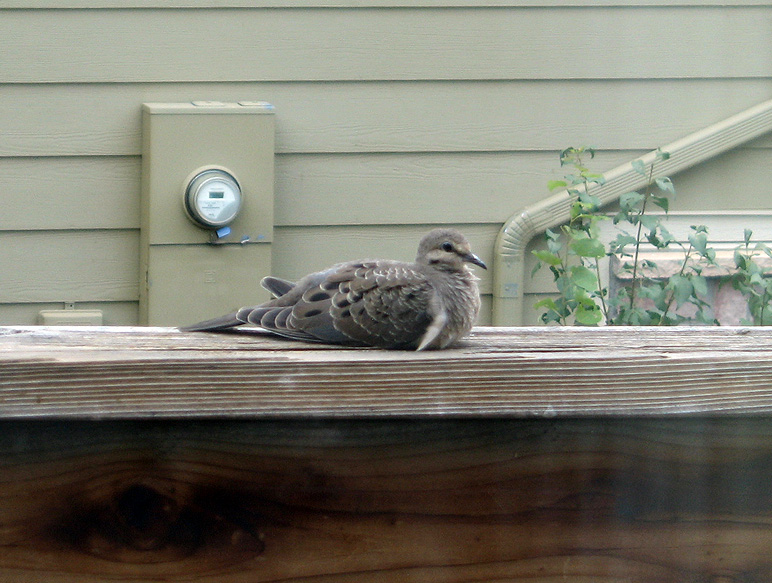 2011
SPAIN PHOTOS
December
November
October
September
August
July
June
May - none
April
March
February
January
2010
ALASKA PHOTOS
December
November
October
September
August
July
June
May
April
March
February
January
2009
December
November
October
September
August
July
June
May
April
March
February
January
2008
WEDDING PHOTOS
December
November
October
September
August
July
June
May
April
March
February
January
JILL'S CREATIONS:
Album - 2017
Album - 2016
Album - 2015
Album - 2014
Album - 2013
Album - 2012
Album - 2011
Album - Penn State
Album - Cedar Point
Album - Wedding
Cards
LOAD513
LOAD214
Mini Albums - Coffee and Daily Junque