January 2016
Happy new year everyone! We hope this new year will be filled with love, laughs, health, happiness, comfort and giving.
In December, we got to see a lot of friends and family, and it wasn't even on Christmas! I got to have lunch with a friend I don't see very often, plus got back into the groove of scrapbooking with a few friends on Wednesday nights. We attended JC's company Christmas party (the Colorado subset, since the company office is in San Francisco) at a super yummy steakhouse. We had dinner with friends of ours who like us are big into hockey and travel, and we got to see our Florida relatives, JC's sister Myko and daughters Mattie and McKenna. We don't get to see them very often so it was nice to spend some time just getting caught up.
Plus, I took my hockey-and-travel-loving friend Mary to an Avalanche game when JC had to work. We had a blast and even got free pizza from Santa Bernie (our mascot)!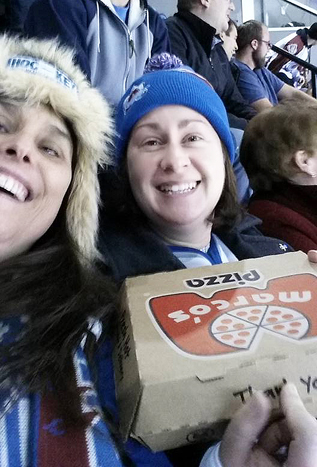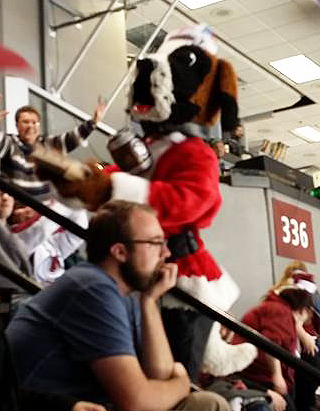 I also got some photos of our nephew Leonardo trying ice skating for the first time, which he tried on December 12th!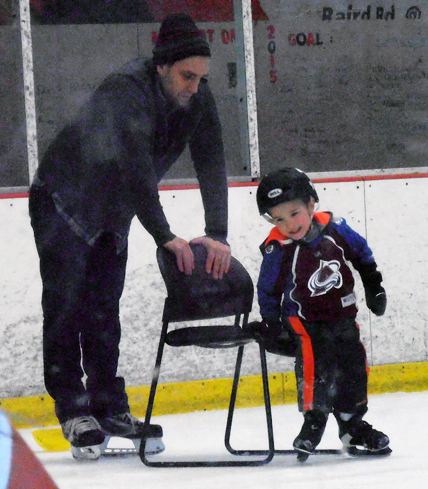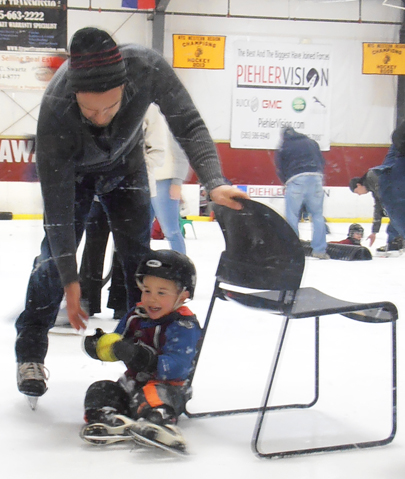 On Christmas Eve, neither one of us had to work so JC spent the day playing video games and configuring our new server, and I scrapbooked with friends. At night, we Skyped with my family in Rochester to watch them open gifts. We surprised my parents this year with a set of brand-new laptops and they were very surprised. It is so fun to give!
First, here are Domenico and Leonardo with Santa. Is it just me or do these kids take the best mall Santa photos!?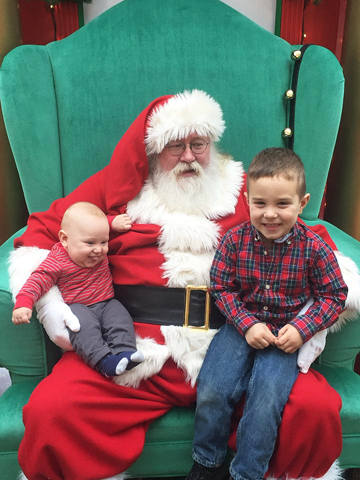 Here are Erica and Domenico opening his presents.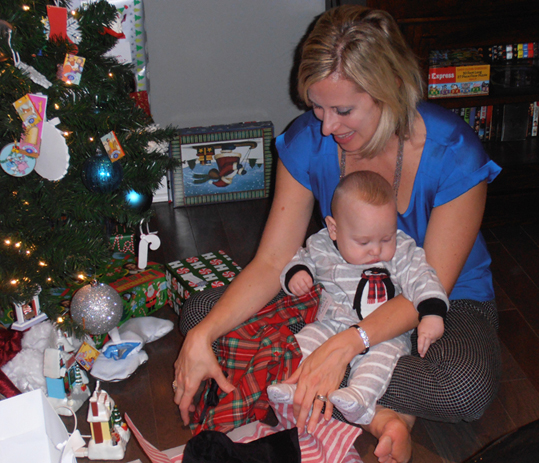 Here is Leonardo playing with his new kitchen. The kid LOVES to play kitchen, chef, restaurant, you name it, and often helps Gino cook dinner.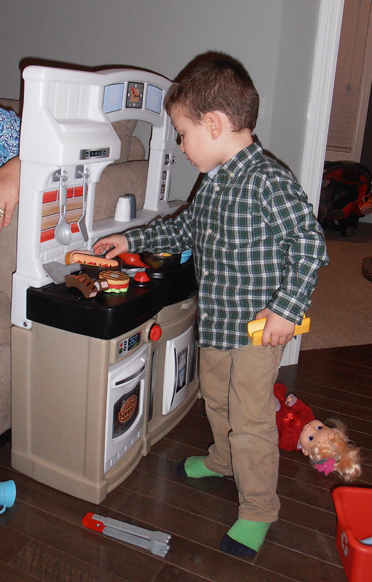 Lastly here is the little elf with Nonno and Nonna!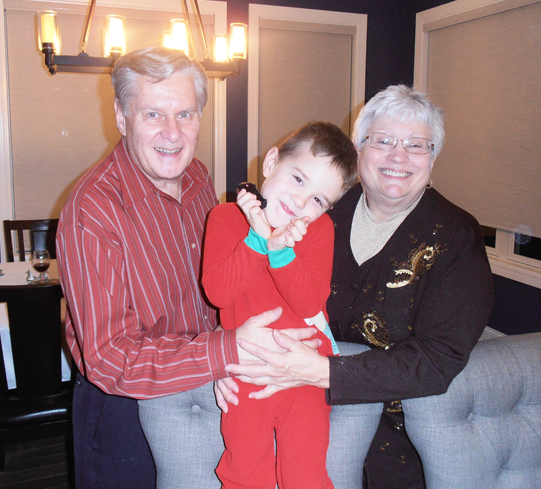 On Christmas day we went to JC's parents and had a wonderful meal, opened presents, and watched our traditional non-traditional movie. Every Thanksgiving and Christmas we watch a movie but they are always very random. They've included a campy 1960's vampire movie, "Red," " M*A*S*H," "Wag the Dog," "Maleficent" and "Alice's Restaurant".
Another annual tradition is to get a photo of us at the dinner table before we eat. Well, we forgot to do that, so instead we snapped a photo while eating, complete with the also-traditional silly faces.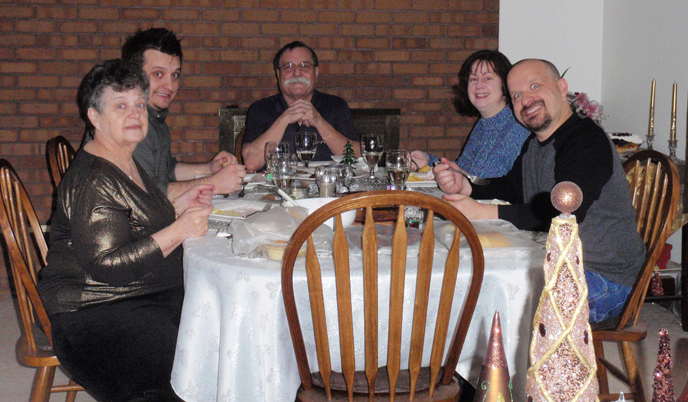 Then a rather new tradition was enacted: a couple of years ago, Noel (mother-in-law) bought these silly hats for us all to wear for another photo. This year she upped her game with sweaters too! They were all wrapped up so we randomly chose a sweater and a hat. I think it turned out quite well!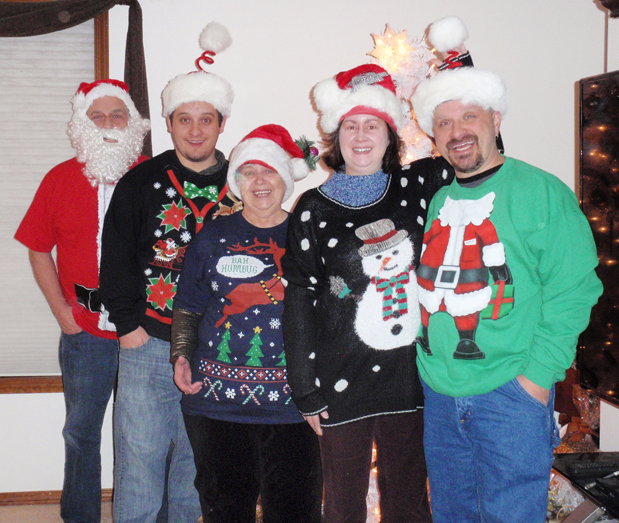 In other news, I have to tell you about my two shifts for December at the Wild Animal Sanctuary. First I did Animal Care, during which I made the usual meat buckets, plus chopped up a ton of fruit and veggies for the alpacas. Then, I got to ride along on two feeding/watering excursions. First, I rode into the enclosures for the emus, ostriches, horses and camel and we dumped the frozen ice out of their water troughs and filled them with fresh, warm water. One ostrich and one emu were not afraid of us at all, and walked right up to us to inspect what we were doing. The ostrich was taller than I was and the emu was eye-to-eye with me. The emu kept nipping at everyone's coats and hats to see how we tasted! I never thought in my life I'd be standing right next to either of these amazing birds. We also fed the horses and camel and damn that camel is large!
After lunch, I got to help feed the leopards and mountain lions. The way you do this is that you toss a piece of chicken into the cage, which distracts the cat while you unlock the human-sized gate and toss in their frozen meat wad. Standing on the ground a yard away from a mountain lion or leopard is an entirely different experience than watching them from the comfort of the elevated walkway. Intimidating indeed!!
During my second shift, I did education. It was the day after Christmas and the high temp was 17. I had on two layers of socks, winter boots, long john's, lined jeans, a thick flannel/fleece shirt, a thick Sanctuary jacket, two hats, super thick gloves, and still froze toward the end of the day. I shoveled snow for the first two hours, so while that destroyed every muscle in my back and arms, it kept me warm! Then I got to warm up during lunch in the heated volunteer trailer, but as the sun began to set it felt awful. At the end of my shift, JC greeted me with a brand-new thermos full of hot chocolate. :)
We had maybe 20 guests that day, half of whom never walked the whole length of the walkway. The wind blowing in your face was definitely not pleasant, but the reward at the end of the walkway was hearing the lions roar. Every twenty minutes or so, the male lions in the Bolivian Lion House starting up a heated discussion. If you were inside of the house listening to them, they were so loud and resounding, it was so powerful to hear. Truly beautiful.
Happy New Year!