July 2012
To make up for the pretty boring update last month, this month has tons of photos from our trip to Rochester, NY!
We went to Rochester June 30-July 5 to celebrate the Fourth of July as well as our nephew Leonardo's baptism! Erica, my sister, and her husband Gino live in Rochester, and my parents now also live just outside of Rochester, so this trip was also my first time meeting Leonardo, and my first visit to my parents' new home!
They live in a small country community called Ontario, literally on Lake Ontario--you can walk to it! They have an amazing house, absolutely gorgeous, complete with jetted tub in the master bath, jacuzzi hot tub in the deck, and a finished, huge basement that would make a wonderful scrapbooking store!
We arrived in the afternoon of the 30th and Erica, Gino and Leonardo came over for dinner, so I got to hold him for the first time. I was quite nervous, but he is such a good baby, all he does is sit quietly and sleep!
Leonardo's baptism was on the 1st. We all went to Erica and Gino's house to have breakfast, dress the little guy in his outfit, and take pictures before the church ceremony. Apparently it's Italian tradition for the Godparents to dress the baby, and since I'm Godmother, I was quite nervous about that too! I am not responsible for loss or damage!
Gino's friend Tony is the Godfather (yes, go ahead and make Godfather jokes), and apparently it's also tradition that the Maid of Honor and Best Man at your wedding are also the Godparents, so that worked out quite nicely! Here I am putting Leonardo's satin pants and socks on: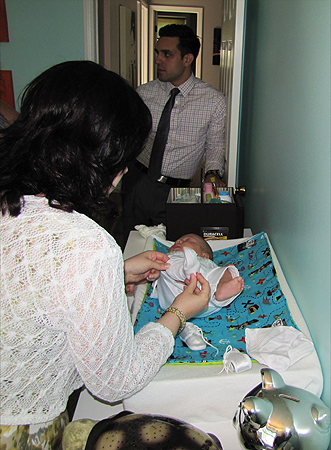 And then Tony put on his shirt/vest/tie combo. Tony also has no kids so he was nervous too!: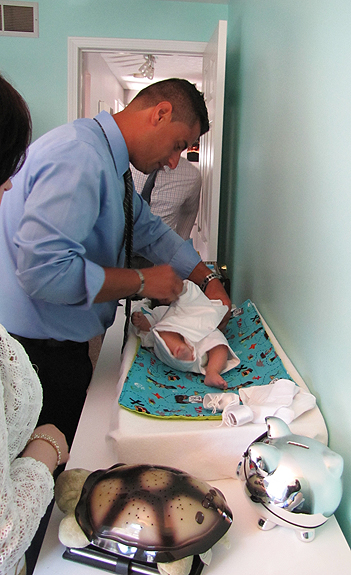 No wardrobe malfunctions occurred, so here are the parents and Godparents outside in the lovely garden, with Leonardo doing his best garden slug impression: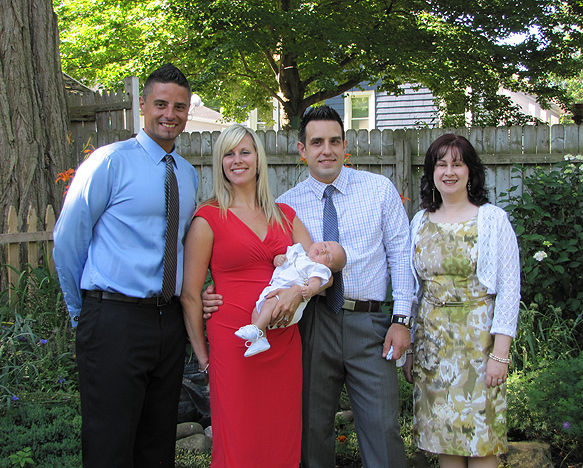 The Baptism cermony was held after the homily during a regular mass, but was really nice. Of course, Leonardo behaved throughout the entire mass and was fast asleep in Tony's arms for most of it! My sister has no problem whatsoever handing her kid off to others to hold. :)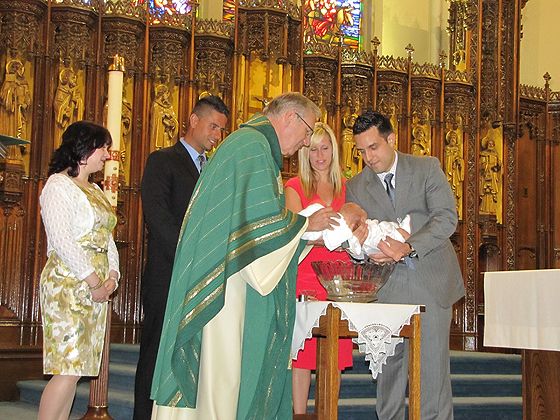 We then all went to have a nice lunch at a nearby restaurant, where apparently my Aunt Cathy wanted to get Leonardo started early at the bar: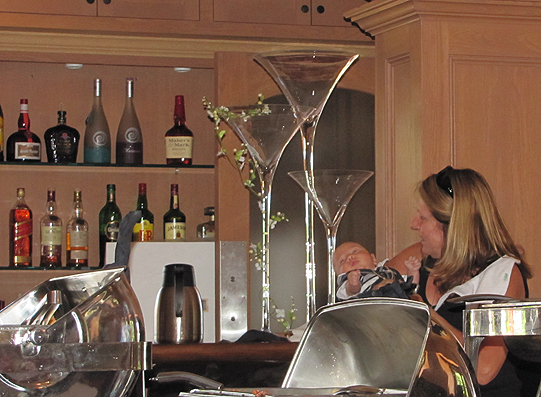 On Monday the 2nd, my parents, JC and I drove to Keuka Lake, one of the Finger Lakes nearby that are famous for wine. We drove around the entire lake and went to 6 out of the 8 wineries! The scenery at several of them was breath-taking, as JC is expressing: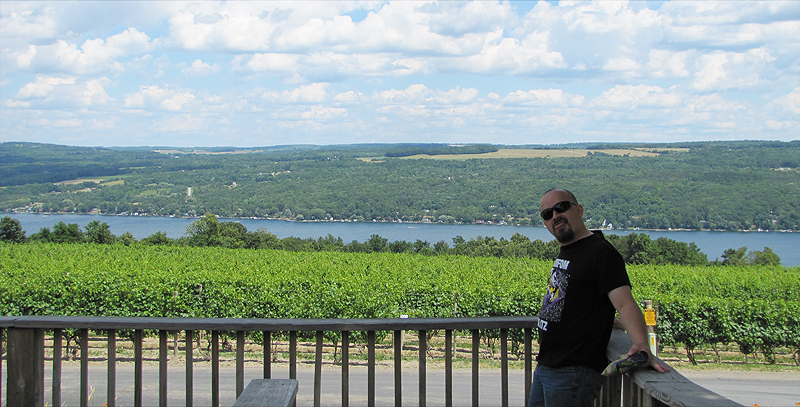 Here's the original 1800's house where another of the most famous wineries began, just so picturesque!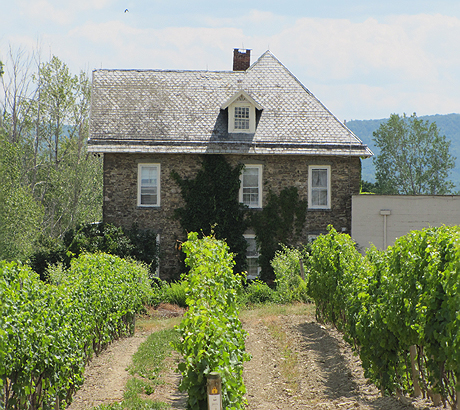 On Tuesday, we all drove 2 hours one-way to Corning, NY, to the Corning Museum of Glass. I had never been there before and it is INSANE! You need all day to go through the exhibits, they have a crapton of glass from all over the world, spanning centuries. It was really fascinating. They also do a lot of demonstrations of various glassmaking techniques. We watched one where the guy made a gorgeous green vase in half an hour!
Here are a few of JC's faves: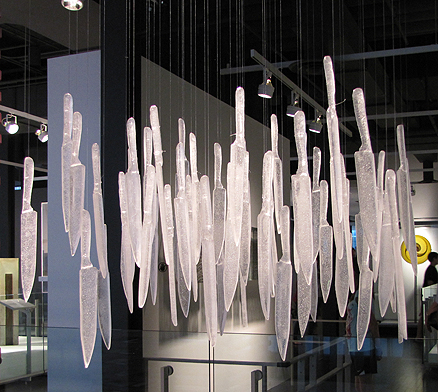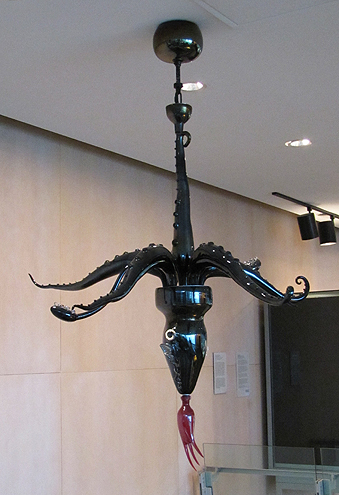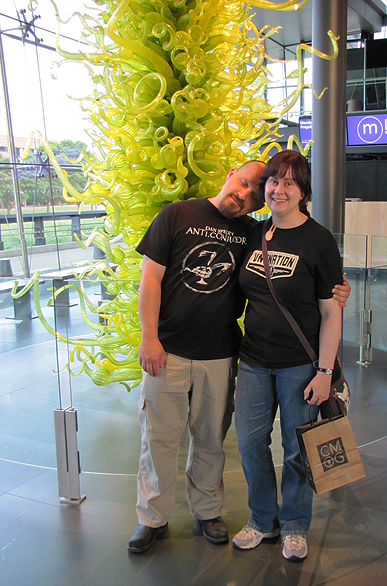 On July 4th, we all were invited over to Gino's relatives' house for a pig roast and fireworks. Gino drives to Pennsylvania every year (fireworks are illegal in NY) and loads his trunk full of fireworks. Him and his relatives then conjure up a very impressive show! Luckily, JC figured out the "Fireworks" setting on our camera and got some AMAZING shots!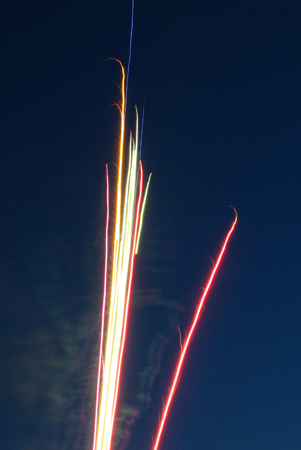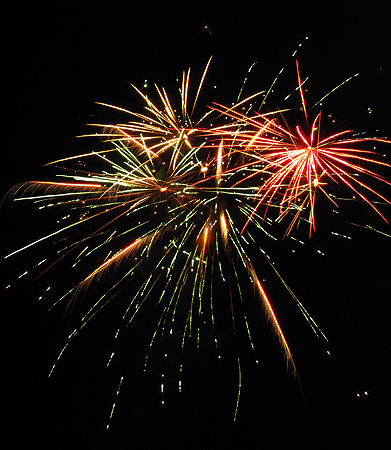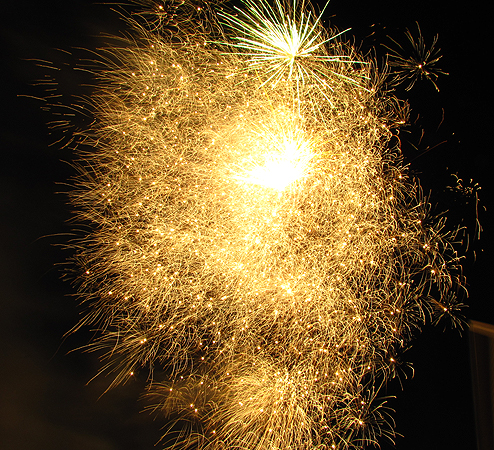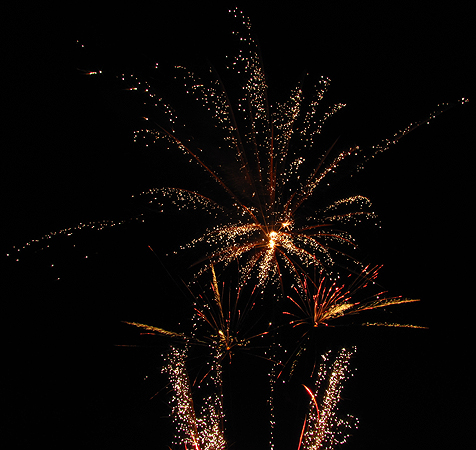 And of course we can't end without one more shot of adorable Leonardo! I even carried him on my shoulder for a while and didn't drop him, woo hoo!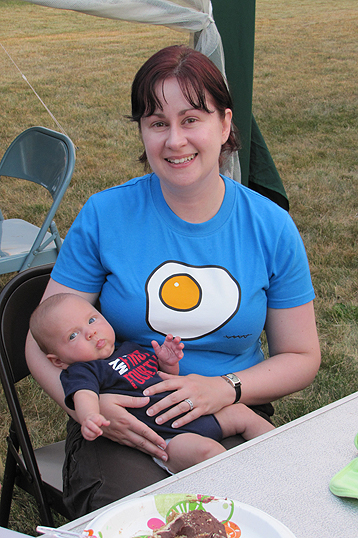 What a cutie!