October 2010
Can I just start out by saying SUPER YEAY FOR FALL! It's about bloomin' time! Boy do I hate summer! The only good thing about summer is that I can wear all of my concert t-shirts and not freeze all of the time. But seriously, that's it, everything else sucks!
It's getting cooler, the leaves are changing, and the NHL season starts on Oct. 7th! Woo hoo!
Anyway, September saw me flying yet again, but this time to a state I've already visited once before--Minnesota! Mom and I went to another scrapbooking convention, this time it was Scrapfest 2010, which is Archiver's annual convention! (Archiver's is a midwest-based chain of scrapbooking stores. I go to the store near me every month for a class.)
The convention was held inside the Mall of America, where vendor booths were in the middle of the walking paths, and classes were held in event rooms on the 4th floor or right in the middle of the walkways as well! We of course walked the whole mall to check out all of the shops, and here is just one glimpse of the amazingly huge amusement park that's in the middle of the first level: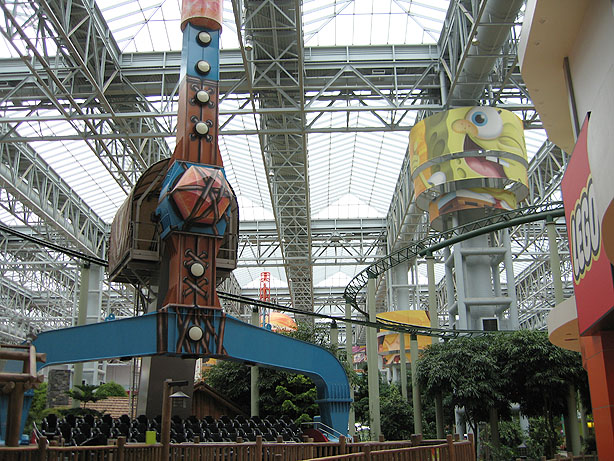 And here is me outside next to the huge LEGO sculpture: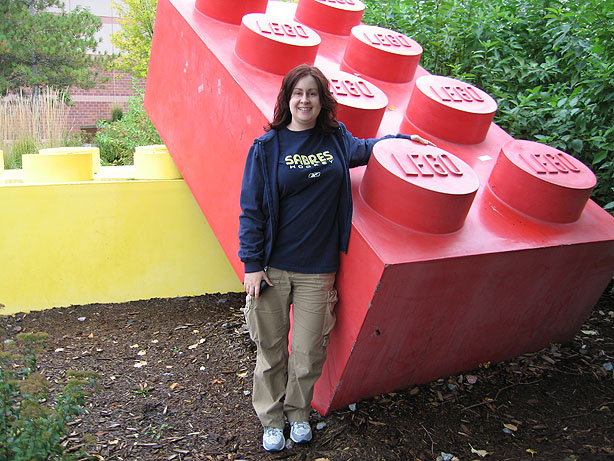 This convention was completely different from the Creating Keepsakes convention in that there were no independent stores to buy from, because of course you should be spending your money at Archiver's! Instead, the vendors were the companies making the major product lines, and they had free make-and-take projects! The lines were WAY too long for a free project, but some of them were worth waiting for, like the Tattered Angels project which was super cool, quite large, and you learned some pretty advanced stuff!
In addition, Mom and I took some pretty cool classes--Christmas cards, Retro all-occasion cards, and albums! But the BEST part is that there were CELEBRITIES! (Well, they're celebrities to me!) First we saw Heidi Swapp of Tattered Angels (which, by the way, is a Colorado company) demonstrating her super-awesome products the whole time. When we were in line for her make-and-take, she even signed some of the items and gave them to us!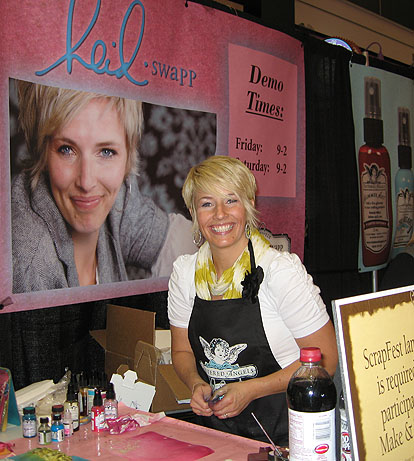 Next, I got to meet Julie McGuffee who is one of the hosts of Scrapbook Memories, a public-access TV show about scrapbooking that I've been watching for a couple of years now. I've learned SO much from that show and she was so great to chat with!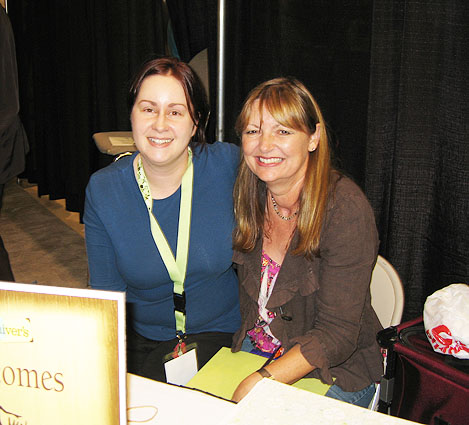 And last but certainly not least, I got to meet and get a picture with the awesome, the talented, TIM HOLTZ!!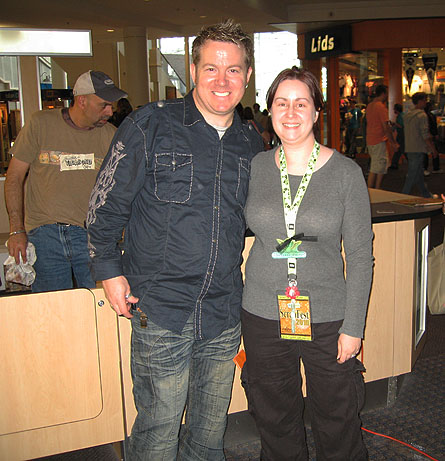 I just absolutely LOVE all of the techniques and products that he's come out with--he makes vintage EASY! He's really friendly and outgoing too. I took his album class as well and was very surprised to see that he himself taught it! He's so VIP in the scrapbooking world now that I didn't expect him to still be teaching classes, I thought he had minions to do that for him!
So it was just as fun as the Creating Keepsakes convention and was slightly different too so that was cool. The crappiest part was waiting in the lines for the make-and-takes, but if Mom and I go next year we have a better plan already concocted. :)