September 2010
August was quite hot here, but we kept cool both with finishing off our hockey seasons, and our indoor hobbies of painting and scrapbooking.
During the first weekend of August, JC and I drove down to Colorado Springs so that I could attend my very first Copic marker classes. Copic markers are artist-grade markers that the scrapbooking world has adopted, so a Copic representative came out to the Springs' one independent scrapbooking store to give a beginner's technique class, as well as an afternoon card class. It was SO cool, I learned how to use these awesome markers, and of course I bought a few. What did JC do that day? Well he went to his hobby stores too of course! So it was a lovely day out.
My hockey team won the CHAMPIONSHIP yet again! Although I can't take credit for it because I had to miss the championship game! Why, you might ask, would I be so cruel? Well, my mom and I went to Tulsa, OK, to attend our very first Creating Keepsakes Scrapbooking Convention!
Unfortunately I didn't take any pictures because the convention was in a hotel pretty far away from the city center, and we were SO busy taking classes and shopping for cool new supplies, that we were exhausted at the end of each day! We didn't have a car so we couldn't go far, so all we did at the end of each day was relax at the hotel's pool and do some additional scrapping in the hotel room.
It was really fun but overwhelming at the same time! The classes that we took were really fun, but fast-paced, so you had a lot of homework to do afterwards to finish up the projects. Then, the rest of our time was spent walking through the huge vendor faire and spending too much money! Still, we left with a lot of cool new products and ideas.
My mom met me to go to Tulsa in the Denver airport, but then we both flew back to Denver together and she stayed with us for an additional few days. I took one of those days off and we spent the WHOLE day working on a pet scrapbook for Erica, my sister. It came out SO good, and we got the whole thing done in 8 hours!!!
The last scrapbooking event I had was driving an hour up to Greeley to attend the Rubber Stamp and Scrapbooking Expo that was in town. WOW was that incredible! There were tons of independent rubber stamp companies selling their stamps that I had never heard of before. I bought some really great new stamps and am very excited to start using them!
In addition, I had a lot of free time to scrapbook, and in that time I managed to FINISH our WEDDING SCRAPBOOK! Now I know that since most of you are not here with me in Colorado, that you won't get the chance to flip through the album. SO, I've taken pictures of each page and put them into an album on Shutterfly! Here is the first page: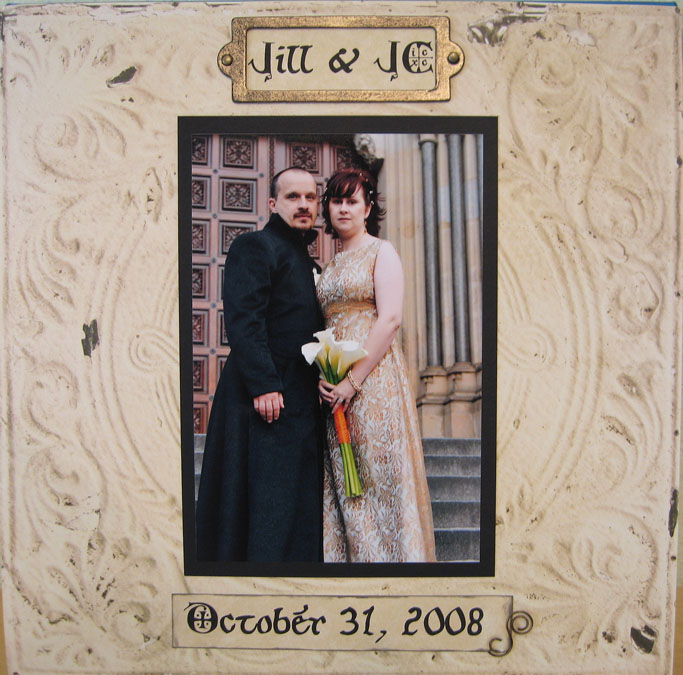 To view the entire album on Shutterfly, click on the photo above or click HERE.
I hope to actually make a new Shutterfly site, or perhaps even a sub-site here on Frostygoth, to start displaying some of my best cards and other creations. So stay tuned! For now, enjoy the wedding album and this congratulations card below that I made for my friend Jodie who took her boards in August!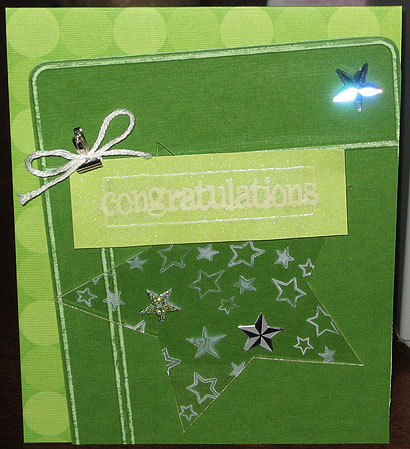 The dark green piece is a two-toned cardstock where the core of the cardstock is a lighter shade of green than the top layers. I dry embossed it with an embossing folder and then sanded the raised parts so that the lighter green showed through. The sentiment is actually stamped onto white paper with clear embossing powder over it, and then I sprayed the white paper with lime green Glimmer mist. It sticks to the paper but not the embossing powder since that stuff is basically melted plastic. Lastly, the clear acrylic star shape was part of an album of stars. I stamped different stars on it with white ink and then accented one star with a star sticker, and another star with Stickles which is glitter glue. Voila, a pretty card in my opinion!