May 2017
I honestly cannot believe it's May already. This year is just flying by, which means that I've kept myself very busy and that's a good thing!
April began with the ever-amusing Alton Brown, who we saw live in Denver's opera house for the second time. Just like the previous time some 4 years ago, he was excellent. His show combines science and food, and he did a game with audience members where they had to spin giant wheels for three separate ingredients to make a cocktail--one turned out super gross because it had fish sauce in it!! He also popped popcorn in a huge rocketship--and by huge I mean 12 feet high. It was a very funny show.
The next day I got to join in on Leonardo's 5th birthday party! I can't believe he's already 5 years old!!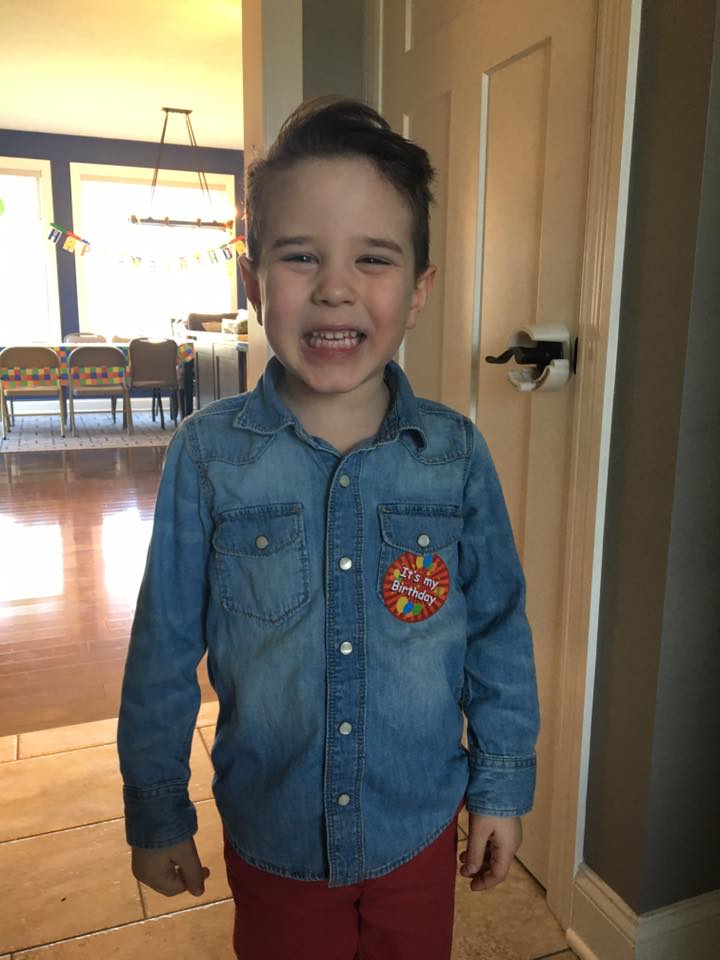 We also went to see Disenchanted at the Boulder Dinner Theatre, which was hilarious! It's a sarcastic musical about the Disney princesses. Not for kids, but the rest of you need to go see it!
JC spent the week before Easter in San Francisco dying of viral pneumonia, and I spent that same week at home with a cold that kicked my butt. Fun times that was. Easter was nothing special; we had lunch with JC's parents, and our traditional non-traditional movie was "Paul." I had never heard of it, but look it up and see it if you can, it's pretty funny. Then we went home since we felt like crap.
The big highlight of the month was my scrapbooking retreat in Salt Lake City. I found out about this retreat through a friend from the ScrapHappy online scrapbooking group of which I've been a member for a few years now. She invited me to another online scrapbooking group, Scrap Gals, that is run by two gals that do a weekly podcast about (what else?) scrapbooking. This was their first retreat, and you wouldn't have guessed it by how well organized it was. I flew in at 10am on day 1 and spent the morning with a friend, Kathy, who I met years ago at a ScrapHappy retreat. We had a nice breakfast and then went to the hotel to meet the other ladies.
Our afternoon was then spent SHOPPING! We first went to the American Crafts Warehouse Sale which was basically a scrapbooker's heaven. American Crafts is the largest scrapbooking company in the world, as they keep acquiring other companies and product lines. You name it, they sell it: tools, albums, paper, cardstock, embellishments, home decor projects, alphabet stickers...At this point they probably make 70% of the world's scrapbooking products, and apparently rent out this old KMart store to sell surplus! If I lived near this place, I'd be badly in debt. This is how big it is: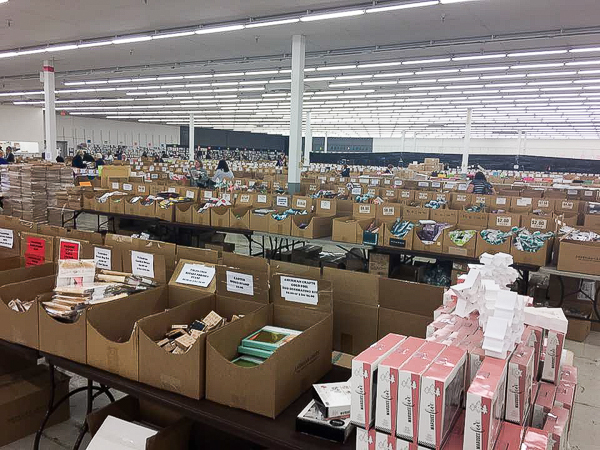 But we only had ONE HOUR, are you kidding me!? So I was like a contestant on "Supermarket Sweep" running down aisles to find what I wanted. I scored killer deals on an album, packs of cardstock, and embellishments. Had I had more time in there, I probably would've spent triple what I did.
Our next adventure was to go to a local scrapbook store called Pebbles in my Pocket. It's in the basement of a cute little old house, but the store was very pretty, nicely designed, and had collections I've never seen before. So naturally I supported them too! The owner also gave each of us a discount and a goodie bag of product, and was nice enough to take pictures of the groups as we arrived in waves after the warehouse sale.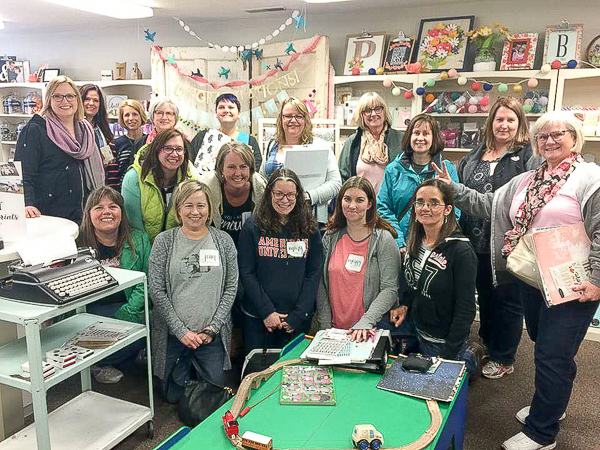 Our evening concluded with a wonderful Mexican buffet at a nearby restaurant that had an entire upper story that fit our large group of 55 scrappers perfectly.
On Saturday, we began our morning by receiving our bags of swag: a t-shirt, cup, and a little traveler's notebook. We also received 2x2 photos of every one of the gals at the retreat, so our big weekend project was to cut them apart, glue them into the notebook, decorate the covers and pages, and then have everyone sign it! Here are Kathy and I with our swag bags.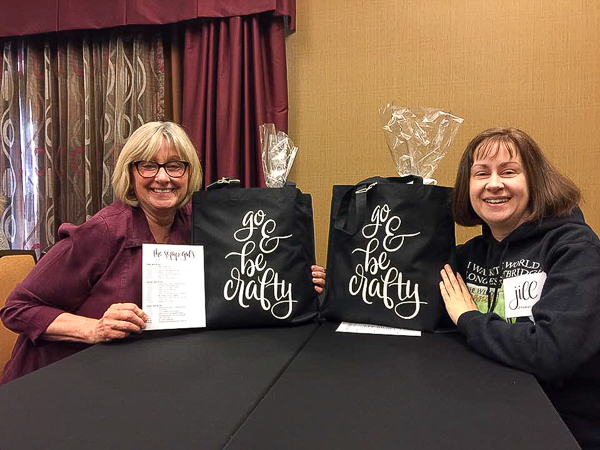 That's what I spent the majority of the weekend doing. I made a point to meet and chat with every single person there. I'm really glad I did, because I got to meet women from all over the country, including SIX other Coloradans--one of whom is a customer at the Scrapbook Shack and lives in the neighborhood NEXT TO MINE!!
I also met a lady from Edmonton, Canada, with whom I took a nice walk in the afternoon to get my steps in. We went to Temple Square to see the Mormon Temple and they had this beautiful array of flowers in the middle of the path that were just a sight to behold.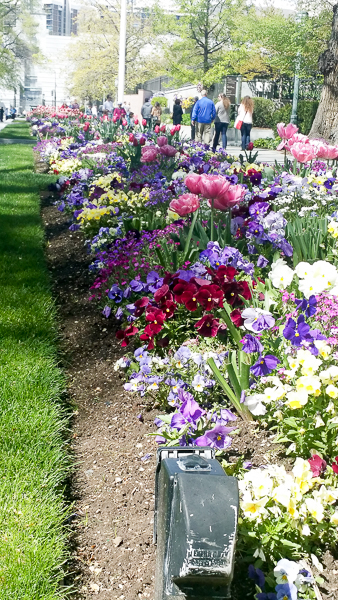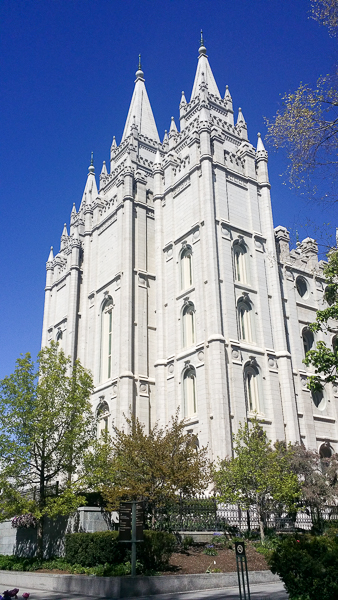 Throughout the day, we had two classes: one on how to take better selfies (I have never taken a selfie in my life!), and the other was "Journaling from the Heart" on how to write better stories on your layouts. We also received a ton of free product from a variety of sponsors, so I had to fit all of this into my suitcase too!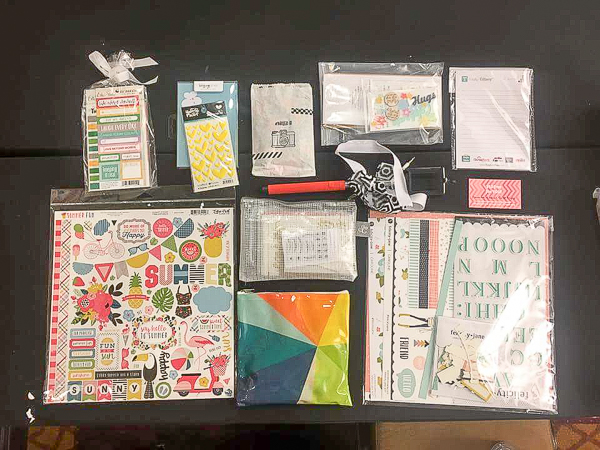 In our free time, we were cropping and getting everyone to sign our books. It felt like high school again! Here's what the room looked like with all of us busy at work: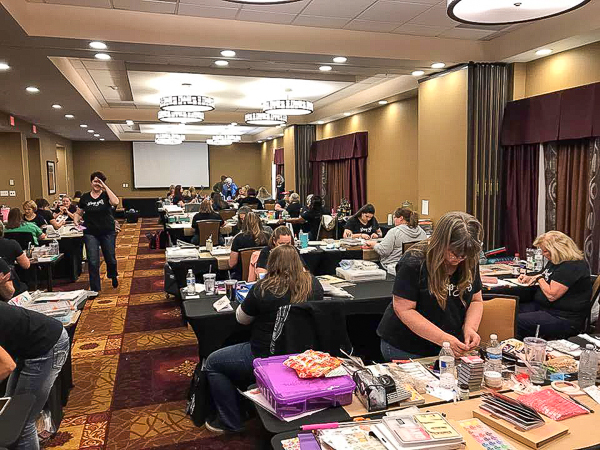 After the room was closed for the evening, some of us ScrapHappy gals stayed up a couple more hours drinking wine and chatting. From left to right: Dietra, Kathy, Heather (just joined!), Kim, and Alice (the group owner). I hadn't seen these gals in a few years so it was SO great to see them again! Felt like time hadn't passed at all.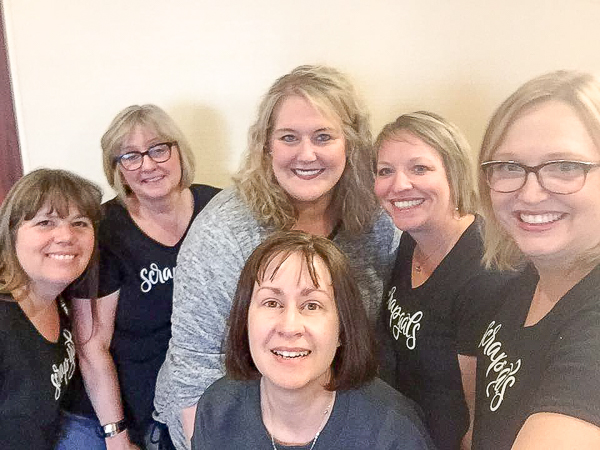 You may recall that years ago I did two separate Layout a Day (LOAD) challenges (you can see the projects I did by clicking on the LOAD links in the bottom right), and haven't done one since. I made a commitment to get back into doing the challenges as best I can, and to be active in these online groups so that I don't loose these wonderful friendships.
As soon as I came back home, I rejoined the group and am actively participating in the challenge this month!
On Sunday we had one more class on layout design, and some more free time to crop before it was time to take our group photo and start bidding farewell to people. Heather and I were actually on the same flight back to Denver that evening, so we had a great time taking pictures of the mountains and chatting about scrapbooking.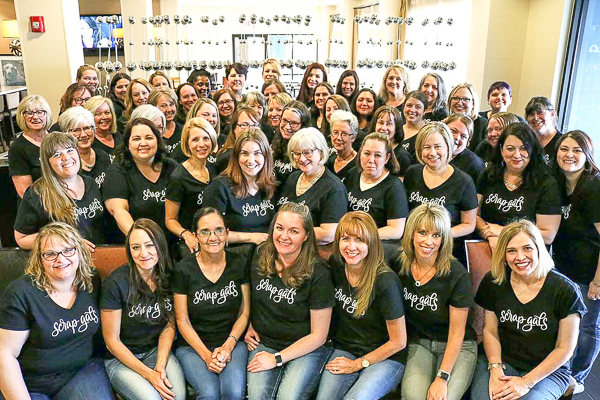 It was SUCH fun to reconnect with old friends and meet a ton of new ones. Can't wait to do another retreat like this!
In the meantime, I might have to take a day trip to Salt Lake City with an empty suitcase!!!
I love this hobby and the wonderful people that I meet through it!