August 2008
The weekend of July 17-19, we took that Friday off and took a trip down to Cañon City, which is around 1.5 hours from Denver, due south. I had read an article in the Denver Post years ago about this little town and thought that it would be fun to visit, so we finally did, as our one big vacation this year. (The wedding, naturally, is sucking up our vacation time and money so this is our grand adventure!)
We arrived at 5pm on Friday after leisurely getting up, checking email and going to The Container Store. It's all the way on the south side of Denver, so we had to fit it in with other southbound journeys. We had just enough time to check into the hotel before we went on a Ghost Walk.
While the walk did not necessarily mention a lot about ghosts, there was the occasional ghost story thrown into a lot of the town's history, which was still very cool to learn. I took a lot of pictures despite the fact that the town is literally five blocks big. Here is one block of the street, with preserved historic 100-year-old buildings: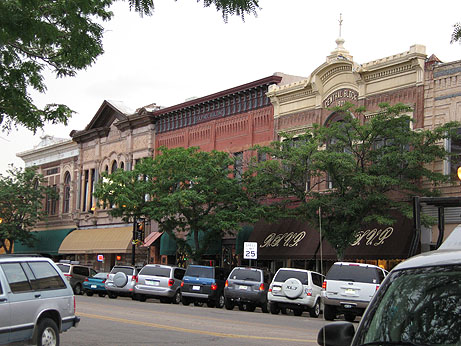 Then we had a very fattening dinner at an Italian restaurant. On Saturday, we first went to the Colorado Museum of Prisons which is an actual former prison itself, and right next to, sharing the same wall with, a medium-security REAL prison, butting right up to the Rockies: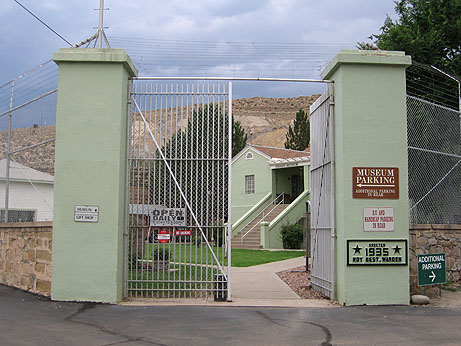 In the courtyard alone there were two old cells, a gas chamber, a sign that said that persons were subjected to searches without any prior notice, and a fire truck from the 1950's that they used during the 1980's to train convicts to be firemen!
Here is what the inside looked like, a nice, old, small prison: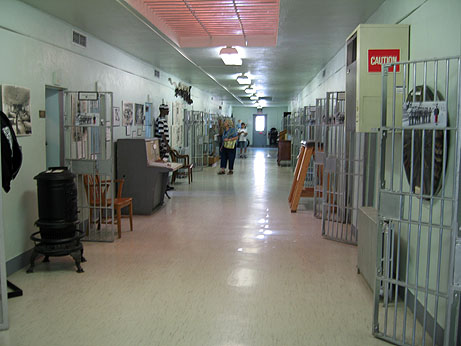 Each cell had a different display theme, ranging from gangs to women convicts, to weapons, to wardens, to outreach programs to rehabilitate convicts and teach them a trade. It was actually a very informative museum, albeit a bit creepy because you had to go into most of those cells to see the exhibits!
In the afternoon we walked around the town a bit and visited the Natural Museum which had the most gorgeous private collection of phonographs that I've ever seen. At night we took the Royal Gorge Railroad on a dinner train trip into the Royal Gorge. The Gorge is famous for outdoor activites like hiking, kayaking and rafting, but for those of us who want to see the Gorge without exerting ourselves, the train offers lunches, dinners, and even wine tastings, while you wind along the Arkansas River into the gorge.
Here is the beautiful wood-paneled train car that we dined in: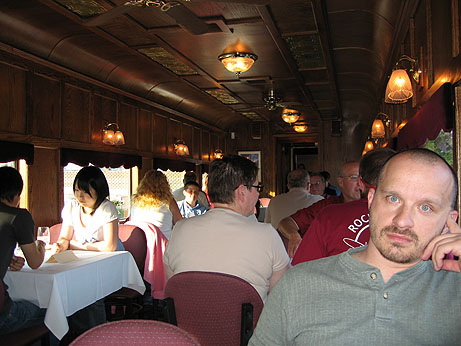 This photo shows the rapids, how close to the river we were both in length and height, and it also shows something totally insane. If you look towards the middle of the rocks, you'll see a horizontal cylinder stretching across most of the width of the photo.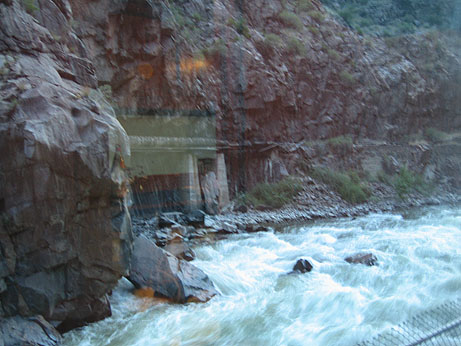 This was a wooden pipe system to transport water to the town of Cañon City for a century all the way up to the 1970's. It was held together by steel bands, and someone lived nearby and literally walked the WHOLE pipeline through the gorge EVERY DAY to check for leaks, broken bands and damaged wood. Some of these areas were not very easy to walk along as you can see!!
Lastly, here is a view at the lowest part of the gorge, where you can see just how deep we are, and you can see the bridge above us that many people drive or walk over. Personally I'd rather be at the bottom!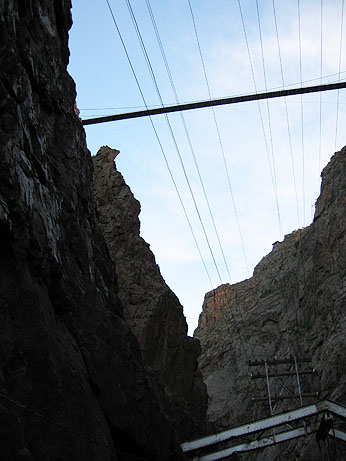 On Sunday we leisurely had brunch at the WAFFLE WAGON I kid you not, and then went to the Holy Cross Abbey Winery. It did used to be an Abbey for monks and nuns, but recently it was sold. But, the winery is in full swing! They grow some grapes right there, but get most of them from Palisade, on the west side of Colorado, which is where we went on our Wine Train excursion this past April.
We showed up when they opened for the free wine tasting and ended up buying a good 7 bottles or so! Yummy Apple Wine!!
So, while it was not exactly an exotic location, it was great to get away for a long weekend, catch up on some rest, learn some new things and see some new places!