March 2016
February was yet another extremely busy month, and I'm looking forward to a (hopefully) calmer March so that I can get caught up with tasks I want to do around the house--you know, organize the kitchen and basement, purge folders, tidy my OneNote notebooks, learn German...typical stuff. :)
I had a LOT of shifts at the Scrapbook Shack--sometimes 3-4 days a week--to reorganize almost the entire store. We had a massive clearance sale that made a lot of empty space in the aisles, so in anticipation for a lot of new stuff arriving in the spring, the store had to be rearranged to accommodate different product coming in. Believe me, it takes a lot longer than you think to "just move this stuff there, and that stuff here."
In addition, I had a few scrap dates, two Avalanche games (one of which was the Stadium Series game outdoors--more on that later!), a musical and a comedy show. The musical was "A Gentleman's Guide to Love and Murder" which was AMAZING! If you can see it, I highly recommend it. It is hilarious. The comedy show was a one-of-a-kind experience: an evening with the SNL greats from the 90's: Norm MacDonald, Tim Meadows, Rob Schneider, David Spade, and Adam Sandler. I was surprised that the show lasted more than three hours, ending with an informal Q&A session with the audience, which included two girls going on stage to get a photo with Adam, and Tim lighting up a joint given to him by some other fans. Norm was the least funny of the group; he looked old and tired. Adam had the longest amount of time and alternated between comedy and funny songs. He even did a song dedicated to Chris Farley that was one of the highlights. He talked mostly about his wife and daughters, which is surreal, but overall it was a great night.
I also took a soap making class! I've been buying homemade soap for a decade now because I want to support local vendors and use soap that is of better quality than the junk at the grocery store, so why not learn how to make it myself? The instructor was fantastic and we learned the cold process (there are several different ways). We got to take home a pre-made bar of the same recipe that we did, because it takes 4-6 weeks for the soap to harden and be useable. But she gave us the recipe as well as some more of the color and scent ingredients, so now I just need to buy lye and any other essential oils and herbs I want, and off we go! You all may be getting homemade presents from me this year...
Since everyone seems to enjoy my tales from the Wild Animal Sanctuary, here are the highlights of my two volunteer days in February:
Instead of making meat buckets, I cracked dozens of eggs and pulled meat off of countless rotisserie chickens. Eggs are often put into the meat buckets for added protein, and the rotisserie chicken is given to the wolves, but they'll eat the bones if you give them the whole chicken.
The feeding that I got to do was wolves, porcupines, foxes, and the baby bear, Eva, that won't hibernate. Her enclosure is next to the foxes and porcupines, so as the staff member was feeding the porcupines, I got to throw mini cinnamon donuts over the fence to Eva. Bears LOVE sweets! For the wolves, we got to go into the enclosures, and one pack of wolves walked along side us as we went to a secluded spot in their enclosure to put the food down. That was surreal.
During my Education shift, I had to radio in that a car of people drove into the Sanctuary, saw one of the dogs that roam the property (they are all the founder's dogs but they just roam around), TOOK HIM, and drove off!!! Luckily the staff member hunted them down and got the dog back, and he told me that that's not the first time that's happened!! WTF people!!!
So, the big event in February was attending the NHL Stadium Series outdoor game between the Colorado Avalanche and the Detroit Red Wings (which has been a very heated rivalry for decades). These outdoor games have grown in popularity over the last few years and several of them are scheduled every year. This was the first time Colorado got an outdoor game so I just HAD to go! Mind you, it was NOT cheap, but it was TOTALLY worth it! Beware, I'm putting up a ton of photos!
My friend Leah flew in to attend with me since she is a die-hard hockey fan and had an outdoor game on her bucket list as well. The event spanned two days, where Friday night was an alumni game, and Saturday was the regular season game. During both days, there was a Spectator Plaza outside of the arena (which was our baseball stadium, Coors Field) complete with skills games, a DJ, party tents, giveaways, and other fun stuff. Of course, we took lots of photos and did most of the stuff.
Here we are with inflatable jerseys, like you do. I am giving a thumbs down to Detroit and a thumbs up to Colorado in case you can't see that.


The view of the front of Coors Field.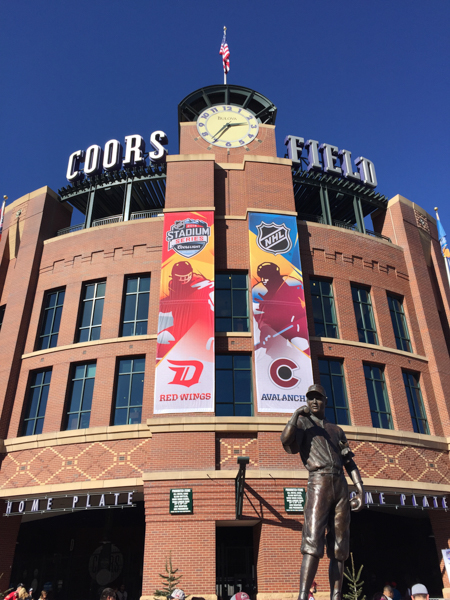 We ran into the Eurolanche, the European fan club for the Avalanche. Nice guys! They represented five countries this year and actually come over for an Avs game every year.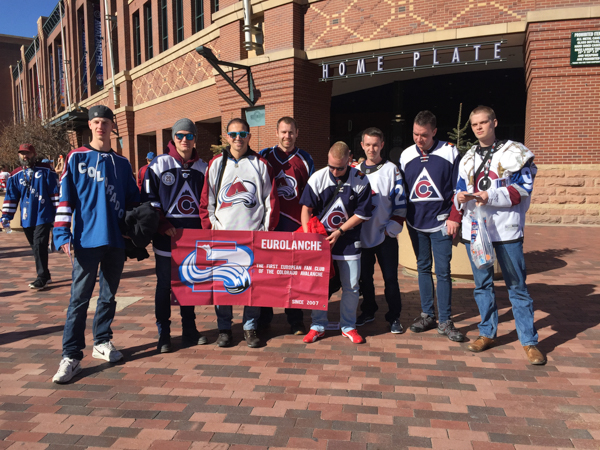 And we got fake photos with two of our favorite hockey commentators, Kevin Weekes and Katherine Tappen.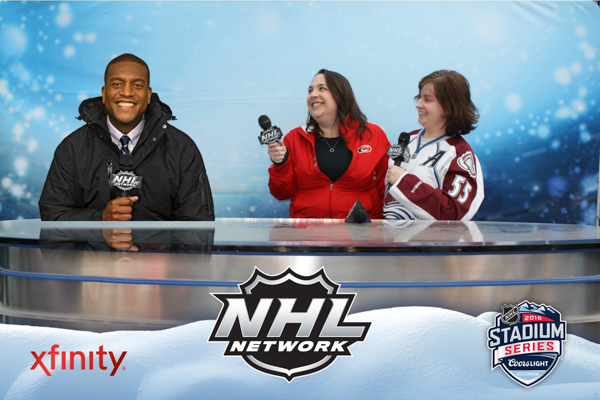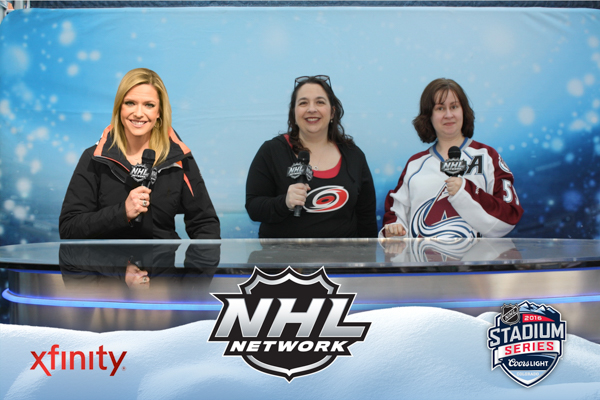 View of the rink and inside Coors Field. It was 65 degrees that day, and had been very nice weather for at least a week prior, so that is not real snow. It's some fake cotton stuff. This is important information for later.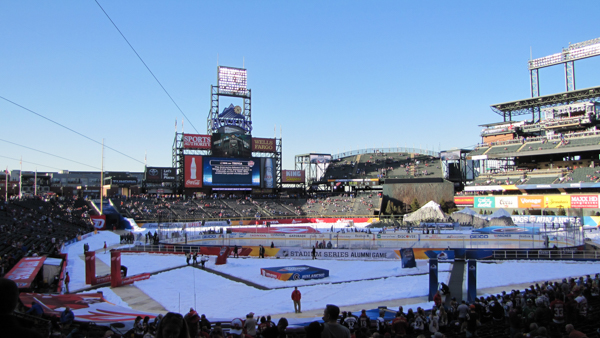 We were in the 20th row, great view!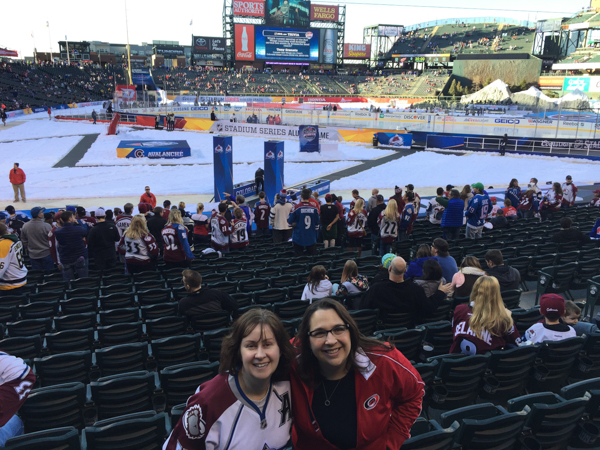 View straight-on. Players came out from this tunnel during the regular season game.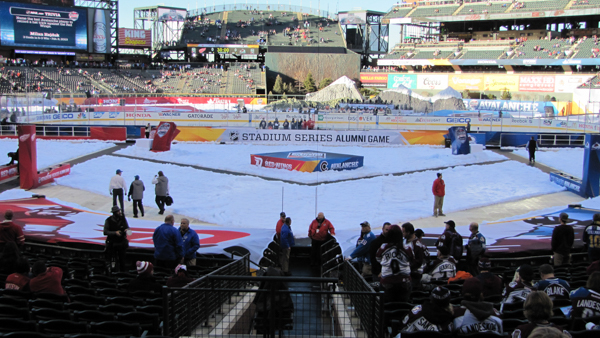 The alumni players emerging from the dugouts.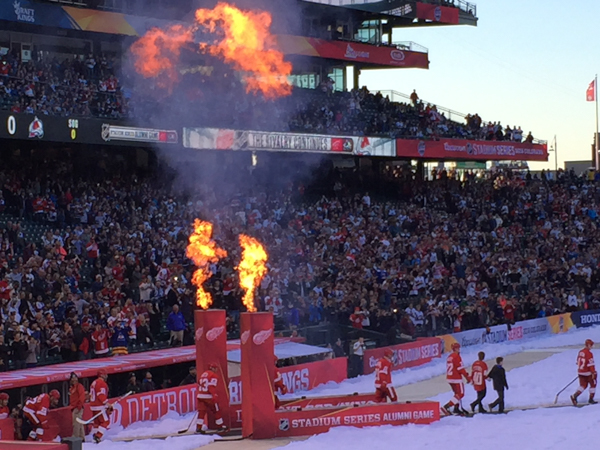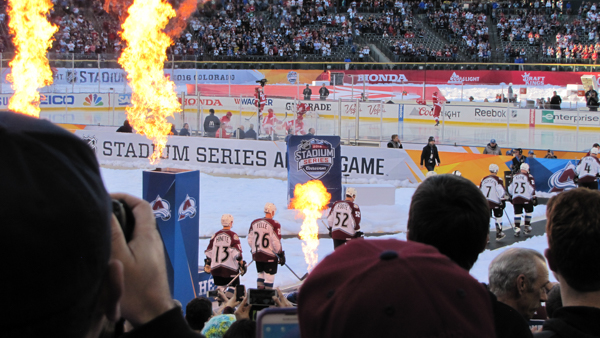 Warming up.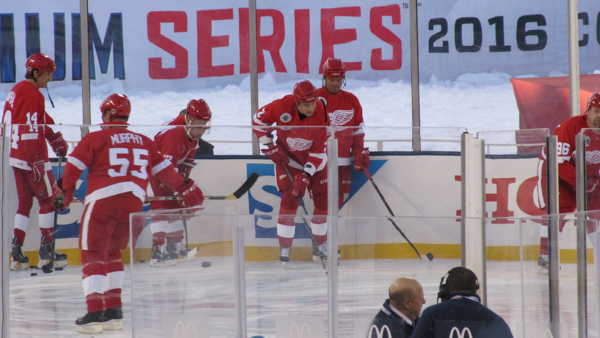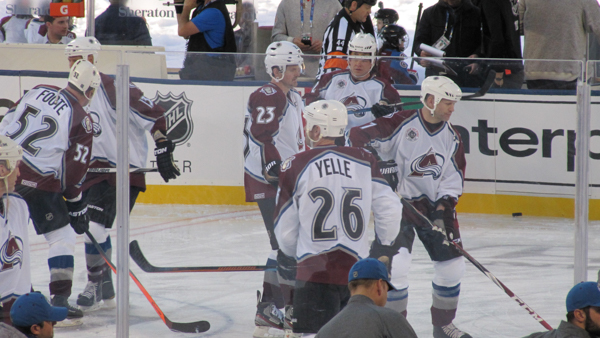 In between periods, the players retreated to the dugout, but not without first a massive traffic jam waiting to get their skate booties put on and off. It was a bit of a cluster but pretty funny.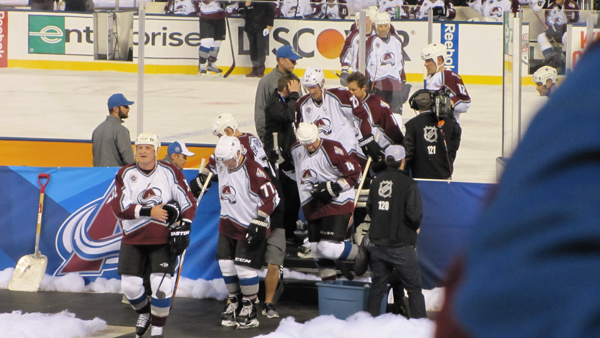 Peter Forsberg!! LOVE!!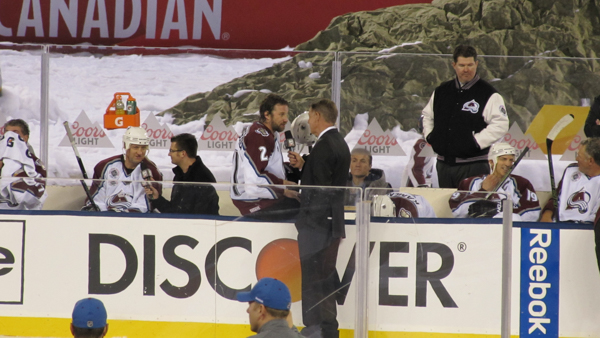 AVS alumni win, 5 to 2!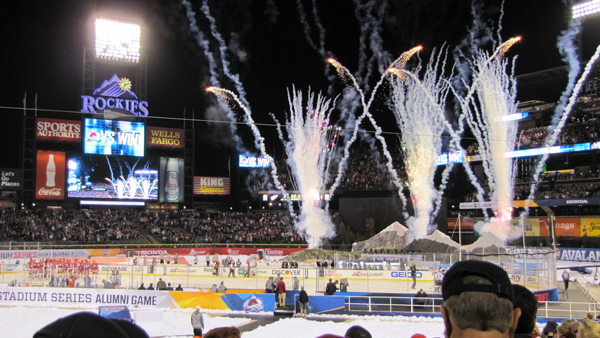 Group photo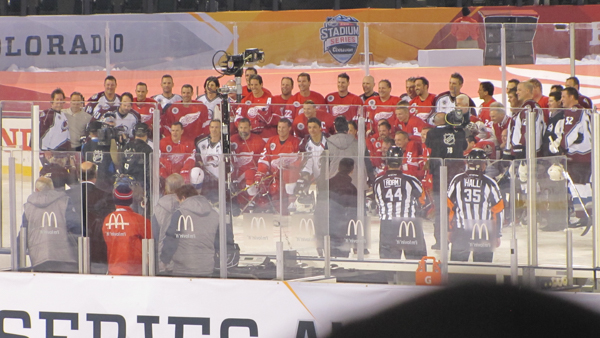 Patrick Roy!! Greatest Av ever and damn cute!! (He is currently the Avs coach)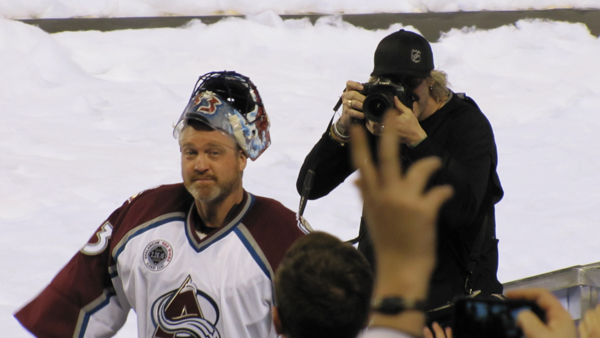 View of the fake mountains in the back, the big D and C tarps and the small ice rink where kids were skating the whole time.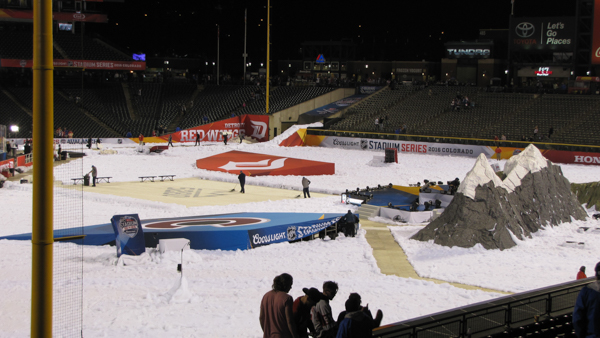 On Saturday, we strolled into a bar near the stadium for lunch and to our surprise, Adam Foote, one of the Avalanche alumni players, was signing autographs! Um, YES PLEASE!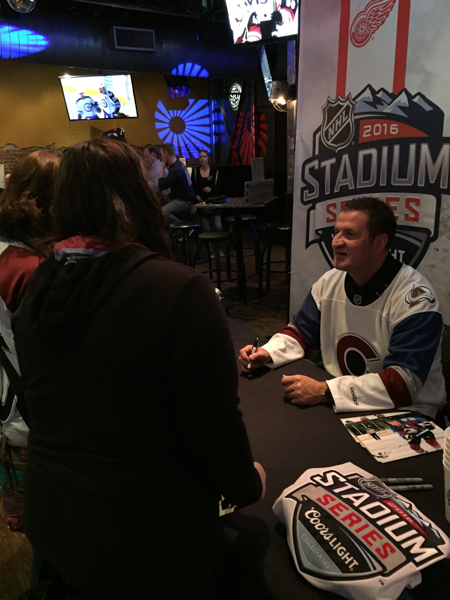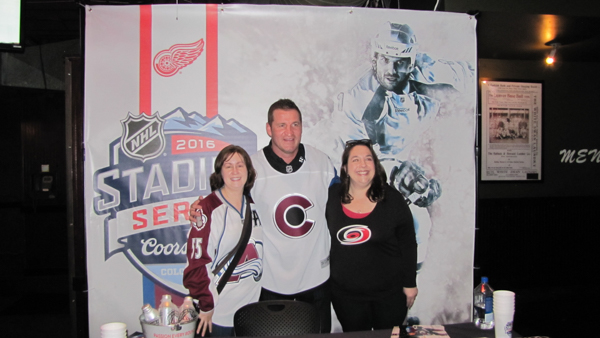 Bernie our mascot grooving with the band in Spectator Plaza.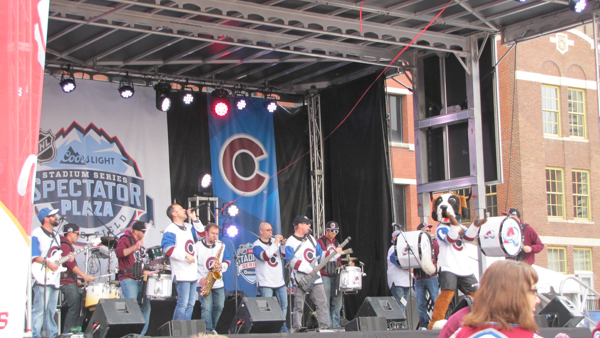 Picture with Bernie in front of the main entrance to Coors Field. That banner was sick.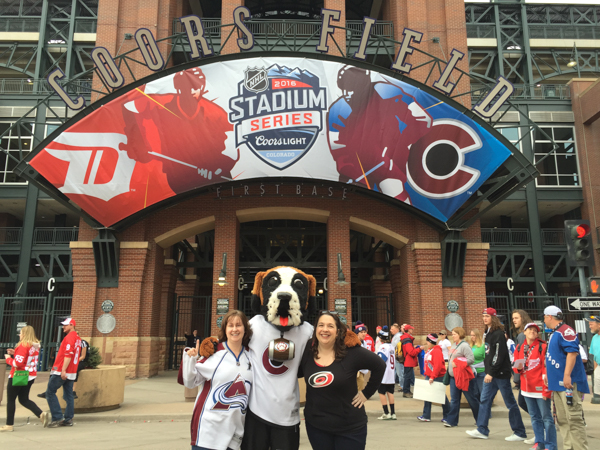 Tried to put on my thug defenseman face, did it work?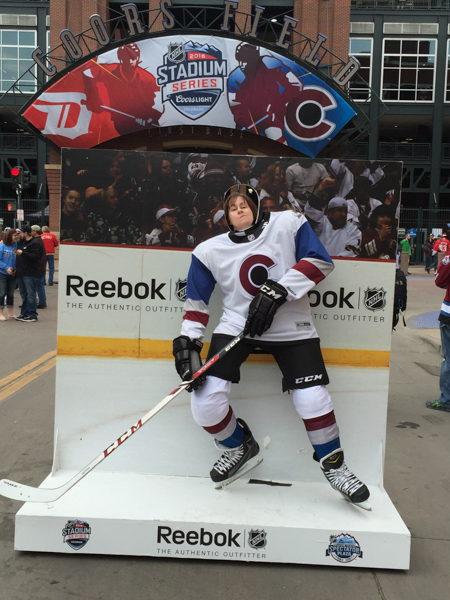 Silly Red Wings...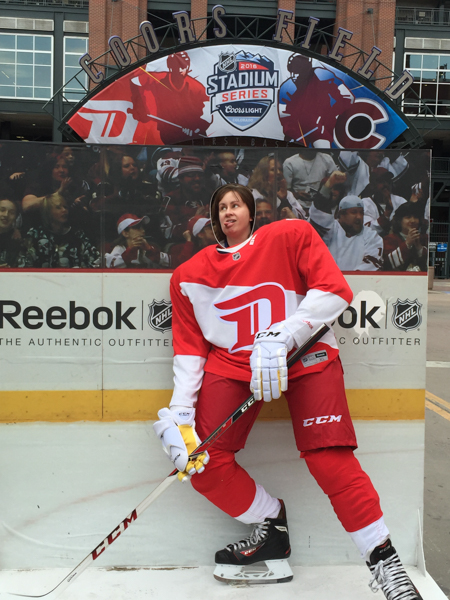 And we also got free trading cards. I once again tried my thug face.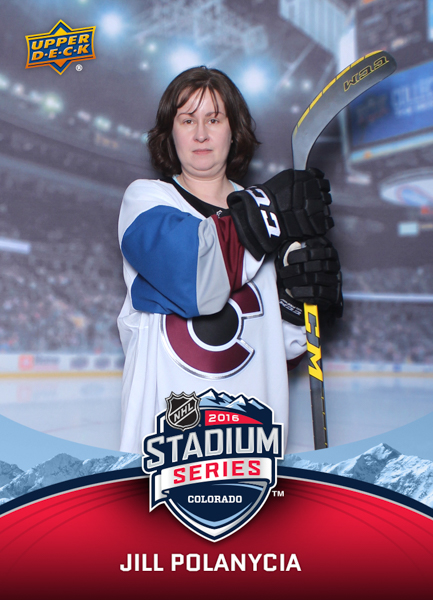 Before the regular season game, Andy Grammer played. We were also treated to Colorado's own The Fray during the first intermission, and a tribute to American heroes during the second intermission.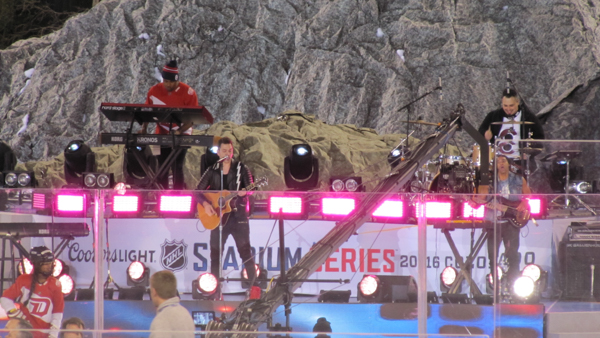 Jerome Iginla after the pregame warmup! He's too stinking cute!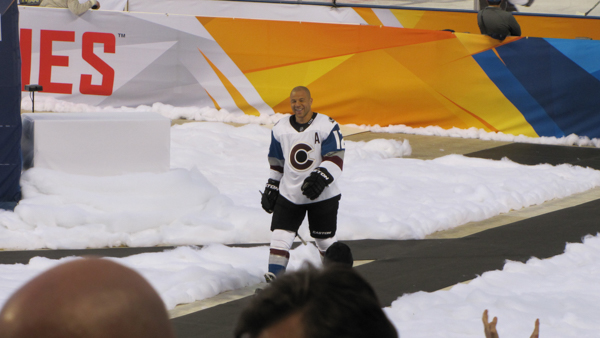 The great skate booty cluster of 2016 continues!!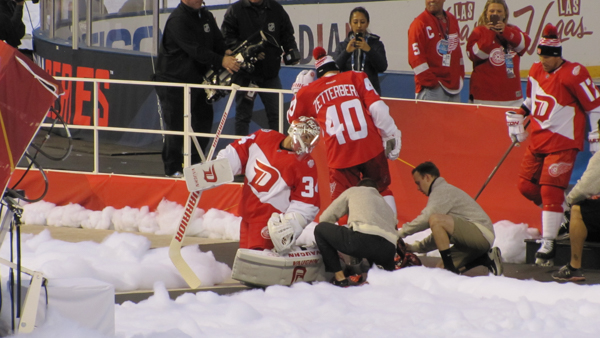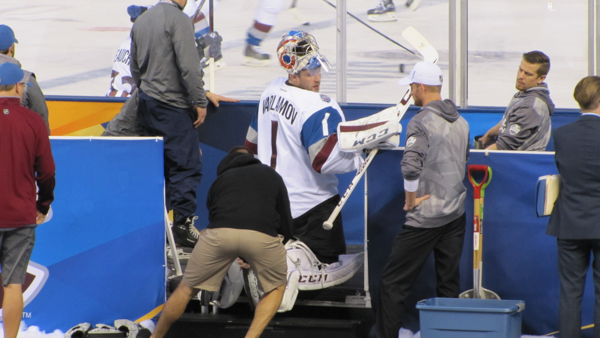 The American flag during the singing of the anthem.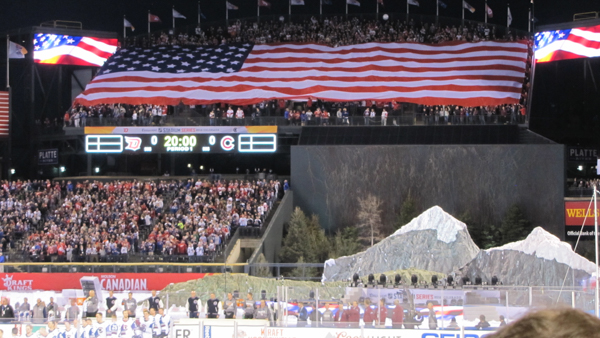 So...one of the highlights of this game was that in the second period, the wind started to pick up. This in turn resulted in some of the funniest moments of the weekend. Such as Katherine Tappen and Jeremy Roenick having hair malfunctions exactly when they were live on national television...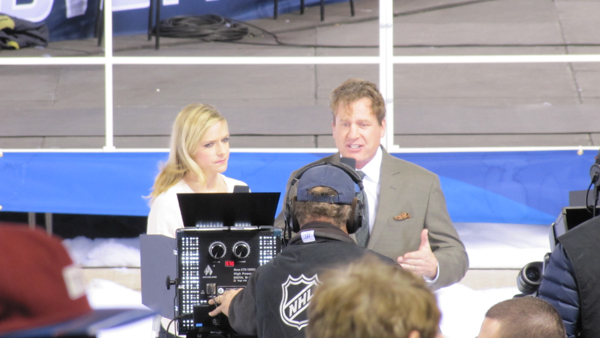 And a bit of a blizzard. That fake cotton snow didn't really last very long...it ended up whipping up into mini tornadoes, flying all over the place including the rink and stands, and overall creating a total mess. I could not stop laughing!!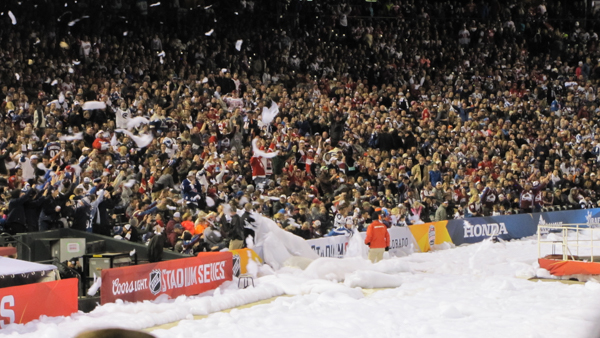 The poor crew earned their pay...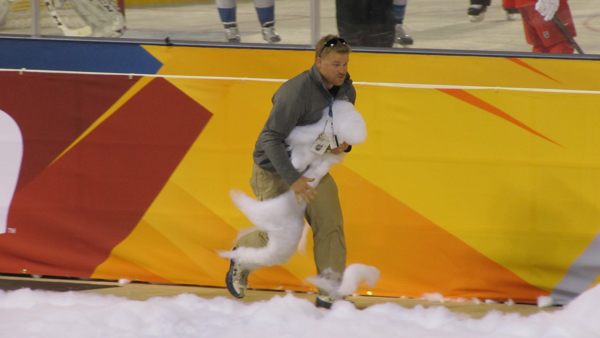 The yellow tarp was once covered with the fake snow, but by the end of the game, half of it was exposed!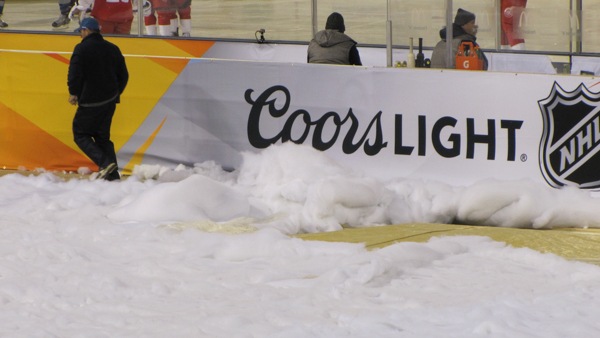 Blizzard!!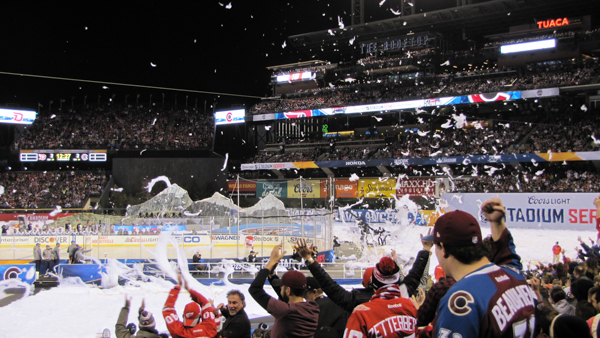 Unfortunately, the Avs lost. Here's the handshake afterwards.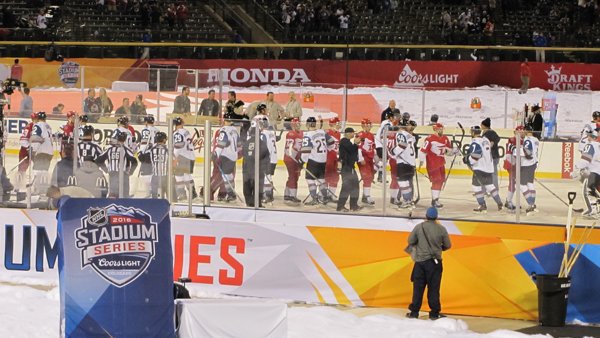 An hour later and two blocks away from the stadium, we were crawling through traffic to go home when a piece of the fake snow fell nearby. Of course, I jumped out of the car to get it.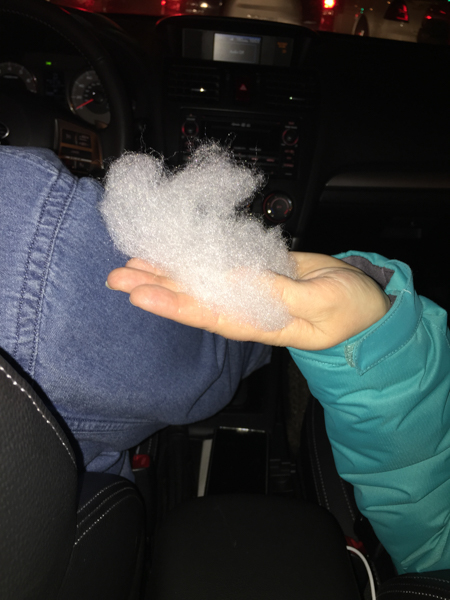 TOO AWESOME!!