September 2012
OK, I'm not exaggerating here: August was crazy busy. The first half of the month consisted of many hockey games as the season wound down (we came in last place, but I saw that coming), a Tuesday night pilates class, concerts, theatre, and a trip to the Seattle area to visit family!
The second half of the month was much calmer, although I did go on another trip. My mom flew in for a week and we went to Tulsa, OK, to attend our annual Creating Keepsakes scrapbooking convention! It was hectic, crazy, and tons of fun as always. This time, we rented a car, flew in earlier, and spent the day before the start of the convention driving around to independent scrapbooking stores. Surprisingly, there are a lot of them all in a short distance! So we had fun browsing their wares and meeting really nice people.
The convention itself was a blast, we took five classes, each one was entirely different. We had a trunk show from one manufacturer who gave us tons of goodies and really creative ideas on how to use them, we did an album, cards, and a stunning shadowbox piece. I need to finish all of these projects but will most definitely post at least the shadowbox display when it's done, it's just gorgeous.
After the convention mom and I scrapped for two whole days and it was heavenly. I could definitely get used to that. :) The trick is to make scrapbooking somehow a job...which is my current quest...
Anyway, here are some photos from the long weekend we spent in the Seattle area. JC's sister and family live in Port Orchard, WA, which is on the other side of the sound from Seattle and about a 1.5-hour drive. So we stayed on that side of the sound for the weekend, in a cute house that JC's parents rented in Gig Harbor. So all four of us, plus JC's sister's kids, stayed in the house together while JC's sister and her husband worked during the day and met up with us at night.
First, here's an amazing view of one of the mountains as we were landing in Seattle. Not sure which one this is, but I was amazed at how close we were to it!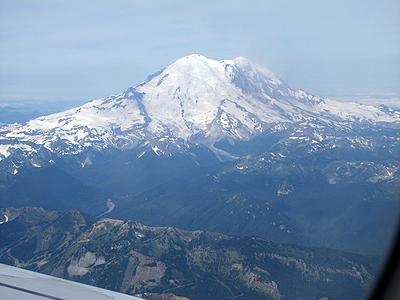 Next, we got our rental car--a red FIAT!--which we fell in love with. We drove the beautiful, scenic drive out to the rental house, and this is the private road leading up to it. I could get used to this view every day!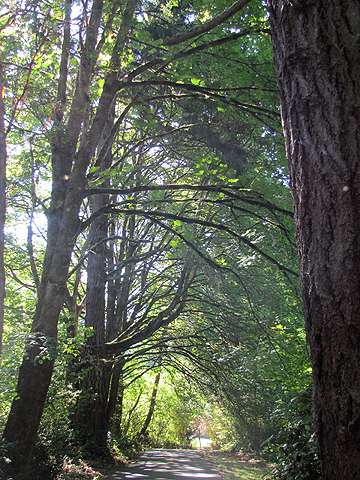 Here is the rental house, with JC "Bolting". It was during the Olympics, what can I say.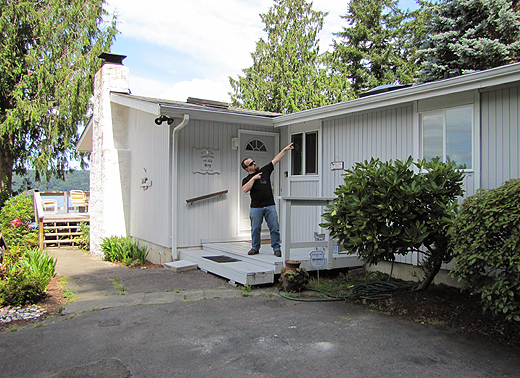 Here are JC's parents relaxing on the huge deck that was behind the house, overlooking the lake. The property slopes drastically down to the water, so I took this picture looking back up at them from the beach level.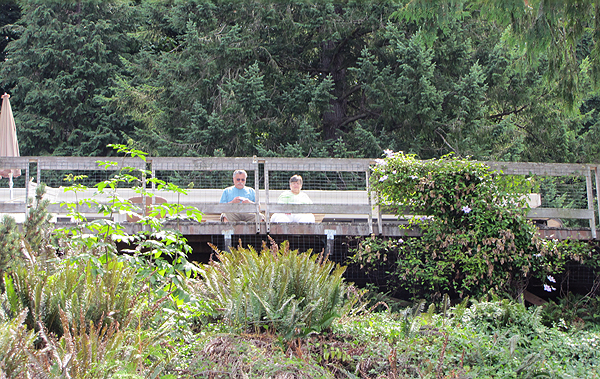 Here's our nephew Mike lighting the fire pit for smores that was on the concrete patio at beachfront, yum!!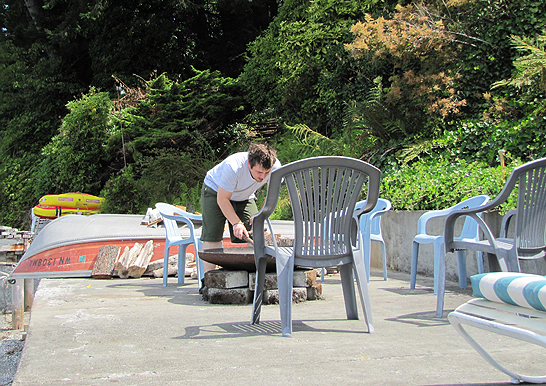 Here is where the Facebook post came in that I made stating that we are getting a Fiat and two kayaks. The rental property came with some plastic floats and two kayaks, so I gave it a whirl...and LOVE IT. It is so calming and peaceful to just lazily paddle around the lake and take in the fresh air and gorgeous sights.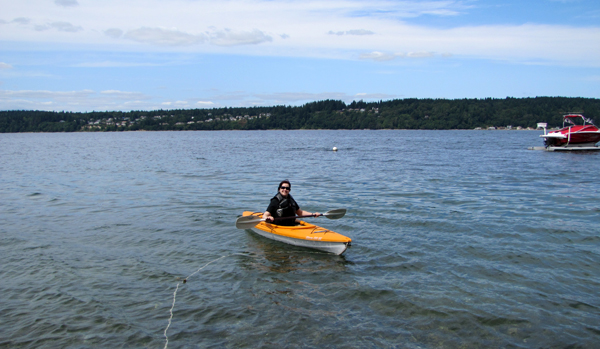 We also ventured into Gig Harbor itself, which had this gorgeous docking area where people were kayaking: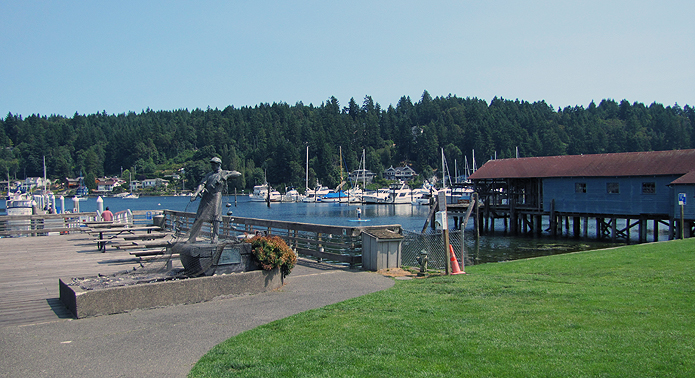 One afternoon, JC, Mike and I drove to a nearby little town named Poulsbo which was just adorably...Norwegian...for some reason.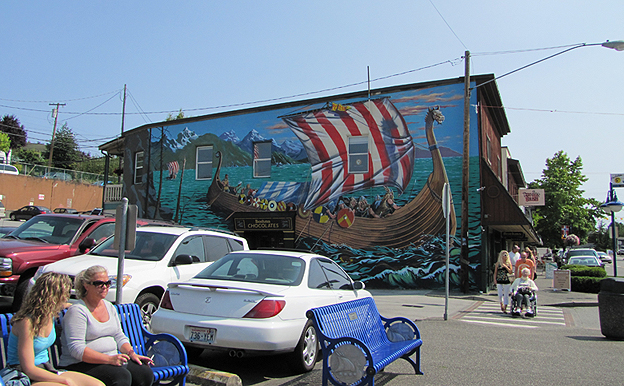 So cute! The town center was just a few blocks long and consisted of a bunch of adorable stores, and you guessed it, tons of coffee shops!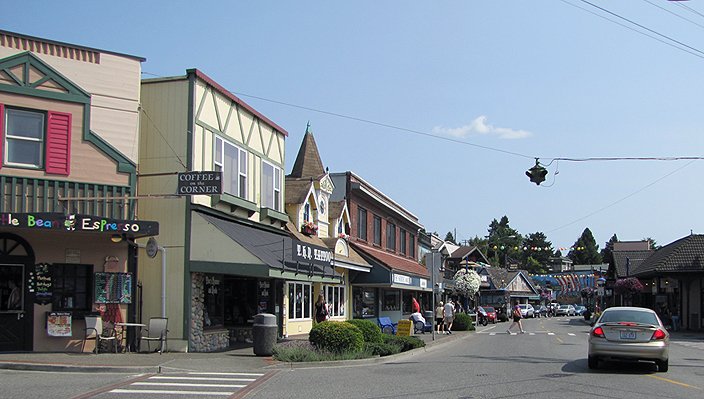 I love it up there! So green, friendly, and coffee-focused!