April 2012
Well, March was not very exciting for two reasons. First I worked my butt off. Second I studied my butt off.
But, April seems to be a time of change.
We are still quite busy at work, so it's been stressful to have to deal with everything that gets thrown at me. My boss, however, gave me some hints about assigning me some additional, non-project-related duties in the near future. I'm all for growing and doing new things, but something in my current workload has to give, and right now that's pretty impossible given the state of affairs. So we'll see.
The reason he wants to assign more duties to me is because as you know I was studying for the PMP exam. Been studying since JUNE, and finally scheduled my test for April 7th, right before Easter! It was the first Saturday I could get, since I did not want to have to take off 2 days for it (they recommend you take off the day before and then the day of if you're taking it on a weekday). So I could've taken it earlier if I was OK with a weekday, but the times were also bad, either 8am or 4pm. Yuck.
I've spent every single Saturday (that we were home, travel doesn't count of course) since June 2011 reading the books, doing the online courses, and studying for this test. I was led to believe that it was quite difficult, and that was compounded by the fact that I haven't studied for anything in 14 years. I tell you, unless you absolutely have to get a certification or go back to school as an adult, DON'T DO IT!
Especially in March, once I scheduled a firm test date, the pressure was on so I was studying literally every night after work (being braindead or not), and on every free weekend day I was taking a 4-hour simulated test (the test is 4 hours). I think the simulator really helped give me a feel for what to expect since the exam has questions about the material itself, but also situational questions that test how you actually apply the PMP concepts. I hate those because they rely on whether you read the question right, know the material that should be applied, AND think in a perfect world.
Anyway, I took the test and it was grueling. I felt confident as I went through it that I was getting most of the questions right, but the Project Management Institute does not release stats on what the passing percentage actually is, so it's a total crap shoot. The testing facility had flourescent lights, which I'm not used to anymore, and a noise-cancelling headset that did indeed cancel out the noise, but crushed my head, so most of the way through the exam I had a headache that made it hard to focus. Plus I had to go to the bathroom bad, but I was going so slowly through the exam that I did not want to waste minutes going to the bathroom.
It's a good thing I didn't, because by the time I went through all 200 questions, then went back and reviewed the ones I had marked that I was unsure about, time was up. I then had a heart attack because a popup appeared saying that you ran out of time, so I clicked OK and the screen went white for a few seconds. I frantically panicked thinking that I misheard the instructions and that you would lose your whole test if you let that happen. After a few seconds a survey appeared about the test facility, and THEN...up came the screen I had been waiting for...
I PASSED!!
I seriously almost started crying right there. I had to read it twice just to make sure I read it right. It's pretty anti-climactic after all that to see a "PASS" on a white screen, but that's all I was going to get, so I'll take it! Here's all the results you get: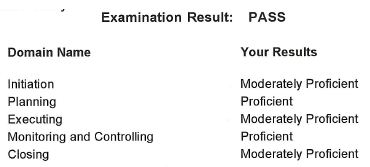 In my perfectionist past I would've flipped out over "Moderately Proficient" but trust me, this result is BETTER than any result I got from the simulation exams! In PMI's world, this is rock solid. I told you it was a tough exam!
I got home at 4:30 and JC and I celebrated by going to dinner at our favorite Mexican restaurant, then coming home and watching 6 hours of hockey! It was the last day of the regular season, of COURSE I was going to watch hockey!
Now I am super excited about being PMP certified because I get to get the $400 exam fee reimbursed by my company, woo hoo! I had been holding off on buying big items, or a lot of stuff, because if I failed, I would not get reimbursed, and that'd be $400 down the tubes. But now it's a nice reward to expect a huge $400 bonus in an upcoming paycheck!
Espresso machine, here I come!
I also don't know what I'm going to do on Saturdays!!
In other news, something entirely unexpected happened at the beginning of April as well!
My sister, Erica, had her baby shower on Sunday, April 1st. I decided not to make the trek out to Rochester, NY, for it because I had too much work I could not take time off from to travel, the flights were pretty expensive, and I had this exam thing I was studying for. Plus, I prefer to go out there for a bit longer stay once the baby has come for the Baptism.
So, my dad was the token photographer at the shower, so I asked him to also bring his laptop and Skype me in so I could see her opening the presents. The place did not have a great internet connection so I didn't get to see much, but I heard it and did see her every now and then opening stuff up, so that was good enough.
The next day my mom calls me early in the morning (which she knows better not to do) and tells me that Erica went into labor that night! They went to the hospital and kept her monitored, but then when they did an ultrasound they saw that the baby was breach, so they scheduled a c-section for the morning of April 2nd. She was freaking out because of course, it's too early and none of this is how she envisioned the birth would be!
But the hospital staff did an amazing job and brought Leonardo Anthony Sementa into this world at 9:48am on Monday, April 2nd. He weighed only 4 pounds and change so he's been in the NICU this whole time and getting slowly better and stronger. He should be able to go home with mom and dad around April 14th.
So JC and I are Auntie and Uncle once more, only this is the first nephew on my side of the family! We now have Lucky Sevens--4 nieces and 3 nephews, ranging from a few days old to over 22 years old! Trippy!
Here are some photos that Erica and Gino have posted to Facebook: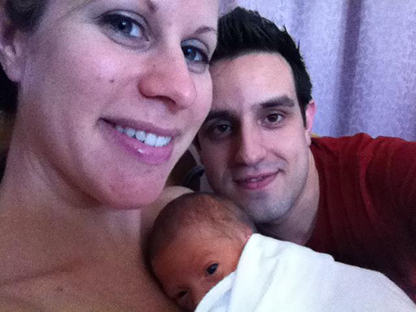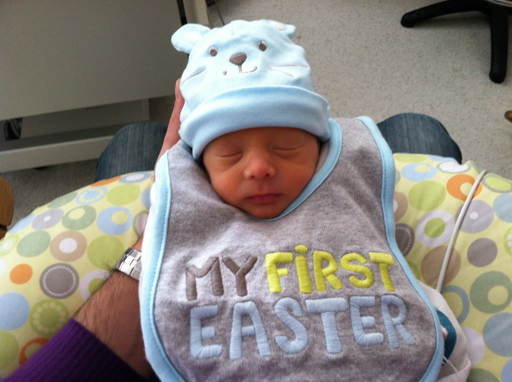 I can't wait to corrupt--I mean--meet him!
In other news, my parents also made a big change and on March 29th, they sold their home in Virginia and finally left that place to move back up to Rochester, NY, to be near Erica and Gino. FINALLY!! It will be weird not going back to Virginia anymore, but the house that they bought in Rochester looks AMAZING. Nice ranch on almost 1 acre of land, that backs up to open space, surrounded by a farm community with apple orchards. The house has a bloody hot tub on the back deck and a finished basement that hopefully will become mom's scrapbooking store!
Anyway, the timing is just plain scary, since they literally closed on the VA house, got in the car, and drove all the way to Rochester on the 29th. Their furniture showed up on the 30th, the baby shower was on April 1st, and the baby came on April 2nd! So much for getting settled in before the baby arrives! But I know they are going to be much happier up there and now that Leo is here, they are overjoyed.
(Sorry to all of my friends in the DC area, I don't plan on coming back so we all better meet up someplace else for reunions!)
I still need a vacation!