March 2013
February was up and down, busy and quiet. At the start of the month I was having lots of fun attending a photography class (to know how to use all of the manual settings on the camera), scrapbooking and attending an Emilie Autumn concert. She is always just amazing live.
Work got crazy busy mid-month, to the point that I almost got sick. Luckily, I had a bit of a vacation at the end of that week, so the timing was just perfect! My girlfriends from college and I planned our very first reunion outside of one of our homes! We had a relaxing, pampering 4-day weekend at the Arizona Biltmore Hotel in Phoenix! It was built in 1929 by Frank Lloyd Wright and the architecture is just jaw-dropping. Here is the front of the hotel as you are greeted by the lovely bellhops.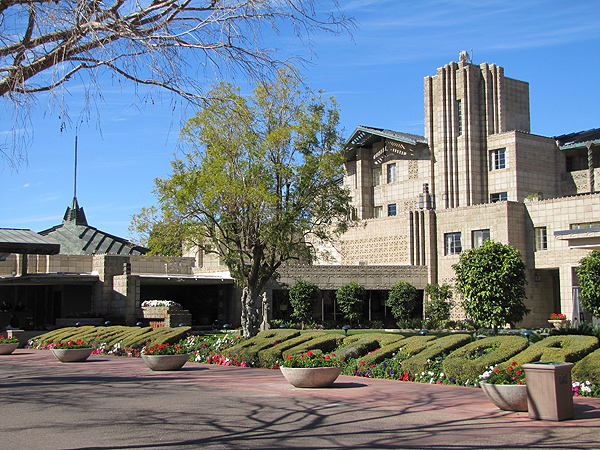 After we arrived we were starving, so our first group adventure was a fantastic lunch at their more casual restaurant, Frank and Albert's. We bought a weekend package deal where not only did we get a corner suite, in their more luxurious area with a private pool and hottub, but we also got tons of food vouchers and spa discounts. So our first meal consisted of fresh, amazing fish tacos and prickly pear margaritas: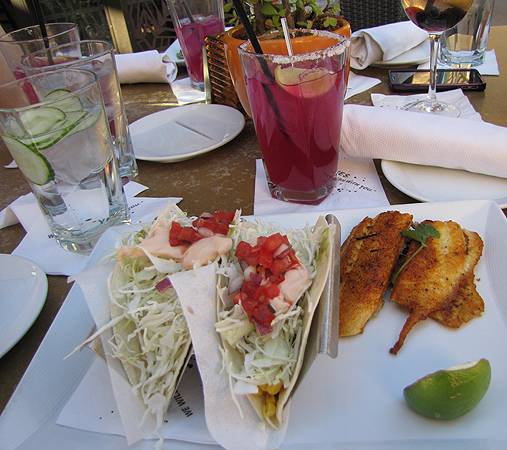 Next we roamed the grounds in the setting sun and 75-degree weather and found the main pool area, complete with amazing concerte and brass building holding a waterslide: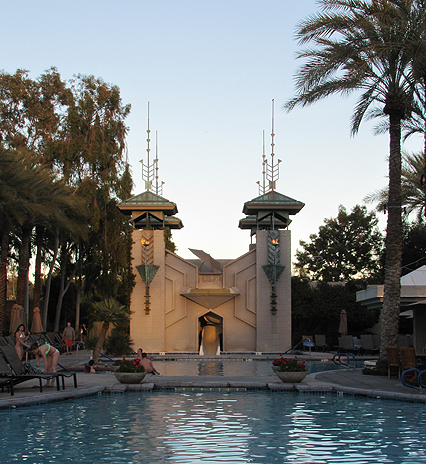 The outdoor bar/patio area complete with cushy chairs and fire pits: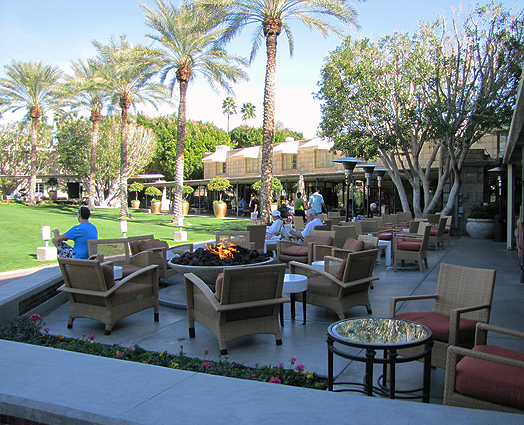 The lobby: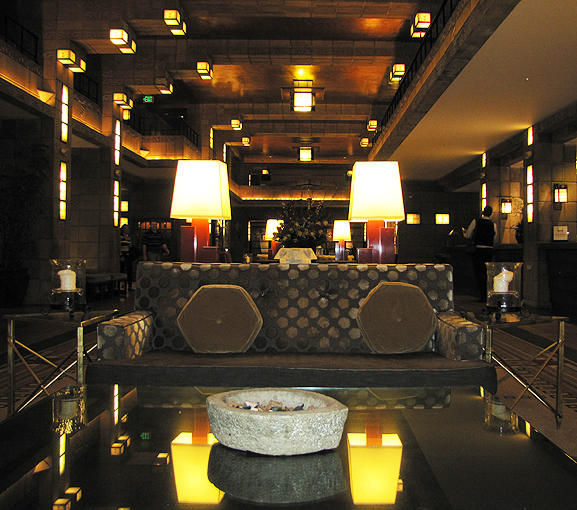 And most importantly, the Ocatilla lounge, exclusive to Ocatilla guests where we got free breakfast, snacks, appetizers, dessert and wine!! It became a pretty convenient hangout, and this set of four comfy chairs kept calling to us each night as it got "chilly". Here are Lisa and Dana taking their spots: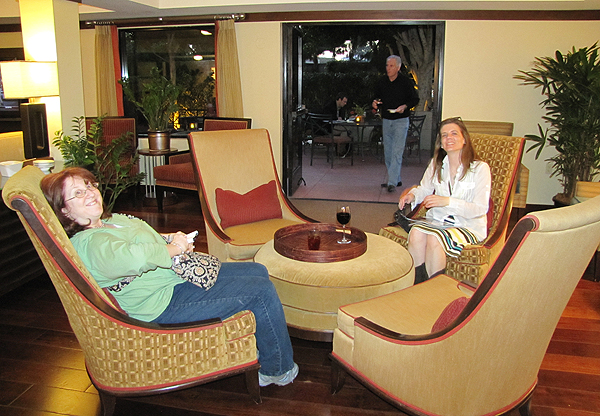 On our second day at the hotel, we began with the spa, and each one of us got a massage or treatment. I got a warm vanilla hot stone massage....DREAMY. Then we sat in the hottub, followed by the sauna. Ahh...
After a fantastic lunch, we spent our afternoon sitting poolside at the exclusive Ocatilla pool, going between hottub and pool. It was rough. Dana was first to the pool, Lisa and Steph went shopping, and I got my camera and walked around the property a lot more, taking lots of photos and playing with the manual settings I had just learned about two weeks prior. Here are some of my photos of the place.
These are the two "Sprite" statues that greet you when you leave the lobby/restaurant area and head outside to the courtyard: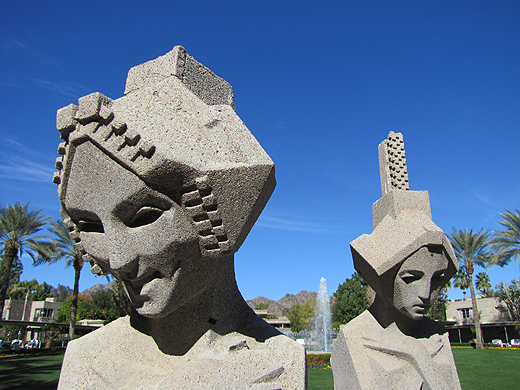 With the views of the fountain, mountains and palm trees behind, it's quite lovely. Here they are at night all lit up: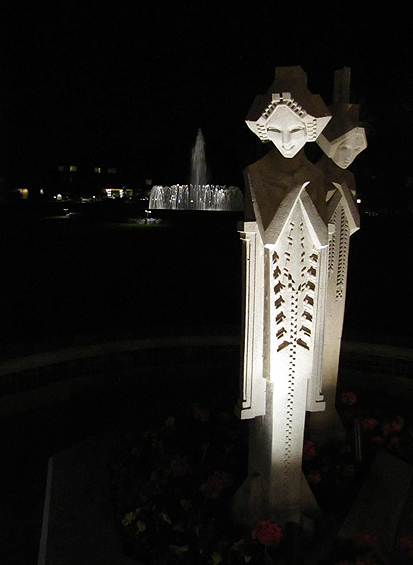 Here is a nice shot of one of many citrus trees on the property, with palm trees blowing behind them: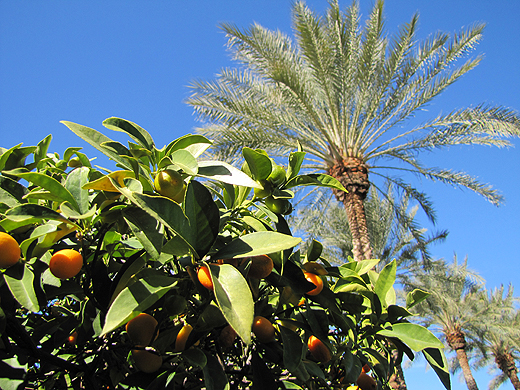 Near the main pool there is this awesome chess/checker board with leather cushions for the checkers: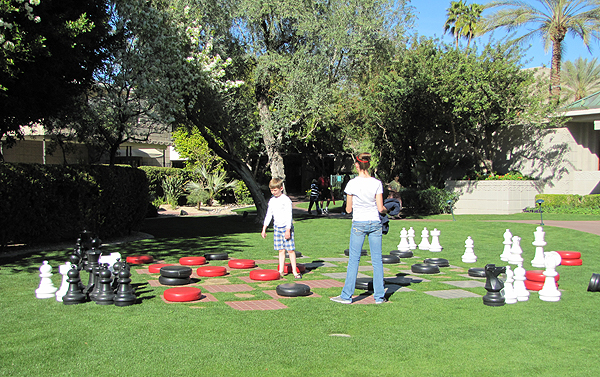 More beautiful trees against the amazing architecture: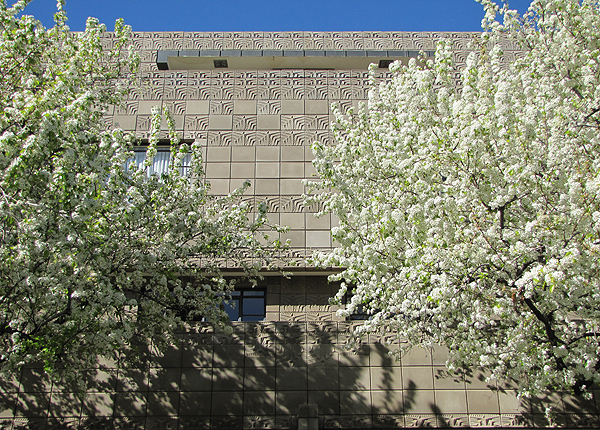 For dinner, we ate at Wright's which is the other restaurant on the property that is a bit fancier. We each had around $50 of food that was entirely covered by the vouchers, so all we paid for was the bottle of wine. It was luxury!
On our third day at the hotel, we reversed the order: breakfast, pool, lunch AT the pool (so happy we found that option! again with our vouchers so we paid nothing), then massages in the afternoon. Of course, dinner at Frank and Albert's did not disappoint, followed by more dessert and wine in the lounge.
Lastly, here is the four of us in front of the amazingly beautiful FLW stained glass window that you see when you first enter the hotel (from left to right, me, Lisa, Dana and Steph):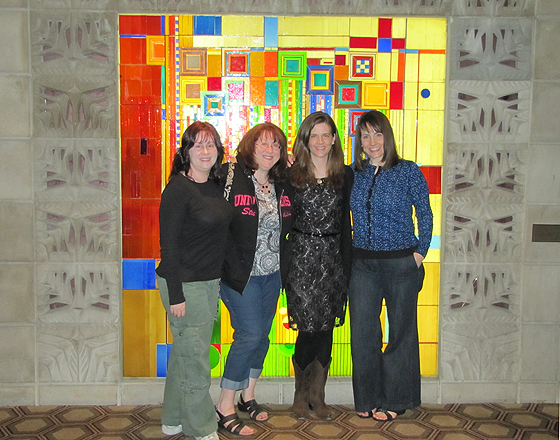 To see the whole set of photos, you can visit my Shutterly site.
Can't wait to do this again next year ladies!!