March 2012
In February I decided to take a vacation to Virginia to meet up with friends and my parents, who were selling their home and soon moving up to Rochester, NY. So I figured this was probably my last chance to stay with them in VA and have free accommodations. :)
Well, it didn't really end up being a vacation per se. That to me means either relaxing and sleeping in, or traipsing around a foreign land exploring new things. Neither really happened, but all in all it was still a great trip.
First, I didn't really have any coverage at work for my projects because the gal who should cover for me also had a vacation planned at the same time. So, when I booked this trip in early January, I didn't see much coming down the road in terms of project work, so I told my manager that I'd be willing to log on every morning for like an hour to just check on things.
Biggest. Mistake. Ever.
Turns out that we are more busy than I could have ever imagined, and most of the work isn't due to a sudden unexpected flow of stuff. Rather, it was crisis after crisis on one stupid project.
This resulted in me getting up at 7am every day (unheard of as you know if it's not a travel vacation) to log on for at least 2 hours to put out fires and rush through as much as I could get done. Not good at all. I even had to work a few extra hours on a couple of days here and there when we had the time. So in actuality I ended up only taking 2 days off throughout the whole week+ trip.
So that sucked.
However, the reason I got up so early to work every day is because I didn't want that to interfere with the activities that we had planned. I arrived on a Saturday afternoon and just hung out with the folks. On Sunday we went to church and breakfast, and then mom and I played with her scrapbooking stuff all day, so that was very fun.
On Monday while dad was at work, she and I drove down to Fredericksburg, VA, to go to a scrapbooking store down there, where I did some damage because she had some of the most unique and gorgeous paper lines I've ever seen! And haven't seen anywhere since! We then had a nice lunch and drove back home to play some more.
On Tuesday we drove 1.5 hours up to Hagerstown, MD, to go to the Offray Ribbon Outlet. This has been a famed and rumored place for us for years so we finally got there. The outlet is just a small room connected to the manufacturing plant, but they still had plenty for us to shop from! They had amazing deals, too--yards and yards of ribbon in a baggie for 25 cents. So of course we went crazy, bought too much ribbon, and then...had to divide it all in half...which my dad loved doing when he came home from work...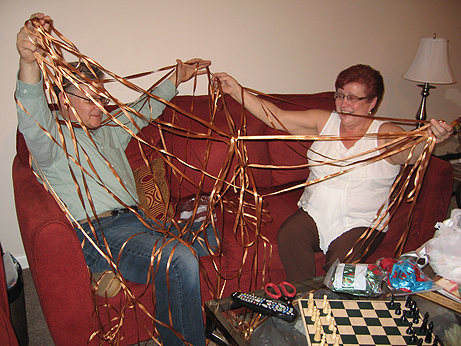 At night we had a class at another local store where we did a fun layout. This is the store that my mom frequents all the time. It's a retired lady who owns the store and it's located in her basement. She discounts everything right off the bat since she can, and then does discounts on top of that, so she's the best deal in town. Her basement was stuffed full of products, floor to ceiling, it was insane! So I could barely shop that night. Had to return on Wednesday.
So Wednesday consisted of driving around Virginia to a few more stores in the area, all of which had different cool things, and going back to the store from the night before of course. Then at night I got to meet up with my friend Donna who I've known since high school. Donna and I moved down to the DC area at around the same time, and she's still there with her husband and two adorable children! I hadn't seen her in ages so it was really nice to catch up again. She even still looks the same! Whereas I clearly do not...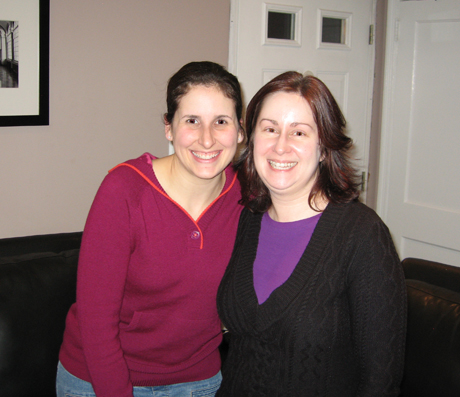 On Thursday mom and I drove up to Maryland once more, this time to a town called Savage to go to another store we had heard about, but never been to. It was really cute, they had a lot of unique stamps so of course I had to get a funky one. :)
That night we met up with dad for a delicious gourmet mexican meal at La Rosa Mexicana at The Harbor, which is a huge new development on the waterfront in Maryland, just over the Woodrow Wilson Bridge, that has a convention center, shops, restaurants, and this dude.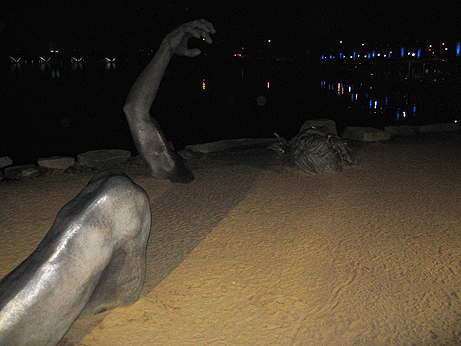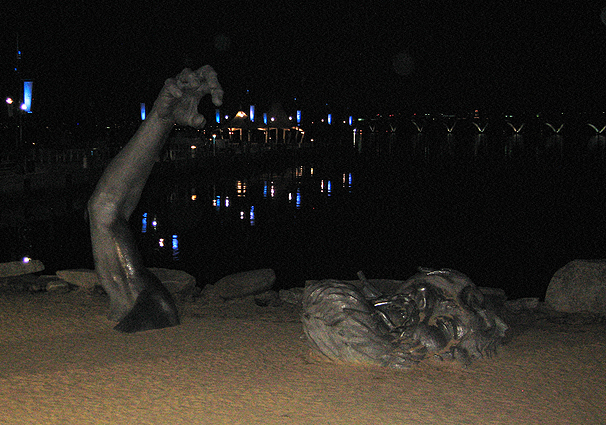 OH--and a Peeps store. Naturally!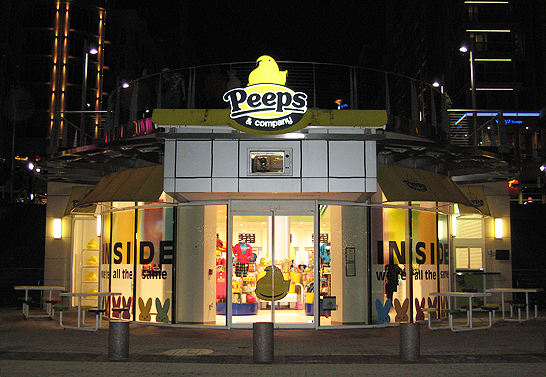 On Friday I met up with my gals from college for another Beaver Sisters Reunion! (We call ourselves the Beaver Sisters because Beaver Hall is the dorm we all lived in when we met each other. I know, it doesn't sound so hot.)
We all met at Lisa's house in Maryland, and had a great time hanging out with her boys, David and Jacob, as well as Mike her husband who is basically an honorary Beaver Sister, tee hee.
That is, until I got food poisoning on Friday night...at 3am...and was sick every hour until noon! So I spent all day Saturday in bed, sleeping off and on while everyone else had fun. I even missed David's Boy Scout ceremony that night. But by Saturday night I was feeling better, and on Sunday us girls went to a jewelry party and then to a wonderful lunch on the waterfront. There should be 5 of us but Angelina couldn't make it. We certainly missed her, it sucks when it's not the whole gang! Plus, she was the one who would play with the boys, hah!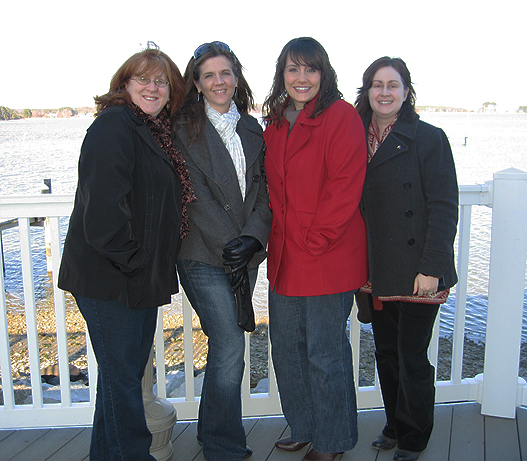 I got back to my parents house just in time for a nice dinner with my Aunt Patty, Uncle Rich, and cousins, who have lived in VA for over 20 years. I'll miss seeing them, but it was great to catch up! Then on Monday it was work, a little scrapbooking, fly home, and work some more.
And thus...my trip. Whew!
Now I need a vacation!