May 2018
Well it's time for another update--where is the year going!? And still being behind, let's discuss March. It was CRAZY BUSY, and I seriously gotta stop overbooking myself! One of these days I'll figure it out. :P
Why were we busy? Let's see...
We went to three Avalanche hockey games against the Wild, Predators, and Golden Knights.
I went with a friend to see the comedian Trevor Noah once again, who was hilarious, again.
We had dinner with new friends who moved back to Colorado from DC.
I took an aroma therapy class to learn which essential oils go well together, and learn the properties and benefits of each oil. The goal is to better mix and match scents when I make soap. But I also learned how to make sachets, oil diffusers, scented sprays, and bath salts!
JC took a 2-day stained glass class and made an awesome 11x17 piece:

I took a 3-night cooking class!! I learned how to chop veggies correctly and make a few easy recipes. It was fun!
I finished my 11-session Spanish class. I'm bummed that it isn't offered in the summer!
Had 2 massages and my monthly scrap date with my friend Sarah.
Got sick right before our trip...
And yes, another trip. JC and I celebrated his birthday in a NEW CANADIAN PROVINCE...ALBERTA! We took a 4-day trip to Edmonton to check it oot (no that's not a typo, that's how Canadians pronounce 'out' hah) and to attend the last Red Bull Crashed Ice event of the season!
We flew in on a lovely Thursday morning, and after customs, this is what greeted us: The Best Baggage Claim Ever.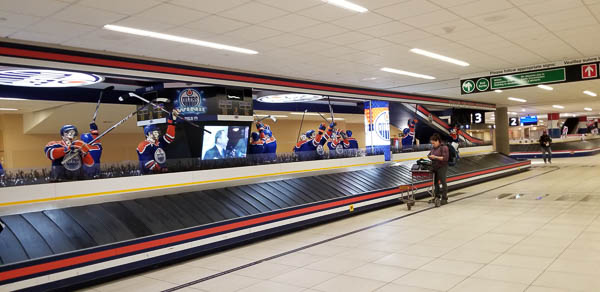 We got our rental car, drove into town, checked into our lovely hotel, went to a nearby pub for an awesome dinner including POUTINE (which JC is now hooked on), and went to an Edmonton Oilers hockey game! They have a brand-new arena, Rogers Place, that is absolutely gorgeous. The inside is decked out with massive prints of some of their most famous players, like Gretsky...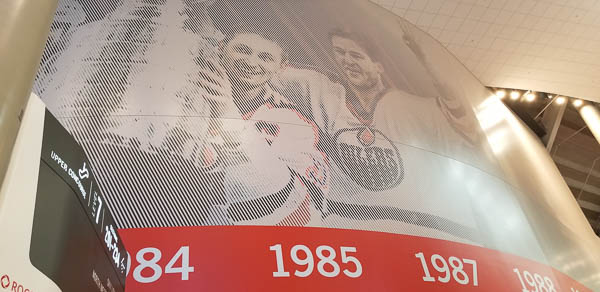 ...who of course also has his own statue outside!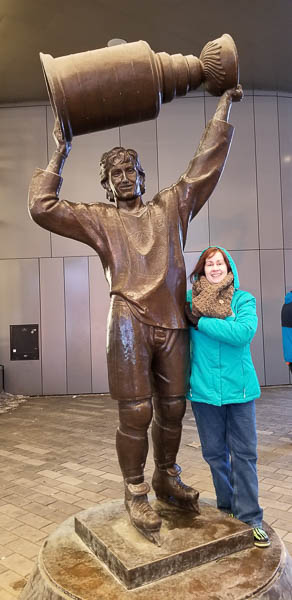 The Oilers played the Islanders and it was a crazy game. The Oilers were behind the whole game until they tied it up in the last few minutes. Then they WON in overtime!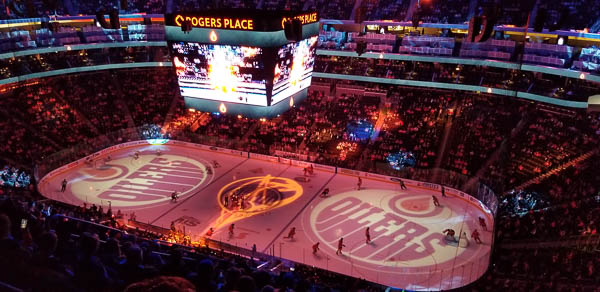 The next morning...this is me at the Tim Horton's that was thankfully a two-block walk. I miss Timmy's so. But DAMN is their coffee SCALDING HOT!!!!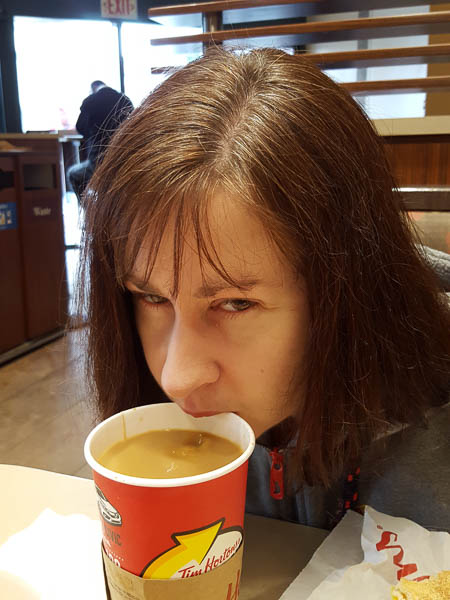 After caffeination, we drove all over and visited a few scrapbook stores (they are folding all over the US but in Edmonton there are FOUR!), and then we checked out the world-famous West Edmonton Mall. It's the largest mall in North America--bigger than the Mall of America--because it has ~800 stores including this weird Asian market...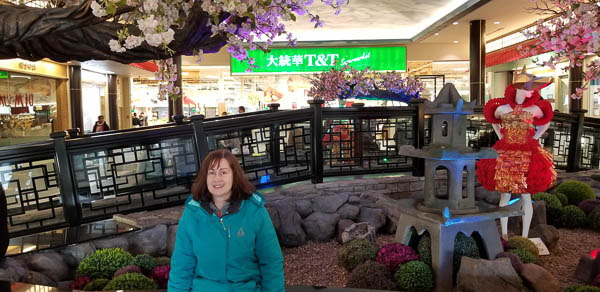 ...an ice skating rink, an indoor water park complete with slides, a wave pool, and a little fake beach...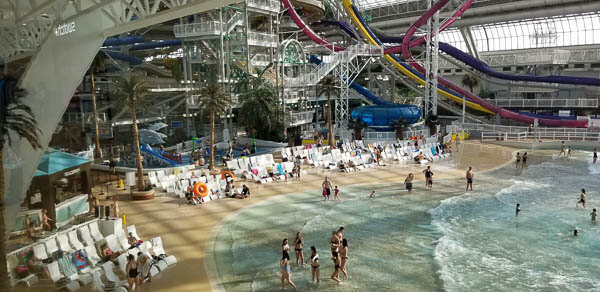 ...an aquarium, two mini golf courses, an attached hotel, a sea lion show behind this pirate ship...
...a bowling alley, an escape room, and an amusement park complete with an arcade and multiple roller coasters.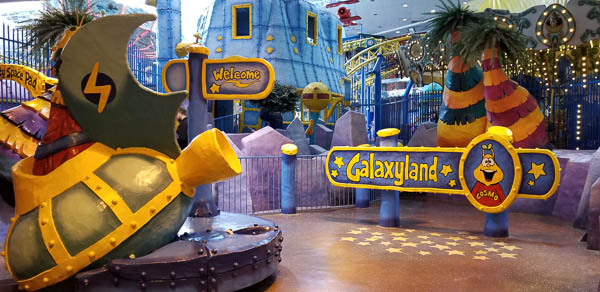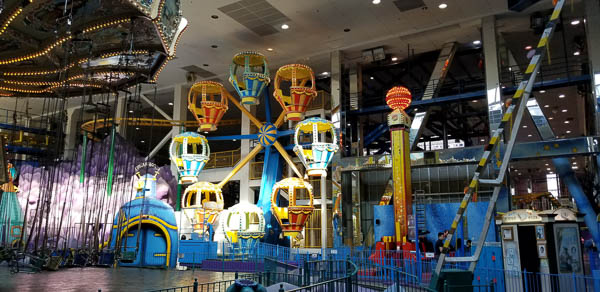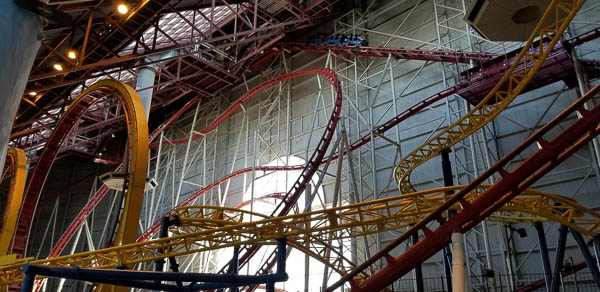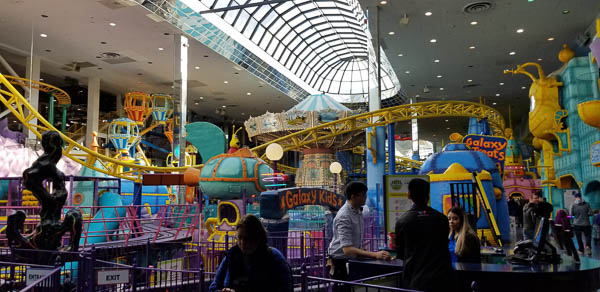 That evening was the first of two Crashed Ice nights. We went early to check out the track, which cascaded down a hill above the frozen river nearby.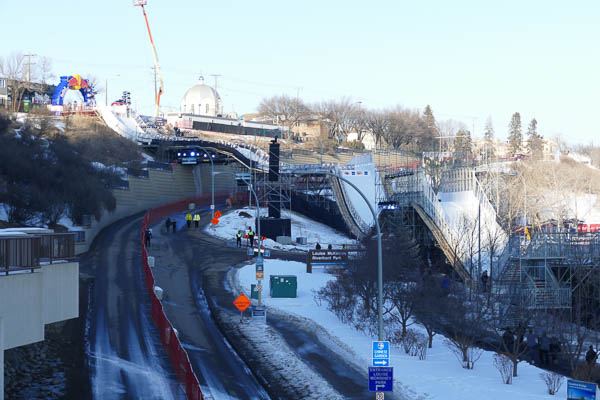 To kick things off, the Canadian anthem played as the flag skated down the course.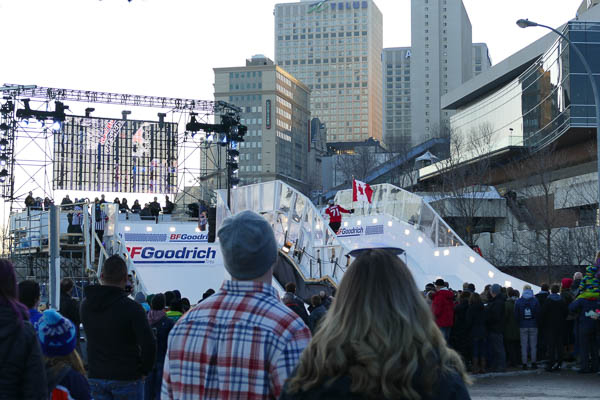 We had a good vantage point near the first sharp turn, which is also where a lot of stunts were performed during the Freestyle competition. Riders went down one at a time showing off and doing tricks.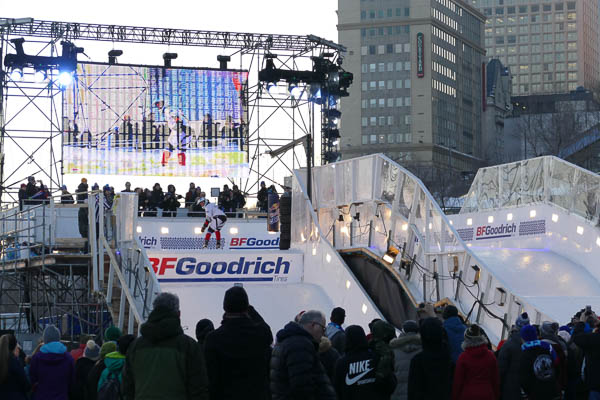 Then we saw a lot of qualifying races. There were lots of falls and riders running into each other and the boards.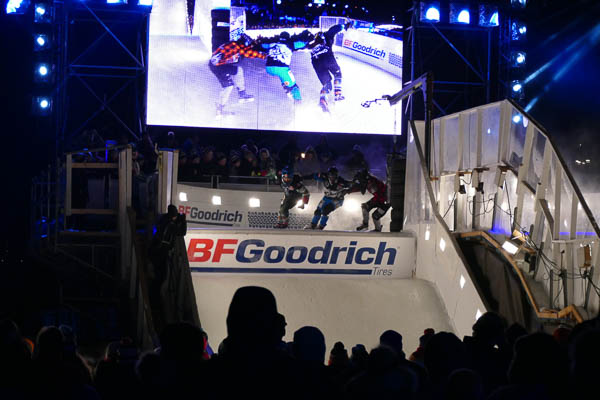 And of course there were the GOALIES!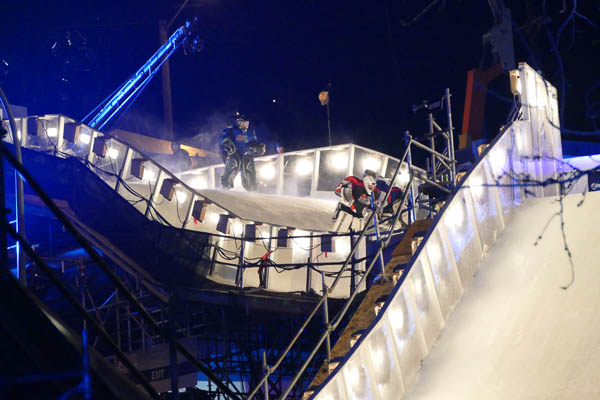 And the kid from Minneapolis returned to skate the course on a skateboard with two blades. He did better on this course than on the Minneapolis one (as did the goalies), despite this course being longer and steeper.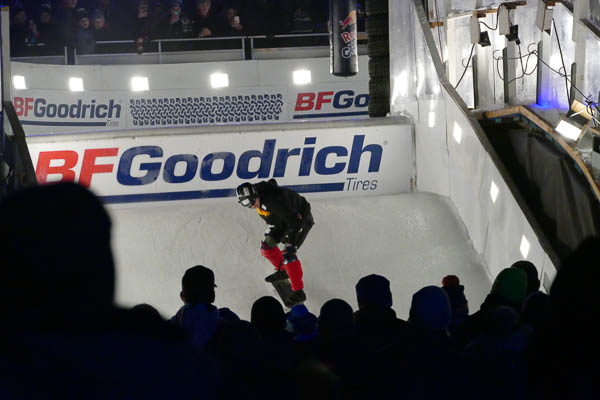 Just like in Minneapolis, it was fun to be outside (albeit a tad cold) and watch all of the races and listen to the hilarious commentators.
On day 3, we met up with my friend Alice who runs the Scrap Happy online scrapbooking membership community. She lives two hours away in Whitecourt, Alberta, but happened to be in Edmonton that day with her son! So the four of us had a lovely lunch in the Old Strathcona section of town, walked around a bit, and went to the Ice Castle on its last day!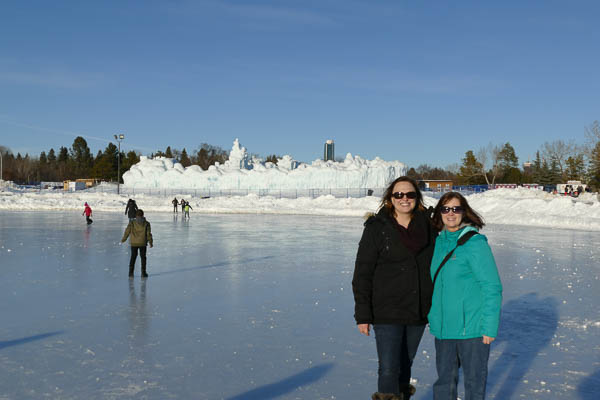 This castle was taller and bigger than the one in Minneapolis.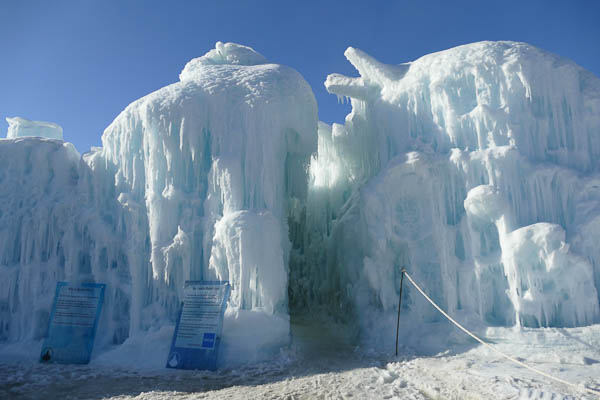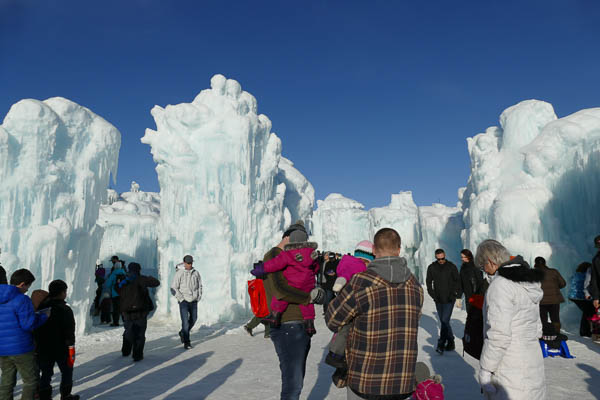 More artsy ice pics. :)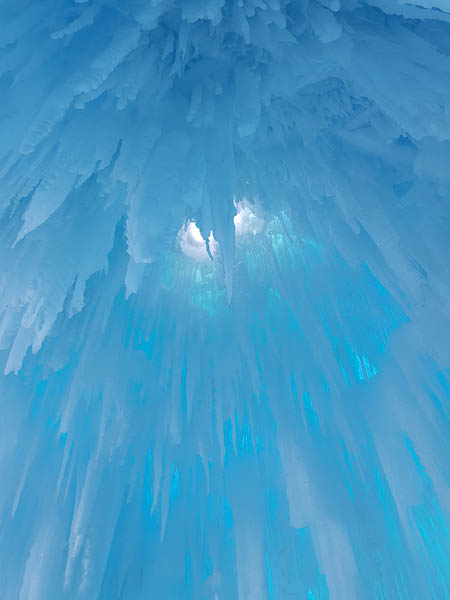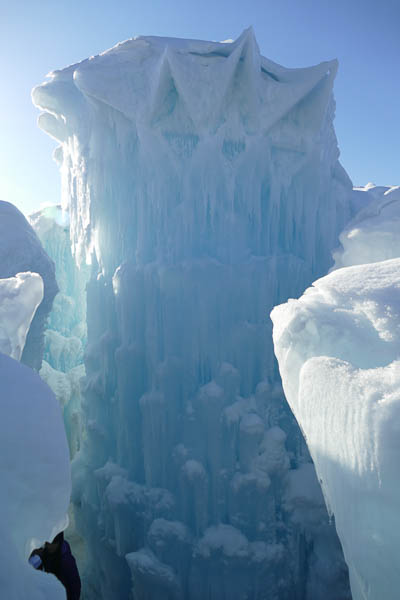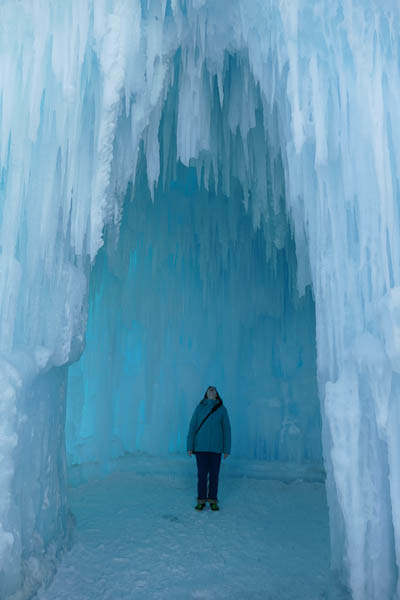 There were also more SLIDES!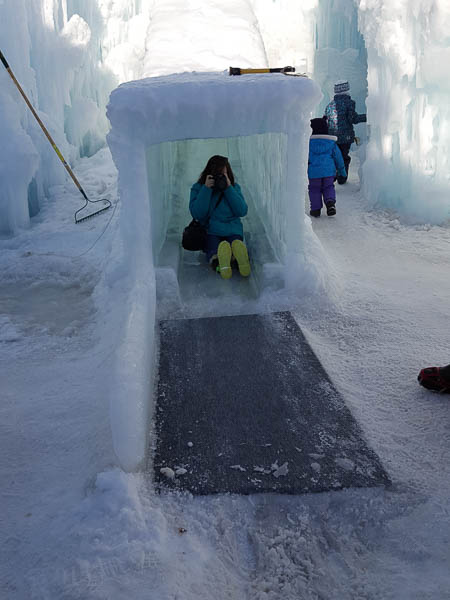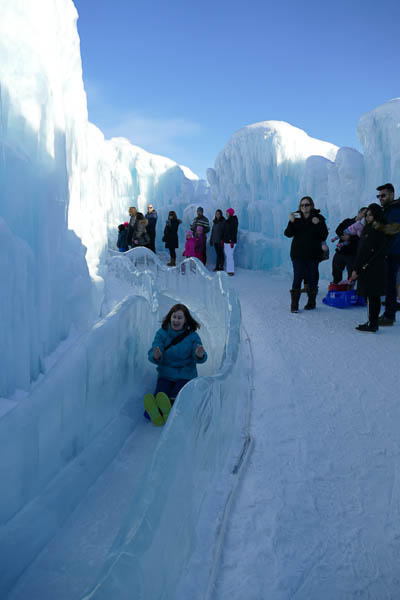 And places to sit with cool ice sculptures.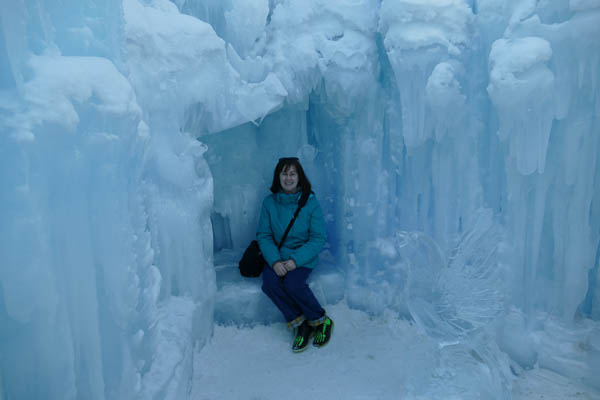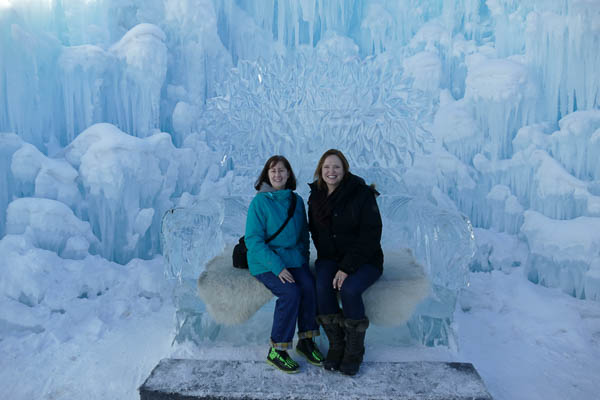 It was a really nice day and it was great to hang out with Alice again and meet her son!
We parted ways at around 4pm and JC and I returned to downtown Edmonton, found another great place to eat, and headed back down to the Crashed Ice track. On this second evening, they began with...dinosaurs.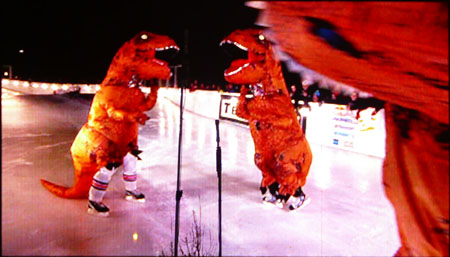 Then, because it was actually "warm" that day (in the 40's Fahrenheit), the ice was melting, so they had to postpone the races for a while and cut some more of the qualifiers out. The resulting races were then the best of the best in both the women's and men's divisions. We walked around for a different vantage point and found this sharp and steep turn further down the track that was fun to watch.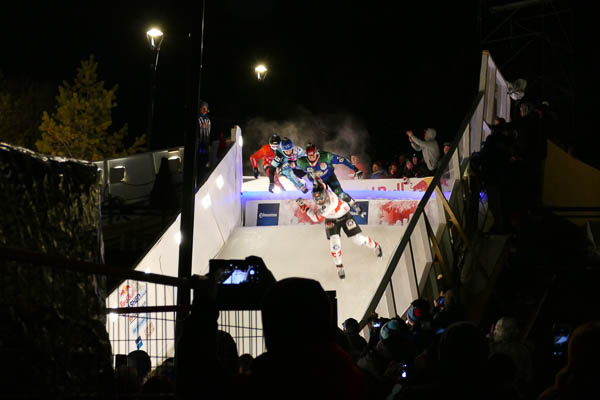 In the end they crowned champions of both this event and the whole 2018 series. And we were cold! But it was tons of fun.
On our last day, Sunday, we went back to the mall for a while and I bought some Roots clothes. Then off we went back to Denver.
So! One more Canadian town and province checked off the list, and one more NHL arena too! We would definitely return to Edmonton. We really liked how downtown was laid out and how easy it was to walk around, how many fun things there are to do in that area, how friendly everyone is, and oh yes, don't forget the poutine!
It's almost t-shirt weather!