June 2016
HEY! More travels to tell you about! May was RI-DONK-U-LOUSLY busy. I had one day the whole month to get some scrapbooking done. I did, in that day, finish my Canada trip from last fall, though! Progress! Now I'm only 7 months behind, uuugggghhhh....
Anyway, what the heck did I do after our spontaneous San Francisco trip? Well, I took another soap making class with my friend Lisa. This technique is called Melt and Pour because you use a pre-made glycerine soap base, chop it up, microwave it, add color and fragrance, and pour it into a mold. Being much faster and not as hot as the cold process, we could do one soap at a time. AND, the coolest part about this technique is that you can insert plastic and paper things into the soap! So naturally I got creative. The pink heart soap has a seashell in it and no, it's not for me. The clear circular soap has a plastic manta ray in it. Yes, that one is for me.
That night I went to see the always awesome, ever talented Matt Nathanson with my friend Sarah. He was amazing as always and did more Prince covers than usual (he is a HUGE Prince fan).
The following Saturday was the Scrapbook Expo so Lisa and I spent most of the day there spending way too much. Then we found out that Michael's has a whole soap making section so we went crazy there too. Good times as always!
On Sunday JC and I went to see the world premier of The Scarlet Letter opera. Yes, I said opera. It was...interesting. Having never read the book, I found the story fascinating, and I think it translated pretty well to an opera. Just not my fave.
The following weekend, I got up early on that Friday to photograph Lisa, Kent and Alissa their exchange student help get a hot air balloon up during Erie's Annual Town Fair Balloon Launch. People come from all over the country to launch their balloons during the Town Fair. It's an amazing experience to walk out onto your driveway and see a dozen hot air balloons over your house. This year it got personal.
I was able to walk onto the golf course and take a ton of photos of everyone setting up. It was breath-taking to see these huge, silky balloons slowly rise and then take off. The balloon crew that my friends were assisting had a young couple from the corporate sponsor to ride, but since they were so thin, and so is Alissa, they let her ride in the balloon as well! THIS IS ON MY BUCKET LIST PEOPLE! (Yes while it sounds silly that I could just get into one of these balloons since they are in my backyard every May, they are not available for the general public to ride in. Either the crew members, people they know, or corporate sponsors ride.)
First you haul the heavy basket out of the trailer. On a pristine golf course. With the sun rising and the mountains as a backdrop. Yeah it totally sucks here.

After connecting the balloon to the basket, you unfurl the balloon.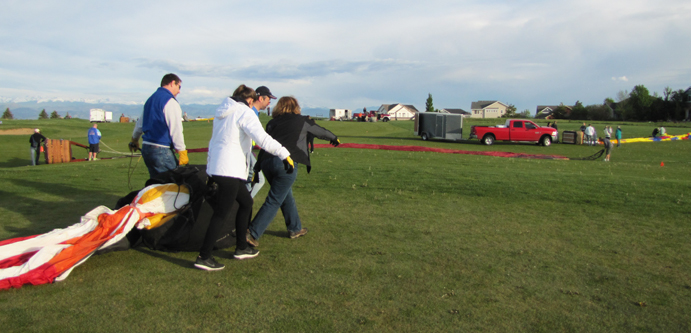 It's incredible to see all of these giant things rising at different intervals.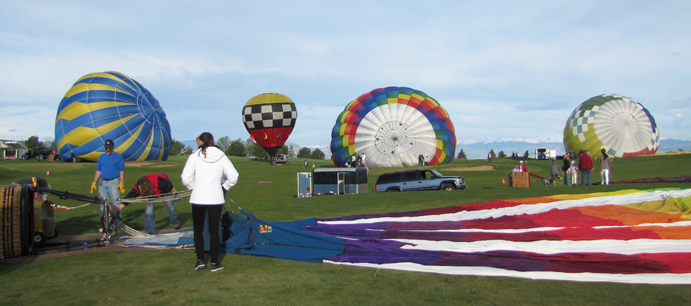 Here's the balloon being inflated.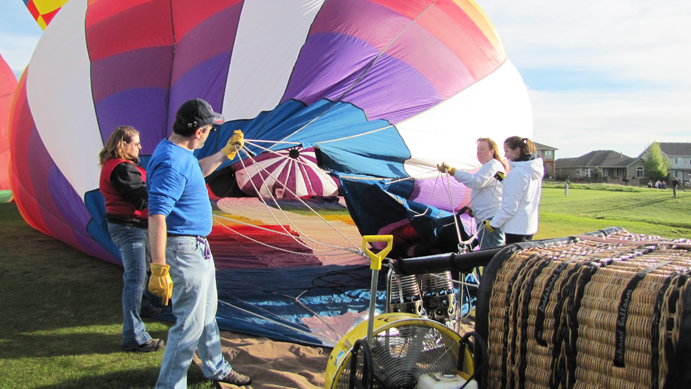 More going up!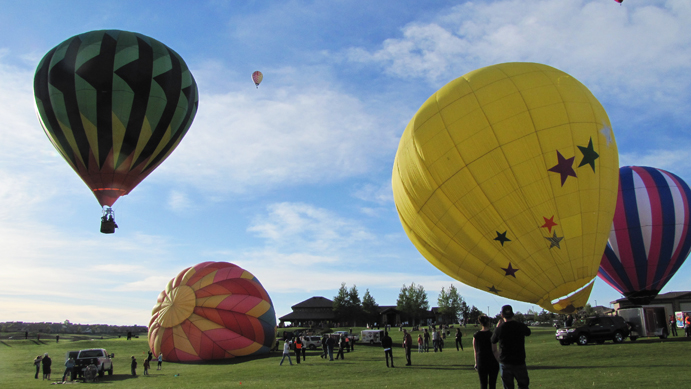 Almost there...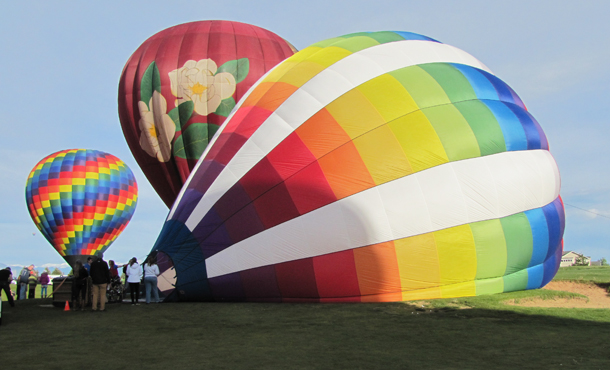 Get yer butts in the basket! Alissa is in white, Kent is in blue next to the basket.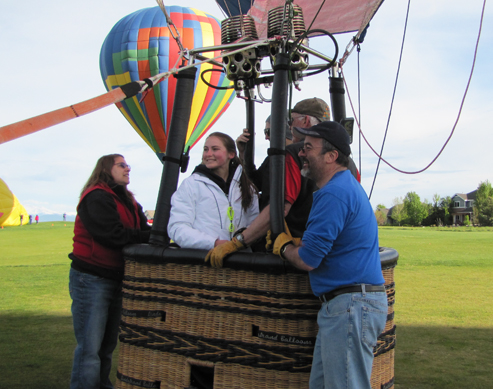 And they're off!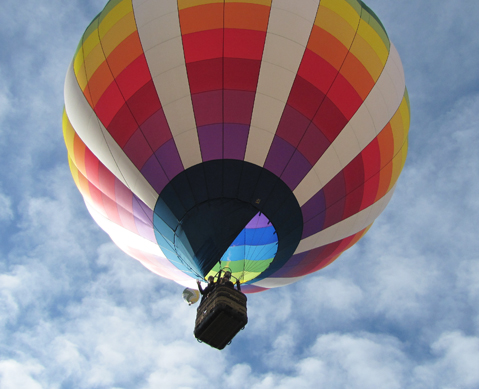 Alissa's balloon is at the top.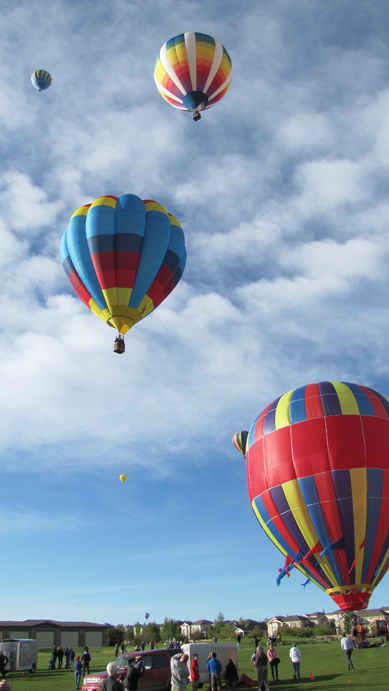 I was out there for about an hour because Alissa's balloon was one of the last to launch. I got home, and not 30 minutes later, JC told me that he witnessed a "balloon-by" in our backyard, and Poof--the smallest balloon landed in the street three up from our house! Alissa's balloon actually landed not too far away as well--in the construction zone just on the edge of our neighborhood where they are building a huge grocery store!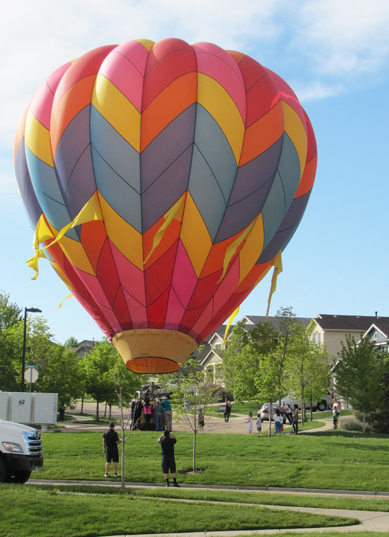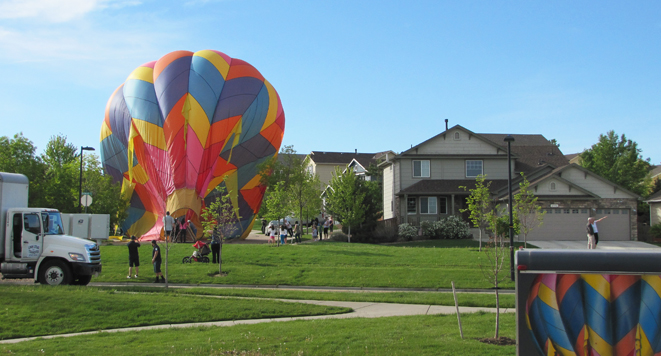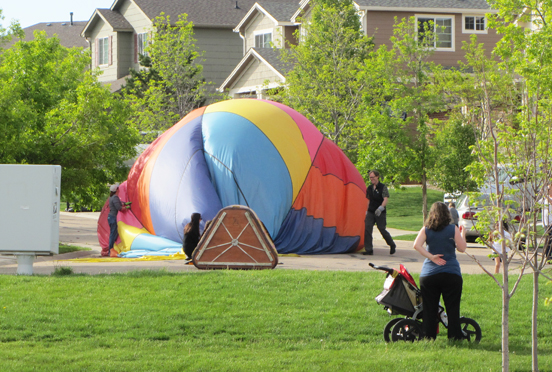 Seriously, who has this happen in their front yard!?!?
The next morning, JC and I got on a flight to Burbank, CA, to spend two days at Six Flags Magic Mountain! It's roller coaster time, baby!! It was our first time at this park and I had heard nothing but rave reviews of the coasters, some of which Cedar Point does not have (GASP!). So naturally, we need to go experience them!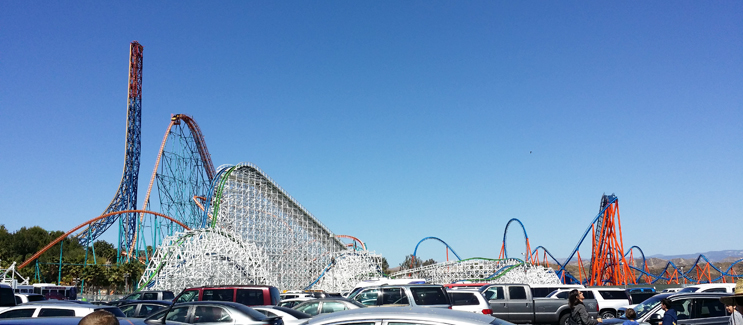 After a transmission-slipping rental car fiasco, we got a new car, checked into the hotel, and made our way to the park. Let me just tell you--THIS AIN'T NO CEDAR POINT! The first ride we got in line for broke at that very instant. We moved on to ride the swings, then got in line for another roller coaster, Goliath. The wait was TWO HOURS and it was NOT worth that! It was a simple steel looping coaster--built in 2000, the same year as Millennium Force which would kick this coaster's ass. We began to panic, wondering if we were going to have enough time to ride everything!
Luckily, it was just that one freakish ride that had a line that long. We managed to ride a few other coasters that night, as well as check out the kiddie land, which was Looney Tunes themed. I cannot get over the cage ride, though. Priceless.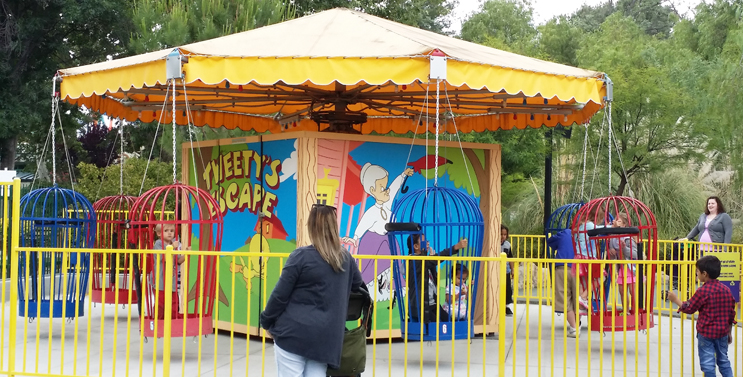 Had to be done...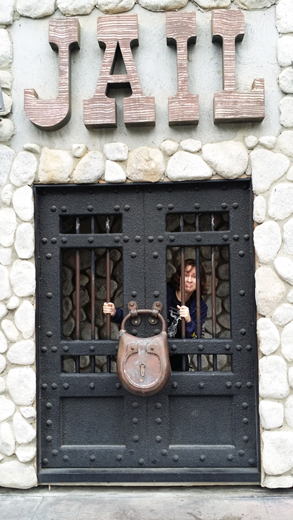 The next day we were at the park bright and early for opening, and got in line for the newest coaster first, The New Revolution. It's an old steel looping coaster, but they added virtual reality to it. So you put on a VR headset and watch this movie as you go through the coaster of you in a fighter plane fighting the aliens that are attacking your city. The coaster movements were perfectly timed with the action in the movie. It was actually a pretty cool experience.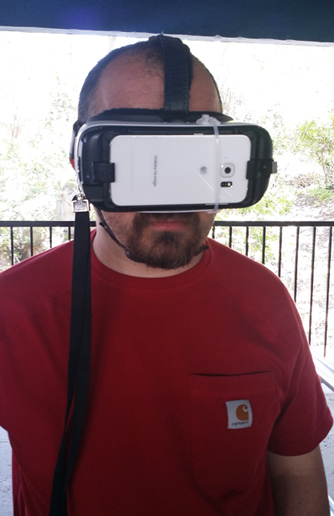 In fairness, this Six Flags has almost as many coasters as Cedar Point does yet it's one-third of the size (maybe one-fourth). The entire park practically is coasters. I counted maybe 5 "family" rides, which are non-coaster rides suitable for a wide variety of ages and heights--stuff like the Pirate Ride, swings, etc. Weird.
We also experienced a LOT of broken rides. No joke, we got off The New Revolution and walked over to Tatsu (one of their best coasters; you ride it on your stomach!!), and it had already broke. The park was only open 2 hours. We had lunch and by then the ride reopened. That happened to us a LOT on Sunday: we were able to walk right onto several coasters that had just recently reopened after being broken. And oddly enough, THAT does not cause me anxiety!!
Hands down the craziest ride that actually messed me up a bit was the Green Lantern First Flight. This thing was WEIRD. You sat on the sides of the track, 2 facing front, 2 facing back, and the whole cart flipped you upside down at random times throughout the ride. Half of the time, you could not see the track in front of you, so you had no idea when it was going to dump you! Truly a unique experience! Short but crazy! If you click on the link, watch the video. :)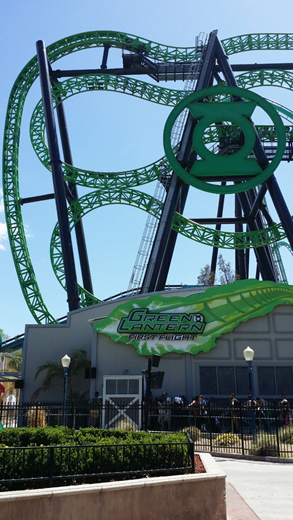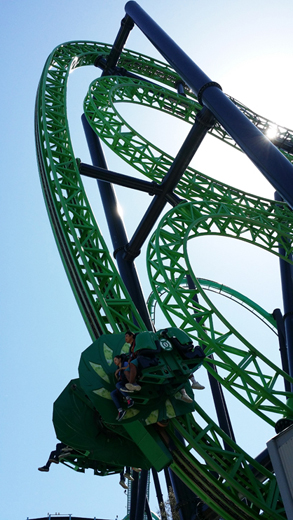 Other coasters I thoroughly enjoyed were:
- Twisted Colossus: old wooden ride famous from many movies, it got a makeover last year in that it now contains two tracks that you get to ride in one ride. Also, the track is now a smooth steel track, allowing you to go upside down. It doesn't look like you flip over because the train you ride in is still one of those traditional wooden coaster trains. It had some great dips, angles and loops by golly. You first rode the blue track, then rode the whole thing again on the slightly-different green track.
- X2: another revamp of an old coaster, it's touted as 5-dimensional. You ride on the outside of the track like on Green Lantern, but the seats flip you over at opportune times during the ride. Plus you have speakers right by your head, there are flames, smoke, etc. We managed to only ride this once on Saturday, after it broke for 15 minutes, because it broke again on Sunday. I kid you not!
- Apocalypse: great wooden coaster, and unlike many of them, not very jarring. Super fast, great angles, and rather long.
- Full Throttle: magnetic technology is used, like on Maverick at Cedar Point, so that you get shot straight out from the loading area into full speed in seconds. You first go through the largest loop in the world, then twist and turn and flip over throughout the course...until you get to the tunnel. You stop in the tunnel, and go BACKWARDS for a short period on the track. When you lose momentum and fall forward again, and get to the tunnel, the magnets accelerate you to go through the rest of the course super fast. We rode that one twice and managed to figure out where the camera was, so naturally, this happened.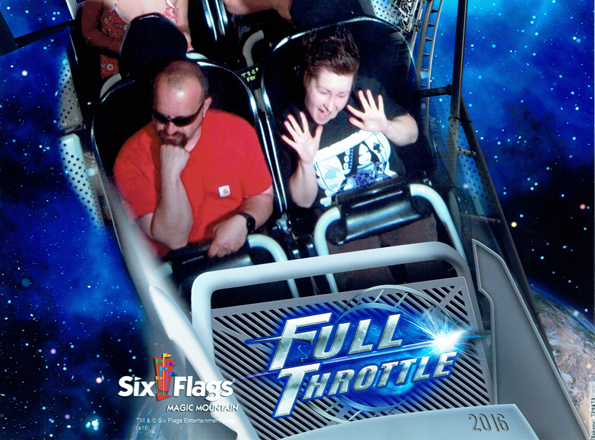 So, we can check Six Flags Magic Mountain off of our list and book Cedar Point next year. :)
Now, I have one more trip from May to talk about, but I'm tired and I think this page is long enough! This also gives me some time to actually download and organize the photos, yikes!!
FEELING UNBELIEVABLY GRATEFUL.