May 2014
I am seriously freaking out about how FAST this year is going! Yikes it's May already! But, I am enjoying the random days of warm weather followed by hailstorms followed by snow followed by warm weather again. Our trees have blossomed, my plants are planted and hopefully won't die, and it's time to cut grass again, yeay!
So, after my wonderful week back east with the family, the rest of the month was pretty busy. I had several scrapbooking dates, including a weekend up in Loveland at a retreat. My friend Lisa and I went and it was so nice to get away and meet some new ladies! We were there from Saturday morning through Sunday at 5pm and I got a LOT done. I love that!!
I began making a more concerted effort to work out, and I was enjoying going to group classes at the YMCA until the NHL playoffs began. Then, I wanted to watch as much of those as possible, so I'm doing a solid hour on our elliptical machine in the basement. It feels great to be moving again, and it's sortof helping with my lower back pain, which is still here despite going to physical therapy. I guess I just need to stay active and keep doing my stretches that I forget to do!
In addition, JC and I finally had a couple of concerts to go to! First we went to see VNV Nation for, like, the fourth time. Their music is in the new EBM genre that we've fallen in love with, but their songs are very upbeat both in rhythm and in lyrical content. They absolutely are a blast to see live and they just love coming to Denver. The crowd blew them away this time so that means they will keep coming back!
The following week, Good Friday to be exact, we went to see Combichrist who is also EBM but *not* suitable for Good Friday. I think seeing them violates a lifetime of church going!! They were in this horribly little crappy theatre downtown that we cannot stand because it's always hot as hell, probably a total fire hazard, and you can't see much. No idea why they insist on coming there, but we were at the back of the place and managed to both breathe without much effort and get to see them. One of their openers, William Control, was also amazing. It's so rare to find an opening band that you like!
The following day we celebrated Easter with JC's family. Not without antics, or crooked pictures, of course. This year, though, they found a BUTTER LAMB for me!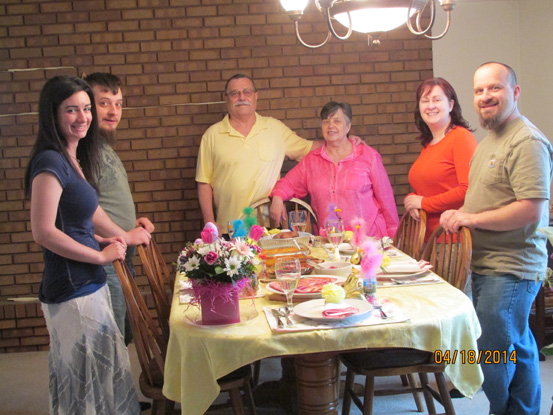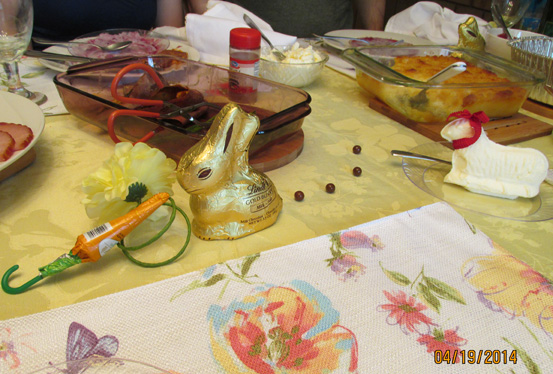 Then, we celebrated Mikey's graduation from Regis University the first weekend in May! We had almost the whole Polanycia brood fly in for the festivities--the first time since Christmas of 2006!
Everyone arrived Thursday/Friday so on Saturday we all hung out and had dinner together. On Sunday morning, in the blazing 80-degree sun and heat, we watched Mikey walk across that stage and get his dipl...um...actually, he got an empty Regis diploma holder with a letter welcoming him to the alumni association! Actual diploma will arrive within 3-12 WEEKS!!!
But, it was a nice ceremony after which we could not resist taking nice, and then not so nice, photos.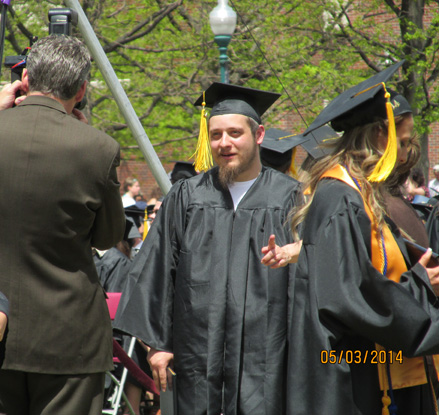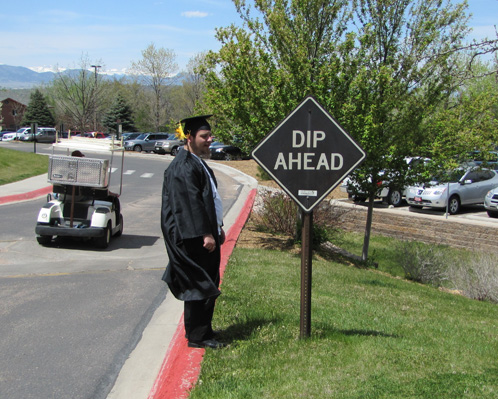 Then we all went back to Nick and Noel's for a nice afternoon of eating and gabbing. Mikey's friend Alana and her parents also came for the festivities. In this photo we have from left to right: Erin (Alana's mom), Alana, me, my niece Immy, and Mikey.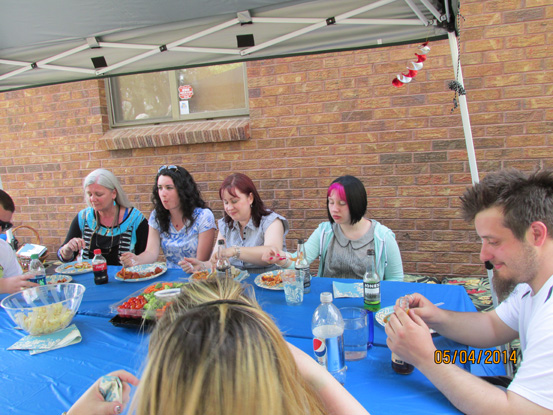 Here is Alana, Mikey, Immy, Zera (Mikey's mom and JC's sister), Nick, Noel and Ben.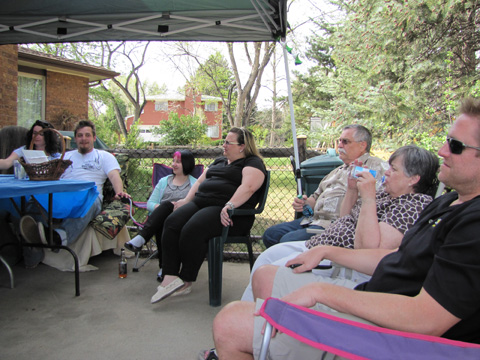 And last but not least we have Ben again (Myko's husband), Myko (JC's other sister), JC and nephew Colton.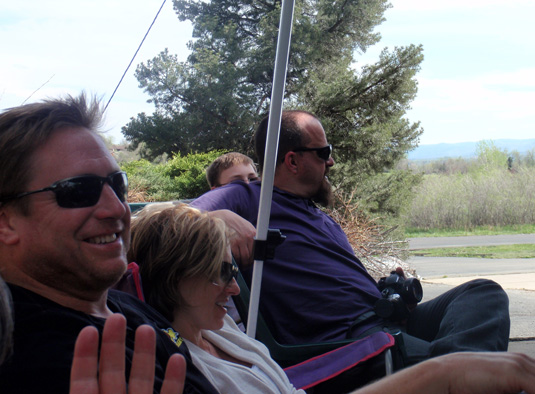 ALL SUNBURNT!!