October 2015
Wow, where did September go!? Oh I know, it went to New England and Canada! Our big vacation this year was a week-long cruise on Norwegian with our friend Leah and her mom Joyce. Having been on numerous cruises in the last five years, we've become pretty snobbish about the quality of the ship, food and entertainment and have become discerning about the age of the other guests, if you know what I mean. I think we're taking a break from cruising for a while because we thought that this one was sub-par, but we really looked at this one as a transportation method to get us to see some charming towns in Canada.
The trip started with a few bumps. First, on the day that JC and I were flying to Boston (landing at midnight), I wanted to find our hotel address and discovered that the hotel CLOSED back in April and they didn't tell my travel agent! After a long search for another one, we found one that wasn't too expensive, and was actually rather comfortable and right next to a food court. But we were wondering what on earth was going on in Boston the next day such that all of the hotels were sold out? Flipping Patriots game. Season opener. Nationally televised. Argh.
The next day, Leah and Joyce were to arrive in the morning. Joyce did, but Leah was around 6 hours late. First her plane had a maintenance issue, with no timeline as to when the part would arrive (it had to be flown in from elsewhere!), so she booked another flight that routed through New York, but as soon as she boarded they grounded all planes in NYC due to weather. That caused her to miss the connection so she raised some hell and got onto the following connection, arriving at 3pm instead of 9am.
This put all of our plans into the trash. We were supposed to drive to Providence, RI, and have lunch there, then drive to New London, CT, to stay there overnight. Since we still had the hotel reservation in Connecticut, we blasted through Rhode Island, had a great dinner at the resort/casino and then crashed.
The next morning we drove to New Hampshire (OK the rationale here is that I am missing a bunch of states in New England and we were trying to get to them) and we literally did a drive-through of New Castle and Portsmouth, NH. We needed to be on the cruise ship by 2:30 back in Boston.
Once on the ship, we explored everything, watched us sail away from Boston, and watched planes landing at Logan Airport literally right past us! That's as low as I've been to an airplane in flight in my life, it was super cool!!
DAY 1: Portland, Maine
Our first port was the awesome, quaint town of Portland, ME. I thought it was going to be much bigger than it was, but the small-town feel and charm were wonderful. JC and I did a half-day excursion to see some lighthouses around town. We first went to a very tiny and adorable lighthouse called Bug Light.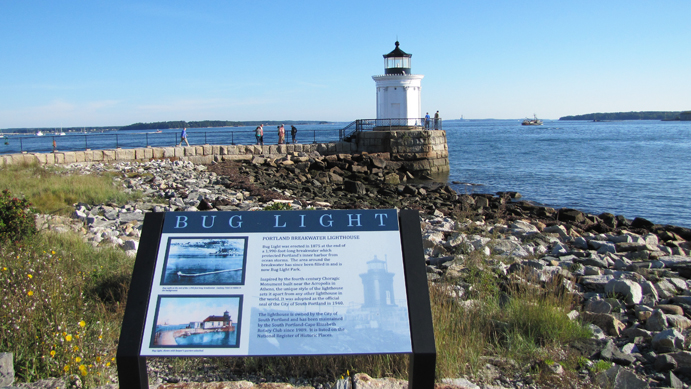 Then we went to once that was twice as tall, ending with a beautiful lighthouse and property on a rocky outlet that was very picturesque.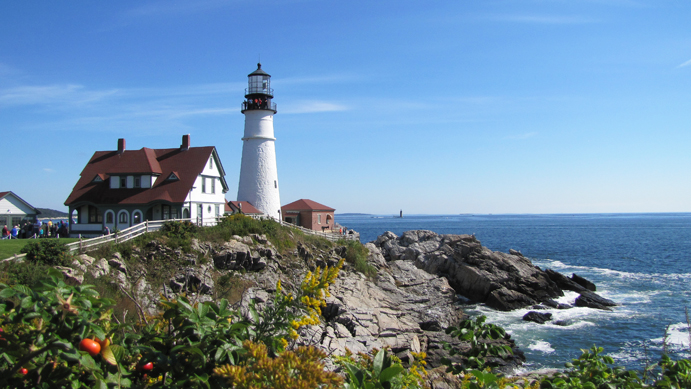 We even found this gorgeous bush with blooming flowers and bright berries. Turns out those are rose hips!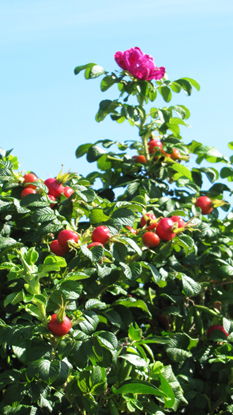 Then we met up with Leah and Joyce, had amazing lobster sandwiches, and walked around the shops. We found this adorable place called Vena's that is a soda bar! They had the most unique soda concoctions!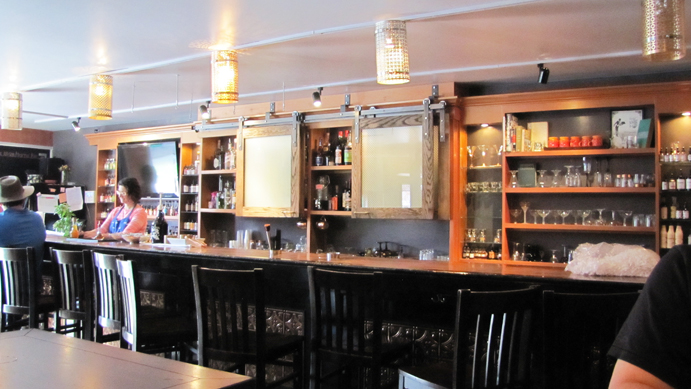 DAY 2: Halifax and Peggy's Cove, Nova Scotia
That was our one and only port in the US. We crossed into Canada on day 2 and stopped in charming Halifax. We did a half day excursion to Peggy's Cove, which is a small fishing village 2 hours away that has beautiful scenery. We had a very informative guide tell us all about Halifax and its history and we saw a lot of lakes and quaint towns on our way.
When we got there, the rocky edge of the Cove, the lighthouse, and the adorable little village were so picturesque and tranquil despite the hoards of tourists.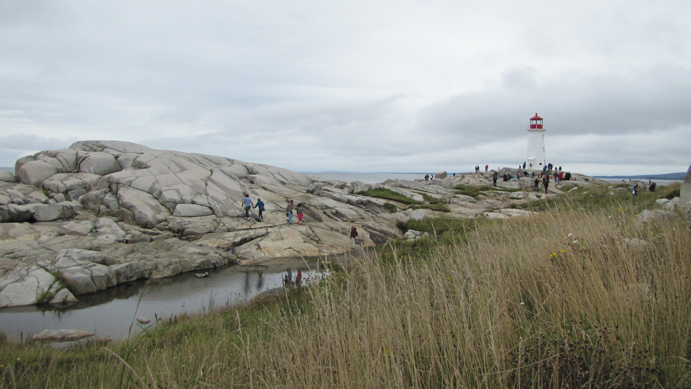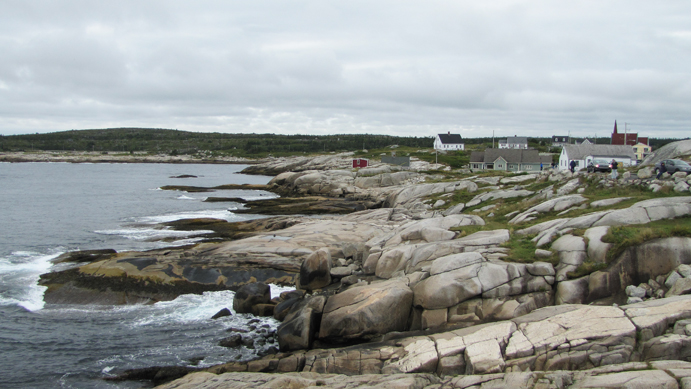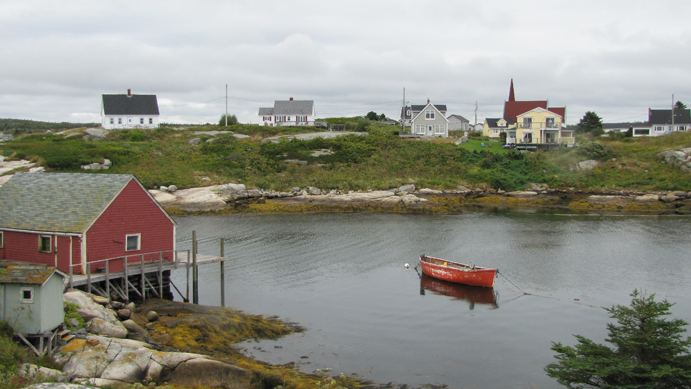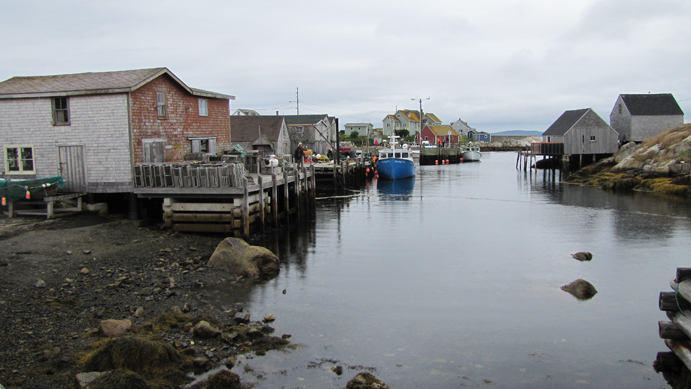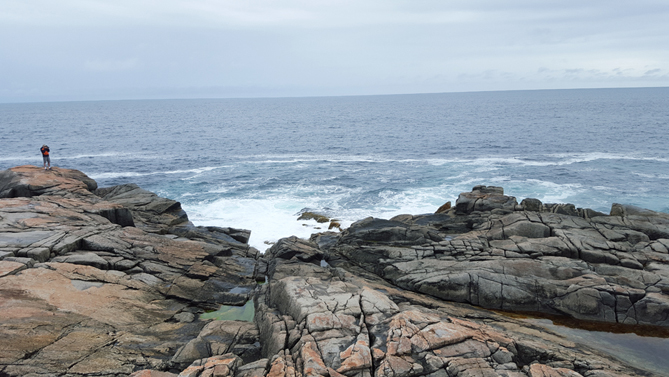 Back in Halifax, we had a great lunch at a pub called Your Father's Mustache, found a Tim Horton's, and did a bit of shopping.
DAY 3: At Sea
We had only one at sea day on this cruise, which was just fine by us. We didn't pay for the spa or any treatments, but we bought a deck of cards in Halifax and a gigantic tube of Mentos in the duty free shop. We played poker for a good part of the day, and continued playing it off and on for the rest of the week when we got totally bored with the cruise ship activities.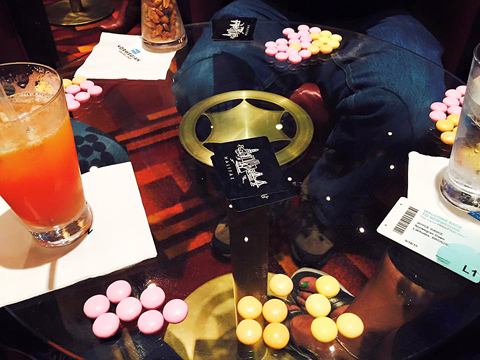 Here's our "ocean view" which actually wasn't too bad. It was nice and dark in there.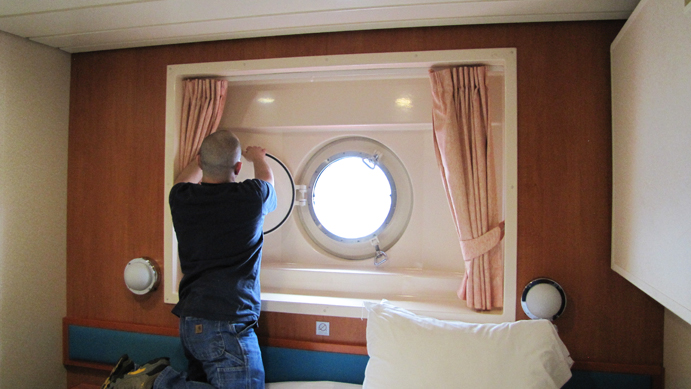 This is the nice hand gesture I got. The other gesture, not so much.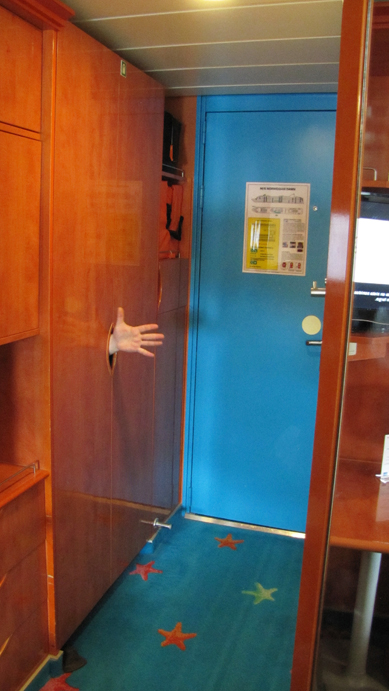 A friendly reminder not to breakdance.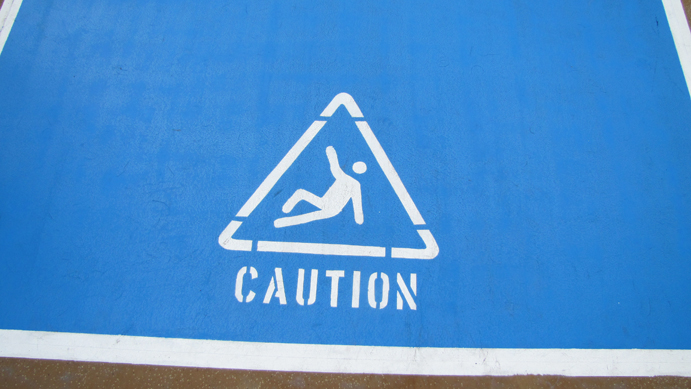 Leah and I also became fascinated with Craps and stood there trying to learn the game from the casino sharks for hours.
Here I am outside freezing to show you how foggy it was. I had never heard a cruise ship fog horn before!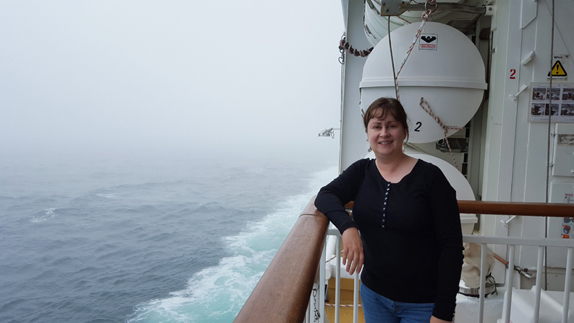 Oh yeah and here's an actual photo of the inside of the ship.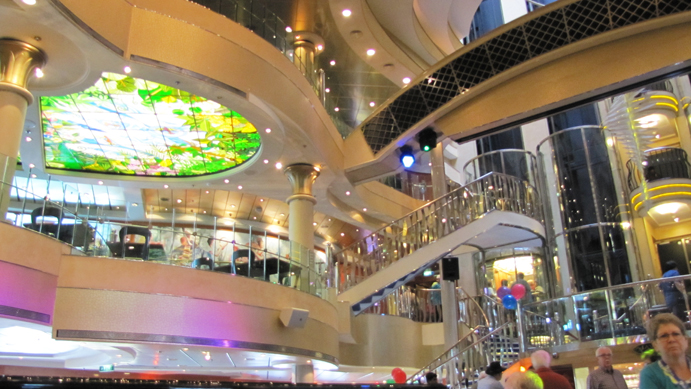 DAY 4: Charlottetown, Prince Edward Island (with a short detour to New Brunswick)
PEI, as it's apparently called, is most famous for the Anne of Green Gables book series. Which none of us ever read. So it was all lost on all of us.
Anyhoo, JC and I took a half day excursion to the countryside, where we got to take goofy sign pictures...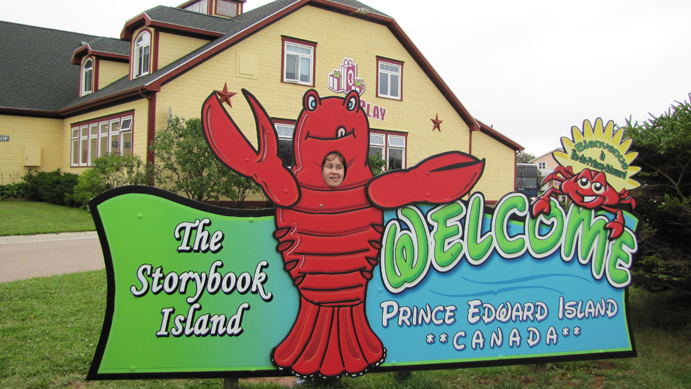 And cross this big-ass bridge to New Brunswick for a short stint at a nature observatory.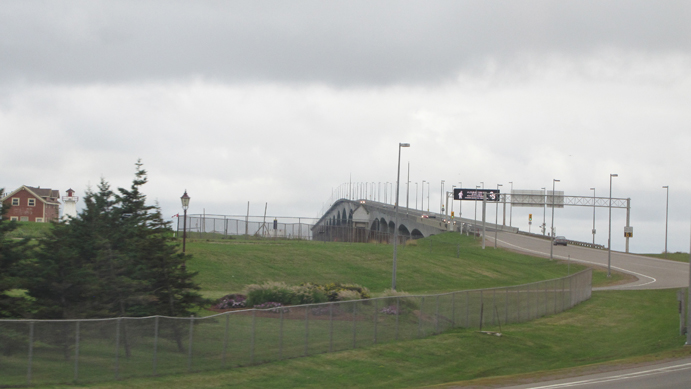 This was the only nature we saw. Fuzzy!!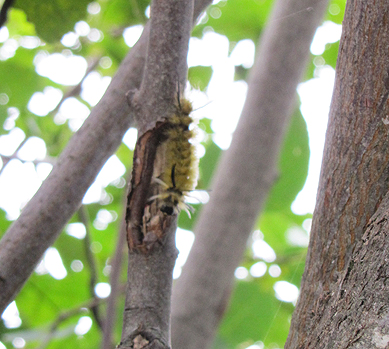 Back in town, we met up with Leah and Joyce who took a culinary tour. We all ended up getting some yummy ice cream from Cow's which is an eastern Canadian chain.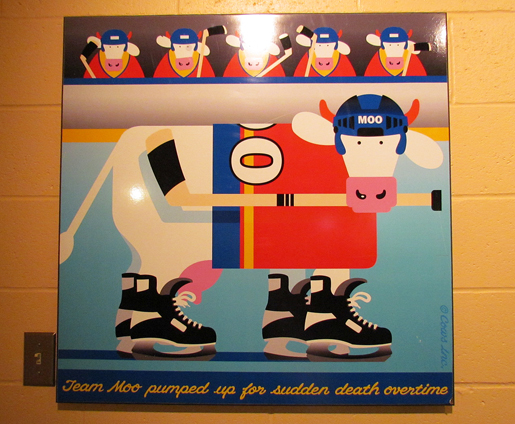 Then we walked around a bit and saw the pretty town with the old brick buildings.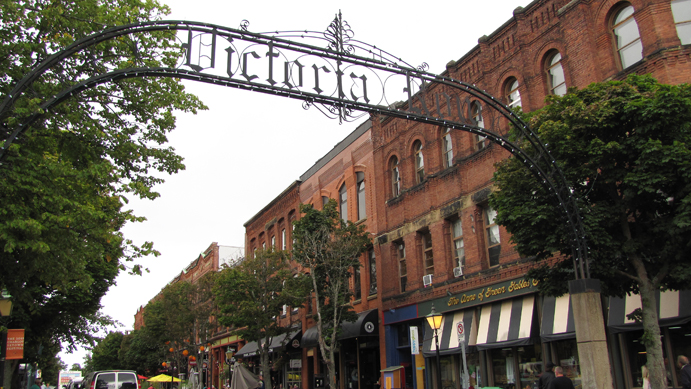 Lastly, one of very few Three Girls Pictures! The opportunities were just not there this time!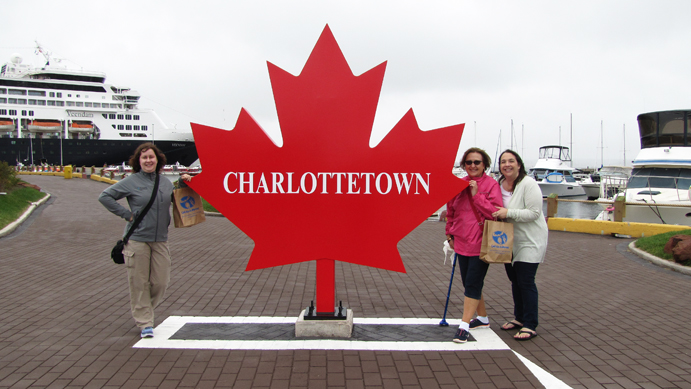 DAY 5: Percé and La Gaspie, Québec
Yes, for the rest of the trip we ventured into French Canada. La Gaspie is a small town in the Saint Lawrence Seaway, but we took an excursion to an even smaller town called Percé whose claim to fame is a massive rock just off the coast that was a beacon of identification and navigation for settlers and early traders.
Here's the whole town. The massive thin pancake-like rock is an animal sanctuary natural habitat. The navigation rock is the weird jutting-up one on the left.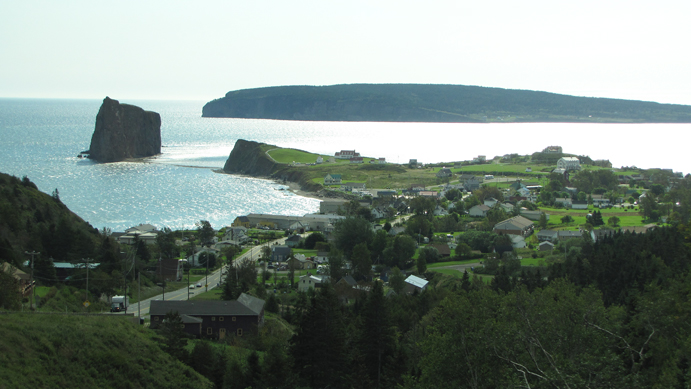 And here it is more up close on the right.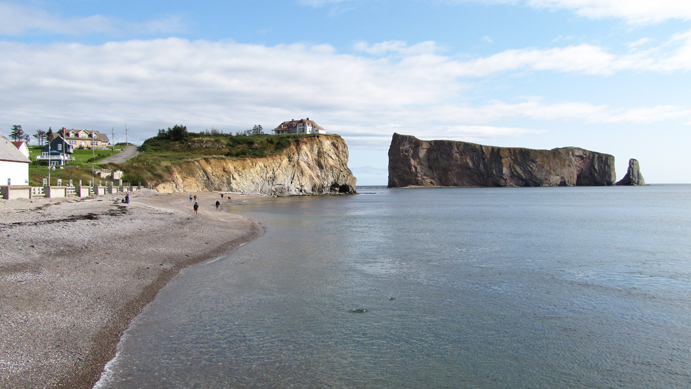 This was the highlight of Percé: the cute coffeehouse where we had a drink and a pastry.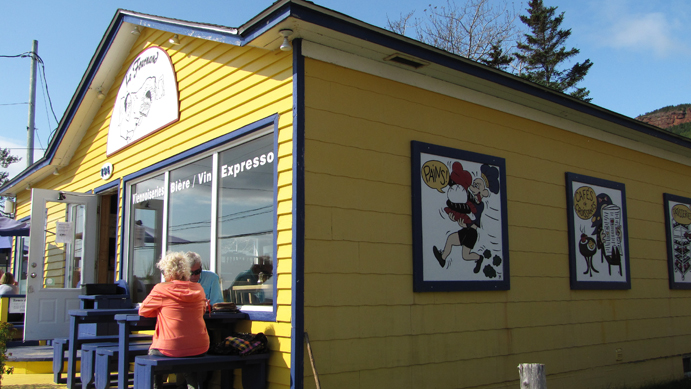 The drive there and back was actually quite lovely and scenic.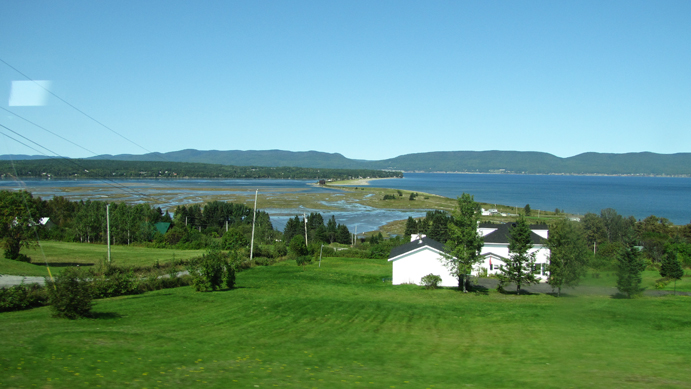 DAY 6: Saguenay, Québec
Saguenay is another small town down the Saint Lawrence Seaway, and here we took an excursion down the fjord to an even smaller town, and then back to Saguenay on a bus through some pretty countryside. But first, this is what we were greeted with when we got off the boat, along with some creepy clown music. Ah yes, French Canada.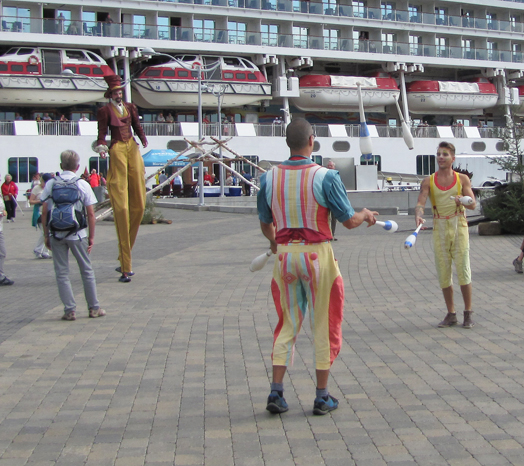 Along the fjord, it was pretty and scenic. This town was just too stinking cute.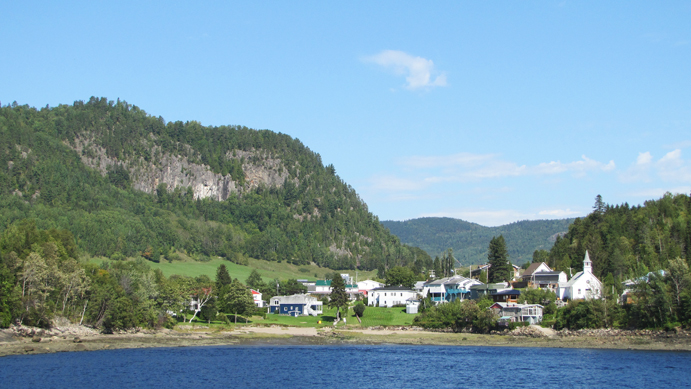 Majestic and hot with the sun beating down on us.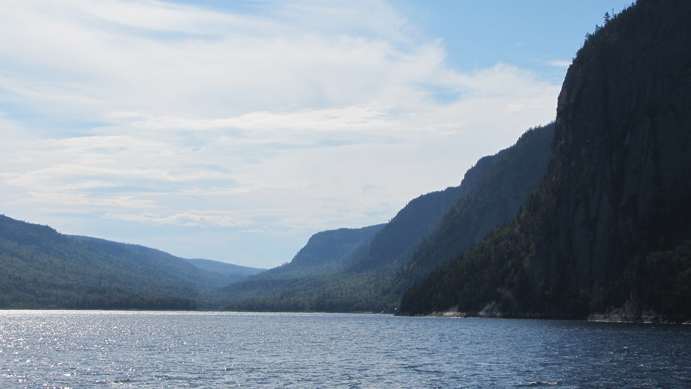 The highlight of the fjord is this massive statue of Mary that is actually quite high on a cliff side. Charles-Napoleon Robitaille built it in the late 1800's because the Virgin Mary helped him after he fell through the ice and then got very sick. It was underwhelming really.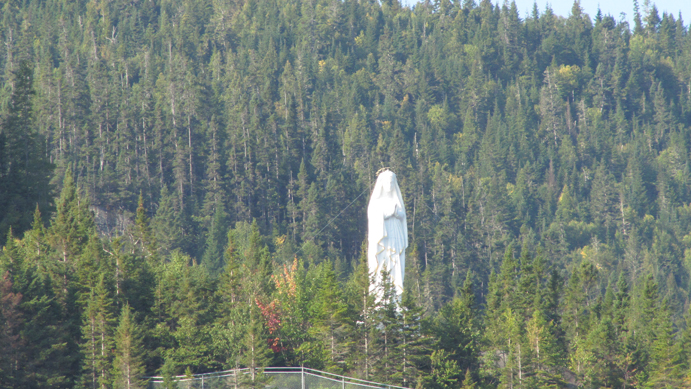 I saw this on a house near an old covered bridge.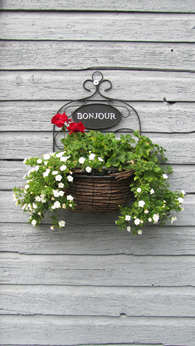 Here's the view of the fjord from atop an observatory area.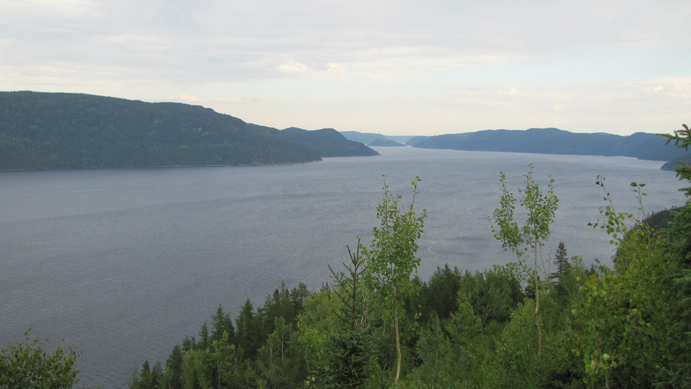 DAYS 7-8: Québec City
Since this post is long enough already, and I have a ton of photos of adorable, awesome, French-ified, magnifique Québec, I'll post those next month, along with any job updates and other stuff.
OMG HOCKEY OMG HOCKEY OMG HOCKEY!