February 2018
OK so I know I'm supposed to talk about what I did in January, but I actually am still behind and need to cover December. Three months of Europe messed me up!
Of course, December was busy with getting ready for Christmas, but I would like to say that this year, I was super organized. I had the tree and decorations up right after Thanksgiving, I had all of my cards mailed on the 12th, I managed to make soap and write two letters to mail things to international friends, and all presents were bought, wrapped, and shipped the week before Christmas. Thanks, Shack!
What else did we do? Well, we went to two Avalanche hockey games, saw Gary Numan live in concert--one of the BEST SHOWS I have EVER been to, met with a few friends for dinner, scrapbooking, or making a hundred bath and shower bombs for gifts, and this...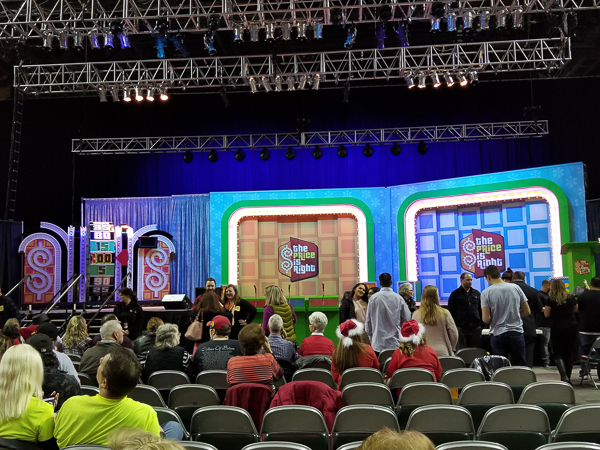 YES--THE PRICE IS RIGHT LIVE! I had NO idea they did this, but apparently the show travels the country giving away crazy prizes! Not knowing that we needed to be at the arena hours ahead of time to register to participate, I at least conned the staff into making me a name tag. I mean, come on!!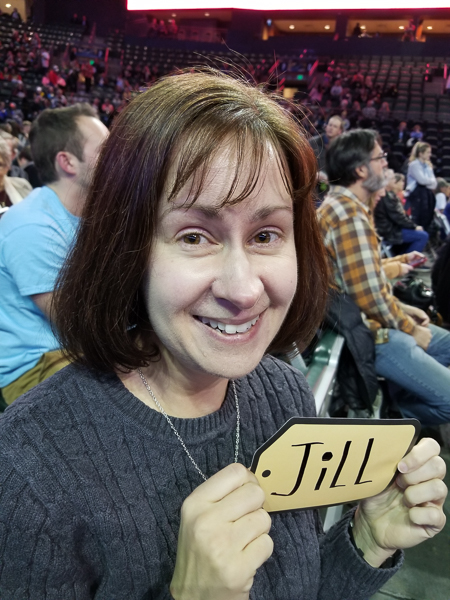 It was SO much fun, I am going every single time they come to town. They chose four people from the audience to bid on items, and the winners played traditional show games. But for both spinning the wheel and the showcase, they chose more people from the audience instead of letting the same people keep playing. The woman that won the showcase got two trips, a huge grill setup, and a new car! Plus a bunch of audience members got gift cards. Super awesome.
The other big thing we did in December was our annual Vegas trip. We went right before Christmas so we got to see all of the gorgeous decorations and lights. You know Vegas does Christmas up right!
This is the getup in the lobby of ARIA, our favorite place to stay. They have great restaurants, their slot machines are decent, they're centrally located on the strip, and the rooms are big and luxurious. One of these times I hope we'll figure out how to work the control panel for the automatic lights and curtains though...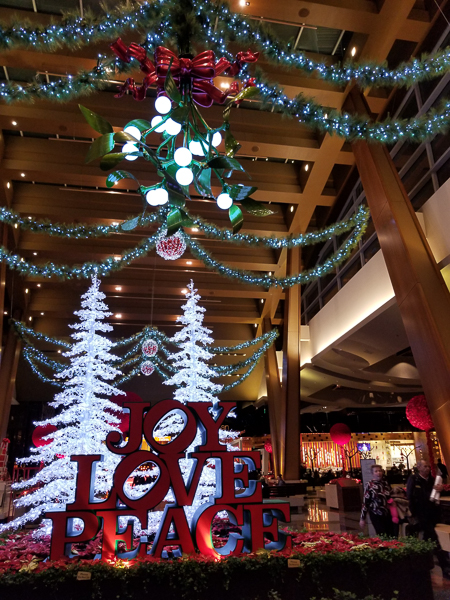 This is the gorgeous display at Bellagio. It's all fresh flowers. That tree on the left is oh, around five stories tall. With ornaments as big as your head.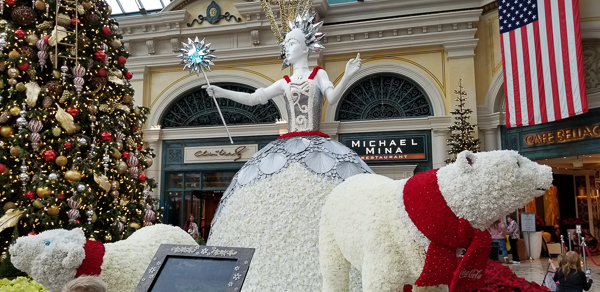 More cute polar bears!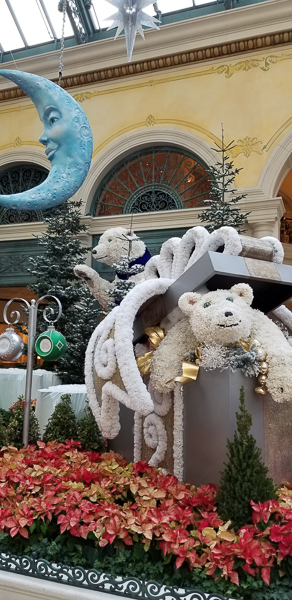 The slot machines were paying terribly, and we were losing money, so that wasn't fun for long. Instead, we walked around the shops a lot, checking things out.
This is outside of a freaky store full of weird Japanese toys in the Linq Promenade. To be honest, I got some good buys in there, including my pill case shaped like a macaroon! Love!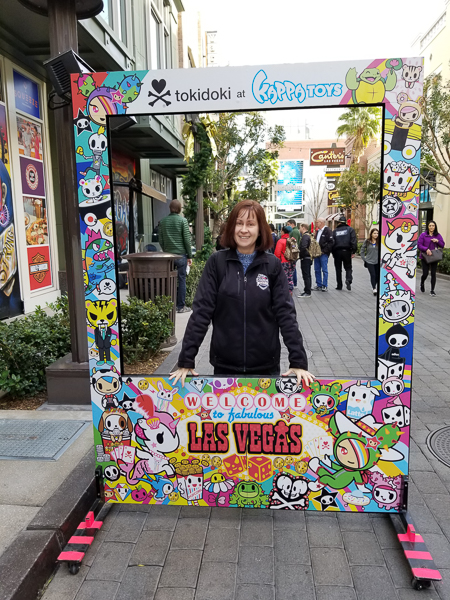 This is some of the new decor in the Cosmopolitan, near the awesome restaurant Eggslut. Yes, you can order an eggslut, and yes, you seriously need to try it. A-MA-ZING.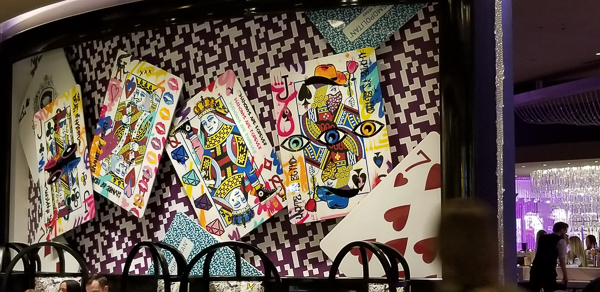 We also found a very unique store that had a ton of these massive metal sculptures. We passed on spending $2,000 on this guy, but we did get a gorgeous small globe whose countries are made out of actual precious stones from those regions. It's stunning on our mantle.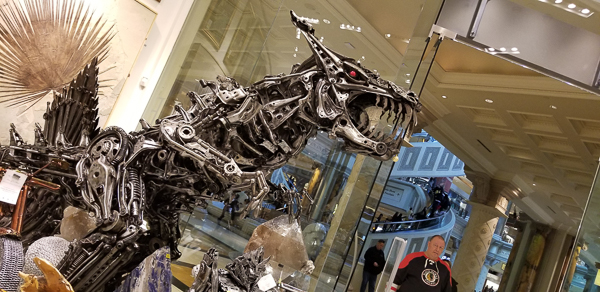 Of course, another reason we love Vegas is for the FOOD. This was our 3,000-calorie breakfast one morning: lattes, massive crèpes, and little confectionery thingies. My crèpe was dulce de leche and my little purple thingie was a blueberry muffin with a custard crème on top. It was also probably the most expensive breakfast we've ever had!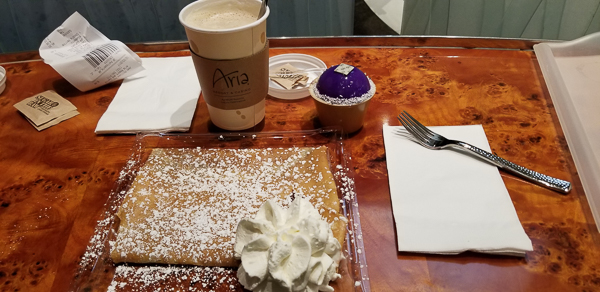 BUT--the reason we went to Vegas in December this year was to attend a Vegas Golden Knights hockey game!! The NHL granted a new franchise to Vegas last year, and this is the inaugural season of the team. They are a hodge-podge mix of veteran players and newbies, with a very seasoned coach, and they are SECOND IN THE LEAGUE in wins. That never happens to a brand-new team! They are awesome to watch and I try to watch them at home every chance I can get.
The T-Mobile Arena was built for the team, and sits right behind New York New York. There's a nice promenade to walk down that contains some outdoor seating and a beerhaus. Then you get to the arena and you see this lovely artwork.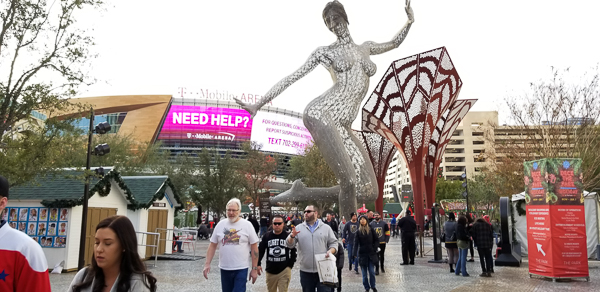 Lots of fun stuff to do outside the arena, too! JC wouldn't participate so he was the picture-taker. Not to worry--I got pics at each one.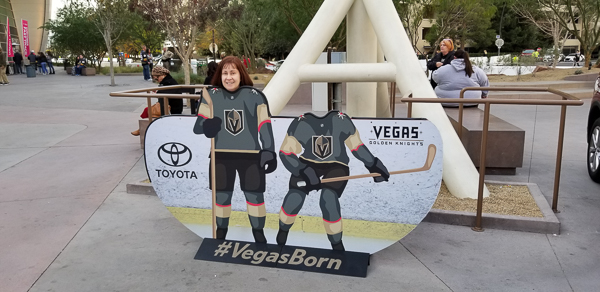 Inside the arena is this gorgeous screen print of the Vegas strip, above the flags of all of the NHL teams, and a CASTLE!! Too cool!!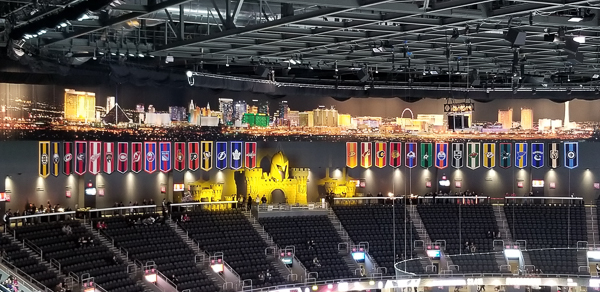 The dramatic intro includes a projection display with lots of fire, and a stone with a sword in it in the middle of the ice. An enemy in black tries to pull the sword out of the stone, but cannot. Then, the Golden Knight comes, pulls out the sword, and banishes the enemy to...the dressing rooms, I suppose. It's too cute!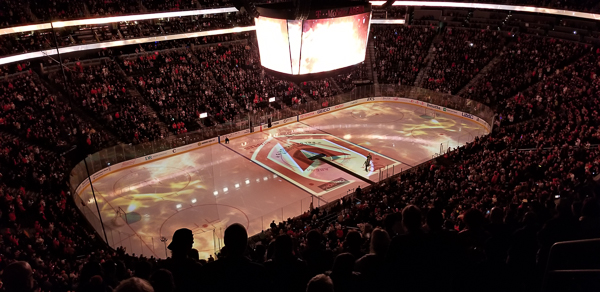 That yellow blob thing is Chance the Hela Monster mascot. I got nothing. He's sounding the horn to start the game at the castle. They did have a guy dressed up as a Golden Knight walking around too, and I suspect he's the unofficial, yet more popular, mascot.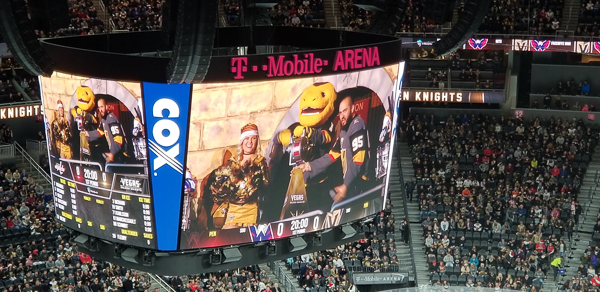 The game itself, against the very good Washington Capitals, was one of the BEST GAMES I have ever watched. The Knights looked INCREDIBLE, and made the Caps look like disorganized kids. Their passing and defense were out of this world.
And they won!! I love the donut for ZERO.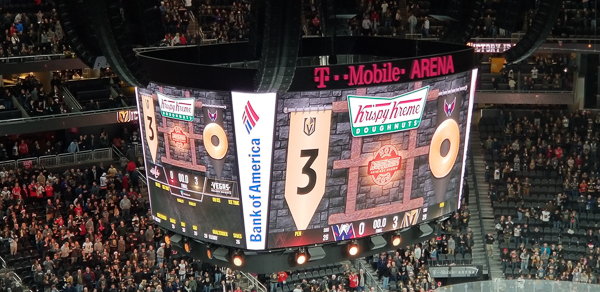 Here's the lady at night all lit up. Super cool!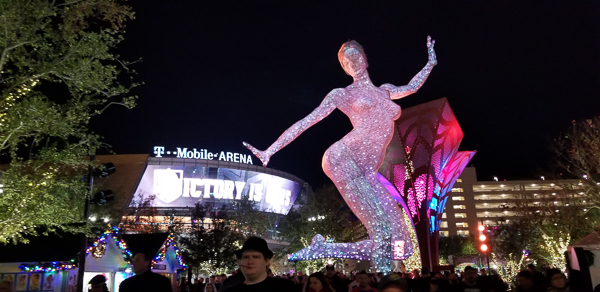 And that was our last trip of the year! Whew! It sure was a busy one. So onto Christmas...and the token funny hat picture...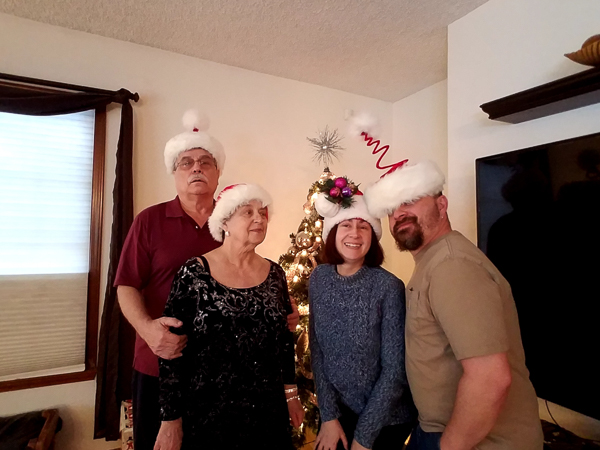 As well as the token 'standing around the dinner table' picture...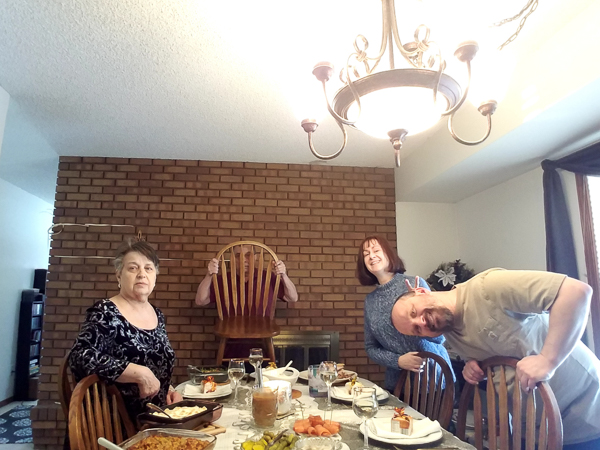 After a very nice meal (it was more lunch than dinner), it was presents time!
Awww, you certainly are my present, hon. *cough*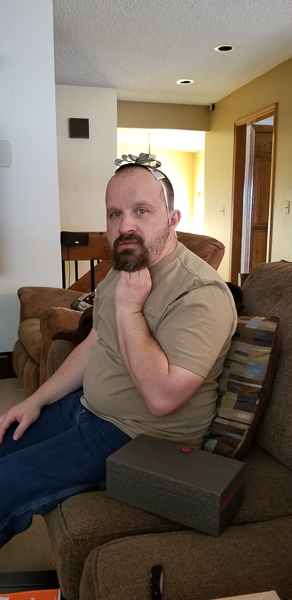 I got tons of warm fluffy socks, for which I was stoked.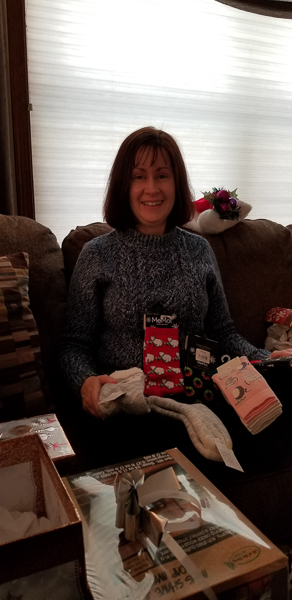 Nick and JC both got some funky vegetable and fruit seed kits. Can't wait to sprout them!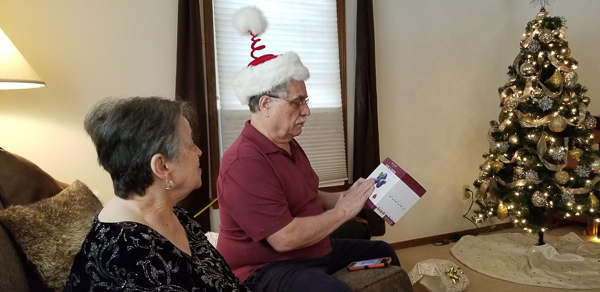 So there ya go. We take less and less photos every year, hah. We also stuck with the tradition of watching a violent movie. This time it was The Hitman's Bodyguard--hilarous!!!
We Skyped with the Grzankowski side on Christmas Eve and got to watch the boys open their presents in their adorable dressy outfits. Too cute, and the bonus is that we can turn down the volume. ;)
Anyway, that was the crazy busy end to our year!
Got my 2018 booked already!