August 2018
I know, I know, I'm a few days late. I have a good excuse, though: I was out of town, of course!
Anyway, let's get back to June. As I mentioned last week, I had two trips in June. One was our trip to Seattle for our nephew's high school graduation. The second one was my last-minute work trip to Brno, Czech Republic!
I've been at Moravia for almost three years now, and this is the first time I've been able to go to our headquarters, and only the second time I've gotten to take a business trip. I'm pretty low on the totem pole, so I get it. I figured if I could just get to Brno once, I'd be happy. And boy was I happy!
I work half for the Sales team, and half for the Marketing team, and recently the Marketing team obtained a new Director and did a bunch of restructuring of tasks and roles. So the Director wanted to get us all together for the first time ever to really collaborate more, understand all of our roles, and take the Marketing team to the next level.
So--a free trip to Europe? Hell yeah! But with one month's notice, so flights are $3,300 per person meaning JC can't join me, and I have no extra vacation days to stay later? Damn. Oh well, I got free flight miles and an all-expense paid 4 days in a country I have not seen in 10 years!
Brno is the second largest city in the Czech Republic behind Prague. It is 2.5 hours southeast of Prague, closer to Vienna, Austria, and Bratislava, Slovakia. I had to fly into Vienna, but it was all good (at least on the way out): my colleague Lee that I work very closely with and just adore flew in an hour earlier than me from Boise, so she waited for me, bought me coffee (smart lady), and we rode together in a hired car the hour through lovely scenery to Brno.
We arrived Sunday afternoon to have meetings all day Monday and Tuesday and half of Wednesday. I then had the rest of Wednesday to check things out, and flew home on Thursday. I was actually quite tired by the time I landed, because it was twice as dense of a trip as usual: in addition to cramming in as many tourist things as possible, I had to actually pay attention and participate in way too many meetings!
Anyway, here is my visit to Brno. WARNING: it gets darker and darker as we go along.
Once there, we checked into the CUTEST HOTEL IN THE WORLD, Hotel Continental Brno (go to the link and browse the pics at the bottom). It is modern/communist from the 60s and I just wanted to take my hotel room home with me. This is the lobby and that's a candid pic of Lee on the left.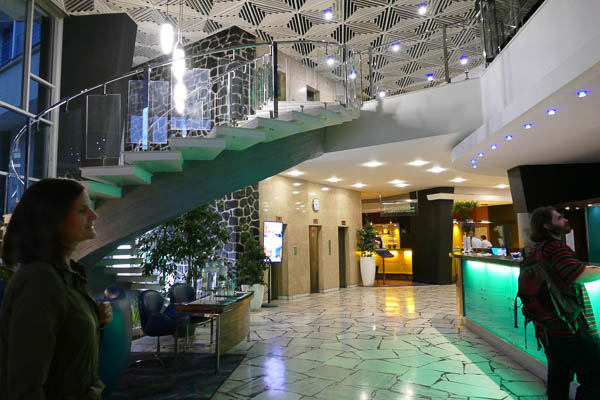 This was one side of my hotel room. ADORBS! I loved watching international TV at night and the breakfasts in Europe are so much better than in the US.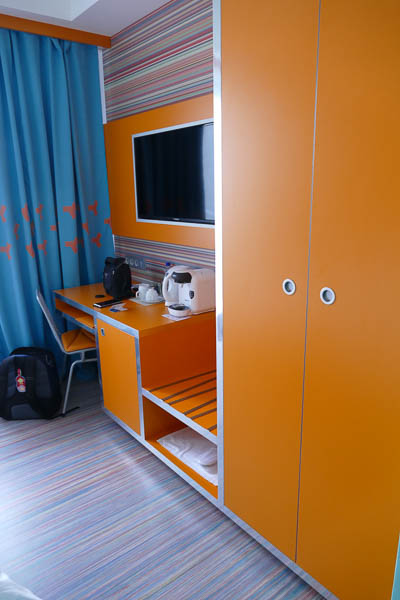 We arrived in Brno at around 3pm on Sunday, so we had a few hours to roam around and check the place out before our first "team dinner". It is a very cute city. Big enough to have everything you need, with a bunch of things to do, but you can walk from end to end of the city centre in ten minutes. Here's one of the main drags.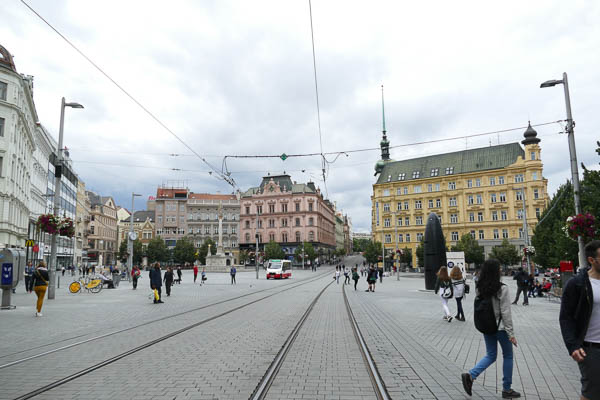 Here's a plaza near the cathedral, where there was a fresh market every day. I wished I could've bought stuff!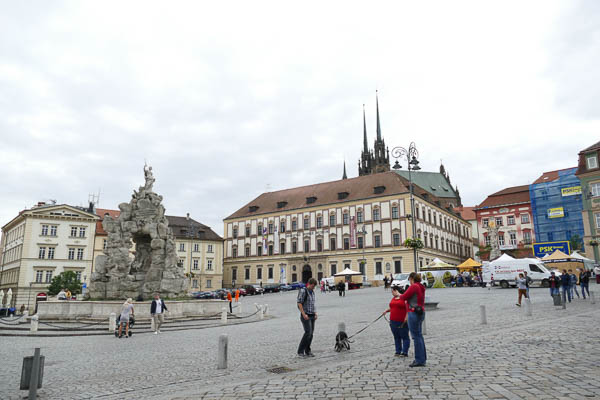 This is one of the buildings where my company has offices. We have 3 floors, I think. Our logo, the big red M on navy blue, is at the top corner. It's an LED sign so the white vertical line blinks like a cursor (ooo, ahhh). Too bad we got bought last year and everything is going to change soon.
Anyway, Lee's and my first stop was the second largest Ossuary in Europe (behind the Paris Catacombs) beneath St. James church. This is your standard Ossuary scene (just like Kutna Hora's Bone Church we visited the day after we got married): there is a church with a graveyard that got full, so they dug everyone up, dusted them off, and neatly arranged them. They say there are around 50,000 bodies in here, though all you can see are leg and arm bones and skulls. I don't want to know where the rest of the parts are!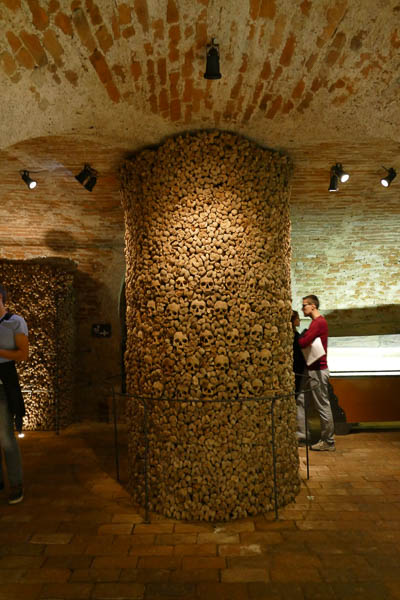 Next stop was the Špilberk Castle, a beautiful fortress going back to the 13th century with lovely views of the city below. We chose to go into the casemates, the underground prisons with hallways that weaved around the perimeter of the place. It was good fun.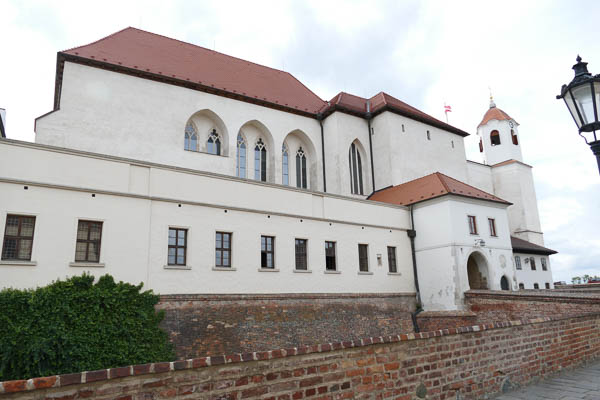 No this is not even a prisoner's cell--this is the warden's residence! See the bed on the left? Prisoners did not have beds. They had these super long wooden angled tables that they slept on. The warden actually had it pretty good.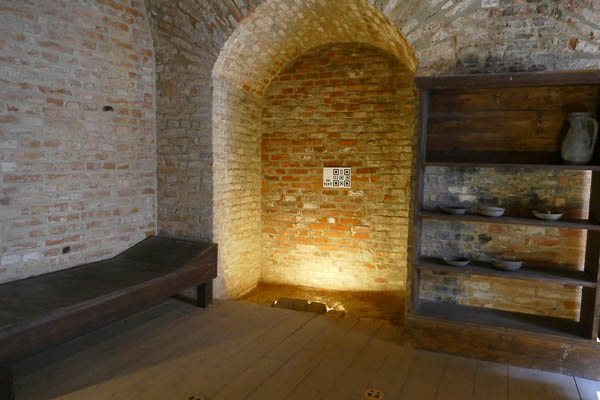 That was all we could fit in on Sunday before everything closed and we had our first dinner. It was actually quite nice, and I got to meet colleagues for the first time that I interact with almost every day. Plus I had a great Czech meal of local beer and goulash, which is a mixture of beef in some sort of thick sauce with potato dumplings. Brought back memories for sure!
Anyhoo, we got out of our meetings at 4pm on Monday, meaning we had two hours of available tourist time before things closed! So we hauled arse out of there and to the other side of the town to the beautiful gothic Cathedral of St. Peter and Paul. I flippin love these buildings, they are just so ornate and I cannot imagine how they were built back in the 1200s.
That was the back end of it, and this is the front. We went inside but it was pretty plain, and went up the clock tower which was pretty cool. Those bells were loud, though, when they rang as we were going past them!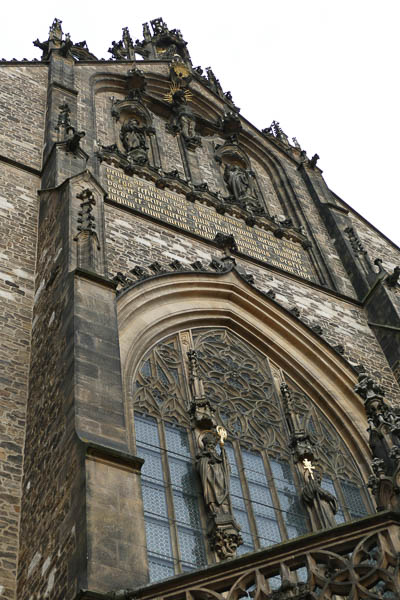 We also roamed around town, shopped for clothes, and had an amazing dinner at one of the best places in town. There was a party for our former CEO who retired a few months ago, but screw that! I didn't even know the guy. Lee and I enjoyed some girl time.
So, that was Monday. We had just a wee bit of time on Tuesday inbetween meetings and yet another team dinner, so once again the two of us bolted down to the other side of the city to visit the Capuchin Monk Crypt. This crypt holds both a variety of monks, and townsfolk who contributed greatly to the church and requested to be buried here. They were in a different room encased in glass coffins with their names and dates above them. The poor monks are lying on the ground as you can see here with bricks for pillows. Doesn't look too comfy, but at least it's temperature controlled, like they notice...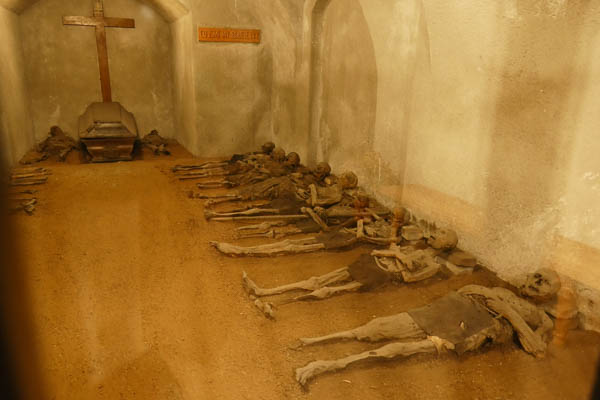 After that appetizing scene, we had our last meal together as the Marketing team. It was quite fun, actually!
On Wednesday, I had meetings with Lee, two marketing colleagues, and two awesome guys from our Multimedia team about specific projects we will be sending them. Then we all went to lunch together to an amazing Vietnamese place. They are cool guys and I'd love to hang out with them again.
I returned to the office and parted ways with Lee and the rest of the gang. I also roamed the halls and knocked on doors with familiar names on them to see how many other Moravians I could meet. I found a few, one of which was the sweetest gal in vendor management who gifted me with Brno chocolates, yum!
But then it was back to macabre sightseeing! After several failed attempts earlier in the week to get into the Labyrinth beneath the square I showed above that had the market, I finally got to tour of the cellars and caves dating back to medieval times. They were used for a variety of things: storing goods in a cool, dry place, transporting goods from one side of town to another, or to be an underground pub with illegally strong beer. Priorities, man.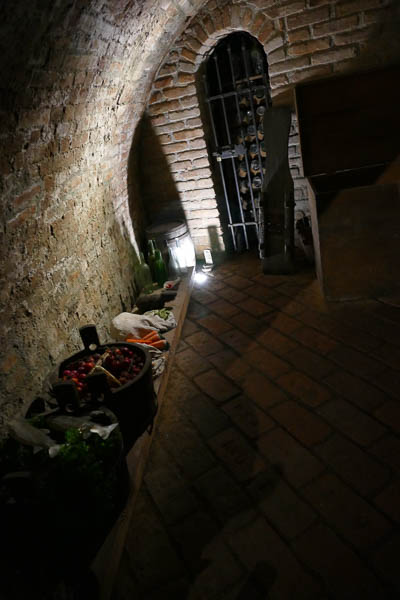 But the most bizarre thing in town is the Museum of Torture Instruments. It may not surprise you that this is not my first torture museum visit...but it was certainly the BEST. This museum gets five stars from me because it has an enormous collection of artifacts. Some might be reproductions, but if they are, you can't tell. It's all underground in this maze of tunnels with chanting music playing throughout. All of the items had excellent descriptions of what they were and how they were used. The walls had old drawings or etchings of the devices in use...and even a few modern-day photos. Super creeps.
I took photos of everything, including the English guide book with all of the descriptions!
Here are two super comfy chairs.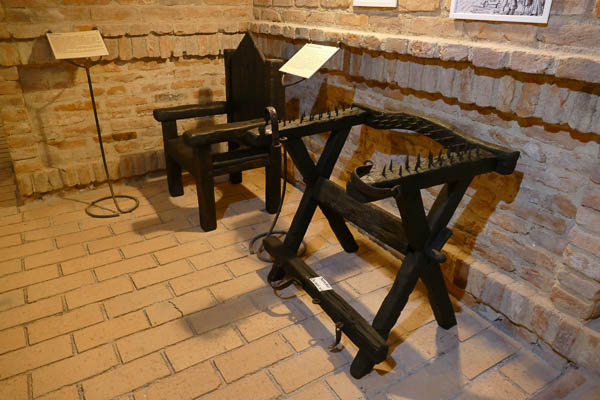 Well-used executioner's equipment.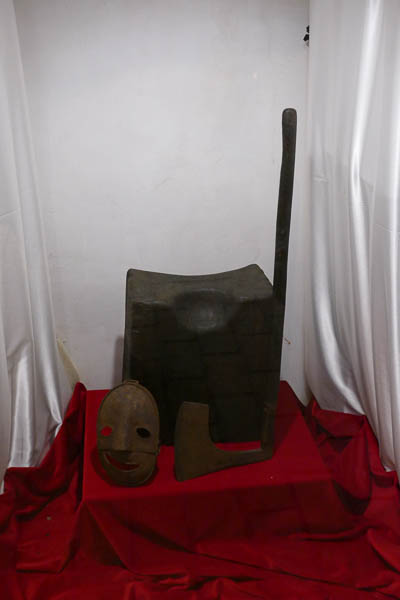 An assortment of various devices: stocks, or pillory, on the left, a precursor to the guillotine, another type of pillory, and the Chinese Cage of Death. I'm not going to explain it to you.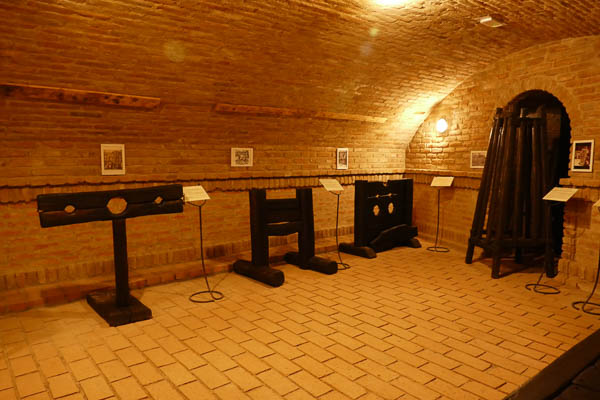 So yep, that was my 10-year Czech anniversary trip right there. Slightly different than our first trip I'd say!!
But it was a great experience. The Marketing Director hinted at doing this annually. OK!!!!
And to clease your mental palette from all of the death and decay, this was the scene out of my window en route back home of beautiful Canadian ice. I rarely get to see anything crossing back over Canada because it's always clouded over. Too bad I was too engrossed in the Lego Batman Movie to stare at it more! That thing is hilarious!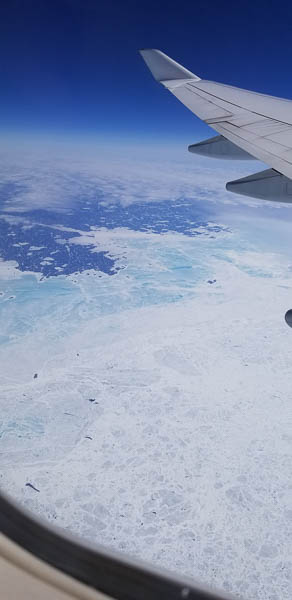 Coming Soon: The Greatest Place on Earth