January 2008
Happy New Year everyone! I hope you all have a safe, happy and healthy 2008!
As is becoming a yearly ritual, I've answered some of life's tough questions about 2007 for your enjoyment and my retrospective. Enjoy!
1. Highlights of the year
Getting Lasik and ending 20 years of wearing glasses!
Going to Cedar Point after a 2-year absence
Taking JC to Vegas for his first time
Taking JC to Europe for his first time
Seeing 3 dear friends in Europe and seeing 2 of them get married
Visiting a dear friend in Seattle
2. Lowlights of the year
Being away from my friends and family, wishing we were closer
Finding it harder to make friends as you get older
Spending a lot of time and money on a side business only to find that it did not result in anything
3. What do you have at the end of 2007 that you didn't have before?
Stability. It was my first full year being in Colorado, so I've learned more about the area, made a few friends, and am getting established. I also have been at my job for more than one year now and am extremely happy there.
4. Did you make any resolutions at the start of 2007 that you managed to keep?
I do believe that I made a "yearly goal sheet" like I used to do when I had my own business full-time, and I reveiwed it recently only to discover that I only accomplished a couple of the items (like 2 out of 7). The thing is, the items that I accomplished, I'm glad I did, and the items that I did not, I'm not too worried about, because things change, events take place, and priorities change. So I'd like to still try to accomplish some of those items, but there's no point beating yourself up over not getting them done. There's always the next year!
In addition to having yearly goals, I have this running list of things I'd like to accomplish in my lifetime, and I practically never look at this list. I pulled it out this year, looked at it, and found that without realizing it, I had accomplished THREE of them--getting eye surgery, seeing my best friend Sarah get married, and learning German. It's nice to be able to scratch off some of these things and add some more.
5. Strangest thing of the year
Returning to Leeds for the first time in 9 years and having no clue how to get around the city or where anything is anymore! I couldn't find the apartments that I lived in!
6. Funniest thing of the year
Planning my wedding in Prague through a lovely wedding coordinator named Katka and having no clue about what I want.
7. Saddest thing of the year
You know, all in all it's been a pretty awesome year. I can't think of anything.
8. Any goals for the new year?
Score one goal in playing hockey
Get married!
Stay in touch more with friends and family
9. Concert of the year
Morrissey at a refurbished ballroom in downtown Denver. He still ROCKS!
Breaking Hockey News!
JC's YMCA Hockey Team Takes First Place!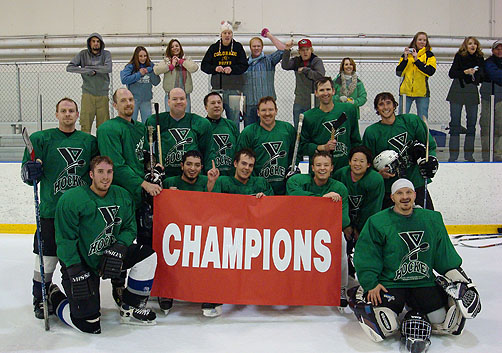 The YMCA has several different co-ed adult hockey leagues that play 3 seasons a year, and this past Winter 2007 season, JC's team won first place! Here he is all sweaty and exhausted in the bottom right corner. He is the Goalie, and in this championship game, it was tied up the whole game. So, it went into a 5-minute overtime, where no one scored. So, the last resort is a SHOOTOUT, which is one guy shooting on the goalie. AND HE WON!!! I am so proud of him!!!
As prizes, each team member got this photo emailed to them, plus it's going to be on a big banner in the YMCA. Also, the team got 1.5 hours of free ice time, which they used on Dec. 30th. Lastly, each team member got two free skate sharpenings from RocketSkate, which is a mobile skate sharpening and gear purchasing AirStream trailer that parks itself outside of the YMCA!
Also, do you see the people behild them hanging over the glass? Several of the players on JC's team are college students, and naturally, they bring with them other college students. Before you know it, JC's team--which, by the way, is called THE MISFITS--had its own cheering section at every game! They were LOUD, trust me, and hysterical! In the last few games they even brought a cowbell with them and were singing as if they were at a Latin American soccer game. You know, with the GOLGOLGOL every time they scored. Priceless. The fans even got under the skin of several of their opponents, who were just plain not used to having a fan base.
And I Already Scored My First Goal!
Well...sortof. It wasn't in a game, and there was no goalie defending the net, but still, I shot one in!
I began going to "Stick and Puck" on January 2, at 5:45am. This is a chance for members to be fully suited up and practice hockey-related skills like stick-handling, shooting, controlling the puck, etc. It was the first time that I had done this, and the first time that I had put on all of my gear outside of my home.
It was fun! And my ankles and calves KILLED!
So, here is what I look like all suited up (minus the skates because I'm in the house):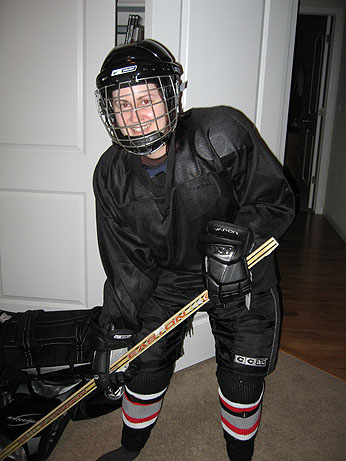 Lastly, here are a couple photos of me from a few months ago when JC and I were attending the open skating times at the YMCA often so that I could get better at skating. Once I got the general concept of skating, and decided that I really liked it and wanted to try my hand at playing hockey, we bought my first round of equipment: helmet, gloves and pants so that I can fall on my butt and/or head and be relatively alright!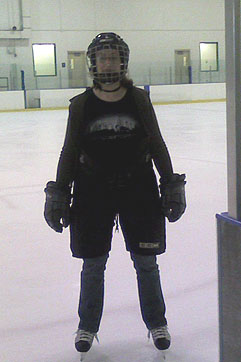 And here I am skating away!