November 2012
OK--brace yourself--I actually have a TON of photos this time around! Because I went to Europe again!
This time JC stayed home (lame!) and I went with my friend Leah and two of her friends, Bryan and Erika. We went to Portugal and Seville, Spain as a bit of a side trip. There were two reasons to go to Lisbon at this time:
1. Leah decided to run a half marathon, along with Erika, through Lisbon, and
2. Leah got a free week's stay at a timeshare of her choice and found one in southern Portugal.
First, I'm only showing a handful of photos here since I have over 1,000 of them! But ALL of them are on the following website:
Day 1: Lisbon
We left the US on a Wednesday and arrived in Lisbon at 6am on Thursday. We had to wait 4 hours for a freaking hotel room so that sucked, but then we showered and set out to explore the city. The first place we went was north Lisbon because Leah and Erika needed to go up there to pick up their race packets. Here is the super funky shopping center we ascended into from the Metro. There were two of the tall pointy buildings that you see in the back, so we called them nipples.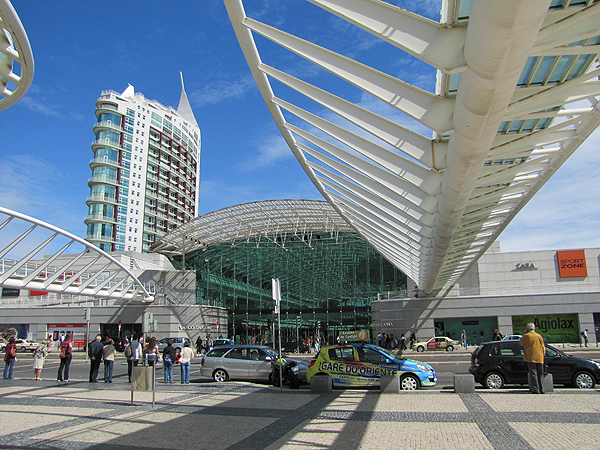 Here we are that first night, when we had an amazing dinner on the glass-enclosed rooftop restaurant at the hotel (Sheraton Lisboa you did not disappoint!). Left to right is: Bryan, Leah, Hot Waiter, me and Erika.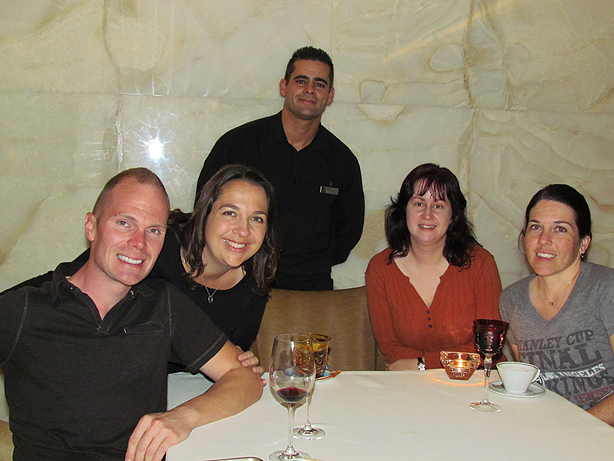 Day 2: Lisbon
On the second day we ventured all over the town visiting the sights. We spent a good deal of time in the St. George Castle which was really unique and pretty in a gorgeous old section of town on the hill.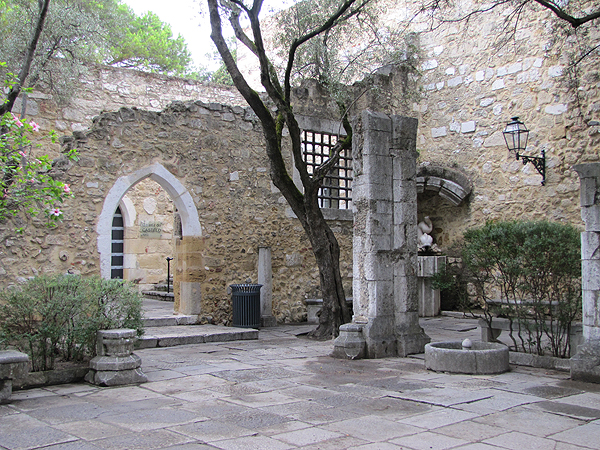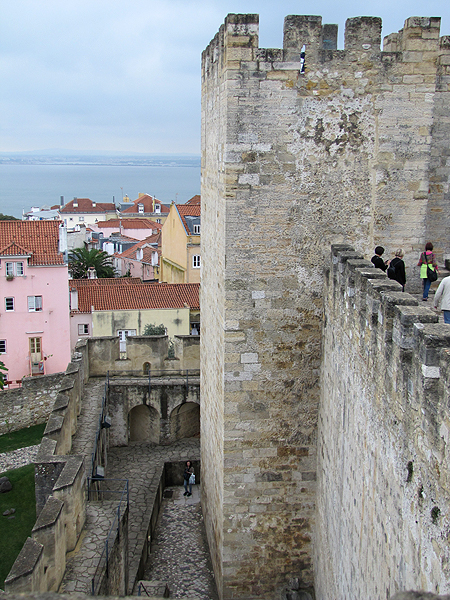 We also walked around admiring the amazing architecture. There were so many gorgeous buildings like this one, with incredible ceramic tile facades and iron railings.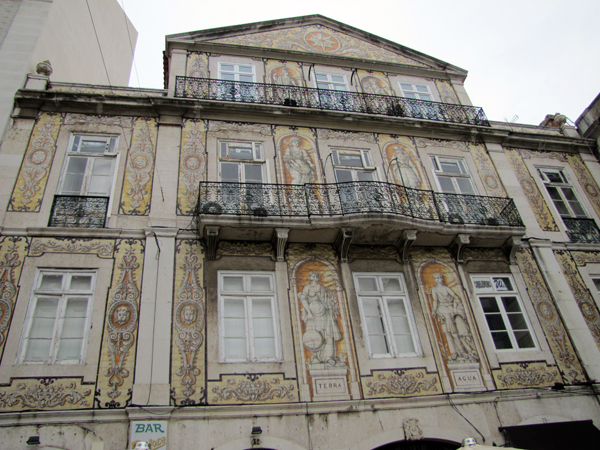 Since there really weren't many sights to see, we ended up casually roaming around, looking at shops. We stumbled upon an 11-story department store called El Cortes Inglés very close to our hotel. We had actually shopped at El Cortes Inglés during our Spain trip last year, but had not encountered an 11-story version before, complete with top floor of restaurants and bottom floor of dry cleaner, locksmith and travel agency.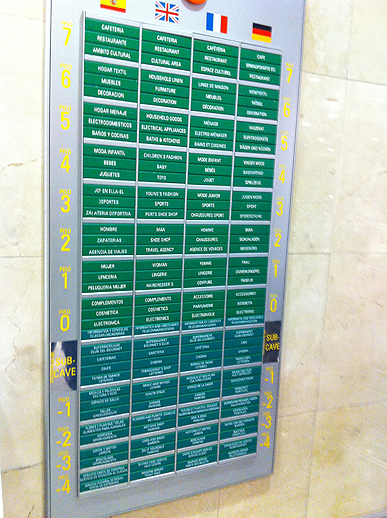 We also were blown away by the awesome display of colored toilet paper. Classic.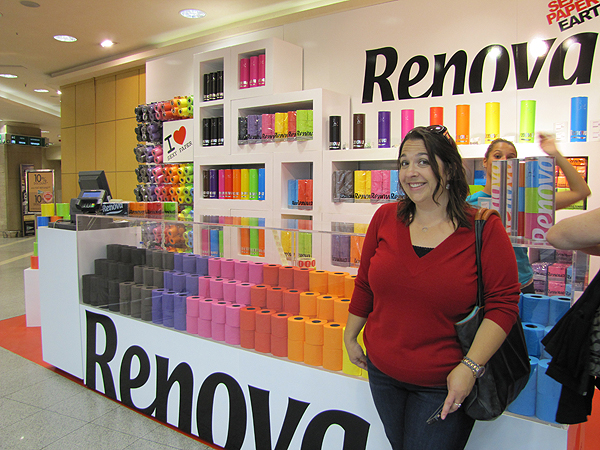 Day 3: Belèm
Belèm is a gorgeous little town just outside of Lisbon, accessible by tram, and known for a monastery and pastries. (?) So one day we walked around downtown Lisbon during the morning and then decided after lunch to hop a tram to Belèm. That is when, of course, we walked right through protesters who very nicely shut down all public transportation. Helpful.
But, we managed to get a taxi and went to check it out. We spent a few hours in the amazing monastery and church, full of wonderful gothic architecture. I was in my glory!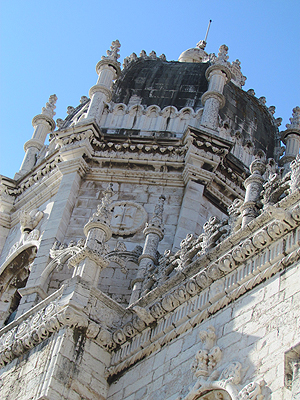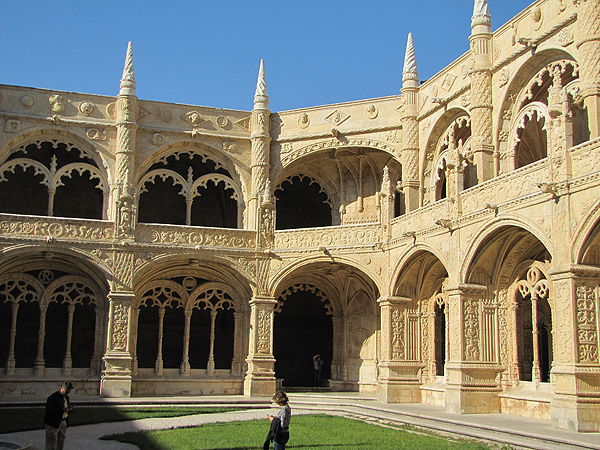 Day 4: Lisbon/Albufeira
After Erika and Leah ran their half marathon, we rented a nice, big car and drove 2 hours south to the town of Albufeira in the province of Algarve where our week in our resort awaited us. What we ended up with, was more like, as Leah put it, "Camp, but nicer." That's our awesome Renault Megane in the foreground, and we actually had the lower level apartment that is hidden by the bush.
Our luxurious living room: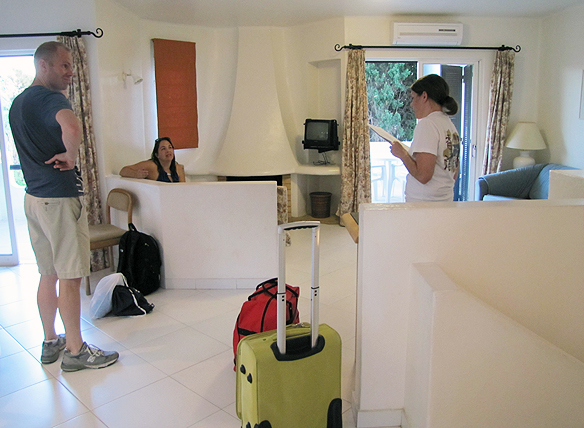 Day 5: Albufeira
Albufeira was incredible! It was just the right size--not too touristy, it had some interesting things to see, happening nightlife and an amazing beach...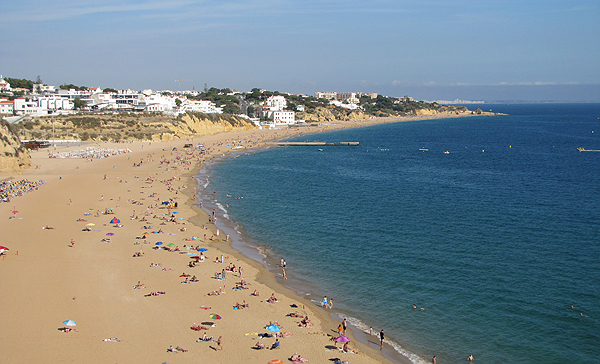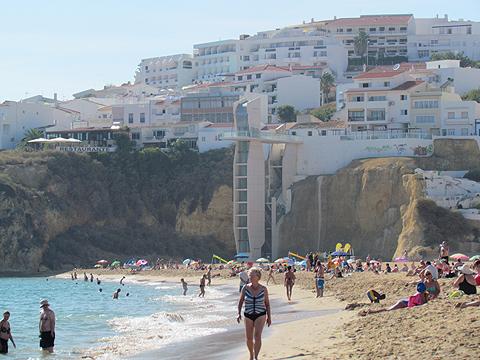 So we walked around the town on our first day there, taking in the sights and exploring the whole thing. The weather was just perfect--mid-80's with a mild breeze and practically no clouds. It was actually like that the whole 12 days we were in Portugal!
Day 6: Salema and Lagos
We decided to take a day and explore some of the other towns nearby in the Algarve region, since they are all quite small. First, we drove to Salema, a very tiny beach town that had a gorgeous beach jutted up against a rocky cliff. The water was absolutely perfect, and of course, I got sunburned.
Here's one side:
Then the other: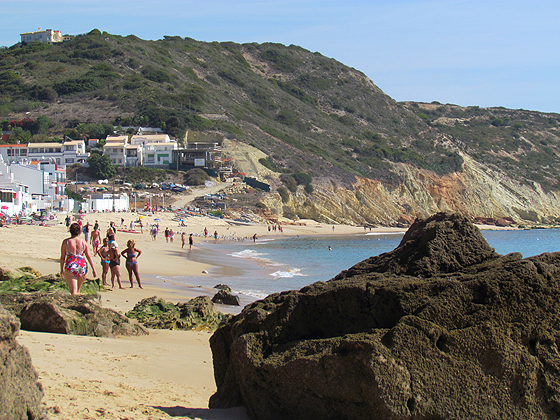 Erika and I against some of the beautiful rocks: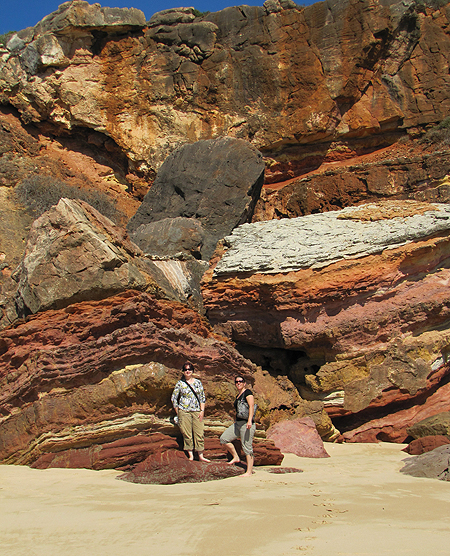 Erika chasing the seagulls: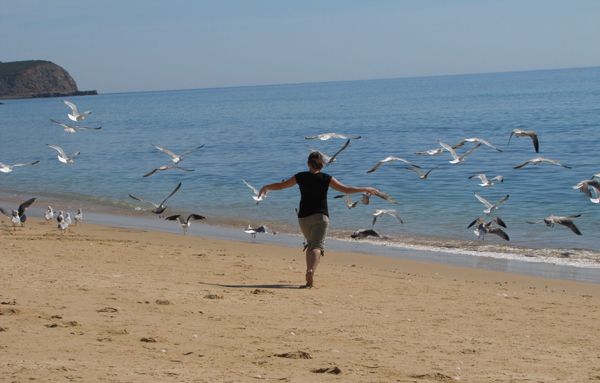 So we spent a couple of hours in Salema, and because there literally was only one restaurant open, we got back in the car and stopped at Lagos, which was much larger and seriously cool. In Lagos we had a nice lunch, walked all throughout the streets, and admired the centuries-old fort bits still scattered around the town. There was also a building across the plaza from this piece of fort that was the very first European slave trading post.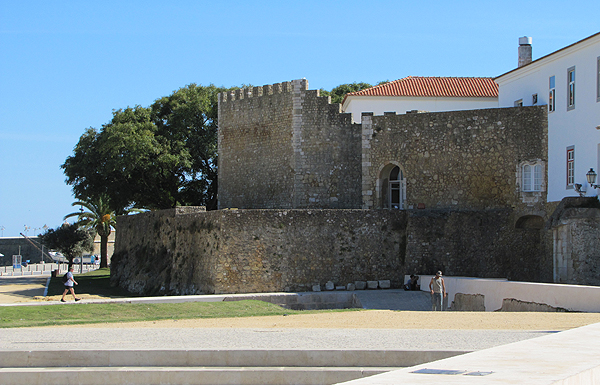 One of the most gorgeous buildings we saw in all of Portugal: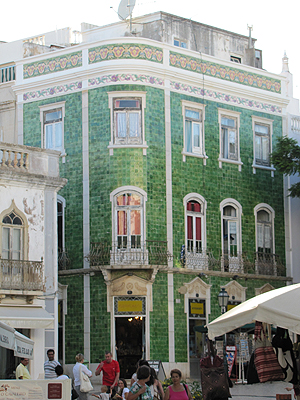 As we kept walking towards the water, we were approached by some men offering boat tours of the grottos. At first we said no thanks, and kept walking, but then realized that we were out of places to walk and things to do. So we went back to talk to the guys about it and decided to do it. A very nice older man with very little English took us in a small boat through the amazingly beautiful grottos for a good 1.5 hours. We saw the most incredible rock formations, eroded over time to make their funny shapes, as well as aqua blue waters.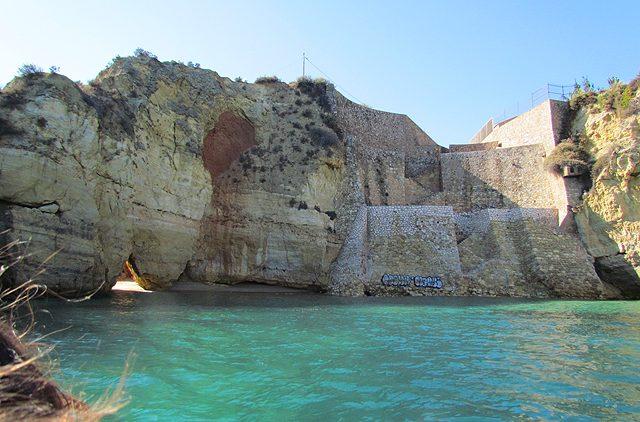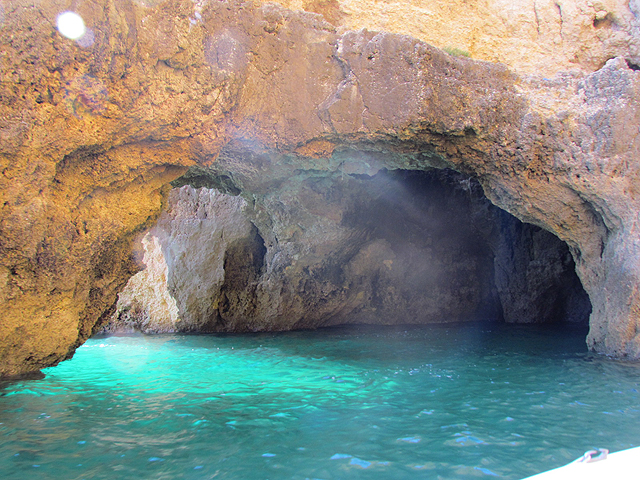 Days 7 and 8: Seville
Since we had a car, and Seville was only two hours away, we hopped the border to spend an AMAZING day and a half in Seville, Spain. You know, Portugal was nice and all, but as soon as Leah and I stepped into the streets of Seville we felt much better. Spain is just the BOMB!
I will leave you in suspense, however, on those photos because I have SO many awesome ones, that I'll make Seville the focus of next month's update!
Day 8: Tavira
On our drive back from Sevilla to "Camp", we decided to visit the one last "decent sized" town in the Algarve, Tavira. We didn't spend a lot of time there, because there wasn't that much to do and it was getting close to dinnertime, but we did stop at a nice café for yummy custard-filled pastries. Then we walked along the water, explored the remains of a castle, and then headed home for a home-cooked meal at "Camp".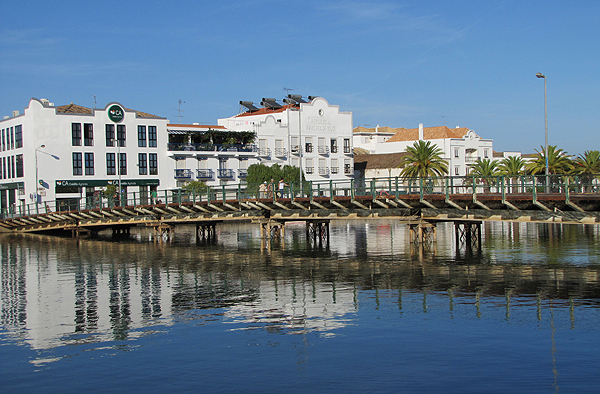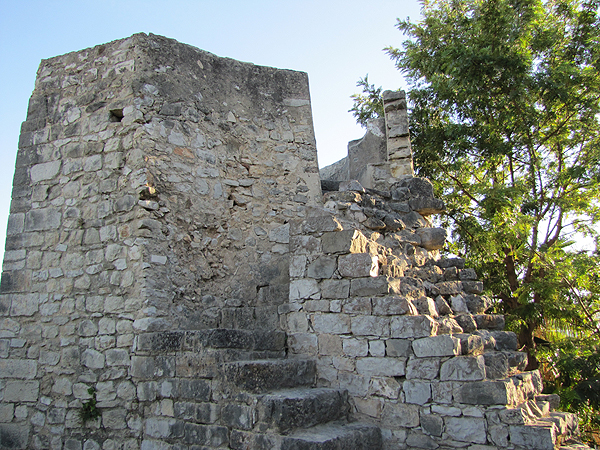 Days 9 and 10: Albufeira
Back at "Camp", and having exhausted all of the possible day trips we could do in the area, we spent our last two days chillin' at the beach. It felt SO good! We slept in, ate at "Camp", and then hung out at the beach watching the hot guys in Speedos play soccer.
Day 11: Lisbon
We left "Camp" in the morning and drove back to Lisbon, where we sortof just roamed around without any specific agenda. We went back to El Corte Inglés to shop for shoes and were unsuccessful, so we went back up to the area in the north of town that we had explored on our very first day, and took a cable car ride alongside the oceanfront to take in the view. It was a calm, relaxing last day.
So all in all I had a great time with Leah and my new travelmates. We did some amazing things and had a lot of fun.
The Journey Continues Next Month...to Seville!