December 2015
So, November was a whirlwind of fun and changes in the Polanycia home. As I wrote last month, I began my new job at Moravia on November 30th, so as of writing this post I've worked one week and it's been fun! I even already had to join in on the fun of editing an urgent proposal. I'm almost done reading all of the materials they want me to read, I'm attending meetings, and my first massive project is going to be reviewing their database of questions that are often asked by clients in their proposals. I need to purge it, organize it, and edit every response. : \
It does feel weird to go back to sitting at home all day. I feel lazy. But on the other hand, my foot has been hurting since August and working one or the other retail job almost every day really didn't help it heal much. I'm getting pretty tired of it, so this finally gives me the chance to let it heal.
I've done my first two volunteer shifts at the Wild Animal Sanctuary and they were sooo much fun! My first shift was in Animal Care, and I volunteered on a Friday when they make the food for the animals! I spent four hours making MEAT BUCKETS. First, I stood inside of the tractor-trailer freezer pushing frozen buckets of meat down a chute to volunteers on the outside who needed to get the meat out. They turn the bucket upside-down, run it under warm water, and when you hear a POP, that's the frozen meat wad falling out of the bucket. This not only allows us to create consistent portions for the big cats, but it also makes it easier for us to distribute the food. Each cat gets a meat wad thrown over the fence, and they can grab it and take it somewhere in their area to eat where they feel safe.
Anyway, after the freezer is emptied of frozen meat wads, it's time to make new ones! This part was smelly but I didn't mind it. You get massive trash bins filled with raw meat that's already been sorted into chicken, pork and red meat, and you need to fill the buckets with the right proportions of each meat, as well as a mix of vitamins! Then the buckets go into the freezer to freeze into new meat wads for a day or two. I'm so glad I had thick rubber gloves on! My coat was still covered in meat juices though by the time it was done. The cats could not figure out that smell when I came home!
After lunch, we cleaned all of the trash bins and other equipment and then drove out to a shed on the property to store some things in it. It was right next to one of the bear enclosures where there is a baby that is full of energy. We had such fun watching her play with tumbleweeds!
During my second shift in Education, I basically walk a portion of the raised walkway and talk to guests, answer questions, make sure everything is OK, etc. It just so happened on this day that a group of performers from "The Lion King" musical came to visit! That was totally awesome. All of the guests were great and very fun to talk to. We watched the leopards, tigers, lions and mountain lions. I even got to hear a pissed off mountain lion growl because some volunteers were in the enclosure next door cleaning it and the lion did not appreciate that!
In other news, we took a mini vacation over Halloween weekend to Estes Park for a little hallowversary getaway. We drove up on Saturday morning and spent the day walking around town. On Sunday we drove through Rocky Mountain National Park, which although was cold and a bit barren-looking, is still very pretty with the varying landscape and mountains. Here are a few photos.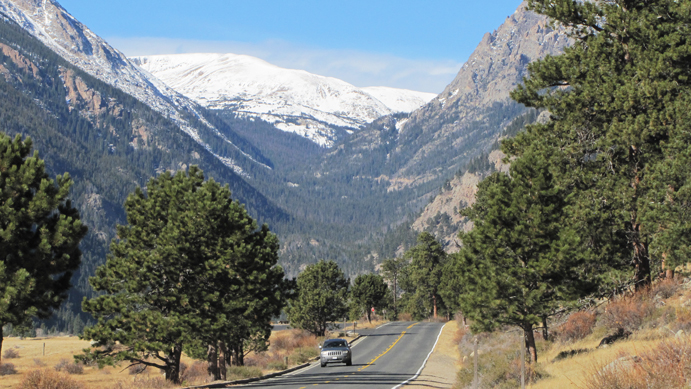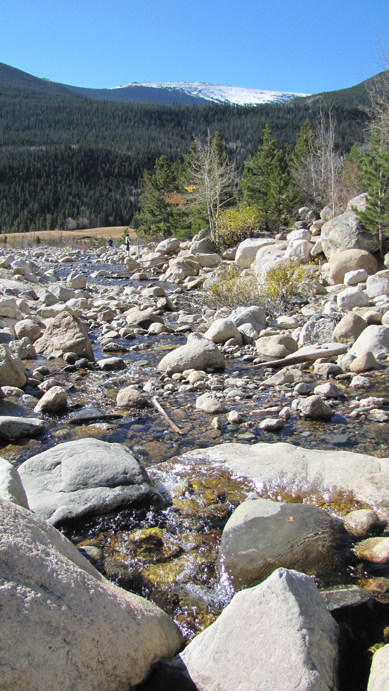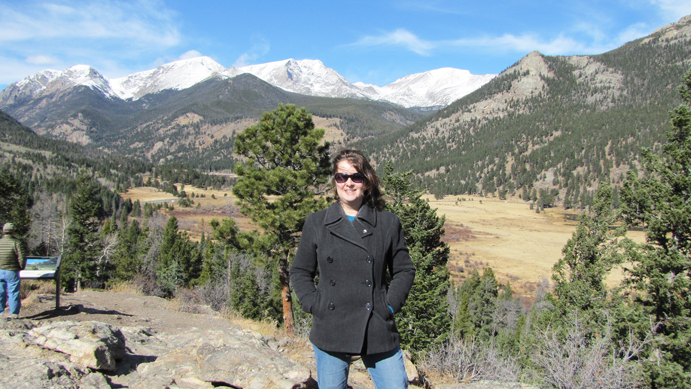 DUCK BUTTS!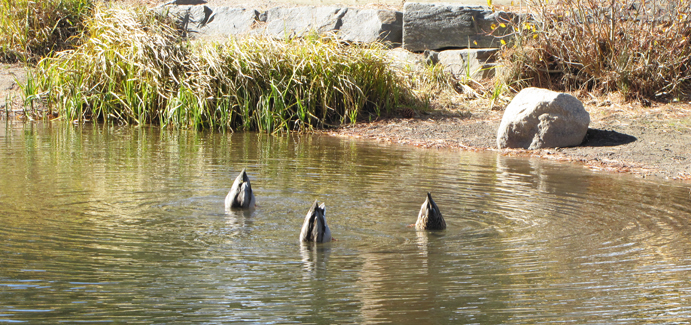 In addition we've attended some hockey games, and I went to a concert and an opera (JC was sick for the concert and did not care to see the opera). But the big event of the month was visiting my family in Rochester! I went for a week and spent the majority of the time helping babysit Domenico, our newest nephew (born in July). Here are the grandparents with Leonardo, Domenico and Bruno (the dog). Pay no attention to the wine in my mom's hands...
And after dinner, Leonardo was so nice to help wash the dishes!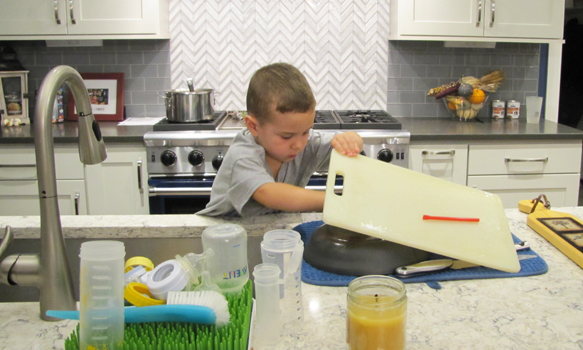 For the record, I bought Domenico the "I'm new here" onesie. :) Here's mom Erica with her two boys. Leo loves cameras.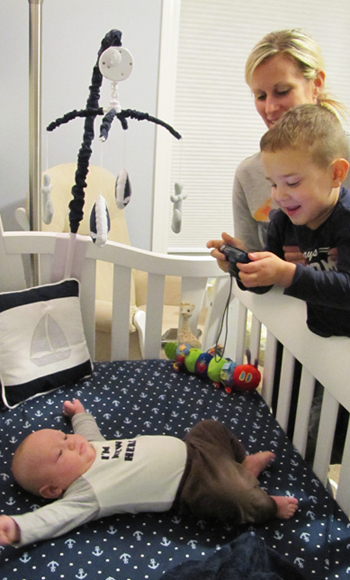 We also celebrated my 40th birthday with a nice family dinner at my parents' house on Saturday the 14th, and I got lovely presents and cards.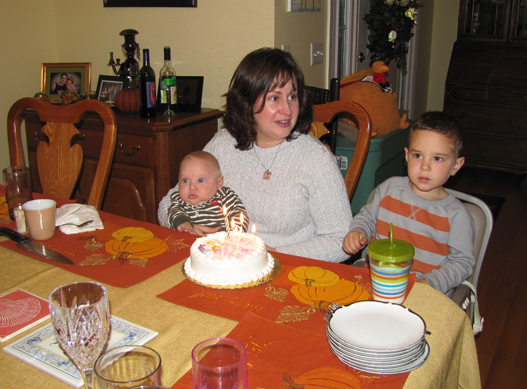 The biggest reason I went to visit family is because November 15th was Domenico's Baptism! His godparents are Gino's sister, Carrie, and her husband, Michael. They have four kids so unlike Tony and I with Leonardo (see our attempt), these two had no problems dressing the little guy, and did it in record time!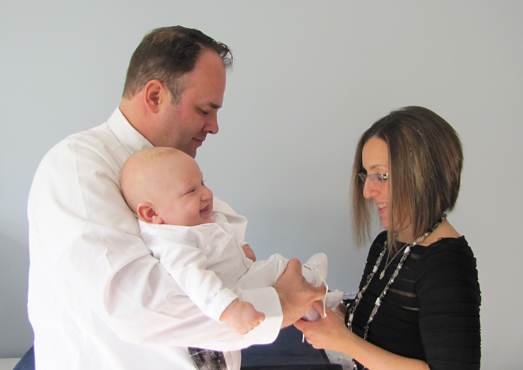 Here are JC and I with the little pudge! JC was able to fly in for the weekend.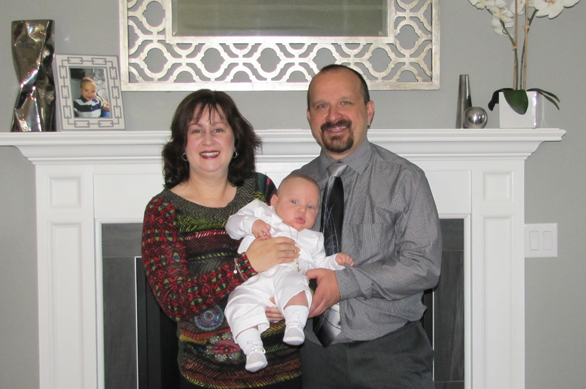 Here's the adorable family!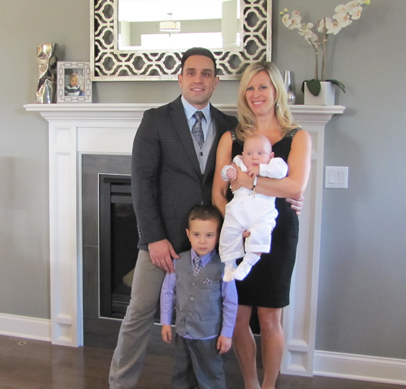 My absolute favorite shot in the church!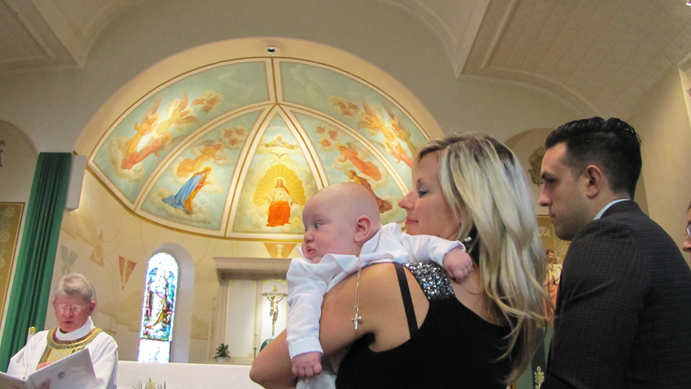 Domenico was a champ when they poured the water over his forehead. Not a peep!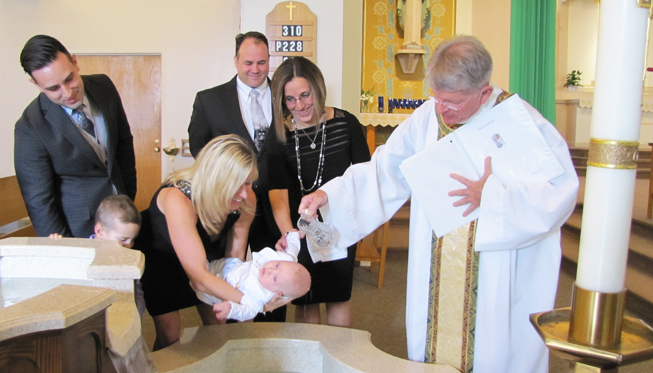 And, a rare shot of JC holding a baby! The bonding experience lasted maybe 20 minutes.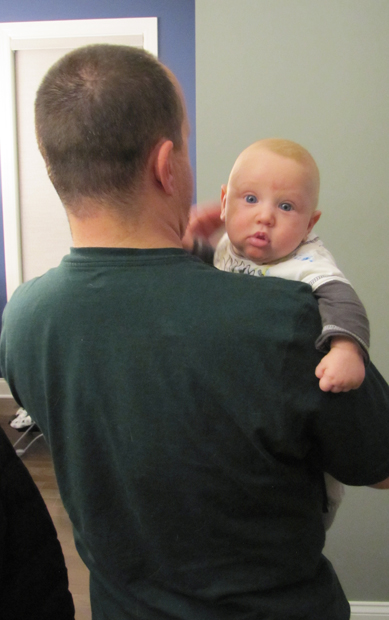 The ceremony was followed with a nice luncheon at a nearby Italian restaurant (of course!). It was nice to see most of my family again who drove over from Buffalo!
The next day, Monday, JC was supposed to fly home in the afternoon, but due to crazy weather in Denver (which ended up not really being that bad), he got to stay the entire day as we all babysat the kids again. We had a nice dinner with Erica, Gino and the boys so that was nice.
On Tuesday, we stuck his butt onto a plane and mom, dad and I went to Buffalo. First it was the obligatory lunch at Mighty Taco. DAMN that stuff is good!!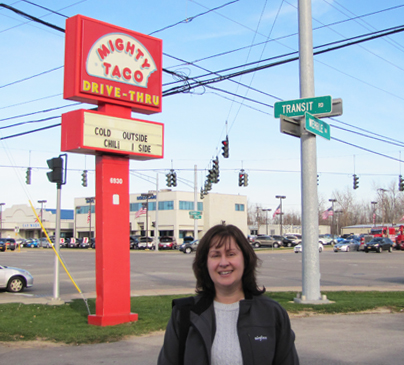 Then we went to the scrapbooking store (naturally, duh) and to the waterfront to walk around and see how they have been revitalizing it. It's actually quite cool, with lots of lights at night, a nice big park area, a naval and military area with ships you can tour and monuments, and this--the most awesomest Tim Horton's.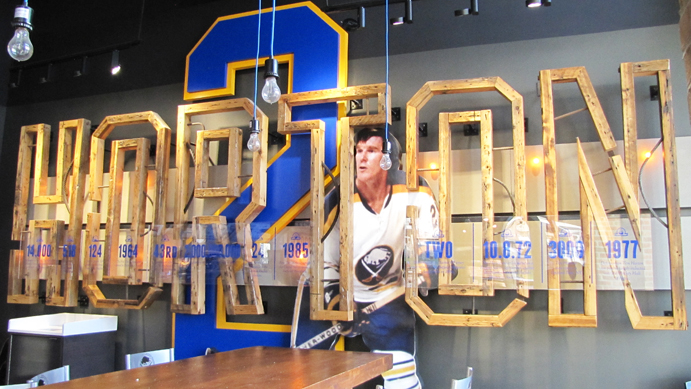 For dinner, we treated ourselves to hot, yummy spaghetti parmesan at Chef's. Seriously, one of these times I need to take a picture: imagine a plate of spaghetti, with very little sauce, but literally covered, right to the edge of the plate, with thick parmesan cheese. They give you a bowl of sauce on the side so you can put on as much as you want. SO GOOD. Go to the website to see photos!
Lastly, we went to a Sabres game, where we watched the Dallas Stars win. :( Still, it was a fun day!
On my last day, I also was supposed to fly out in the afternoon, but my flights got cancelled due to airplane maintenance issues! Turned out to be just fine, though. I got to spend another day with my parents and nephews, I got to go have dinner at this amazing Mexican restaurant hole-in-the-wall, and I flew out the next morning nice and early with beautiful weather and a faster, shorter route.
Here comes the big 40!