April 2018
OK so here is my February recap. I know that I'm still a month behind but bear with me, I got this all planned out. :)
February saw some pretty mild weather in Colorado while the northeast of the country kept getting hammered with snow. We are actually in a drought as a result! But since it has snowed as late as Mother's Day in recent years, you never know around here.
In terms of keeping ourselves busy during "winter," we had two more Avalanche games--that they both won!--and I had my friend Cathy from Colorado Springs drive up for a fun-filled scrappy Sunday! I don't see her as often as I'd like to because of our schedules, but it was super fun to hang out for a day and get stuff done!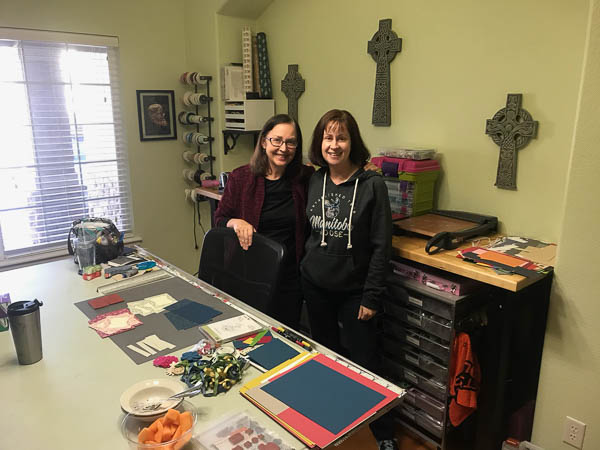 The big event in February was my trip to Rochester to hang out with the folks for 1.5 weeks. I went to take advantage of President's Day that I had off from work, and not being Christmas time, I scored the cheapest flight out there yet! At the same time, my sister and her family took a vacation so my parents were not babysitting the whole time I was there. That meant that mom and I could get some scrapbooking done, which is badly needed because we (she) are grossly behind on the boys' albums!
It was a jam-packed visit! The day after I arrived, my parents and I had fun downtown. Rochester has an AHL hockey team named the Americans, and my parents had never gone to a game! So we got tickets--in the third row on the center line for like $22 each!! I've never been that close to the ice as a spectator! It was a good game against the Binghamton Red Devils--there were fights, back-and-forth goals, overtime, and a shootout! The Americans did lose but it was a really fun afternoon. Here's the arena, it's nice and small right near the river with a weird Gotham-looking building behind it: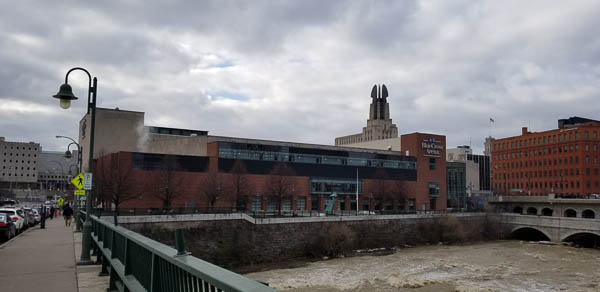 See what I mean about tiny?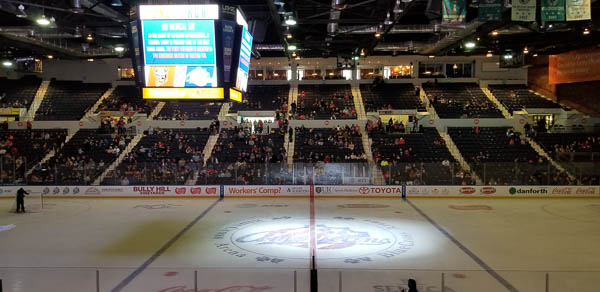 Here's the mascot dropping the puck at the opening faceoff. It was his birthday, hence the party hat. His name is, creatively, Moose.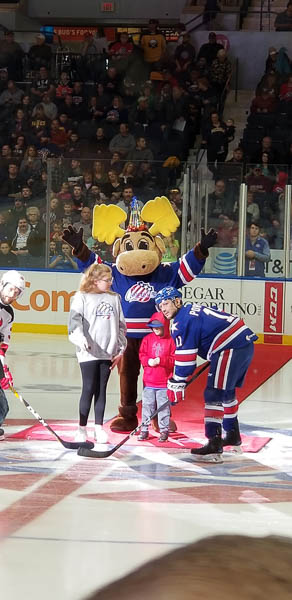 Intermission fun. It's a mascot fest out there. I was particularly intrigued by the Cyclone in the background.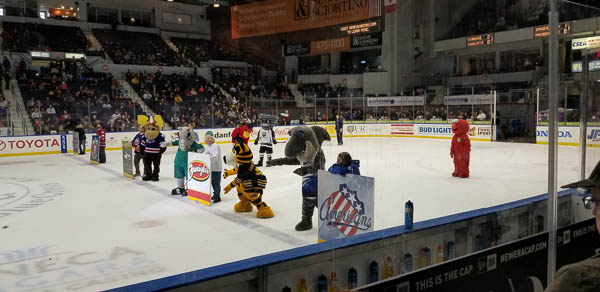 Close-up of the boys working hard.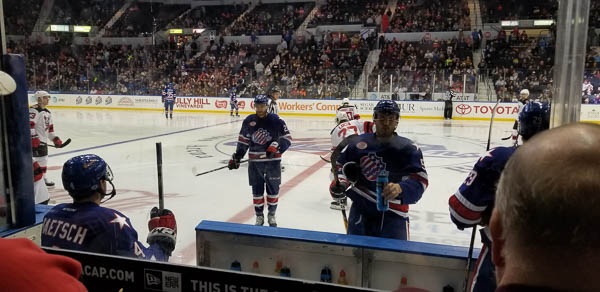 On President's Day my aunt drove up from Buffalo to scrapbook with us. She wanted to do a wedding album for my uncle who got married last August. She matched photos to papers and laid out the whole album while mom and I kept working away on Domenico's album. She spent the night, and the following day we helped her mat the photos, glue everything down, and embellish. The album is really pretty and I'm glad I was able to help build it since I wasn't at the wedding itself.
Throughout the rest of the week, I worked and scrapped at the same time. Mom and I got SO much done! We did 1 year for Domenico and 1.5 years for Leonardo! The layouts just came together really well; it helped that she had an extra table set up with all of the papers and kits for the boys laid out in advance. It was easy to pick the right papers and then while one person cut photos and designed the page, the other found cardstock and embellishments to match!
In addition to scrapping all day long, dad went bowling a few times, mom and I made it to water aerobics a couple of times for some exercise, we had dinner at our favorite Mexican restaurant in the area, El Rincón, and mom and I drove to Buffalo to take a card class at Buffalo Stamps and Stuff (and have MIGHTY TACO!).
My last day there began by me driving an hour east into New York State to a town called Waterloo to meet up with a long-lost friend. Kevin and I went to Penn State together, and haven't seen each other since 2001! I finally got to meet his wife, Adriana, too. We had brunch at a cute little diner and sat there chatting for three hours! It was great to catch up. They live in Syracuse, so Waterloo was halfway between us both. Hopefully we can do this again the next time I'm in Rochester (July).
Then I visited a scrapbooking store called Inky Hot Mess that was just ten minutes away. It is amazing! I scored some brand-new stuff I had my eye on and got albums for the boys since we are filling up the ones mom has, hah!
Lastly, I returned home and Erica and the brood came over for dinner. I got to play with the boys and hang out. They told us all about their vacation, and Leo showed us his notebook full of drawings and stories about it.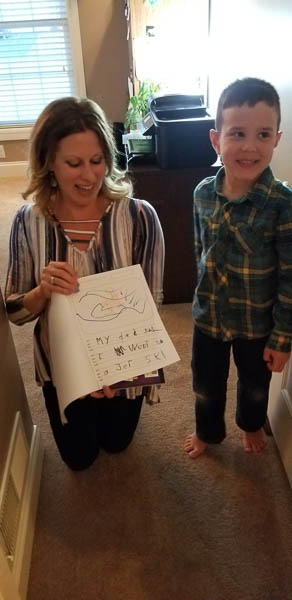 And here's Domenico, he is getting so big!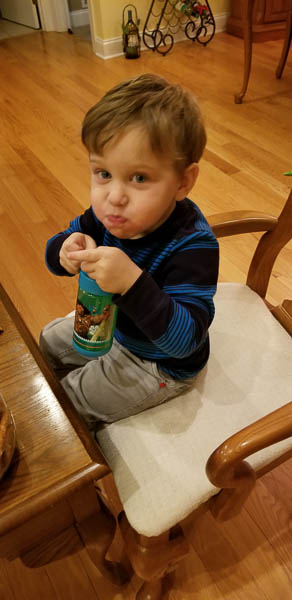 After dinner we took turns playing a Mario racing game.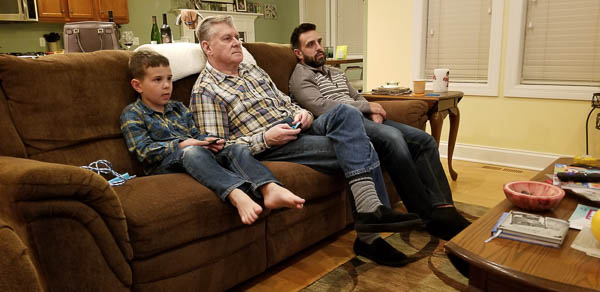 And Domenico and I played in the basement. Anyone remember this toy???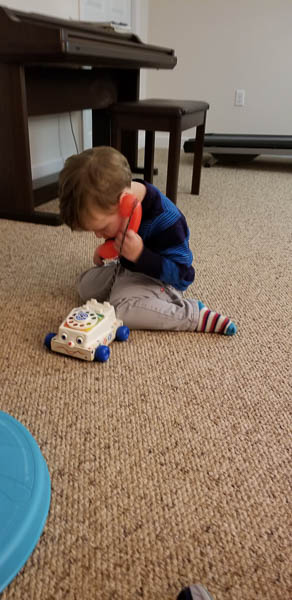 So, it was a super fun, super busy time back east. I'm really excited that we managed to accomplish so much in such a short amount of time! On top of that, the Olympics were on, so I was trying to watch as much of that too as I could. I still have some events on tape to watch!!!
End of the NHL regular season, boo!