September 2013
Well August was interesting. It started out with basically a tornado whipping through the neighborhood. It blew down fences, snapped trees, ripped roof shingles off, and destroyed all of my precious plants. :( We were with JC's parents so we missed the whole thing. It rained hard a bit where we were, but we had no idea what was happening at home! This is what we came home to! The green debris all over the place is bits of leaves--the wind and hail were bad enough that they chopped the heck out of the tree leaves!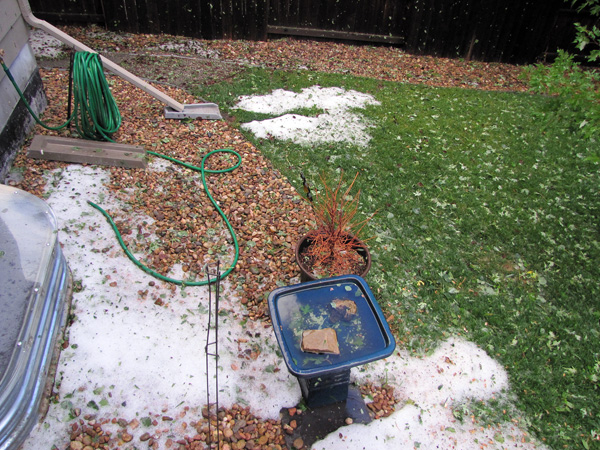 These are my plants and herbs. I almost cried when I saw this. They look absolutely decimated, so I really hope they come back.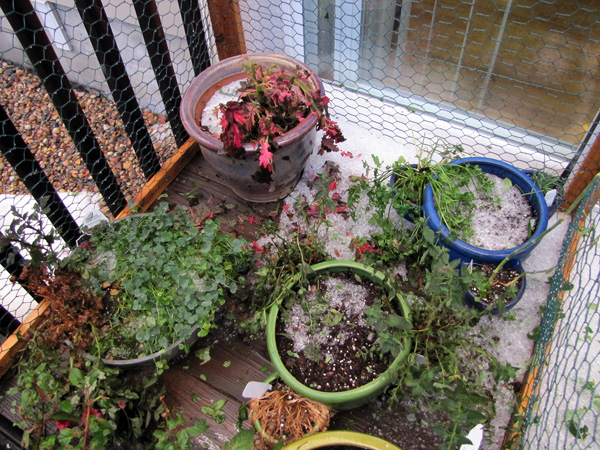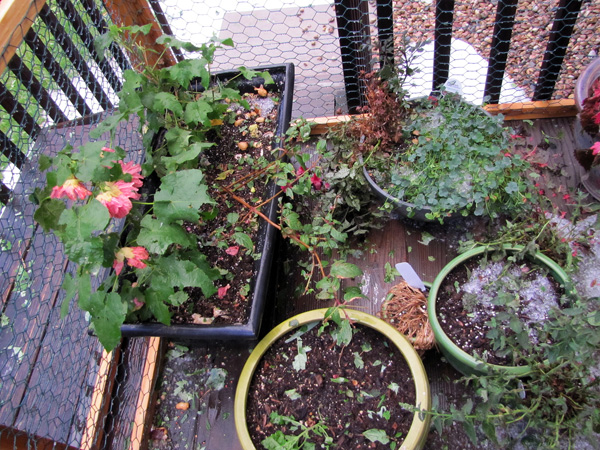 These are our raspberry bushes, I hope they recover as we barely got any berries off of them!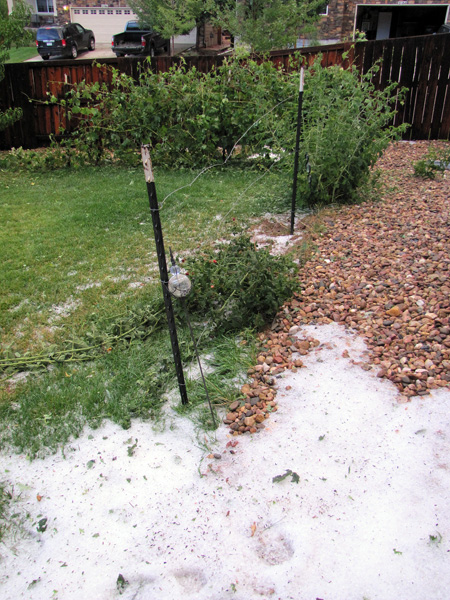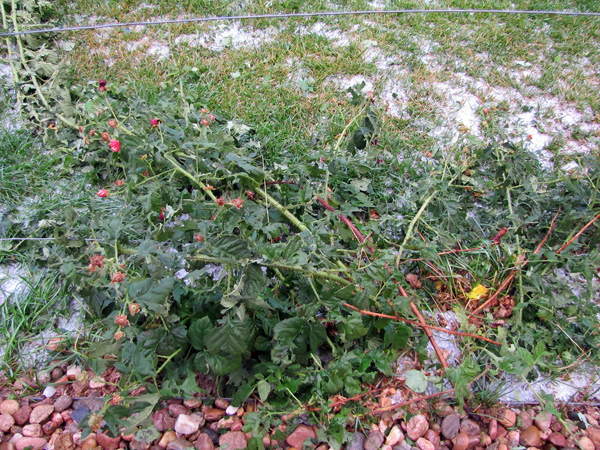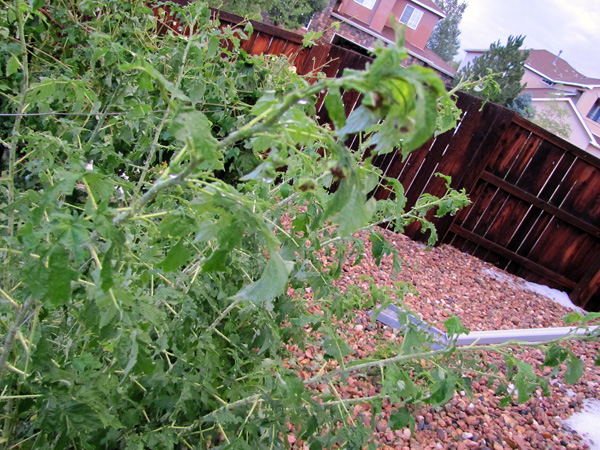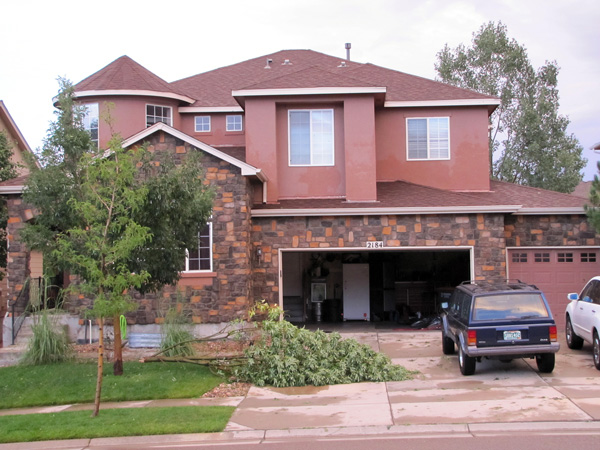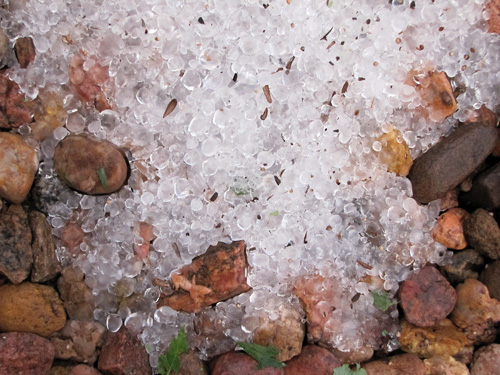 In other news, I attend the annual Penn State Alumni Association Colorado Chapter picnic and send off which was a lot of fun. It's open to PSU alumni, current students, students that are starting in the fall, and even students' parents! There were three students and the alumni ranged from as recent as 2009 and as old as 1952! We had a barbecue, played kickball, and raffled off PSU swag where the proceeds went to our scholarship fund for CO students going to PSU.

I hadn't been very involved in the CO chapter, as usually by the time they send emails about events, I have something else planned. But who knows, I'd at least like to get to watch a football game with everyone at our official football-watching location!
We also went to an amazing Combichrist show...we will go see them every single time...
Next, our big vacation this year was 6 luxurious days in OHIO! First, we went to Cleveland to meet up with family to attend my cousin Mike's (and his fiancée Krissy's) wedding. Because we arrived the day before the wedding, we were invited to the rehearsal dinner, which was really, really nice. The hotel we stayed in was within walking distance to a Little Italy section of Cleveland, and the dinner was on the back outside terrace of a lovely Italian restaurant.

Since the wedding the next day was not until the evening, mom and I took the opportunity to find Hollo's, a paper store nearby. We did some damage! But they had great envelope deals and cardstock by the POUND! We only bought 2 pounds each...*only* :)

The wedding itself was just gorgeous--set at an elegant Victorian home that was the right size for the amount of guests. The ceremony was even conducted by Krissy's dad, how cool is that!?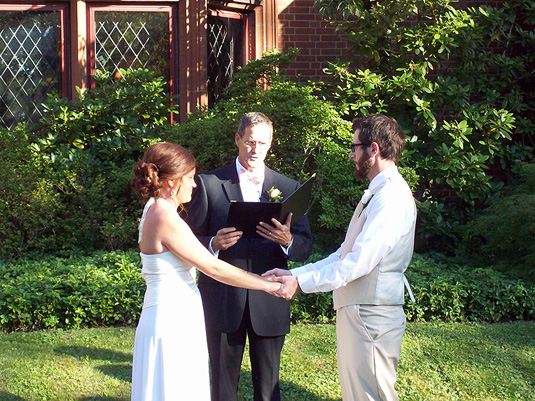 Everyone looked amazing and the weather was just perfect. Here's a good shot of the bride and groom.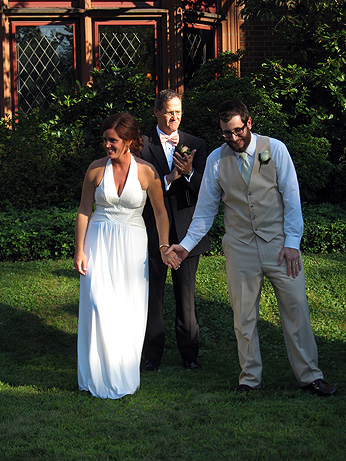 Afterwards we got family photos taken, and I got to hang out with Leonardo (1.5 years old now!) while he shook a tree and pulled leaves off. Quite the arborist he is!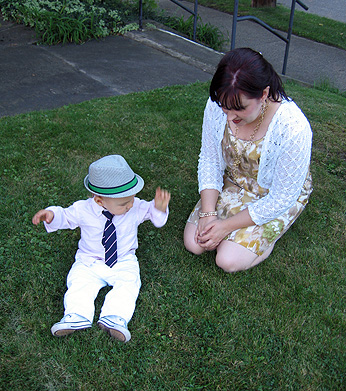 The next day we were also treated to a lovely brunch, and then made our way to the mecca, the mothership, the homeland, the happiest place on earth--CEDAR POINT!! The last time we had been was 4 years ago--wholly unacceptable--with Erica and Gino. The last time my parents had been there was around 20 years ago!!
We spent 2.5 days in the park and they were incredible. Since Leonardo still takes two naps a day, we did well alternating between big kid rides while he napped with grandma, to kiddie rides while he was awake and alert. And of course, I got some great pictures of all of us, the park, and Leonardo riding.
Here are me, dad, Erica and JC (sortof) in line for a ride: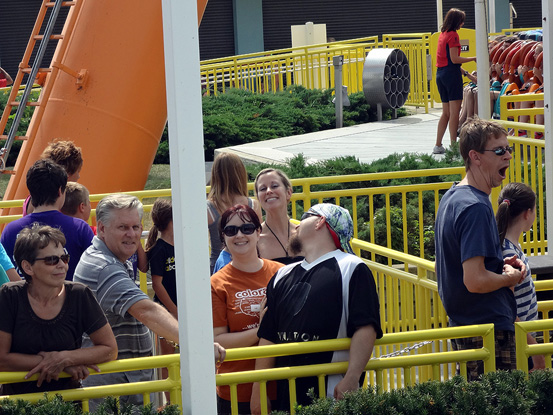 And here's the fam in front of one of the scary dinosaurs from the Dinosaurs Alive! exhibit which was super cool. There were a ton of animatronic life-sized dinosaurs, most of which I've never even heard of before!
Here's the big thrill ride that Leonardo rode with grandma and grandpa--Sir Rub a Dub's Tubs. Hold onto your hats on this one!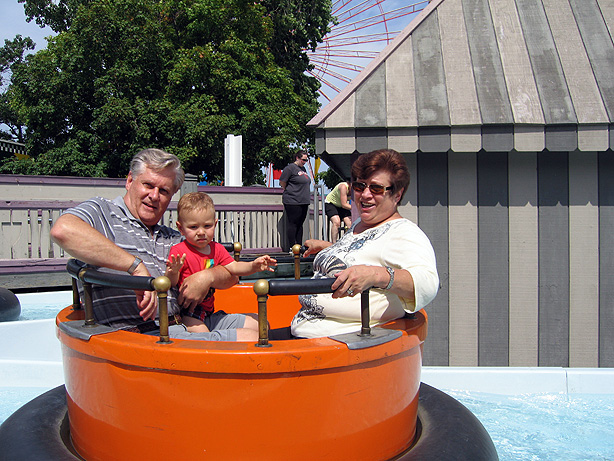 And, we also hung out in Camp Snoopy (my first time ever!):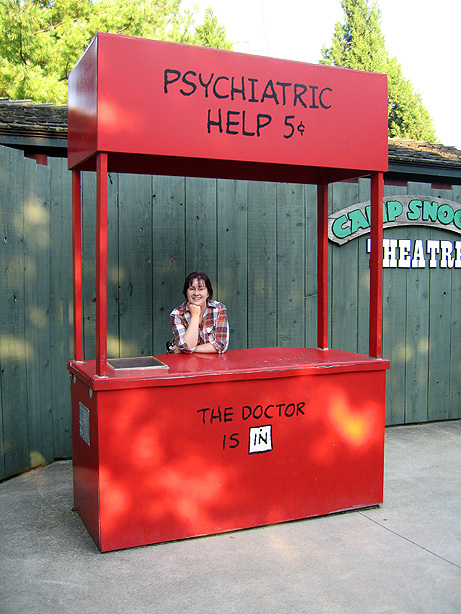 Awww...
But enough of the kiddie rides, let's check out some of the big kid stuff! Like Maverick at sunset: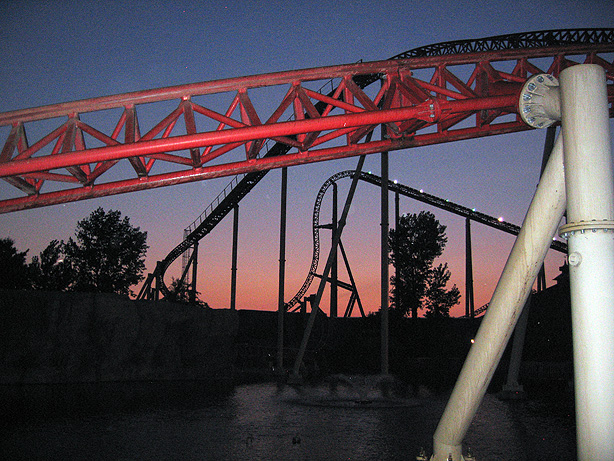 Or the brand-new inversion roller coaster, Gatekeeper: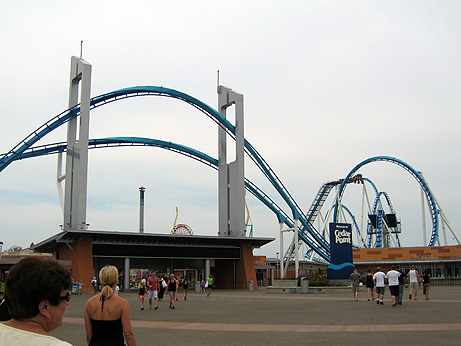 And we can't forget my favorite non-coaster ride, MaxAir: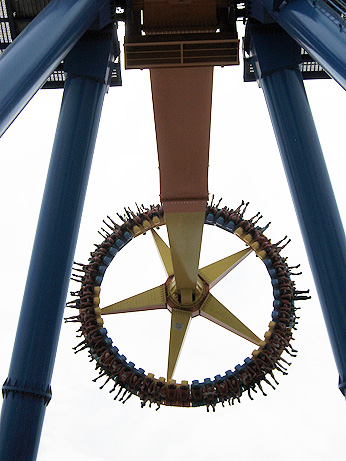 I think I've decided that I'm quitting my job, moving to Sandusky, and working at Cedar Point. I love that place SO much, I cannot believe we hadn't been there in 4 years. Utterly ridiculous, and will NOT happen again!
However, we cannot end this adventure without one of the ride photos. No, this is not the one I mentioned on Facebook where my blouse happened to come open--no one wants to see that. Instead, Erica, Gino, JC and I got really good by the end of the second day of coming up with plans for the ride photos. This one was too good to not get. On this ride, Top Thrill Dragster, there are two cameras--one when you're being shot at 120mph down the track, towards the 410-feet hill, and the second one is after you come down the other side of the hill. These guys are geniuses, and I think we have an official new quest for subsequent visits.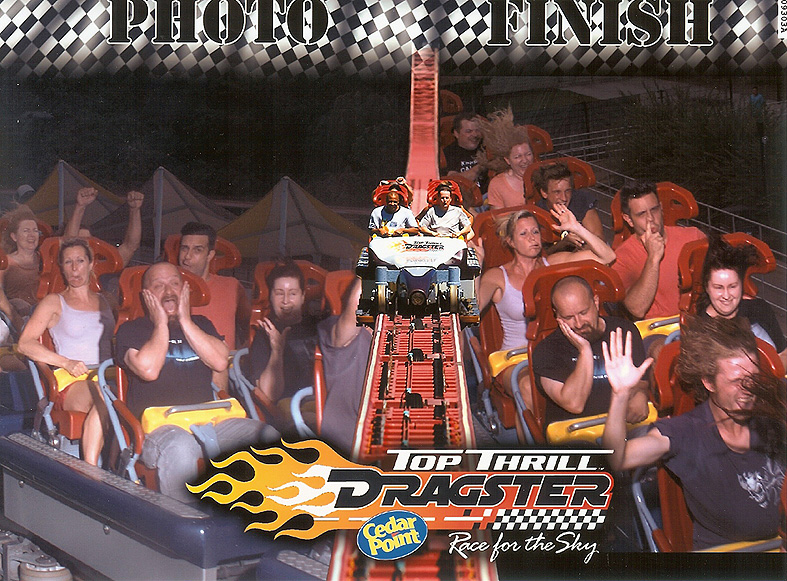 Plus, we got a great shot of the whole family!