2018
December
November
October
September
August
July
June
May
April
March
February
January
2017
December
November
October
September
August
July
June
May
April
March
February
January
2016
December
November
October
September
August
July
June
May
April
March
February
January
2015

December
November
October
September
August
July
June
May
April
March
February
January
2014

EUROPE PHOTOS
December
November
October
September
August
July
June
May
April
March
February
January
2013

December
November
October
September
August
July
June
May
April
March
February
January
2012
PORTUGAL PHOTOS
December
November
October
September
August
July
June
May
April
March
February
January
June 2015
Sooooo...May was one of, if not the, worst months of my life. In a nutshell, I tried to move over to a new position within my company and ended up quitting altogether. Now for the longer version of the story.
For several months I had essentially nothing to do in my engineering role. I had no projects because everything was being handled by the team in India, and I had done as much account maintenance tasks as I could. None of my other accounts were active, and my boss had nothing else to give me. So, fearing that soon I would be laid off, I decided to pursue a project management position. The company needed a lot of PMs at that time (April) and I had a friend who was going to try to get me to work under her.
After interviews with several different groups, they put me into the group that had the most demand, which also turned out to be the group with the most impossible conditions: an over-demanding client for whom we had to bend over backwards to retain their business, an internal project team consisting of 2 micro-managers who did nothing but send me condescending, demoralizing and harassing emails, 1 PM who has to do the work of 3 (that's me), no one to help me because the previous PM had one week of overlap with me before she quit, and a network of other offices that were disorganized and snippy (because everyone is overworked and stressed out). On top of this, there are around 10 projects a day, most of which are due within 1-2 business days (one of which is due same day), so the "project management" didn't really exist. I was a glorified file-handler, sitting in my email Inbox all day sending way too many emails. An extremely inefficient system + too much work for one person = not a minute of enjoyment.
Now, when I interviewed, I was told that the role they wanted to put me in was a higher-up level of PM that would focus on process improvements, creating more efficient workflows, and things like that. But since the previous PM quit, I was her replacement, and given the unorganized nature of the account, it did not look likely that I would get to move into that higher-level role anytime soon. In the meantime, doing 12 hours of work a day under extremely stressful conditions was not something I wanted to "wait and see what happens" on.
There also was supposed to be a month-long transition so that I had sufficient time to transfer my remaining account-level engineering duties to India. Well that did not happen, because the previous PM quit, so I had an intensive 1 week of training and then was completely on my own. I had to squeeze in the document writing and training sessions in the 1-2 hours of calm I had every other day.
I had a breakdown on the first full day of managing this account on my own. That morning I was told that my Colorado business hours were not going to work because the client is in California and we have to be on-call to them at all possible hours that they could be online. So my 9-5 first changed to 10-6 and then changed to 9-6:30 at least. And on the one weeknight a week when I had a shift at the Shack, I had to log back in when I got home at 9:30. This meant I could never get in a workout again, and probably have to quit my part-time job at the Scrapbook Shack which I love.
The other part of the breakdown was the demoralizing emails and instant messages. Not a single thing that I did was correct, right down to the grammar and sentence structure I used. One of the two micro-managers is not even a native English speaker, and had just come onto this account at the same time as I did, so she had some balls telling me how to write my emails.
Therefore, that weekend I decided to quit the company altogether. At first I thought I would just demand a transfer to be a PM in a different group, but the more I thought about that, the more I felt like this was the push off of the edge of the cliff that I've needed. For 3 years I've been considering leaving and finding something more interesting, more gratifying, more physically active. Working from home has its perks, but when you sit all day without any means to take a long break to get in some exercise, it negatively affects your health. But with the urgent, rush, crisis nature of everything in the translation industry, it's almost impossible to get away. The constant ding of the instant message program is like Pavlov's bell.
And I had the thought that if I go back into engineering, which I could have done, it would be the "good enough" that I've had for a long time now. Obviously that was not 100% satisfactory because I had been considering leaving off and on for 3 years. Just because this industry is what I went to school for and wanted to be in does not mean that this is still what I want to do now and want to be in for the rest of my life. The world is too big to be sitting in one place for so long, and the longer I sat at Lionbridge (8.5 years!), the harder it felt to break free and try something new. So, I needed this push outside of my comfort zone to affect change. I'm crossing off of my bucket list that I've worked in the translation industry and it's time to figure something else out.
So despite the amazing benefits, very good salary, and work from home, I walked away from it all. I was asked to give 3 weeks notice instead of 2 because they had to do the interview and hiring process all over again to replace me, so reluctantly I worked through most of May in the most stressful conditions of my life. I couldn't sleep, couldn't get up out of my chair, and probably ate lunch 30% of the time. At the end of my day, which was 6:30-7 each night, I'd spend my evening sitting on the couch drinking as that was the only thing I could to do get myself to calm down enough to sleep a bit.
My last day was Friday, May 22nd. Many people, including my engineering boss, were really upset that this happened. I also made sure to tell as many people as would listen about the terrible working conditions and treatment that I received. Turns out that they have had a revolving door of PMs quit on this account for quite some time now. Huh.
The first unemployed activity I had was to work at the Shack that night. :) The next activity was to go to VEGAS! This year we went with our friends Lisa and Kent because they had a Japanese exchange student, Ayumu,who was going to be going back home in June. So although he couldn't drink or gamble, we had to show him the town.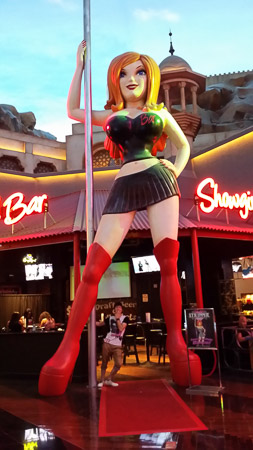 We had a wonderful 3-day trip mostly spent walking around checking everything out. We would get together for a while, then split up, then meet back up for dinner, so it was a pretty casual and flexible weekend. We stayed in Vdara which is a sister hotel to Aria and is entirely suites. THAT is the place to stay from now on. The hotel doesn't have restaurants or a casino so it's much calmer and quieter, and the suite was perfect.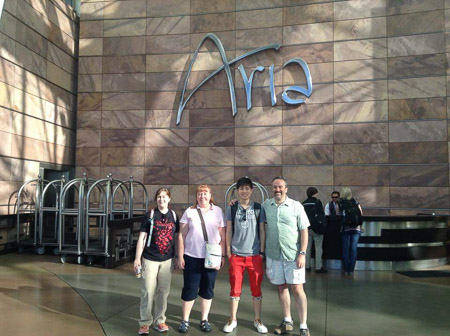 We did a fair bit of gambling but I'm delighted to report that we ended up breaking even or possibly coming home a bit ahead! It's tough to say because we brought cash with us but then used some of the cash for drinks, taxis, etc. So that's great news given that I have barely any income anymore.
On the final day, Memorial Day, we took a guided tour to Hoover Dam. In all of my trips to Vegas I had never been to the Dam. It is SO COOL! It's fascinating to hear why it was built, how it was built, and what it does for the surrounding states. The water level was really low, so it was cool to see the different colors in the rocks from where the water level usually is.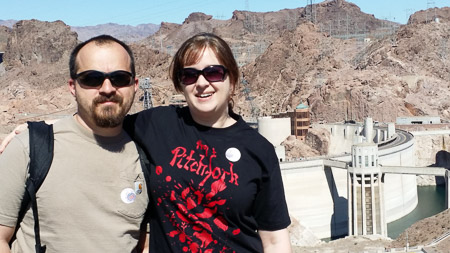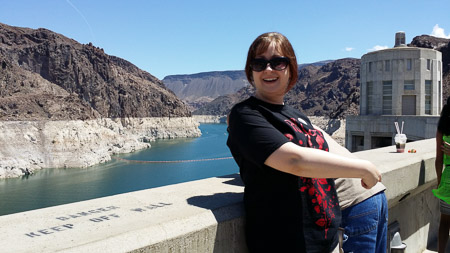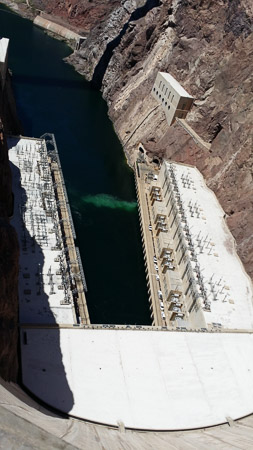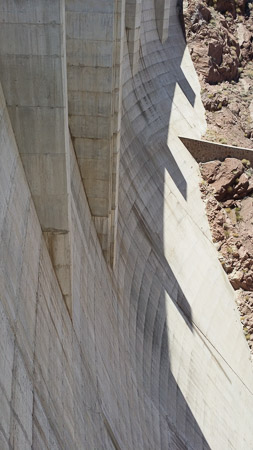 You can see all of my Vegas photos here.
SO--what am I doing now? I am a cleaning maniac. I'm cleaning the whole house from top to bottom. I also swapped office spaces with JC so that he can have the room with the door. He's in meetings for at least half of each day so it just makes sense that he has the room with the door and I moved into the den at the front of the house. I also had to package up and ship back all of Lionbridge's equipment. Here I am saying goodbye to it all.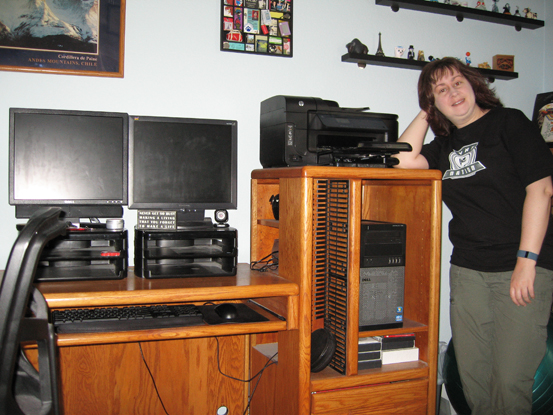 Otherwise, I'm getting a lot of other stuff done around the house and I picked up a few more shifts at the Shack. I'm enjoying having enough downtime to get everything done and will probably start thinking about researching jobs in a couple of weeks.
The end of an era!

2011
SPAIN PHOTOS
December
November
October
September
August
July
June
May - none
April
March
February
January
2010
ALASKA PHOTOS
December
November
October
September
August
July
June
May
April
March
February
January
2009
December
November
October
September
August
July
June
May
April
March
February
January
2008
WEDDING PHOTOS
December
November
October
September
August
July
June
May
April
March
February
January
JILL'S CREATIONS:
Album - 2017
Album - 2016
Album - 2015
Album - 2014
Album - 2013
Album - 2012
Album - 2011
Album - Penn State
Album - Cedar Point
Album - Wedding
Cards
LOAD513
LOAD214
Mini Albums - Coffee and Daily Junque