April 2013
So, back to reality after my awesome girls weekend in Phoenix in late February. In yet another attempt to lose weight, which at this point is getting quite frustrating, I joined NutriSystem and have been on the program since February 23rd or so.
I used to be quite thin, so it's concerning to me that I've gained a good amount of weight since moving to CO. Now granted, some of that is muscle development since I play hockey, and some of that is attributed to my desk job, but still, I'd like to adopt a more "Coloradan healthy lifestyle". First I tried getting a doctor to investigate whether I might have the start of thyroid issues--my mom and aunt both have severe thyroid conditions, and I have most of the symptoms of hypothyroidism. They tell me I'm fine and to exercise more.
So despite the fact that I've been playing hockey 2-3 times a week most of the year, for several years now, and often supplement that with biking on our recumbent bike in the mornings, there was even a whole year I stopped playing hockey and went to the gym 6 out of 7 days a week. Didn't lose a thing. Next, I tried fixing my diet--I went to a dietician who said that my diet was very good already, and just needed a few adjustments such as more fiber. Made no difference.
So, here I am, trying NutriSystem. To be honest with you, the food is really quite good, and they give you a good variety. For my second month, I upgraded to the plan where you get both their standard food and frozen food, so that gives me even more options. And you have to supplement their food with fresh groceries, so you're learning how to eat multiple times a day, in smaller, correct portions, and learning what's healthy and what isn't. I haven't been hungry and only one or twice have I gone off the plan for a burrito or cheeseburger. :)
Now, the question you're all asking is...how much weight have I lost? Nothing. Yep, nothing. Oh well.
Any suggestions out there on what to try next?? :)
In other news, I also started volunteering. I am one of the graduates at this current session of Flight Without Fear, which is a course designed by a women's aviation group, the Colorado 99's, together with United Airlines, to help people overcome their fear of flying. I took the course in the fall of 2009 and because of hockey, never was able to volunteer since the course always conflicted. Well, because of my hip injury (which is not exactly healing like I hoped it would), my calendar is free!
The class meets every Tuesday night at the United Training Center in Denver, and it covers both the education side of flying--how a plane works, weather, flight crew training, air traffic control--and the psychological, mental and emotional issues behind anxiety and having fear take over. The psychologist is a pilot herself, so she has the perfect background and skill set for this course.
In addition, we also get to take field trips, such as to the United maintenance facility, to walk around and through some of the airplanes that they are currently working on! Since we got to take photos, I went crazy. :)
The first plane we got to check out is a Boeing 777! The guy in the bottom of the photo is Nick, the mechanic who took us on the tour. He was super nice and helpful, told us all about everything!
Just to give you some scale and proportion...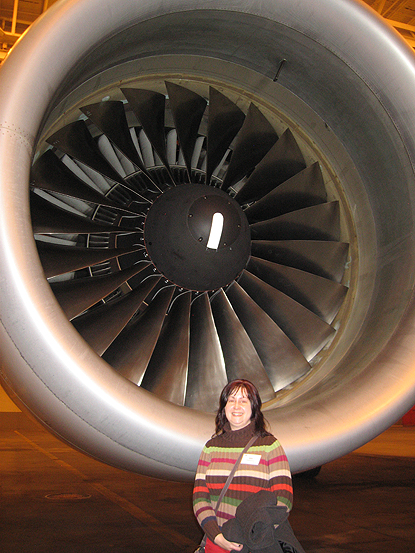 Next up--the cockpit! We had Deb, our FWF volunteer pilot, with us to explain all of the gizmos:
And of course I could not leave without a photo!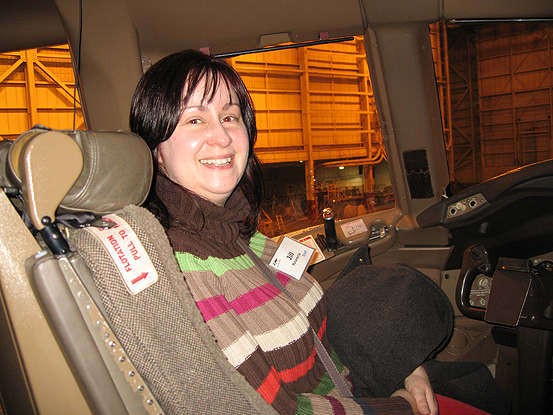 We walked through the whole plane, so I also could not resist getting a photo in First Class!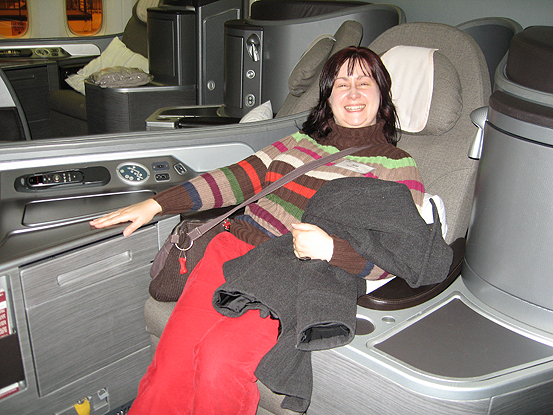 First, last and only time for that!!
Then went to check out the engine that they were rebuilding. Here it is expanded or opened up: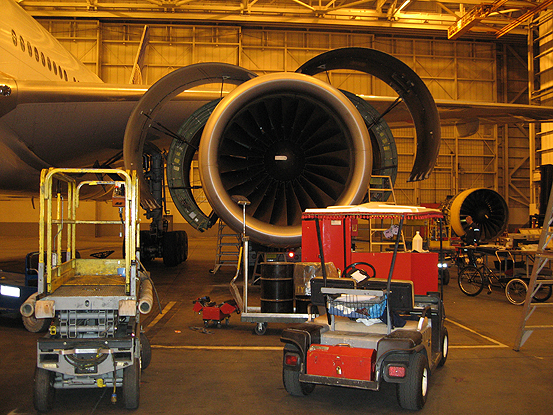 And here we are inside it!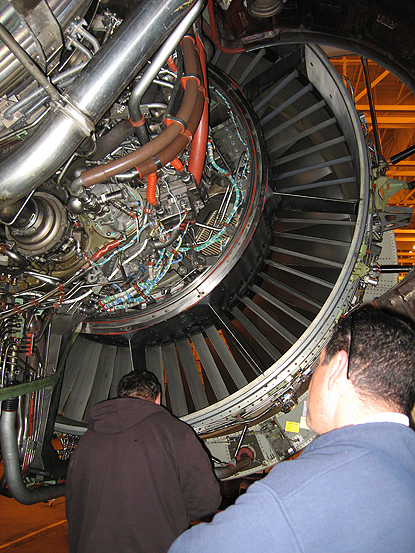 Lastly, we visited an Airbus where they had just replaced the whole landing gear on one side. Here's the jack used to lift the plane!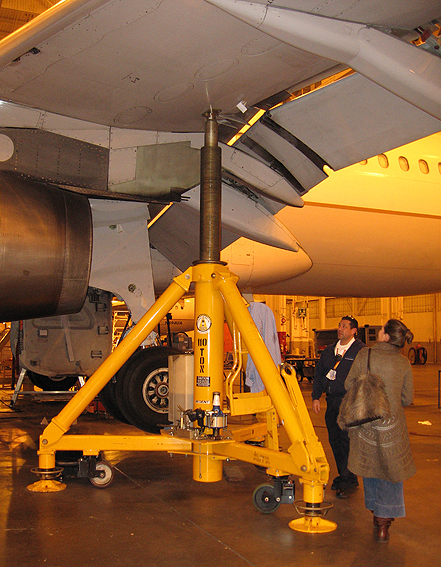 And here is the landing gear from the other side of the jack--it's around 2 feet off of the ground: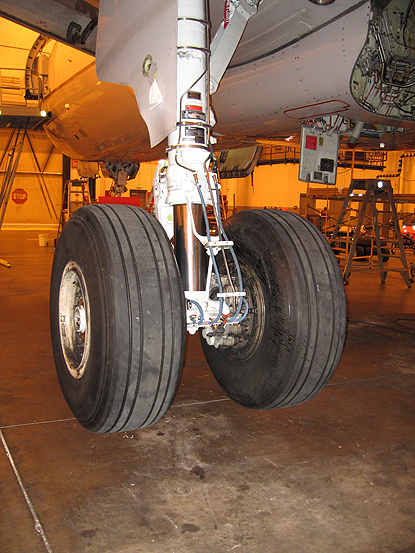 The other big event in March is that my mom and aunt came to town for a visit! We had a great time--we went shopping at the Loveland Outlets, did a card class at Archiver's, went to an Avalanche game, attended a scrapbooking expo (where of course I spent too much), got snowed in one day, and most importantly, and the whole point of the trip, we made birthday party invitations for my nephew Leonardo's first birthday! It had to be a joint effort because my mom bought the diecut of the map, the patterned paper, the foam stickers, and she made the little treasure chests, but I did the 'arr' diecuts, the writing, and the layout of the text on the back side. The party theme, of course, is pirates.
What do you think?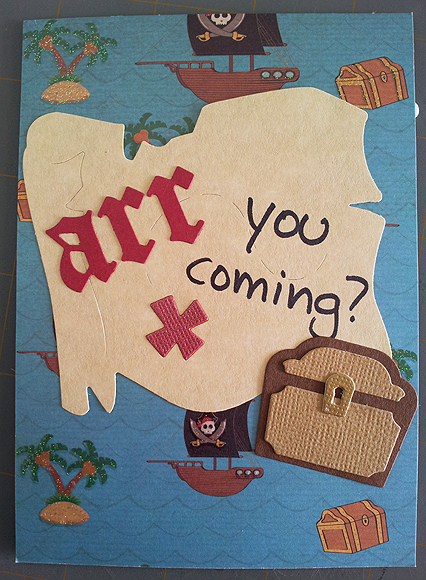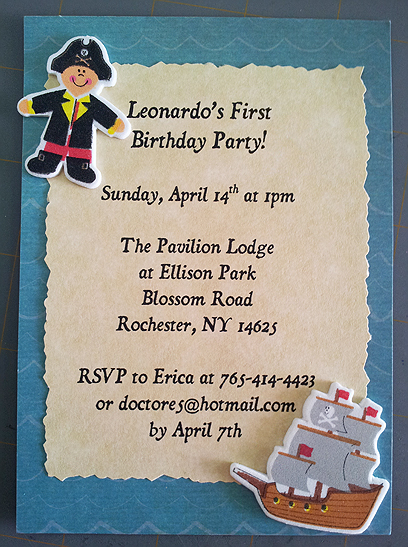 ARRRRRR!!