2018
December
November
October
September
August
July
June
May
April
March
February
January
2017
December
November
October
September
August
July
June
May
April
March
February
January
2016
December
November
October
September
August
July
June
May
April
March
February
January
2015

December
November
October
September
August
July
June
May
April
March
February
January
2014

EUROPE PHOTOS
December
November
October
September
August
July
June
May
April
March
February
January
2013

December
November
October
September
August
July
June
May
April
March
February
January
2012
PORTUGAL PHOTOS
December
November
October
September
August
July
June
May
April
March
February
January
February 2014
January was a nice, mellow month after the holidays. I got a lot of scrapbooking done, and at the end of the month we had a very special visit from my sister, brother-in-law and nephew! They wanted to come visit us again before Leonardo turned 2 years old because he could fly for free, and they only came out to visit us once many years ago. So, a quick weekend visit was in order!
Unfortunately, it happened to be one of the coldest and snowiest weekends we've had this winter. The high every day was in the teens to 20's, and my darling sister didn't bring any sweaters for Leonardo. : \
Around the freezing cold, and Leonardo's naps, we managed to do a few things. They arrived on Friday afternoon and that night we walked around Boulder a bit. Here's the little stinker taking his gloves off.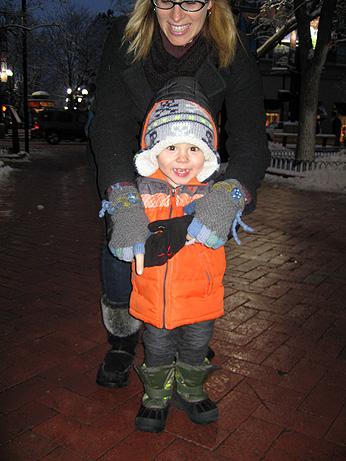 On Saturday, we went to a Colorado Avalanche hockey game. Gino, my brother-in-law, is a huge Avs fan, and so we went to see them play against the Buffalo Sabres. Not a single one of us rooted for Buffalo, but it was a total blowout and the Avs one by something like 8-1! We were all decked out in our Avs gear!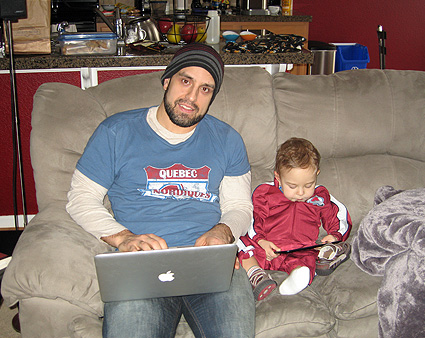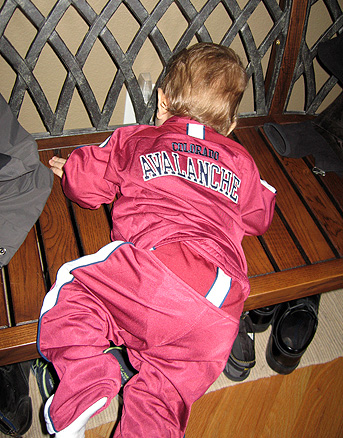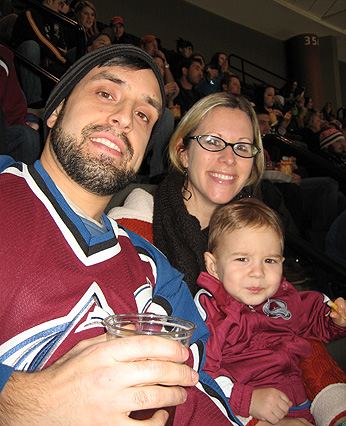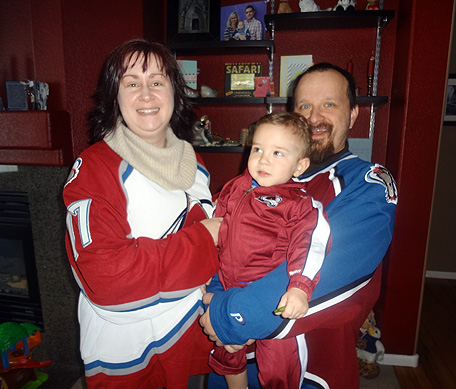 Erica and Leonardo walked all around the arena during the game and even got a certificate for Leonardo's first Avs game!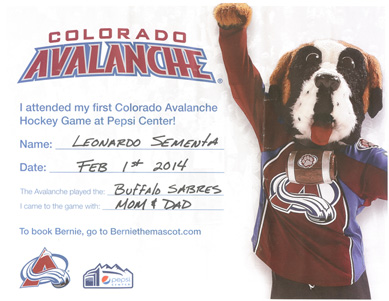 On Sunday, we hung out at home and watched the Superbowl. Denver was sucking so badly that after halftime I decided to abandon ship and play with Leonardo instead.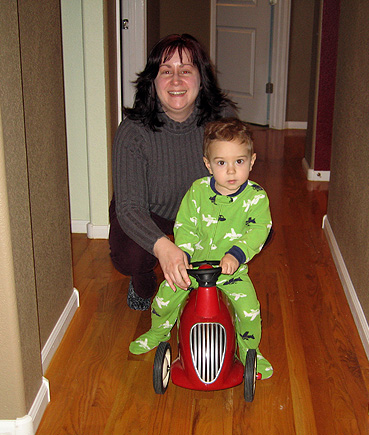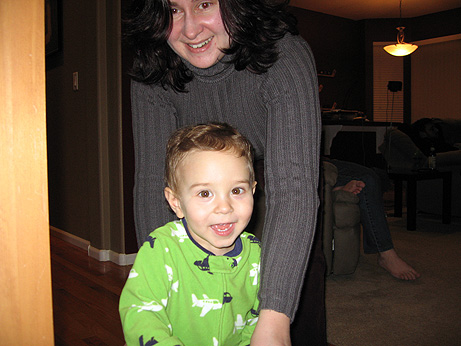 They left early Monday morning, and Monday night JC and I went to see Alton Brown live at the Denver opera house. He was hysterical! He made vaccuum-frozen ice cream in seconds, and built a huge Easy Bake Oven and cooked a pizza on stage!
Now, when the fam was here to visit, Leonardo did all sorts of awesome things in our house. He peed on my carpet, he threw up a few times, and he had other bowel incidents. We didn't think much of any of it because he wasn't eating what he normally eats, his schedule was all messed up, and we ran him ragged. Well, turns out the little guy was probably the first casualty of the FLU because when we got home from the show, I came down with it as well! The next day we found out that Erica and Gino both got it Monday night too, and then JC was the last to fall two days later.
Plague bearer!

2011
SPAIN PHOTOS
December
November
October
September
August
July
June
May - none
April
March
February
January
2010
ALASKA PHOTOS
December
November
October
September
August
July
June
May
April
March
February
January
2009
December
November
October
September
August
July
June
May
April
March
February
January
2008
WEDDING PHOTOS
December
November
October
September
August
July
June
May
April
March
February
January
JILL'S CREATIONS:
Album - 2017
Album - 2016
Album - 2015
Album - 2014
Album - 2013
Album - 2012
Album - 2011
Album - Penn State
Album - Cedar Point
Album - Wedding
Cards
LOAD513
LOAD214
Mini Albums - Coffee and Daily Junque