2018
December
November
October
September
August
July
June
May
April
March
February
January
2017
December
November
October
September
August
July
June
May
April
March
February
January
2016
December
November
October
September
August
July
June
May
April
March
February
January
2015

December
November
October
September
August
July
June
May
April
March
February
January
2014

EUROPE PHOTOS
December
November
October
September
August
July
June
May
April
March
February
January
2013

December
November
October
September
August
July
June
May
April
March
February
January
2012
PORTUGAL PHOTOS
December
November
October
September
August
July
June
May
April
March
February
January
August 2014
You know, I often say that summer sucks, but this one sucks not only because of the lack of hockey and plethora of neighborhood children, but it also sucks because work has been swallowing my soul. I've been SO busy with no end in sight, it's just been nuts. I'm exhausted mentally and physically from it. I also can't exercise to relieve stress because I have had plantar fascitis since the end of June. It hurts like heck to even take a 20-minute walk, my whole left heel is just inflamed and painful. Yeay!
Anyway, our big event for the month of July was a bit of a mini getaway over the long July 4th weekend to VEGAS!
Since we go every year, I tend not to take a lot ofphotos, and of course I haven't figured out how to take a stupid selfie yet--nor do I want to--so here's some photos of what I did capture. First, there's this amazing wooden carved Mexican sculpture wall at the back of Javier's, the Mexican restaurant in ARIA. I absolutely adore ARIA, this was the second time we stayed there. It's so new and luxurious, and I can even get a good night's sleep because the walls are nice and thick!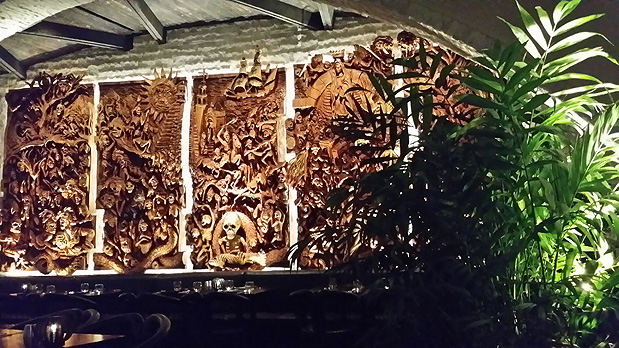 The funniest part of the trip was that we were outside watching the fireworks over Caesar's on the 4th, and then five minutes after they ended, it RAINED! I honestly don't think I've had it rain on me before in all of the times I've been to Vegas! And you do NOT want to experience it! Everybody gets stupid and stands under the walkways that you kinda need to keep clear so the pedestrian traffic can keep flowing. And, what's even worse is that the roads cannot handle any decent type of rainfall, so within 5 minutes all of the street corners are a foot-deep puddle of water. It took me a day to get my sneakers to dry out...
Anyway, we also visited with the flamingos...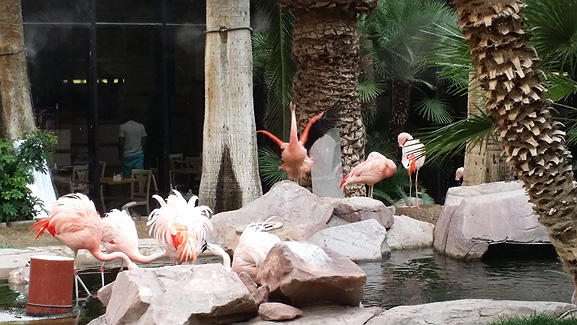 And made sure to check out the latest enhancement to the Strip--The Quad and The Linq. The Quad is a renovated Imperial Palace and Linq is a sideways pedestrian street of new shops, restaurants and the world's largest observation wheel (like that Eye thing they have in London). We enjoyed walking up and down the street and checking everything out. We got chocolate at the Ghirardeli store (yes, in Vegas, in July; we bought it right before heading to the airport!), we had super yummy wood fired pizza, and we found the Polariod Photo Bar and Museum which is SO COOL. We didn't do the museum this time, but the Photo Bar is a place where you can upload pics from your phone and get them printed like old-school Polariods, with some text beneath the image on the white frame. They're printed on sturdy cardboard and then you put a magnet on the back of each picture to snap into one of the adorable frames they have. So you just pull a photo out of the frame and snap in another one to change things up. You can order it all online too, so I need to try it out!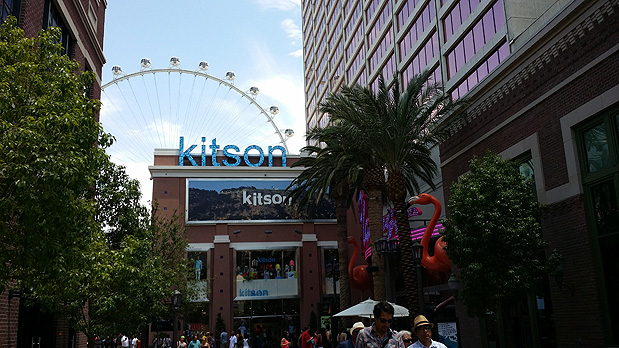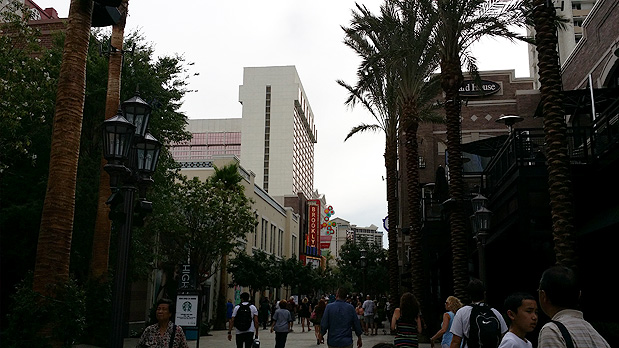 So, that was a fun, albeit short trip. Back to reality, inbetween killing myself at work I did manage to complete my 2013 Scrapbook, which means that it got done before all of the content was a year old, woo hoo! That is quite the accomplishment for me!
You can now click here to view the entire 2013 scrapbook.
Other than that, we closed out July with Ludovico Technique, one of our new favorite bands. I love that guy.
SCRAP HAPPY!

2011
SPAIN PHOTOS
December
November
October
September
August
July
June
May - none
April
March
February
January
2010
ALASKA PHOTOS
December
November
October
September
August
July
June
May
April
March
February
January
2009
December
November
October
September
August
July
June
May
April
March
February
January
2008
WEDDING PHOTOS
December
November
October
September
August
July
June
May
April
March
February
January
JILL'S CREATIONS:
Album - 2017
Album - 2016
Album - 2015
Album - 2014
Album - 2013
Album - 2012
Album - 2011
Album - Penn State
Album - Cedar Point
Album - Wedding
Cards
LOAD513
LOAD214
Mini Albums - Coffee and Daily Junque